Two polls by two reputable polling organisations show the Pheu Thai Party and Move Forward Party still consolidating their position while the Bhumjaithai Party and Palang Pracharat parties appear to be crumbling in support in Bangkok and among urban voters. On a nationwide basis, the opposition parties are seen as being supported by two-thirds of the electorate. The polls show clearly that the door to General Prayut Chan ocha being returned as prime minister is only ajar but inexorably, closing. 
Two polls on Sunday suggested that the opposition parties are still on course to win the General Election which is to be held on May 14th. However, one of the polls, conducted nationally by Suan Dusit, does indicate that the coalition government parties may still have a chance of preventing a Pheu Thai Party landslide which would make it impossible for the Thai upper house or Senate to stop the party sweeping into government. The other poll shows Move Forward Party leader Pita Limjaroenrat emerging as the capital's favoured choice for prime minister while the national poll showed the party as the voice of voters aged 18 to 30 years of age suggesting that Thai politics is changing.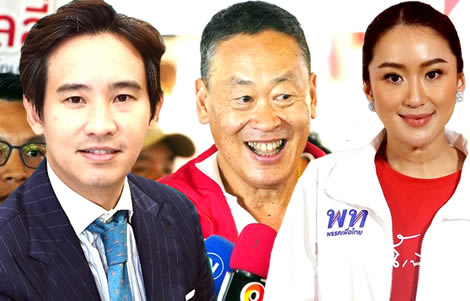 Two polls released on Sunday show the momentum of the opposition parties has not diminished ahead of the General Election, now officially scheduled for May 14th next, approximately 6 weeks from now.
However, one of the polls, compiled by Suan Dusit, still indicates that there is room for an electoral contest and the election outcome is not yet a foregone conclusion meaning a clean sweep or landside for the Pheu Thai Party which will sweep away any opportunity for pro-government parties to use the already time-limited constitutional power of the Senate to stay in office in the short term.
Rising support in Bangkok for Move Forward according to NIDA poll, Suan Dusit poll shows the party emerging as number one for 18 to 30-year-olds
A National Institute of Development Administration (NIDA) poll in Bangkok shows rising support for the more progressive Move Forward Party in the capital with the party's Bangkok-based leader and former MP, Pita Limjaroenrat, emerging as the public's main choice for prime minister with the support of 25.08% of people polled.
The poll was conducted from March 15th up to March 21st with a large sample of 2,500 people proportionally sampled across the city's 50 districts.
Regarding the capital's choice for prime minister, Ms Paetongtarn Shinawatra or Ung Ing, the Pheu Thai Party figurehead and daughter of ex-premier Thaksin Shinawatra, came in second place with 24.2% support.
Current prime minister Prayut Chan ocha who has now been confirmed as the first nominee for the United Thai Nation (Ruam Thai Sang Chart) Party was in third place with 18.24% support.
Only three names made double digits in the Bangkok poll for PM, Ung Ing, Pita and Prayut as establishment rallies around current prime minister
These three candidates were the only ones in double digits and this may spell an emerging trend in this election with pro-establishment voters moving towards General Prayut and the newly formed United Thai Nation (Ruam Thai Sang Chart) Party and, at least in urban areas, away for the existing ruling Palang Pracharat and Bhumjaithai parties but less so for the Democrat Party, the kingdom's oldest, which retains its core support.
The second poll suggests that this trend is less pronounced in regional and rural parts of Thailand where both the Palang Pracharat Party and Bhumjaithai Party have established networks.
The Bhumjaithai Party which is the subject of controversy in the capital due to a feud between the party and anti-corruption campaigner Chuwit Kamolvisit, over its legalisation of cannabis, appears to be facing headwinds and looks like it is unlikely to gain a foothold in Bangkok.
The party's support registered only 1.48% while its leader Deputy Prime Minister Anutin Charnvirakul could only manage 1.64% in the NIDA poll.
The poll table for Bangkok's choice as prime minister was as follows:
1 25.08% Pita Limjaroenrat, Move Forward Party
2 24.20% Paetongtarn Shinawatra, Pheu Thai Party
3 18.24% Prayut Chan ocha, United Thai Nation (Ruam Thai Sang Chart) Party
4 5.96% Khunying Sudarat Keyuraphan, Thai Sang Thai Party
5 5.68% General Sereepisuth Temeeyaves, Seri Ruam Thai Party
6 4.84% Korn Chatikavanij, Chartpattanakla Party
7 2.40% Srettha Thavisin, Pheu Thai Party
8 2.00% Cholnan Srikaew, Pheu Thai Party
9 1.64% Anutin Charnvirakul, Bhumjaithai Party
10 1.56% Jurin Laksanawisit, Democrat Party
Two-thirds of voters in Bangkok want to see a change of government and express support for a post-election coalition of Pheu Thai and Move Forward
The poll surveyed voter intentions in the General Election for constituency MPs with 33 seats due to be contested across the city.
It shows that the combined Pheu Thai Party, Move Forward Party and Thai Sang Thai Party vote still commands just under two-thirds or 66% of voters in the capital while the United Thai Nation (Ruam Thai Sang Chart) Party, the political party behind General Prayut Chan ocha, came in third place with a respectable 14.83% vote share.
Two of the key parties in the current coalition government, the Palang Pracharat Party and Bhumjaithai Party could only command a paltry 3.64% between them in the capital while the Democrat Party emerged in fourth place with a 6.76% projected vote share.
The Bangkok constituency MP projected vote table was as follows:
1 34.92% Pheu Thai Party
2 27.72% Move Forward Party
3 14.32% United Thai Nation (Ruam Thai Sang Chart) Party
4 6.76% Democrat Party
5 3.32% Chartpattanakla Party
6 2.96% Thai Sang Thai Party
7 2.48% Seri Ruam Thai Party
8 2.16% Palang Pracharat Party
9 1.48% Bhumjaithai Party
Other smaller parties combined amounted to only 2.2%.
Prime ministerial nominees to be presented from April 3rd to April 7th at Bangkok City Hall, Pheu Thai Party scheduled to submit nominees on April 5th
For the proposed party-list election ballot, the following were the projected voter intentions in Bangkok:
1 34.40% Pheu Thai Party
2 28.96% Move Forward Party
3 14.68% United Thai Nation (Ruam Thai Sang Chart) Party
4 6.08% Democrat Party
5 3.48% Chartpattanakla Party
6 3.04% Seri Ruam Thai Party
7 2.60% Thai Sang Thai Party
8 2.08% Palang Pracharat Party
9 1.44% Bhumjaithai Party
A further 1.37% intended to vote for a range of smaller parties. These include Anakhot Thai, Chart Thai Pattana, Kla, Pheu Chart, Sang Thai Pakdee, Thai Civilised, Thoed Thai, Prachachart and Thai Economics parties.
From April 3rd to 7th all political parties are expected to announce their prime ministerial nominees and party-list candidates at Bangkok City Hall.
On Sunday morning, as he toured a market in Bangkok having been taken there on a motorbike by Pheu Thai organiser, Mr Wan Yubamrung, Mr Srettha Thavisin, a property tycoon who has, in recent weeks, moved over into the political world to become Chairman of the Advisory Board to the Pheu Thai family, one of the expected nominees for prime minister, indicated that the party will unveil its candidates for the top job on April 5th next.
Pheu Thai Party's Srettha Thavisin presented with roses by vendors at Bang Khae Market on Sunday morning visit, he arrived on an official's motorbike
He demurred to comment on speculation that party planners have declined to list both himself and other key contender for the top job, Ms Paetongtarn Shinawatra, as candidates for party list seats in contrast to reported plans by the establishment United Thai Nation (Ruam Thai Sang Chart) and Palang Pracharat Parties where both General Prayut Chan ocha and General Prawit Wongsuwan are tipped to become MPs.
The latest figurehead for the Pheu Thai Party was given an enthusiastic welcome at Bang Khae market with vendors presenting him with roses as he inquired about current business conditions in Thailand's grassroots economy.
Palang Pracharat Party stalwart Dr Narumon Pinyosinwat pulls her name from the party list for MPs saying she wants to give others a chance
In recent days, former junior minister of labour and key economics spokesperson for the Palang Pracharat Party, Dr Narumon Pinyosinwat, a former party-list MP in the last parliament, withdrew from consideration as an MP for the party saying she wanted to make room for new talent coming into politics.
Dr Narumon, a former official with the Ministry of Finance, economist and a government spokesman said she had been honoured in 2019 to be placed so high on the Palang Pracharat party list and thanked the party for allowing her to play a key role in politics.
Dr Narumon has in recent months, been prominent in highlighting the need by the government to address the plight of the less well-off as well as the urgent necessity for economic policies targeting the country's chronic private and household debt mountain.
The former minister was removed from the government of General Prayut Chan ocha after a move to oust him in September 2021 which also saw the junior minister at the Ministry of Agriculture, at that time, Thamanat Prompow, removed.
Mr Thamanat is currently a key adviser to Palang Pracharat Party leader and Deputy Prime Minister Prawit Wongsuwan.
The ruling party was this week reported as trying to kick start the party's campaign which appears to be slow in gaining traction.
Suan Dusit poll shows stronger numbers for Palang Pracharat and Bhumjaithai parties but the opposition still commands 63.02% support against 34.67%
On Sunday, another poll, this time a national survey undertaken by Suan Dusit at Rajabhat University across all regions of the country and conducted from March 1st to March 17th with a sample of 10,614 people, showed the country's main opposition parties of Pheu Thai, Move Forward and Thai Sang Thai on a combined 63.02% support level.
However, this poll was bad news for General Prayut's United Thai Nation (Ruam Thai Sang Chart) Party which was relegated to fourth place with 8.73% support by the Bhumjaithai Party which emerged with 11.12%, the highest figure seen so far for the party.
The combined vote for pro-coalition parties in this poll including United Thai Nation (Ruam Thai Sang Chart), Bhumjaithai, Palang Pracharat and Democrat parties came in at 34.67%, the most optimistic assessment seen for the government parties in months.
Stronger regional and rural support for coalition government parties sees Bhumjaithai Party emerge in third place with a projected 11.12% vote share
The poll appears to show strong support in regional pockets for the current coalition or government parties.
The poll shows the following results:
1 46.16% Pheu Thai Party
2 15.43% Move Forward Party
3 11.12% Bhumjaithai Party
4 8.73% United Thai Nation (Ruam Thai Sang Chart) Party
5 7.71% Democrat Party
6 7.11% Palang Pracharat Party
7 1.43% Thai Sang Thai Party
8 0.53% Chartpattanakla Party
9 0.41% Seri Ruam Thai Party
Poll if confirmed in the election suggests a choice by coalition parties between relinquishing power or pursuing a hazardous path to leverage the Senate
Such a result, if confirmed after the May 14th General Election, would leave the country facing the prospect of a period of political instability if pro-government parties insist on leveraging the limited power of the Thai Senate in the vote for the prime minister under Section 272 of Thailand's 2017 constitution meaning the opposition would require 376 MPs to muster a block to their route the power.
Such an outcome would be hazardous as it would go against the will of the electorate, not allow the government to control parliament and thus spending provisions.
It would also risk being overruled after June 2024 when the upper house loses its power to vote in the selection of a prime minister.
The national poll showed that the Move Forward Party was the most popular political party among young Thai adults aged from 18 to 30 years of age suggesting that Thai politics, ultimately, is changing.
Further reading:
Business leaders praise election clarity but survey shows anxiety about threat of political instability
Bad week on the campaign trail for General Prayut as a lack of public enthusiasm makes itself known
Social welfare scheme sees millions signed up for monthly handouts and easy access to small loans
Ung Ing says Prawit is better liked than PM Prayut with reports of the return of key ex-ministers
Whip hand with Pheu Thai to secure power in this year's General Election despite Senate's waning power
Pheu Thai knocks Palang Pracharat Party coalition talk on the head with more bad news for Prawit
Prayut to make his move for a third term but is the battle for power already lost to Pheu Thai?
PM and Ung Ing to do battle in 2023 for the top job with public debt and the economy as key issues
Pheu Thai, Palang Pracharat coalition now a distinct possibility after the next General Election in 2023
PM upholds status quo as he seeks a path back to power with the help of the Bhumjaithai Party
3 out 4 believe that Pheu Thai will take power in 2023 with a third Shinawatra taking the reins
Court decision on electoral law is a big boost for Pheu Thai Party as Prayut remains tight-lipped
Constitutional Court voting decision a watershed moment for Thai politics says top Pheu Thai MP and whip
Uncertain politics ahead as PM reported to be planning to dissolve the House of Representatives
Prayut hails economic progress by his government but his path to reelection next summer is still unclear
Pheu Thai looking at property developer tycoon Srettha for PM role after next General Election
Possible Pheu Thai PM Paetongtarn Shinawatra promises a new society where everyone is secure
Drugs to be an election issue as Anutin digs in insisting that attitudes must change on cannabis
Kingdom engulfed in crisis with over 93% of the public saying Prayut must relinquish power now over term limit
Senator warns that Paetongtarn Shinawatra or Ung Ing, Thaksin's daughter, is wrong for the job
Legal pot does not appear to be working for Anutin's Bhumjaithai Party in latest opinion poll
New Shinawatra may lead the next quest for power as Pheu Thai Party aims for 14 million members