Have we found the real Donna Sheridan? Maybe not – but TV presenter and designer Sarah Moore comes pretty close. Travelling to Greece for the first time as a teenager and returning throughout her life, Sarah took the plunge in lockdown and purchased the Greek villa of her dreams. Well, sort of. In her new six-part series, Home Greek Home, Sarah transforms her new investment – a dilapidated Skiathos house ('even in the pictures we could see buckets were being used to catch drips from the leaking roof', she tells us) – into the dreamiest of Greek abodes. We caught up with Sarah to delve into the method behind the madness, and what we can do in the UK to make our homes a little more Hellenic.
Interview:
Sarah Moore On
Home Greek Home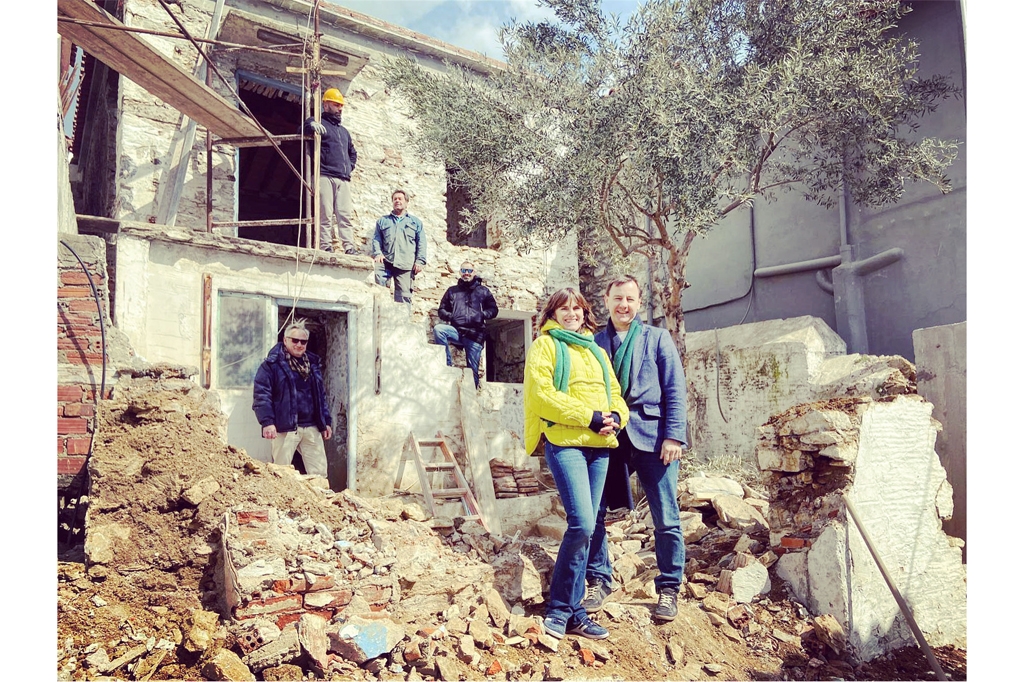 Hi Sarah! Firstly, can you tell us about your relationship with Skiathos?
I was asked by my friend from school if I and another girl would like to spend a summer holiday with her at her house on the island. We flew in overnight to Athens and then on a tiny plane that arrived on Skiathos as the sun rose. It was love at first sight. 
What is it about Skiathos that keeps drawing you back?
I think the warmth of the people there, the ease of life and the fun that we used to have going out have all helped build a really strong bond with the place. It feels like the place that I grew up, and it's lovely to see my children experiencing the same thing. As my friend lived on the island, we made local friends, so it has a real home from home feeling. 
What is it like to almost be a real-life Donna Sheridan?
It hardly seems real that we have a house now on the island. Perhaps because we made a series about it, it feels almost like it's just a program that we've made and finished – but, in reality, we have a home in our favourite place. We've been very busy catching up on all things that slipped while renovating last year, so we haven't really had the chance to enjoy it yet. 
You bought a house without seeing it – what is the story here?
I saw the house online during a lockdown scroll. I was sharing pictures of houses on Skiathos with my old school friends and this one caught my eye. I wasn't really seriously looking, but the images of the little house kept on popping up in my mind, so I took a closer look and saw its potential. Travel restrictions meant we couldn't visit it, and the thought of someone else buying it suddenly seemed really sad. I persuaded my lovely husband and children that it was a good idea and just went for it. Pension pot poured into the property, we signed up and bought it remotely.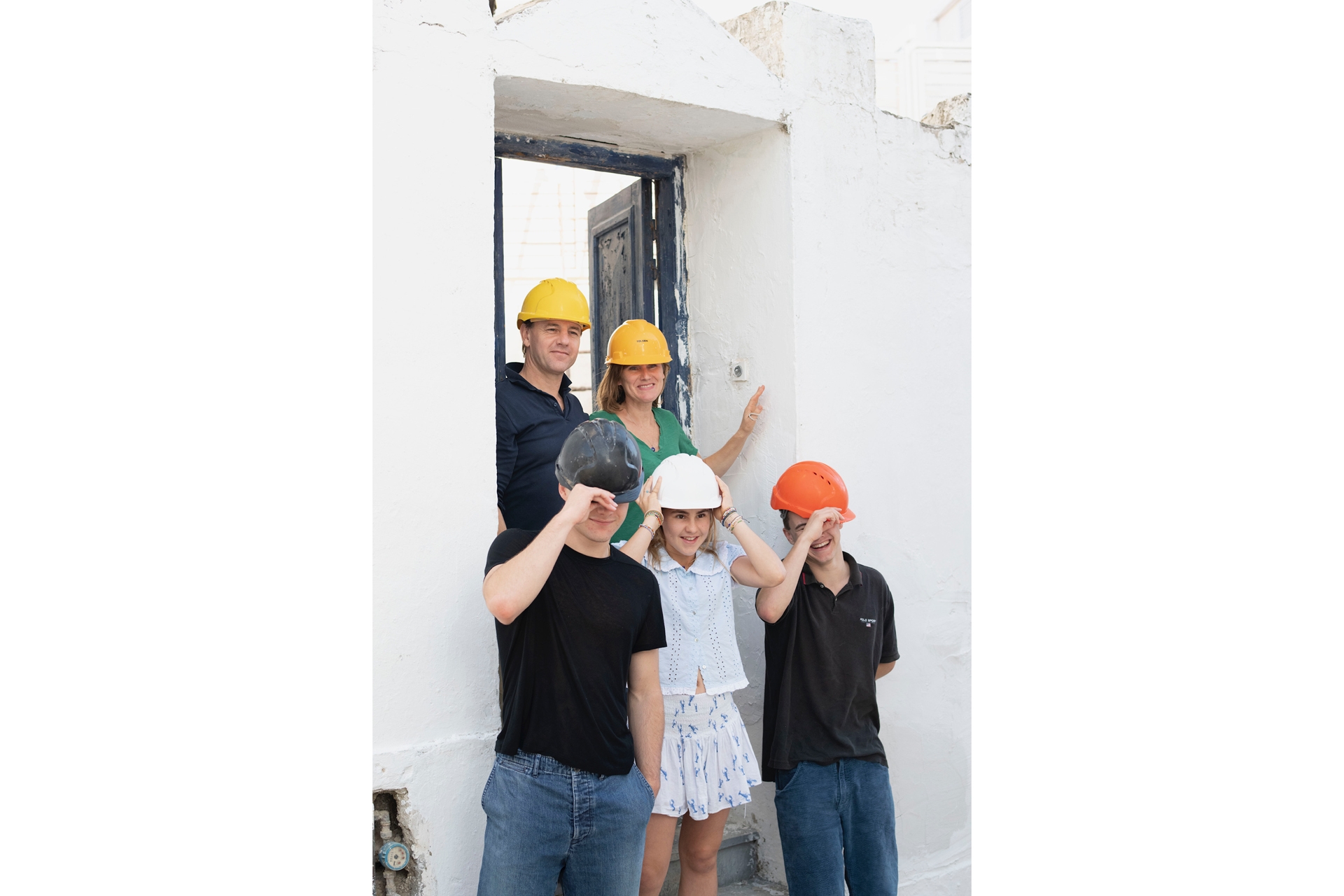 What was the process like? 
Covid restrictions made things more complicated than they might usually be, but we were really lucky to have a good friend on the Island, Kostas, whose cousin was an Athenian lawyer. Bank account, tax number, power of attorney were all hurdles to get over, but they helped us through the process. It helps that Pete [Sarah's husband] is brilliant at detail and just handled all of the admin. 
Was it as scary as it sounds?
We had never been to explore that part of the old town, never walked down the street or seen the house. There were no pictures on the internet of the house. I know because I spent hours looking. However… We love Skiathos and it has never failed to deliver. The food, the people, the beaches, the weather. So we crossed everything and hoped that the little house would be like everything else. 
What drew you to the property in particular?
It felt like the little house needed rescuing. It was sweet but needed restoration, and even in the pictures we could see buckets were being used to catch drips from the leaking roof. Saving it felt like it was going to be a good thing. Its small size also made it less of a risk in terms of potential renovation costs. And as our children are now old enough to visit and travel on their own, it dawned on us that we didn't need a large property to all be able to enjoy the island, something that had always made us rule out buying a place. 
In Home Greek Home, we follow your journey renovating the house. Can you tell us a bit more about the show and how it came about?
The moment we told friends and family that we were thinking of buying a house without visiting it, we realised that it wasn't something most people would do. And that always makes for interesting viewing. So when the restrictions were finally lifted after Covid we all flew out to Skiathos and a camera crew came too, to see us visiting the house for the first time. If it looked good, we thought we'd try and make a series about it. The first time we ever saw the house is captured on screen. Better in some ways and worse in others, it became clear there was a story to follow, and More4 agreed.
You worked with locals and traditional materials to restore it – what do you think the importance is of this?
We couldn't have done the project without the help of our Greek friends. And we wouldn't have loved the process nearly as much as we did if we'd have introduced any UK building teams. Skiathos is a small island with a fantastic talent pool of artisans and makers. There are the guys who make all the roofs, the glaziers, the blacksmiths. They all know each other, and they all know Kostas who managed the whole project with an energy and enthusiasm that was infectious. We were also lucky to meet the loveliest restorer on the island who helped salvage and restore all of the original elements of the house that we could salvage. Yiorgos is now a friend. He's a kindred spirit.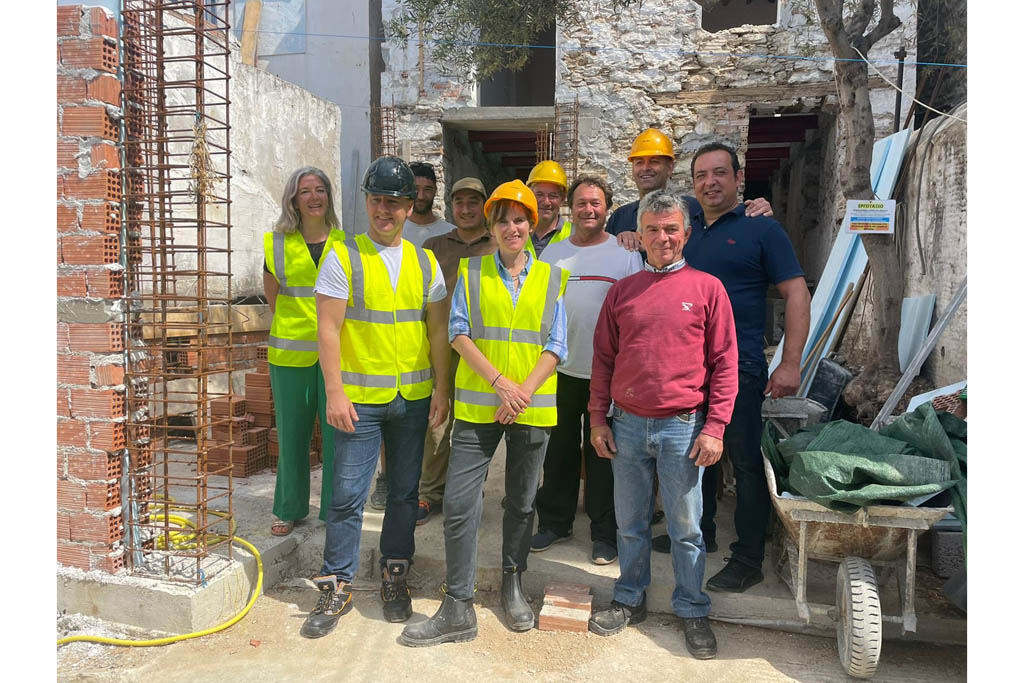 Conservation is important in the area – did this help or hinder your project?
It's not a default setting in Greece to save the old. And, after initially introducing the save, salvage, restore, reuse concept, there were a few shrugged shoulders and raised eyebrows. But the lovely building team, lead by Paniottis, soon championed the cause, producing a selection of found and saved items for approval every time we visited. They started looking at their old stuff in a slightly different light and totally embraced the theme for us. 
Did it teach you anything that you're going to take with you to future projects?
Rome can't be built in a day, and imperfect can also be perfect. We have relaxed about things we can't change and tried hard to pursue things that are important to us. It has to be give and take when you are building remotely or your blood pressure would be sky high! So a good dose of Greek relaxed attitude has rubbed off. 
Which materials did you ultimately work with and why?
We reused all of the old stones and ironmongery in the house, only buying new when we had to. Patiti is also a new material for us: a patted poured resin that is hand shaped to create a sculpted bathroom or kitchen, and a work of art created by another Yiorgos. New to us, and we are so pleased with the results. 
What are some of the big challenges you faced?
Trying to complete the project between the winter seasons. Skiathos often has snowy, stormy weather between November and April. Getting everything shipshape within this time was a challenge, but the build team really pressed on. 
And what were the big triumphs?
Closing the gates on a beautiful little home in our favourite place. And creating a place that we can all stay in together because of the great design our architect friend Phaedra created. 
What are some of the inspirations behind the interiors of the house?
My old school friend's house was built in the late sixties, so a retro vibe has always felt right. Vintage and reclaimed furniture alongside some lovely bits crafted on the island has created a relaxed interior.
Look Inside: Sarah Moore's Skiathos Home