Latest revelations by Chuwit Kamolvisit focus on police officers within the force taking bribes from the illegal gaming industry moonlighting as masters of business and high finance including living abroad while being absent from work for long periods. 
New allegations of corruption within the Royal Thai Police linked to the kingdom's huge illicit illegal gambling rackets have led to National Police Commissioner General Damrongsak Kittiprapat ordering an expedited report by the police inspectorate seeking confirmation of serious allegations that two top police officers have been complicit in such activities including being in receipt of hefty bribes from such entities allowing a mid-level officer to fund a lavish international lifestyle. The officer has also been linked to the operation of an upmarket massage parlour in Bangkok. Prime Minister Prayut Chan ocha has given the police chief his backing to get to the bottom of the latest affair linked to the force as his government faces searching questions this week in parliament as an opposition-tabled debate gets underway.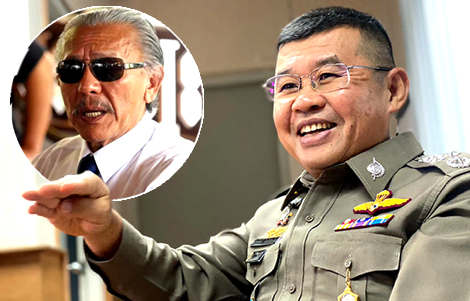 Following an order from the Prime Minister's Office as public confidence in the Royal Thai Police continues to tumble with waves of corruption allegations at all levels battering the force week after week, the National Police Commissioner, General Damrongsak Kittiprapat, has ordered the Office of Inspector General (OIG) to investigate the latest claims made by whistleblower extraordinaire Chuwit Kamolvisit relating to senior officers within the force and their links to huge worldwide gambling operations and even international oil trading.
The police chief has set a timeline of 15 days for the inspectorate to send him a report on an as-yet publicly unnamed police general identified in the media only as General 'Jor' at this time based on briefings given by Chuwit.
Chuwit's 'Inspector Sua' funds his lifestyle from bribes paid by online gambling and oil trading in Thailand. Police chief wants him revealed
The top officer has been linked to a more junior officer, publicly identified by Mr Chuwit Kamolvisit, a newly suspended police lieutenant colonel, who has featured in his ongoing reports into police corruption as 'Inspector Sua' and is reported to have facilitated online gambling and oil trading businesses in Thailand by accepting large bribes from operators to fund an international jet-set lifestyle which includes spending considerable time abroad.
Commenting on the growing scandal, this week, Police Major General Achayon Kraithong told reporters that General Damrongsak has demanded the identity of Inspector Sua be confirmed and the links between him and the more senior officer also authenticated as part of the probe ordered.
Reports in Bangkok on Wednesday suggested that Inspector Sua is a senior officer working within the Royal Thai Police logistics division who has now been suspended due to chronic absenteeism causing a loss to the state.
Linked with a software and technology firm in Bangkok named by whistleblower Chuwit Kamolvisit as well as high-class massage parlour known as Lalisa
In a detailed press conference given by Mr Chuwit Kamolvisit, the officer was identified as the director of 10 companies connected to an entity known as the Pentor Group and also a massage parlour in Bangkok known as Lalisa.
Pentor Group is a digital technology company with divisions providing software, foreign exchange, property and healthcare services in the Bangkhen area of Bangkok.
Lalisa massage parlour, in Bangkok's Sutthisan area, was raided by the Royal Thai Police on Saturday, February 4th last.
The high-class, luxury facility was undergoing refurbishment and only one room was being used by a hostess providing a service to a younger man in designer clothes who fled the scene while the manager was arrested and later released on ฿50,000 bail.
Police officer drives to work in a supercar
Mr Chuwit quoted his sources which police have long suspected is one of their own, saying that the police lieutenant colonel often drove an expensive supercar to and from his place of work in the force.
Chuwit told the media that Inspector Sua now spent most of his time in foreign countries and has a penchant for staying in plush hotel suites or penthouse apartments where the daily tariff rates can easily be in the order of ฿150,000.
On Wednesday, Chuwit traded barbs with the mid-level Royal Thai Police officer online after he posted confident messages amid spectacular scenery while on holiday in Turkey. 
The former massage parlour tycoon and politician promised the suspended police officer luxurious accommodation in a Thai prison when he returned to Thailand.
Mr Chuwit bantered with the policeman and told him that there was no possibility of lying his way out of the information presented against him.
A top police official and assistant national chief, a police lieutenant general, on Tuesday, made a statement to a local Thai news outlet insisting that he does not have close ties to Inspector Sua or his alleged illicit activities.
Senior police general denies any illegal involvement and has contacted Mr Chuwit as he feels he was implicated by the whistleblower's media briefings
He said he had taken the matter up with Mr Chuwit Kamolvisit directly and told reporters he was concerned that the activist may be under the impression that he was involved in any illegal business such as online gambling or the activities of the junior officer who has been suspended pending the probe by the Inspector General.
General Prayut, whose reputation as government leader for fighting corruption is being battered by the ongoing controversies as a General Election campaign is underway in all but name and scheduled for May 5th, has given the green light to the national police chief for full disclosure and pursuit of the evidence in the matter.
Latest scandal damaging to Thai PM
As well as being prime minister, Prayut is also the chairman of the police commission.
His government is expected to come under heavy fire from the opposition in parliament starting on Wednesday when a debate on it's performance under Section 152 of the constitution gets underway without a vote.
There are hints from leading opposition figures that new and damaging information may be unleashed during the coming days with House Speaker Chuan Leekpai forced to issue a statement, on Wednesday, dismissing rising reports that the debate may be sabotaged due to parties involved orchestrating a lack of a quorum.
Further reading:
Police admit bribe was paid by Taiwanese actress in Bangkok but say she should have been arrested
Confidence and trust in Thailand damaged by Chinese VIP tourist services advertised online
Viral Chinese video says VIP arrival with a police escort can be bought when holidaying in Thailand
US and Thai agencies forge closer ties as cabinet tackles corruption within the Royal Thai Police national ranks
Royal Thai Police Sergeant Major arrested on Ko Samui, charged with the rape of female detainee
Top Thai and US drug suppression officials warn of the use of cryptocurrencies in the drug trade
Illegal Chinese fraudsters use fake banking app to steal millions of baht from gulled online SCB users
Drug police put retraction behind them to smash billion baht Myanmar drug operation in Bangkok raid
Use of cocaine and cannabis is still highly illegal in Thailand with very serious legal consequences
Sex, drugs and alcohol as Chiang Rai party-goers arrested in the midst of the growing virus emergency
One of the biggest drug dealers in the South flees home as Thai police and army move against him
Evil drugs trade in Songkhla sees Thai woman burned alive by her family for 300 grams of ice missing in village
Thai man burns down his family home: Thailand's drugs problem is still a very real threat to society
UK man arrested on drugs charges by CSD police in Pattaya claims ex Thai wife set him up
UK drug dealers living it up in Thailand to be deported back to the UK after arrests in Pattaya
Kiwi taken into custody on drug charges in Chiang Mai after police raided his bar and restaurant
Drug lords using an Australian gang to ship concealed drugs to Australia and Canada – more arrests promised
Double life of a UK man who became a drug dealer in Udon Thani
UK man watched his ceiling as a downpour of money spelled his downfall and jailing in Thailand
American man and Thai wife arrested for selling 'ice' in Pattaya after police swooped on Bang Lamung condo
About the Author
James Morris is a pename for an international writer based in Bangkok who works on various international news media. He is a sub editor with the Thai Examiner news website since it began in 2015. Son Nguyen is an international writer and news commentator specialising in Thai news and current affairs. He commenced working with the Thai Examiner News Desk in May 2018.