Sarah Rodridgues ventures to the Seychelles to find a new, ecological side of the East Africa archipelago
Read the C&TH Responsible Tourism Guide
Discovering The Green Side Of The Seychelles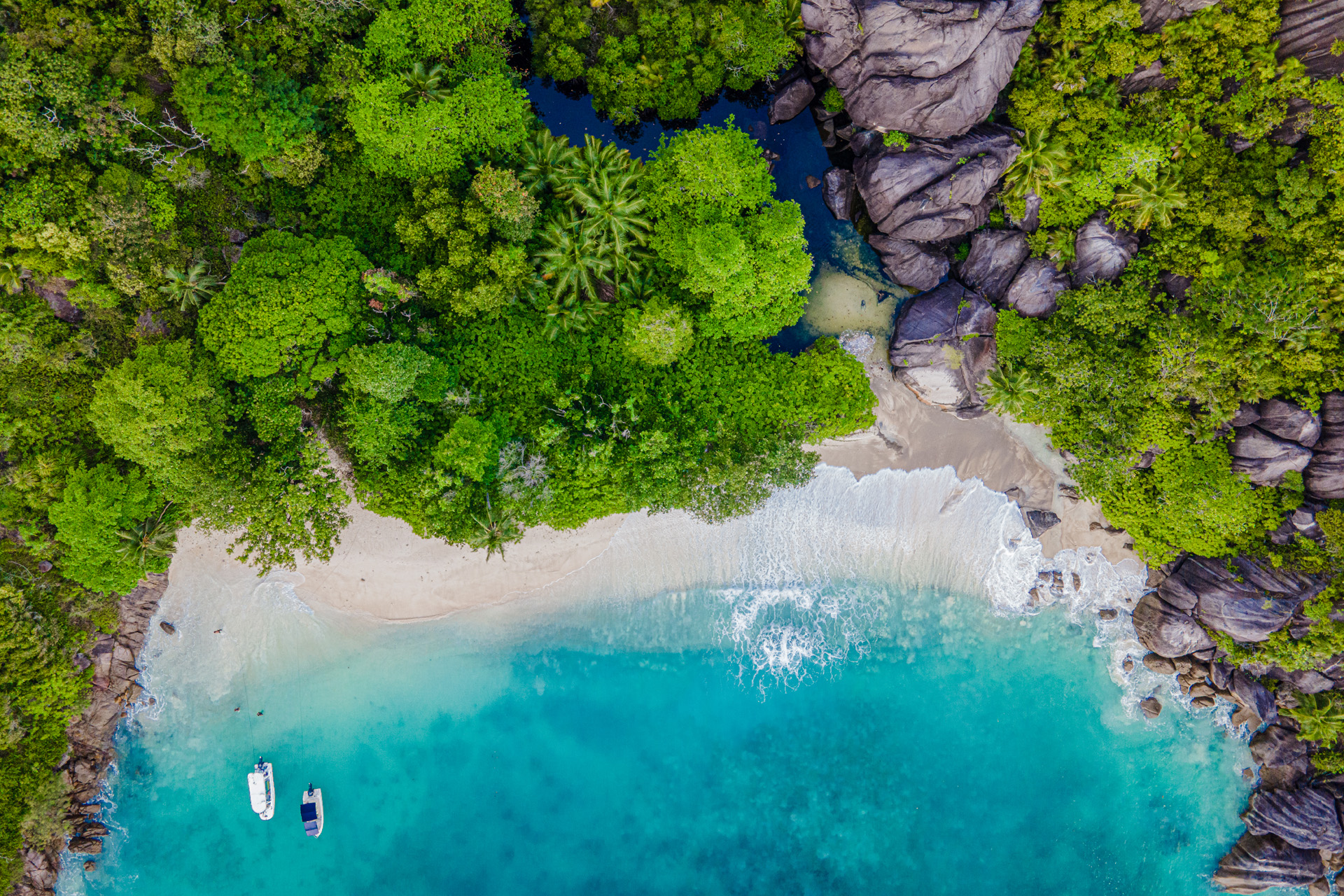 Any mental image of the Seychelles tends to evoke a 'wish you were here' confection of talcum powder-white sand lapped by Bombay Sapphire waters and shaded by graceful palms. It conveys lush rainforests tumbling down granite cliffs, clear skies studded by a zillion stars, petal-strewn beds, and swoons of the most breathless kind: in short, romance on 'roids.
Yet, as alluring as it is, this postcard picture image only scratches the surface of what this group of 115 islands, located just above Madagascar in the Indian Ocean, has to offer. Not only are they an ideal – and idyllic – holiday destination for families and friends, as well as for honeymooners, the Seychelles are also astonishingly rich in wonders rarely seen elsewhere. With nearly 50 percent of the islands' total land mass protected by nature reserves, there's much more to the Seychelles than curated romance.
The islands' very geology, evident as soon as you land at Mahé International Airport, is astonishing: we're confronted by sheer granite faces, swathed with greenery and shrouded, at the top, by the mists of a recent downpour; the kind that breaks the humid stillness and leaves the air fresh and the foliage damp.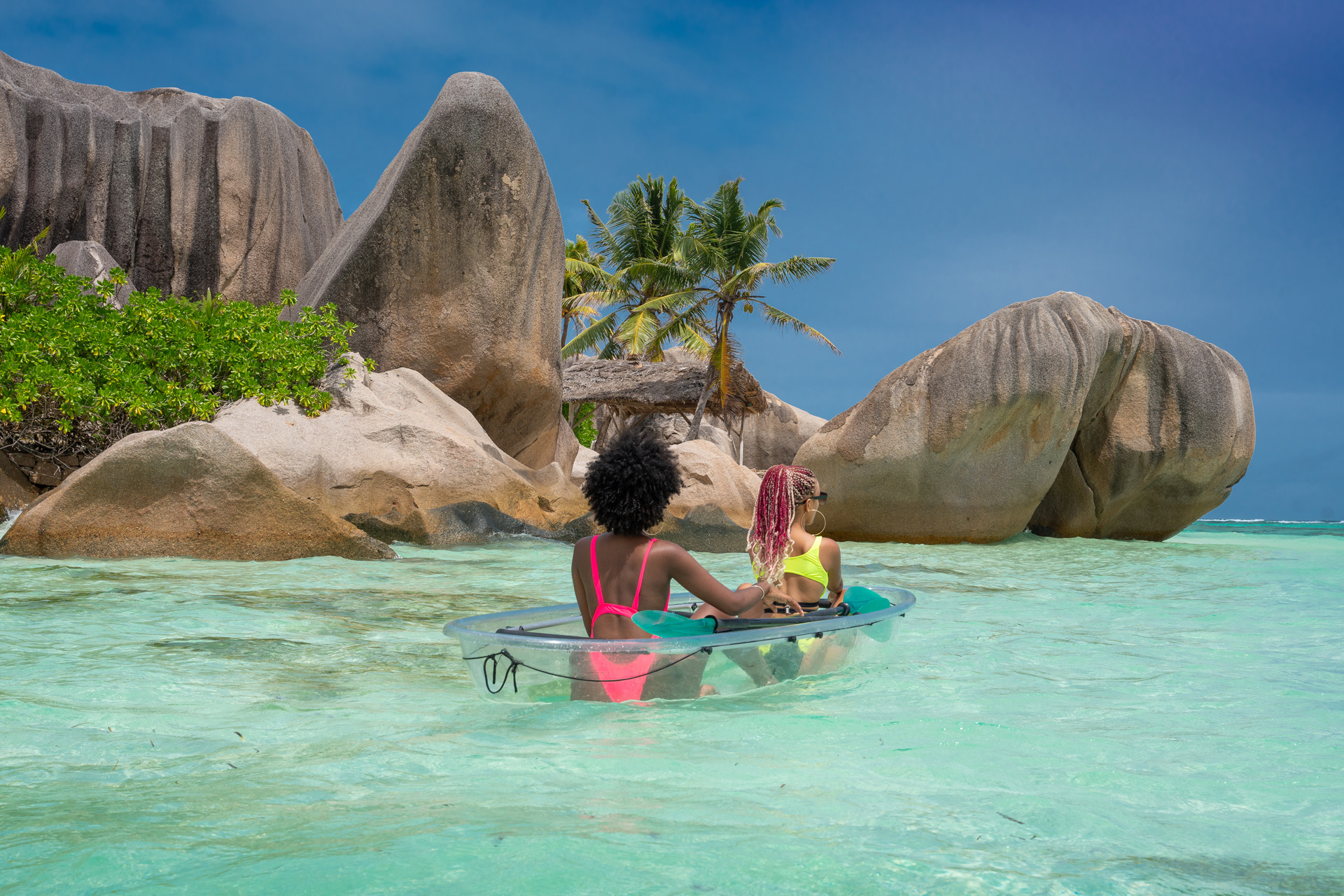 In this section of the Indian Ocean, islands tend to be volcanic in nature; the Seychelles, however, have the distinction of being the only oceanic islands in the world formed of granite, thrusting skywards from the ancient supercontinent of Gondwana, which existed over 200 million years ago. Their jagged beauty is the stuff of social media posts, of course – Anse Source d'Argent beach, on the largely pedestrianised island of La Digue, is said to be one of the most photographed beaches in the world, thanks, in part, to its use in various advertisements and films (including Tom Hanks' 2000 film Castaway). 
Some of the enormous granite formations appear to be precariously balanced, like giant boulders on the Atlas-like shoulders of others. Elsewhere, sculptural masses of curves and folds appear almost delicate, despite their petrous nature. Reef activity swarms within a short distance from the sand, and glass-bottomed kayaks can be acquired from Robert Agnes' Sunny Trail Guides, the outfit's low-key beachshack appearance belying the wonders their rental equipment gives access to.
On a snorkelling boat trip from Praslin – itself accessed via a short internal, and somewhat archaic, flight from Mahé – we lingered by striking formations, rising from the waters like serpentine Loch monsters. We admire the pure lushness of the carelessly spectacular greenery, effusing from every orifice; it's just as compelling as the rippling clouds of colour and activity we witness beneath the water, darting among savagely beautiful structures of bleached coral.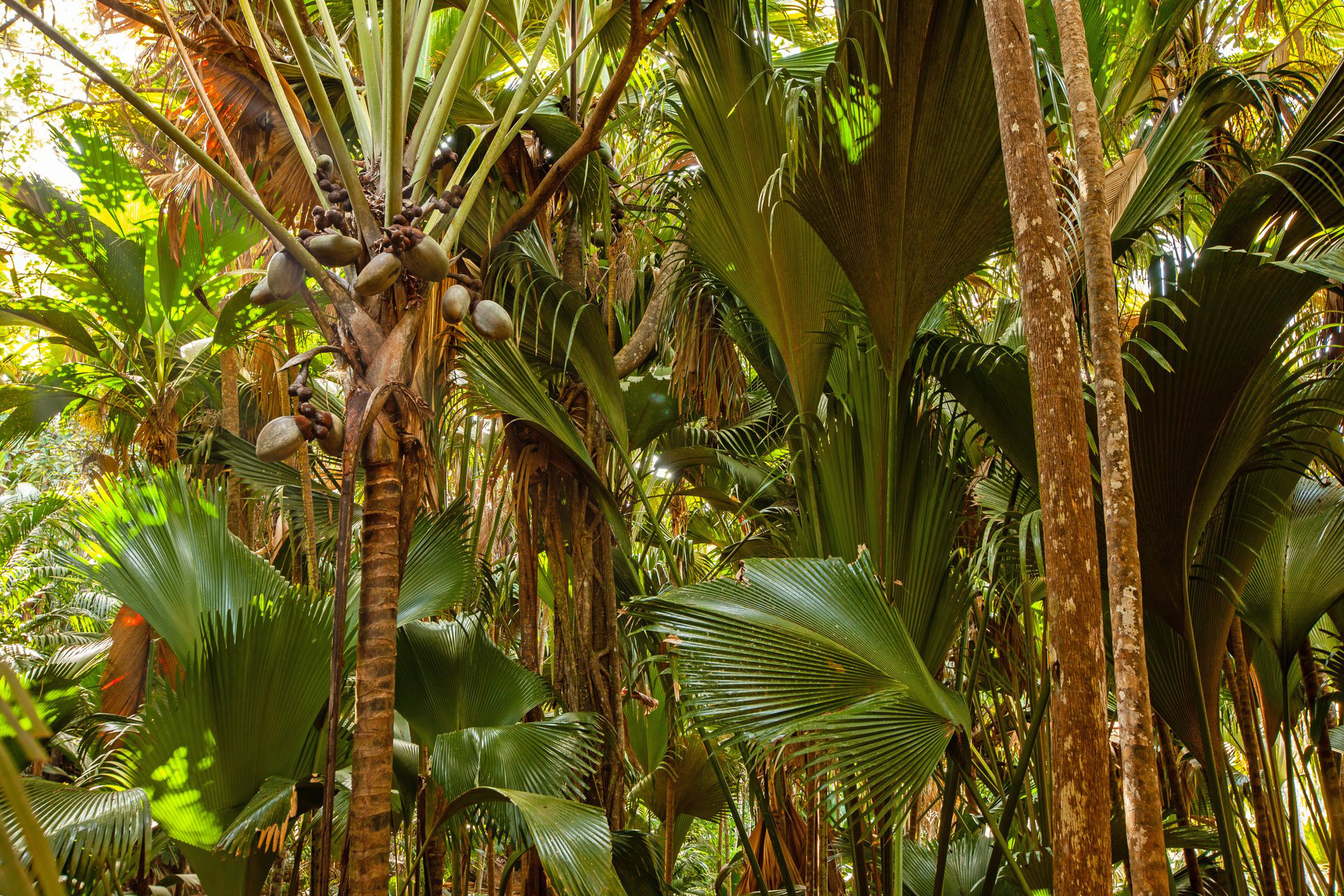 If there's a certain fecund sexiness to our surroundings, it's probably heightened by the fact that Praslin (and the nearby island of Curieuse) is the only place in the world where you can find the highly prized and fiercely protected Coco de mer trees. We embark on a guided tour of the 19.5ha Vallee de Mai, a UNESCO World Heritage site also known as the Garden of Eden, where the moniker is easily understood as you walk, awestruck, through its primaeval magnificence, learning more about the history and significance of this native palm and its seeds. 
Our driver had already commented on the distinctive maleness and femaleness of the fruits of the trees and, as we soon discover on our walk with a fiercely knowledgeable ranger, the differences between the two are almost laughably vulgar, with the female seed representing a rather enviably shapely bottom, while the male, a large catkin, is impressively phallic. So precious – and frequently endangered – is the flora here that visits are limited to a single hour.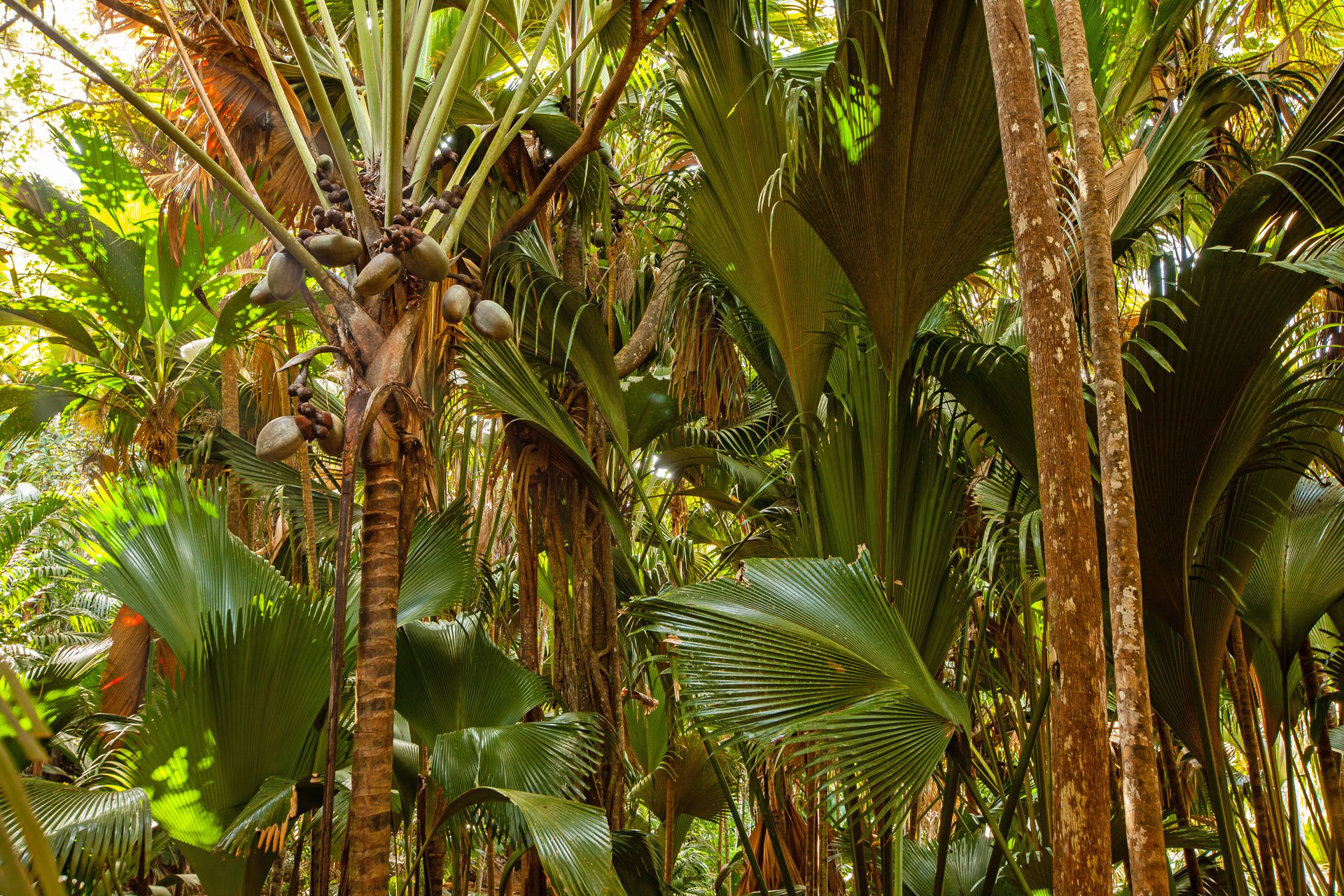 Inevitably, a product so rare and so evocatively shaped has given rise to a number of myths and legends – those concerning aphrodisiacal properties, of course, among them. The fact that the seeds were often found washed up on far distant shores even led people to believe that they were the products of forests of underwater palm trees.
There are only around 8000 mature coco de mer trees in existence today, and the plant is listed as endangered on the International Union for Conservation of Nature (IUCN) red list. The government takes vigorous measures to protect them, claiming ownership of all of them, even if they grow on private property, and rigidly enforcing sanctions against those illegally harvesting nuts. 
Since they live between 200 and 400 years and can take up to 50 years to reach sexual maturity, naturalists have plenty of time – or not enough time – to observe their development. Such a slow growth rate, additionally, contributes to the palm's endangered status. Huge fines and even sentences befall those who try to smuggle them out of the country: those wanting their own coco de mer nut (the flesh is removed before sale and sold to the Chinese market as an aphrodisiac) to take home must buy through a licensed seller, where they are allocated a numbered certificate of provenance and an export licence – and heft out a sum in the region of £250. 
As of 2020, further initiatives have been launched that involve giving residents the opportunity to make an application to plant as many as five coco de mer seeds within their own properties – thus not only boosting the palm's population but giving the Seychellois a sense of ownership about their country's rarest and most precious commodity. Rigorous checks are undertaken of the applicants' properties to ensure that conditions are suitable for the palm to flourish – even though, due to their exceptionally long growth cycle, most of the applicants won't get to admire their coco de mer palms in their own lifetimes.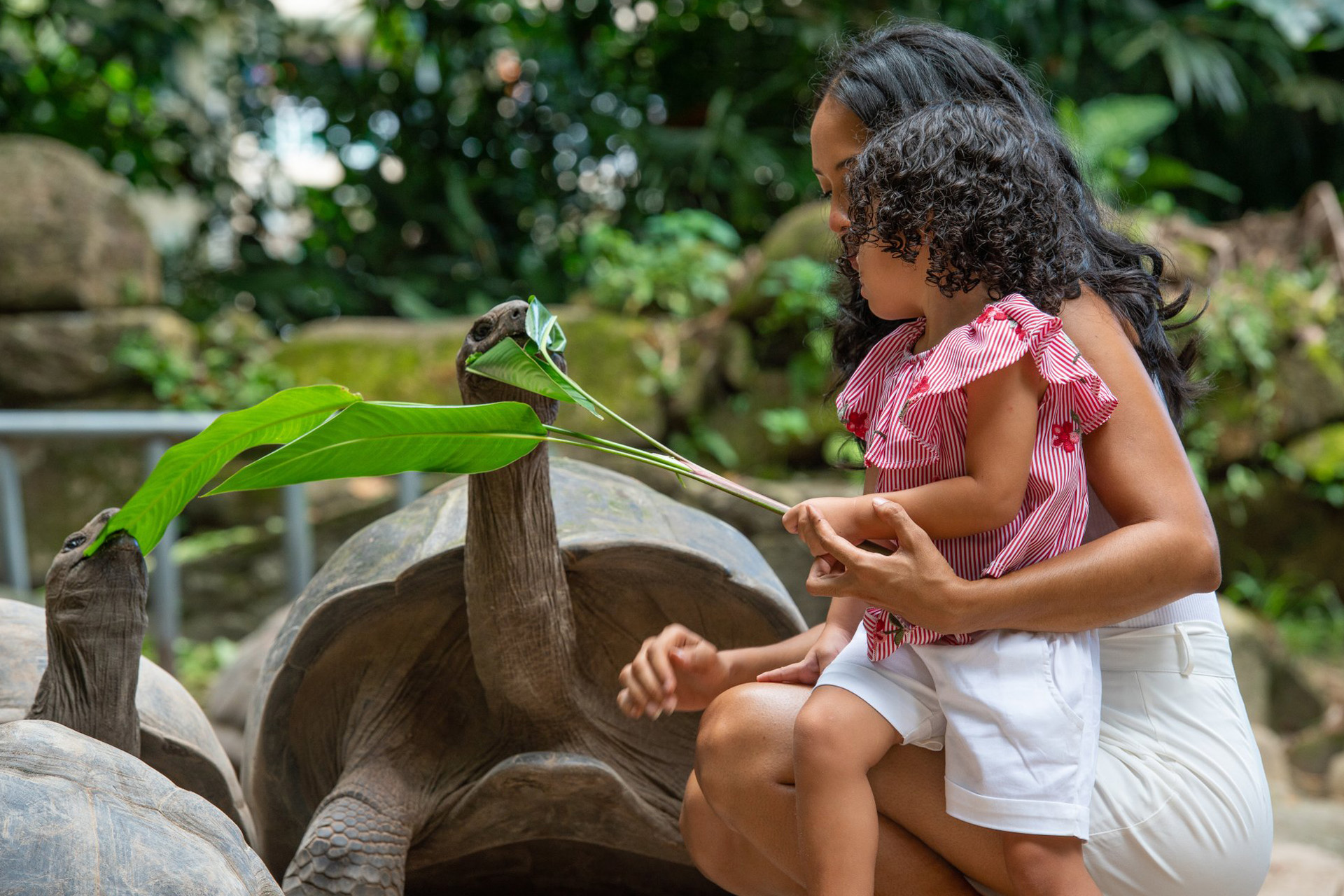 As fascinating as these endangered 'love nuts' are, they're not a patch – where adorableness is concerned, at least – on the giant tortoises, who drool in the most fetching way when presented with leafy treats. We encountered these on Curieuse and La Digue and, with their huge, domed backs, these lumbering creatures can weigh up to nearly 800 lbs and live to be centenarians. Thought to have been driven to extinction over 100 years ago, the Nature Protection Trust of Seychelles led a successful conservation programme, including captive breeding programmes and reintroductions. A recent census showed that the population of these characterful reptiles has now exceeded 4000, with captivity used for protective and breeding purposes; however you encounter them, they're both an oddity and a delight. 
With its paradisal setting so much a part of what the Seychelles have to offer, it's little wonder that concerted efforts of preservation and conservation are such considerations in this group of islands. As well as the efforts around the tortoise population, there are also the thousands of coral fragments which were, in 2022, outplanted in four underwater nurseries in a Marine Protected Area. Given the fragility of the fragments, this is an activity that takes both time and delicate yet concerted effort. Yet, at this time, more than 30,000 corals have already been outplanted. The next phase of the project – funded by the Adaptation Fund through the United Nations Development Project and the Seychellois Government – involves the establishment of a land-based nursery which is expected to generate coral fragments at a speedier rate than can be achieved in underwater nurseries.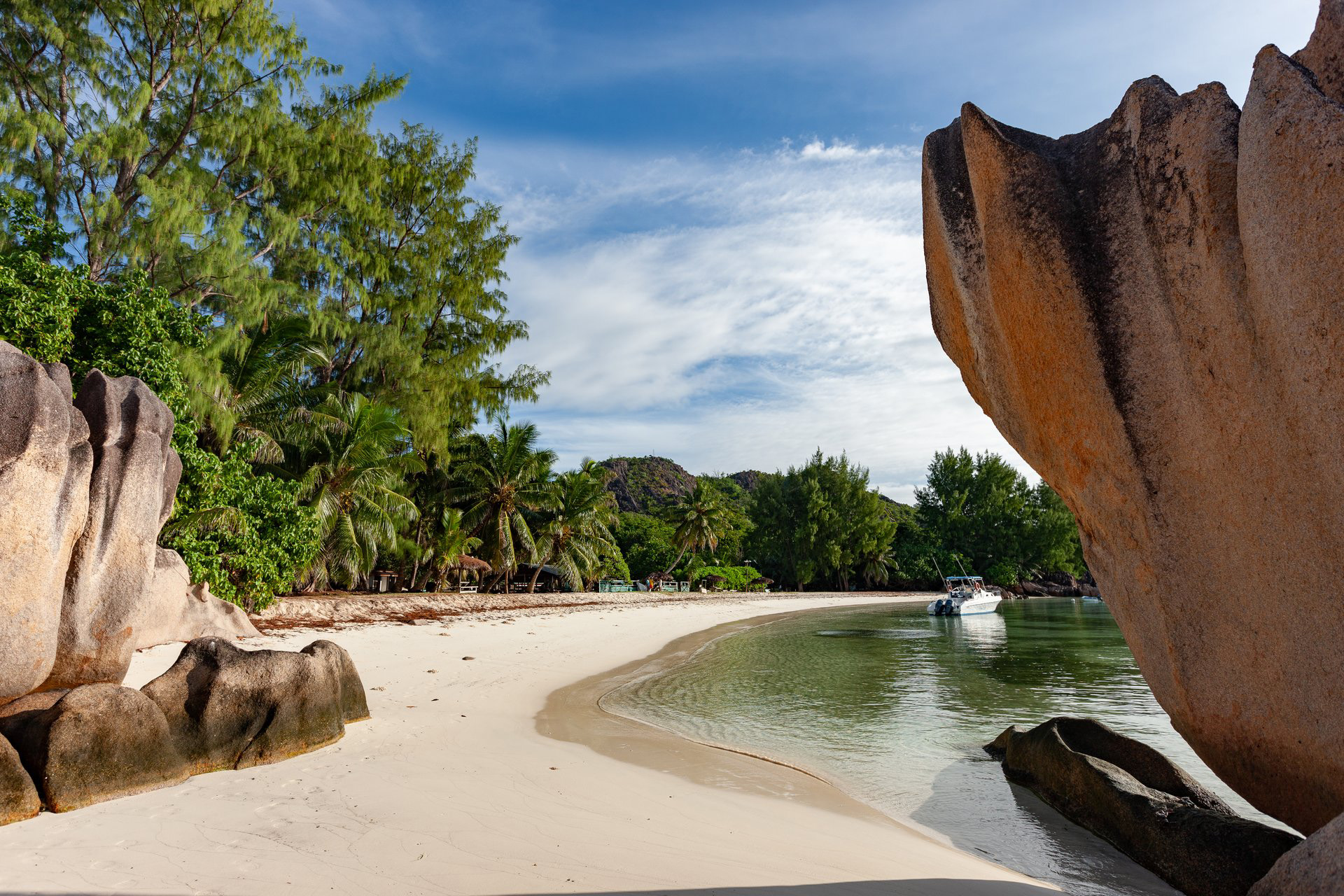 Efforts are also underway to preserve a number of birds endemic to the Seychelles; elusive as these are, some can still be seen in the Vallee de Mai, so keep your eyes peeled for Black Parrots, Blue Pigeons, Bulbuls and Warblers. The Royal Society for the Protection of Birds (RSPB) started work in the Seychelles almost 30 years ago to prevent the eradication (largely due to the introduction of predators and invasive plants) of endangered birds. Their success, with one species, the Red Fody, in particular, is plain to see – leave a few crumbs of your morning croissant lingering on your plate at breakfast and the brightly-hued, minuscule birds (they measure little more than 10cm) will hang about, politely but eagerly, waiting to see if you vacate your table with any leftovers that they can put their tiny beaks to use on.
The relationship between tourism and conservation has long been a thorny issue but, as well as there being opportunities to personally participate in conservation projects in the Seychelles (see, for example, gvi.co.uk), there is also the option to tour with operations whose sustainability credentials stand out. One such is White Sands Adventures, located on Mahé, where a combination of hiking, cycling, four-wheel driving and kayaking takes you to lesser-accessed regions of the main island in the company of a guide who is not only knowledgeable about the country and its exceptional environment, but also passionate about its preservation. A former athlete, he's found ways around the limitations on exploration of the islands' secret corners to make the natural gloriousness of the Seychelles – something even more ravishing, in its postcard-shy secretiveness, than the ubiquitous white sands, sculptural boulders and turquoise waters – accessible to explorers without compromising the continuing beauty of the landscape.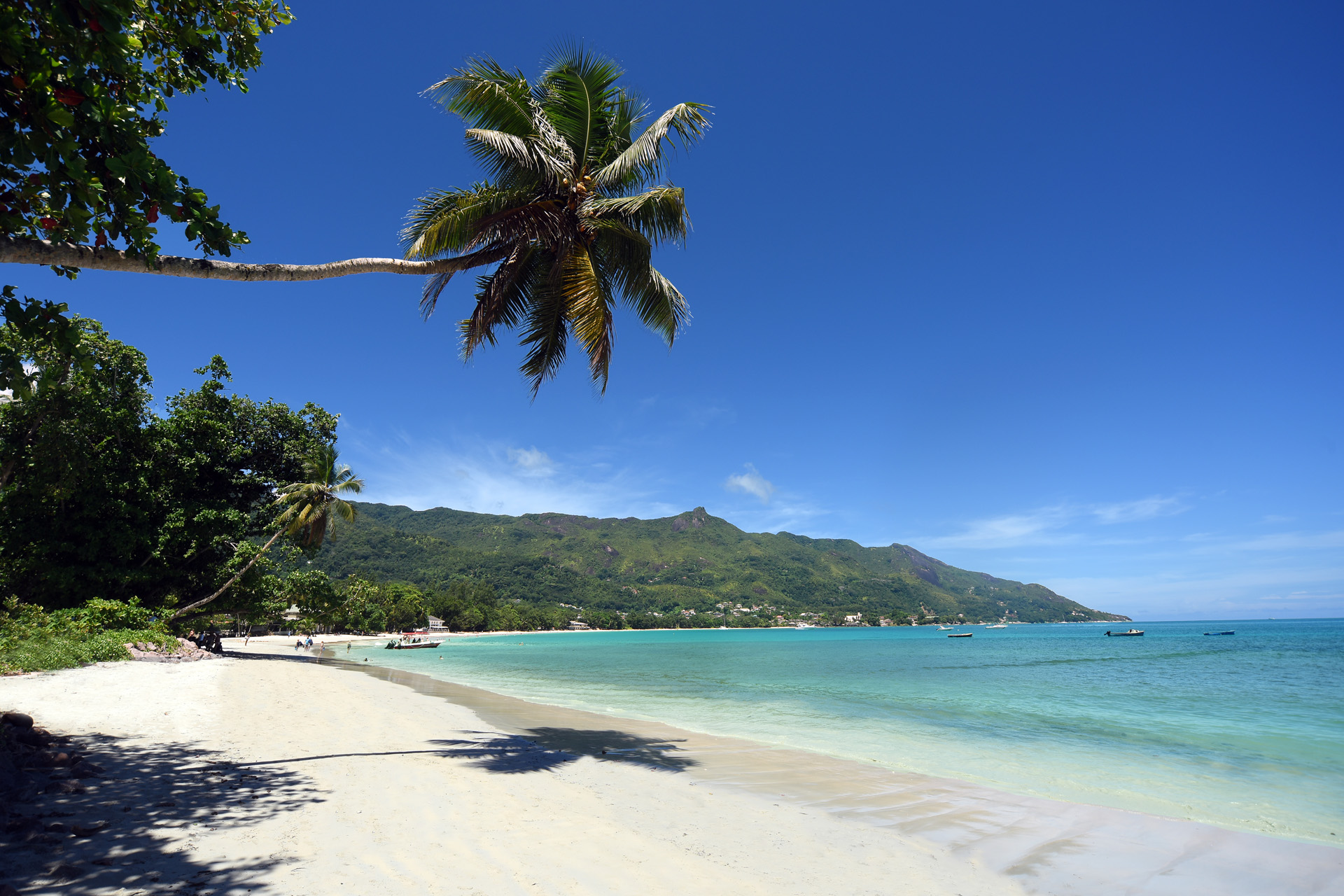 Back at our hotel, the exquisite Story in Mahe's Beau Vallon, you'd be forgiven for supposing that such lushness – groomed grounds, one hundred rooms and suites, opulent architecture that blends colonial and Creole, a dreamy spa, a variety of communal and private pools, plus no fewer than seven dining areas – has cocked a thumb at eco concerns, but the opposite couldn't be more true. Not only did the resort win 'Seychelles Leading Green Resort' for the fourth year running in 2021, but the devil is in the details: the resort has its own water bottling plant; the employment of single-use plastic is minimal (and increasingly limited); and guests are invited to participate in beach clean ups, which take place around five times each month. And, on a more indulgent level, there's a certain pleasure that comes from accompanying spectacular sunset-watching with a cocktail made from Takamaka Rum, produced right there on Mahe and infused with locally-grown spices. Come to the Seychelles for romance, by all means – there's an awful lot to fall in love with.
Sarah Rodrigues was a guest of the Seychelles Tourism Board.
How To Get To The Seychelles
Several airlines fly to the Seychelles from the UK via Europe or the Middle East, with an average flight time of 13–14 hours.
Featured image courtesy of Danio Denousse – Tourism Seychelles.