Not only is Graz Austria's second largest city, it's also considered the country's culinary capital. Bursting with history, culture and quirky architecture, there's an assortment of influences, from baroque, medieval and Renaissance to Art Deco. Thanks to its student population, Graz has a youthful vibe, too, while its modest size means it is easy to explore over a weekend, says Gilly Pickup. But first, an insider tip: you can travel free of charge on trams for three stops in the city centre and two stops outside of the centre. Now, to the exploring…
Read the C&TH Responsible Tourism Guide
STAY
Parkhotel Graz
Tops for location and timelessly elegant comfort, the family run, all-trimmings-present Parkhotel Graz is a rather special place to spend a couple of nights. The 68-room hotel is bang in the centre of town, making it super easy to get around by foot or tram. In the lobby, different generations of the Florian family look out from photo frames, immortalised in sepia, while lounge areas dripping in chandeliers and antiques offer comfort before you even sit down. 
Guest rooms and suites are spacious, and some have lovely balconies, ideal for enjoying a post dinner glass of wine or cup of coffee. What's more, there is a delightful holistic spa with indoor pool and glorious rose garden to relax in. The bar offers live piano music on Friday and Saturday evenings, and once a month the hotel showcases concerts featuring student musicians from the University of Music and Performing Arts Graz, which is just across the street.  
BOOK IT: Single rooms from €105 per night, doubles from €130 and suites from €162. parkhotel-graz.at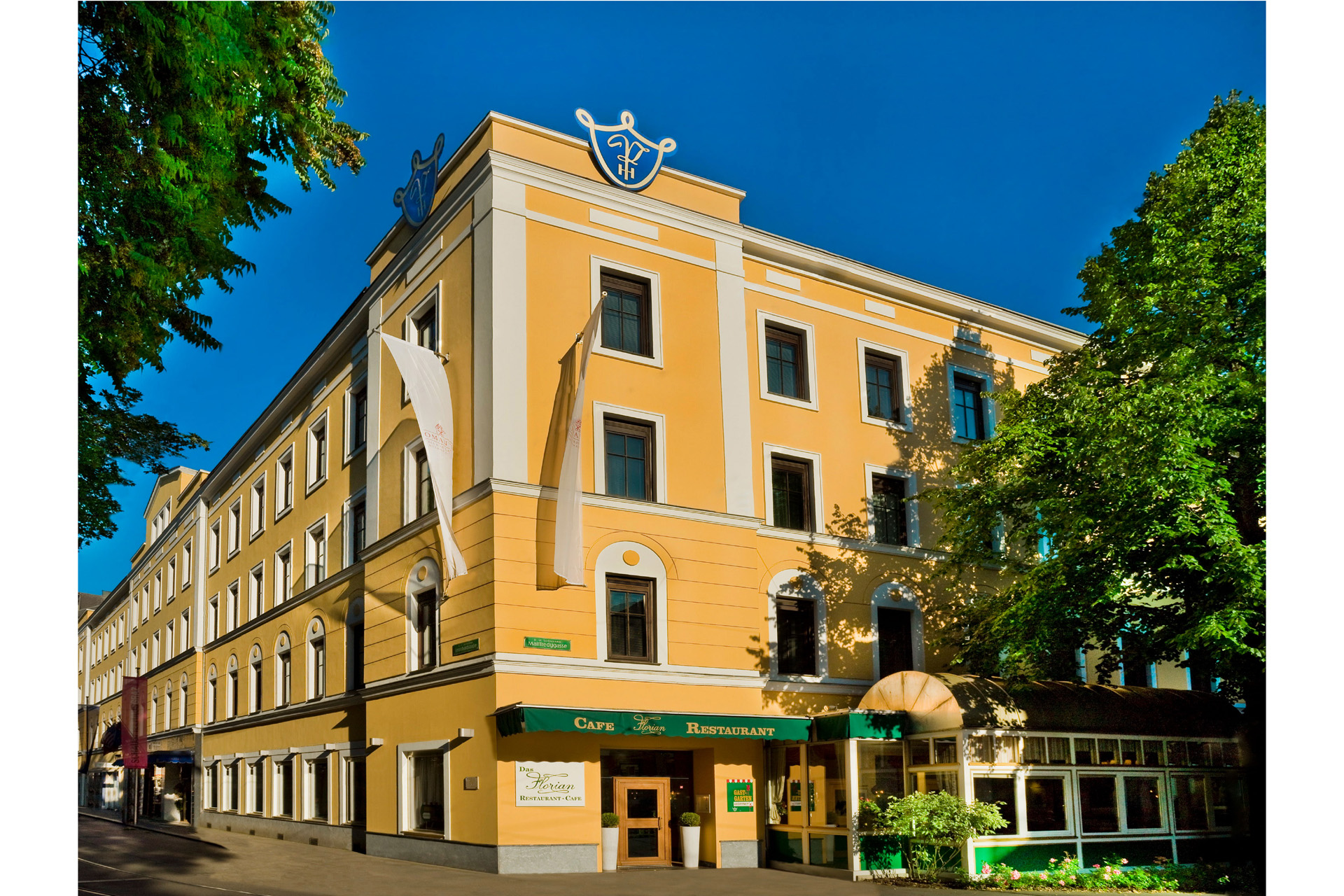 Daniel Hotel
Right next to the main railway station (very handy for travellers), the Daniel Hotel has a friendly ambience. Chic guest rooms are stylishly decorated with soft tones, and all feature state-of-the-art designs, while the 44sqm LoftCube, a floor to ceiling windowed space perched on top of the hotel, provides far reaching city views. If you're feeling energetic, you can hire a bike or Vespa from the reception to explore the area – or simply relax in the onsite espresso bar, sauna and steam room. 
BOOK IT: hoteldaniel.com
EAT
Although Styrian food – which has been borrowed from all over the Hapsburg Empire – tends to be meat heavy, non-carnivores are, perhaps surprisingly, well served in Graz. In fact, the city has the highest number of vegetarian and vegan restaurants in Austria. Two worth shouting about include Restaurant Genussbar 13 by Gauster – no feeble veggie options here, and don't miss the champagne sorbet! While at buffet-style Ginko, diners simply fill up their plates with all manner of delights, then pay by weight at the checkout.
Pause for afternoon tea at one of the cafes on the Glockenspielplatz. Make sure you're around at 3pm, because that's when the 24 Glockenspiel bells play their tunes and life-size wooden figures appear high up on the gables.
If you love dining al fresco, get yourself to Graz in August when the annual Long Table of Graz event occurs. This unforgettable, one-day experience sees around 700 diners sitting at a long table (well, lots of tables, actually) spread out in the Hauptplatz (main square). More than 30 chefs create a five course tasting menu, each dish paired with wine. As you may expect with so many people there, the atmosphere is exceedingly jolly, with plenty of singing and local bands playing late into the night.
Expect fabulous gourmet cuisine in the Parkhotel's restaurant Florian, an appealing, traditional-style dining room with a winter garden conservatory designed for lingering. Meat lovers come along to tuck into classics including Tafelspitz (boiled beef) and homemade apple or curd cheese strudel, while I can vouch for the rather more-ish pumpkin noodles and chanterelle mushroom goulash (works of art in their own right). What's more, the service is second to none.
Prefer something more casual? Hummel restaurant's community tables, just the job for sharing tapas style dishes, could fit the bill. Aiming to be a zero waste restaurant, the owners work only with small and medium-sized producers. The restaurant is big on veggie dishes and guests can tuck into a range of options including oriental oats, tabbouleh and fasouliyeh, a stew of white or green beans cooked in a herby, garlicky tomato sauce. Their lavender cream cheese stuffed figs go down a treat too.
DO
Graz is famed for its Farmers Markets, and they are definitely worth a browse. Fruit and vegetables have been harvested in this area for centuries, schnapps distilled, wine pressed and the local signature pumpkin seed oil milled. The markets are punctuated with coffee hangouts and small, casual restaurants with outdoor seating.
If you're interested in history, you'll love the array of well-preserved medieval and Italian Renaissance buildings in Graz Altstadt, a World Heritage site. The 15th century Graz castle is renowned for its architectural marvel: a free standing double spiral staircase. Known as the Staircase of Reconciliation, it's made up of two opposing spiral stairs, which merge on each floor, part and then rejoin. Nicely whimsical.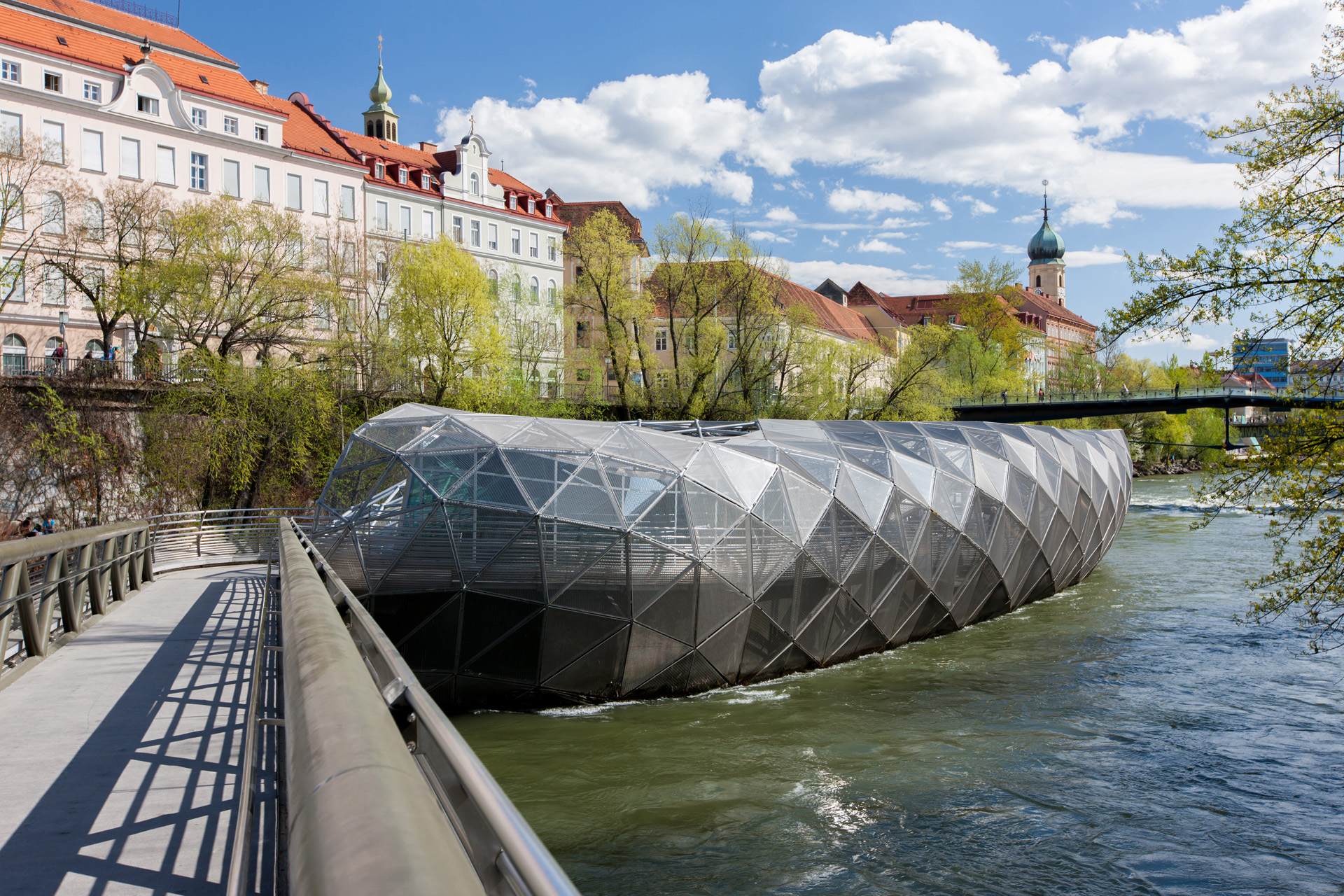 Do take a gander at the Murinsel, too – a floating platform in the river Mur shaped like an upturned sea shell. Connected to land by a footbridge on either side of the river, it was built several years ago as a temporary structure when Graz was designated Europe's cultural capital. Locals liked it so much that it was decided to make it a permanent feature. There is a small café inside, too.
Horse lovers might want to hop on a train to Piber village to visit the Lipizzan stud farm. Daily guided tours include a visit to the museum and its stunning exhibition of historic carriages. Piber, around 32 miles from Graz, is where the famous horses are bred for the Spanish Riding School in Vienna. Only a small proportion of the horses bred here, around ten percent, actually make it to the heady heights of Vienna, but the other beauties are prized worldwide for their longevity and trainability.
BUY
Styrian pumpkin seed oil (kürbiskernöl) should be near the top of this particular list. It turns up deliciously in all manner of dishes, including soups, casseroles, ice cream and salad dressings. Markets sell it in small metallic bottles, which make it easy to carry home.
Austrian wine is an underrated European wine, with those available in Graz generally coming from one of Styria's three wine regions: the Styrian Spa Country, Southern Styria and Western Styria.
For chocolate fans, Schlossbergkugel are hard to beat. One of Graz favourite treats, these prettily wrapped chocolate balls with truffle filling are on sale almost everywhere you look.
BOOK
Embrace the romance of the railway with an Interrail Austria Pass which gives unlimited travel for between 3 and 8 days. interrail.eu 
Discover more about Graz at graztourismus.at
Featured image: The Clocktower in Graz old town (c) Getty.