Adult toys and dolls are illegal in Thailand with strong opposition to any proposed relaxation of the law coming from the country's Ministry of Culture which aims to promote traditional and conservative relationships based around families as an example to young people who are increasingly more westernised.
A Thai man who was divorced twelve years ago says he has now turned his back on personal relationships with women and has called for adult dolls to be legalised in the kingdom as a means of preventing future crimes including rapes. Mr Kim was speaking to a popular Thai language newspaper this week as he gave reporters a glimpse of what he claims is a contented and satisfying life with a lifelike doll.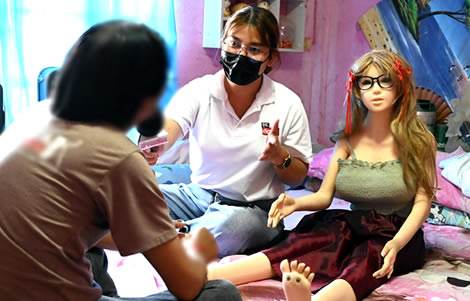 A 54-year-old Thai man has told local Thai news outlet Khaosod about his ongoing marital relationship with a rubber doll. Mr Kim revealed that he paid ฿30,000 for the lifelike Japanese doll after he separated from his wife in 2011 and later experienced loneliness.
He told reporters that he previously had to resort to the country's mammoth prostitution industry to fulfil his sexual desires at ฿2,000 per time, something he concluded after a while was a complete waste of money.
Chance discovery of the life-like doll in a Japanese second-hand shop 4 years ago changed Kim's life
So four years ago when he came across the life-size doll it felt like the answer to his needs. He found the doll in a Japanese second-hand shop and was impressed with its life-like features. The doll has a height of 160 cm and weighs a hefty 70 kg.
It was the first time he had ever seen such a doll and was instantly attracted to the idea.
The middle-aged man explained that he did not want to take another living relationship partner as he was concerned that it would destabilise his relationship with his two daughters even though his ex-wife had already found a new husband.
Kim says that he wants to be there to support his children above all else as he feels sorry for his daughters after the relationship breakdown with their mother.
Doll does not incur expense and is there at home every day before going to work and after he returns
He explains that life with his doll is perfectly satisfying.
She is there for him when he comes home and he says farewell to her each morning when going to work yet she doesn't incur any expense at all. No money for clothes, makeup, entertainment or even day-to-day food expenses. 
Thailand has criminalised the sale of adult toys and other sexual paraphernalia, a phenomenon that appears strange to outsiders in a country that has a reputation for its colourful red-light districts, nightlife and its vibrant LGBT community.
This is because society in the kingdom is a deeply conservative and traditional one.
Adult toys in Thailand are illegal and not easily found in the country with people also having difficulty ordering them online. Easier in China and Japan
This makes finding sex dolls in the kingdom extremely difficult and Mr Kim tells reporters that he knows of friends who have tried to purchase such dolls online and have fallen prey to fraudsters even though the items are quite accepted and easily sourced in East Asian countries such as China and Japan where they are considered as part of life. 
He insists that his relationship with the doll includes feelings of love and concern for its welfare.
Kim explains that when he comes home from work tired he is very happy to lie down and hug his doll to raise his spirits and chase away the loneliness he sometimes feels.
He says it is infinitely better than buying sexual intimacy or going out to find company which is also very expensive.
Call for adult dolls to be made legal in Thailand in order to reduce crime and violence against women
He considers his relationship with the doll now as permanent and thinks there will be no other woman for him as he enters into old age.
He feels strongly that adult dolls should be legal and permitted in Thailand as it may help address crimes committed by desperate men without financial means, including rape.
Of course, this would all be very bad news for the country's infamous sex-for-sale industry which exists in Thailand primarily for Thai men.
Prostitution within the country's black economy is estimated by some researchers to be worth up to 10% of the country's official GDP.
Bangkok, the world's most visited city with its sex-for-sale districts of Nana, Soi Cowboy, Silom and Patpong, aimed at foreign tourists, is thought to have an industry worth $6.4 billion or ฿225 billion alone.
Thailand is a country with a society that retains deeply traditional and conservative values despite the reputation of its massive sex-for-sale industry 
The decriminalisation of adult toys, however, even though many are found to be on sale illegally in Bangkok, has long been vociferously opposed by the country's powerful Ministry of Culture which, since 2014, has been a driving force in efforts to promote Thailand's sense of identity including strong conservative values, particularly as an example to young people.
Thailand's younger generations are more educated and increasingly more westernised something that is driving women into the workforce and lowering the birth rate.
It has a significant demographic problem and in the last decade been losing ground in inward investment because of this.
This has fed into a campaign since 2014 launched by Kobkarn Wattanavrangkul, the first-ever female minister of Thailand's Ministry of Tourism and Sports, to wipe out the country's sex industry and sex tourism altogether, a campaign which has impacted the industry which is thought to be in decline. 
New science fiction world dawning
The story of Mr Kim and his sex doll is coming at a time when well-funded companies all over the world are busy building, not just adult dolls but female robots augmented by advanced new technologies which can create skin tones and textures to make female humanoids that appear and feel like real human beings with improved features such as human voices, breathing and facial movements.
The robots can talk and interact while they are programmed by artificial intelligence as we have seen recently with the phenomenal launch of Chat GPT, to have attractive personalities and to be able to communicate at length with their human partners.
Further reading:
Tensions and sex appeal of Thai politics as a foreigner is arrested and a Thai 'pretty' candidate
Record year for Thai tourism but not so good for Thailand's bar girls and luxury hotels as market has changed
Thailand's sex industry crackdown sees westerners rounded up at hotel orgy in Pattaya – brothel raided
Thai Female Minister declares the end of sex tourism as Thailand too moves towards girl power
Thailand eyes up the sex trade with ongoing raids and a new drive against human trafficking
About the Author
Carla Boonkong is a magazine writer who writes extensively about woman's issues in Thailand. One of her key subjects is the story of Thailand's growing influence in the world and the role played by Thai women in the process. She is now a staff writer with Thai Examiner.com in Bangkok. Son Nguyen is an international writer and news commentator specialising in Thai news and current affairs. He commenced working with the Thai Examiner News Desk in May 2018.