What's your vice? What can't you help spending a little too much time and money on? For Olivia Emily, it's delicious food and sumptuous wine, and at The Vices York she was totally indulged. Along with elegant interiors across three suites (and the building as a whole), The Vices York is a destination in itself, with the pretty and historic city just a stone's throw away.
Read the C&TH Responsible Tourism Guide
The Vices York: Review
Down a sleepy York street, just out of the historic centre and into the suburbs, sits The Vices York, a new boutique restaurant and private house hotel with three suites. With food and wine at the heart of The Vices' experience – and a name evoking wickedness, playing on the building's former alias, Fulford Police Station – the hotel is the brainchild of Italian duo Daniel Curro and Moreno Carbone, having opened in 2022. 
And, in true Italian style, The Vices is effortlessly cool, yet exudes an undeniable elegance. A restored police station, old archways remain, sensitively restored, but there's a chic contemporary modernity, the exposed brick and original cast iron pipes married perfectly with black and cream furnishings along with quirky (sometimes spooky) pieces from Curro and Carbone's art collection: Nicoletta Ceccoli, Benjamin Lacombe, Henrik Aa. Uldalen.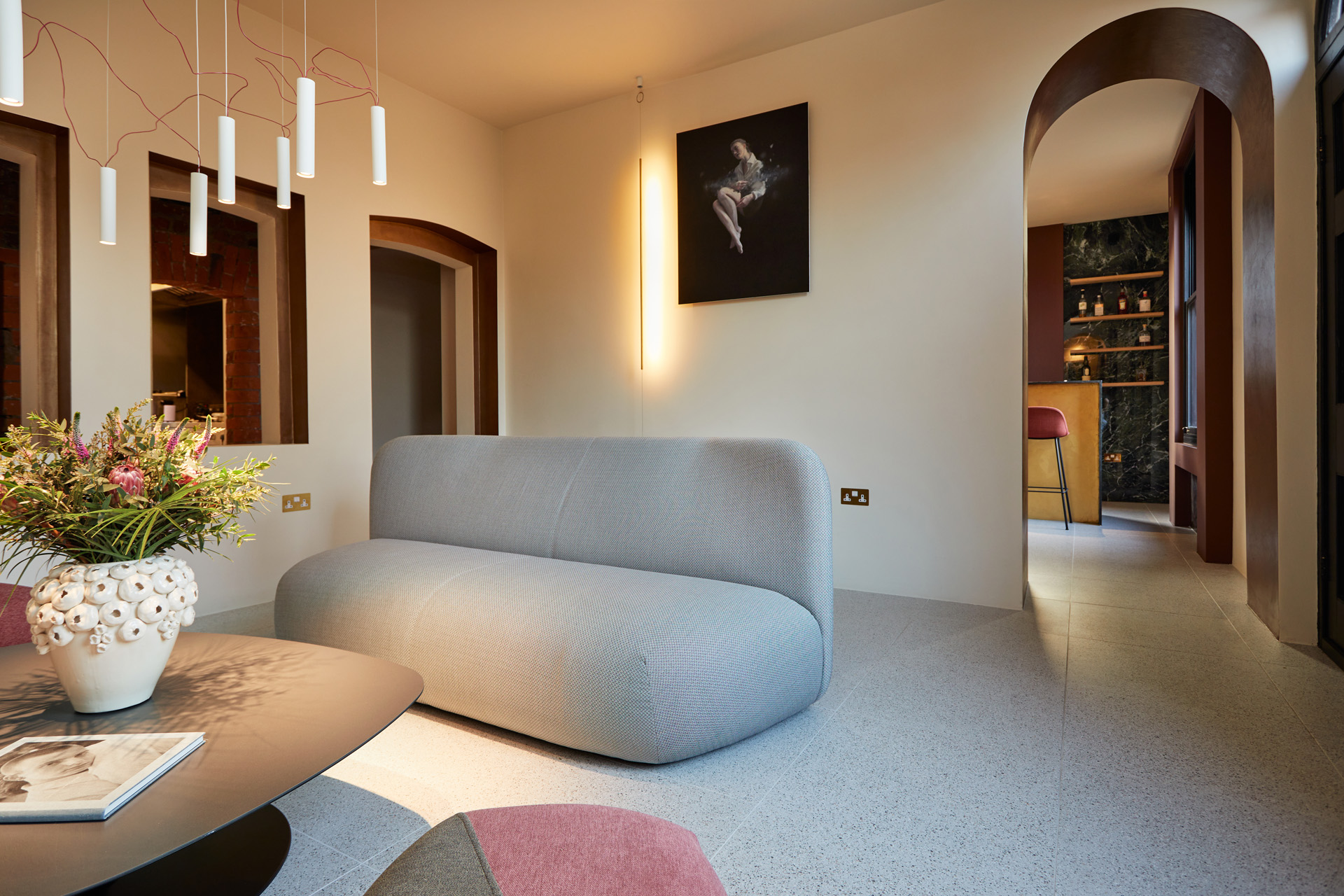 Alongside the three suites, there's a sitting room, bar area, wine library, and the Allium restaurant and kitchen, the latter occupying restored holding cells of criminals long passed. We are welcomed in warmly by Daniel along with Kathy, front of house and there's an immediate, palpable energy upon entry (perhaps it's the ghosts of those criminals flitting through the archways).
STAY
Design-led, the three suites are uber luxe, immersive sanctuaries carefully crafted around gender and exploration. Think intriguing design concepts and high-tech facilities (lights controlled by an iPad, anyone?), handcrafted wooden floors by Listone Giordano and rough cut marble and stone floors by Graniti Fiandre, unique light installations by Davide Groppi and sleek fixtures (no detail is too small). The entire hotel was designed by Moreno; 'We've travelled the world to source exceptional art and hand crafted furniture,' he says. 'I followed the narrative of gender, but also wanted to really showcase Italian design and craftsmanship too.'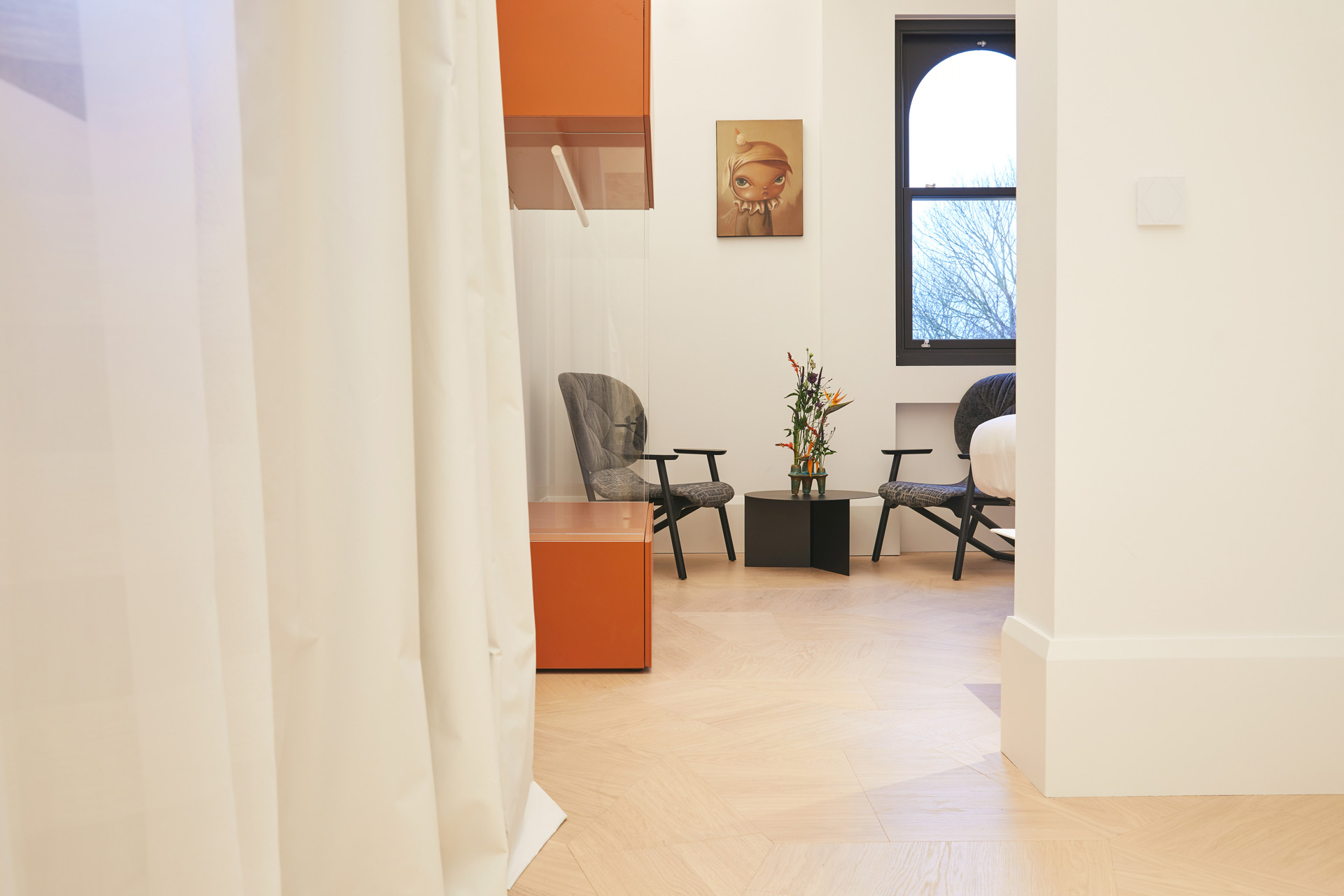 We stayed in The First Suite, an open-plan gender-neutral space with a spacious bedroom area – with an orange and acetate open wardrobe and a bed that floats on glass legs – flowing naturally into an expansive bathroom space, equipped with freestanding amber sinks and bathtub and a powerful-yet-soothing Aquaelite shower. Lighting, blinds, music and heating (underfloor, of course) are all controlled by an iPad or bedside buttons. Again, no detail too small, even the bathroom products have been selected to match the gender neutral theme.
Opt for The Second Suite, in contrast, for femininity: curved edges, cosy fabrics, deep pinks and bottle greens. Or try The Third Suite, the largest of the three, for The Vices' interpretation of masculinity: rougher edges, brass, moon lights, cut marble, and a Davide Groppi 'Chaindelier' taking centre stage.
EAT
Allium is The Vices' main selling point. With Luke Sanderson at the helm (Yorkshire native, previously at the AA Rosette awarded restaurant, The Pheasant in Harome), the tiny restaurant – seating up to fourteen guests in a dark, moody atmosphere, interrupted only by small pools of light from table lamps – holds guests in a reverie. Conversations are slightly hushed, not by any instruction but with an almost agreed understanding among fellow guests.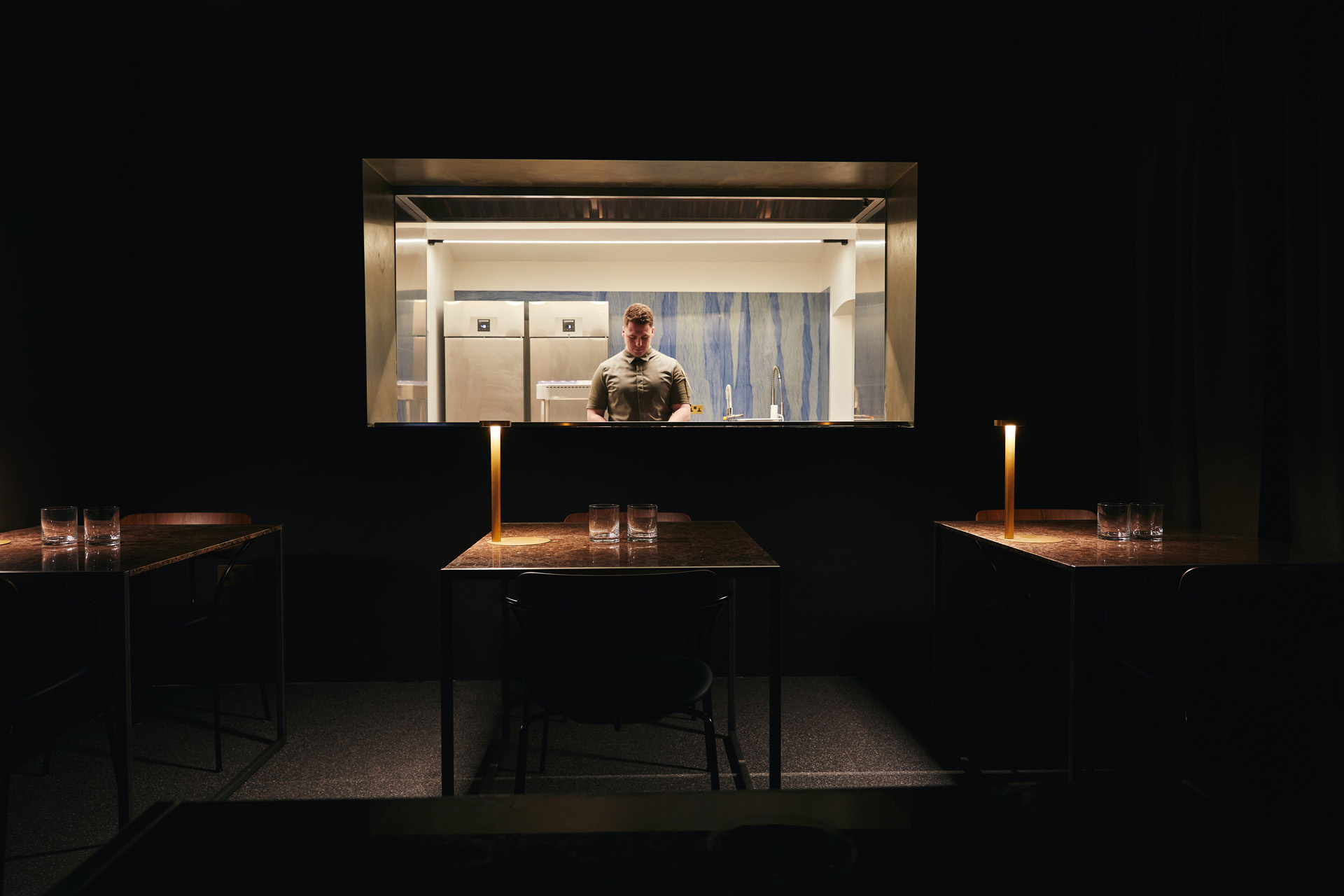 Similarly centred around exploration, guests are seated at 7pm and handed a wax sealed envelope containing the six-course tasting menu. Choose whether to open it, or try the Allium experience blind. Murmurs of approval seep between tables, between courses. Daniel, trained chef himself, plays sommelier by night (by day you might catch him arranging rare bottles in the wine library, home to over 100 fine Italian wines, many hard to source in the UK).
He serves Italian wine only; 'Wine is an incredible product that can do so much,' he says. 'It tells stories, enhances flavour, and I even think it can capture memories. How often do we find that we turn back to a wine we've had previously so we can relive those emotions and feelings?'.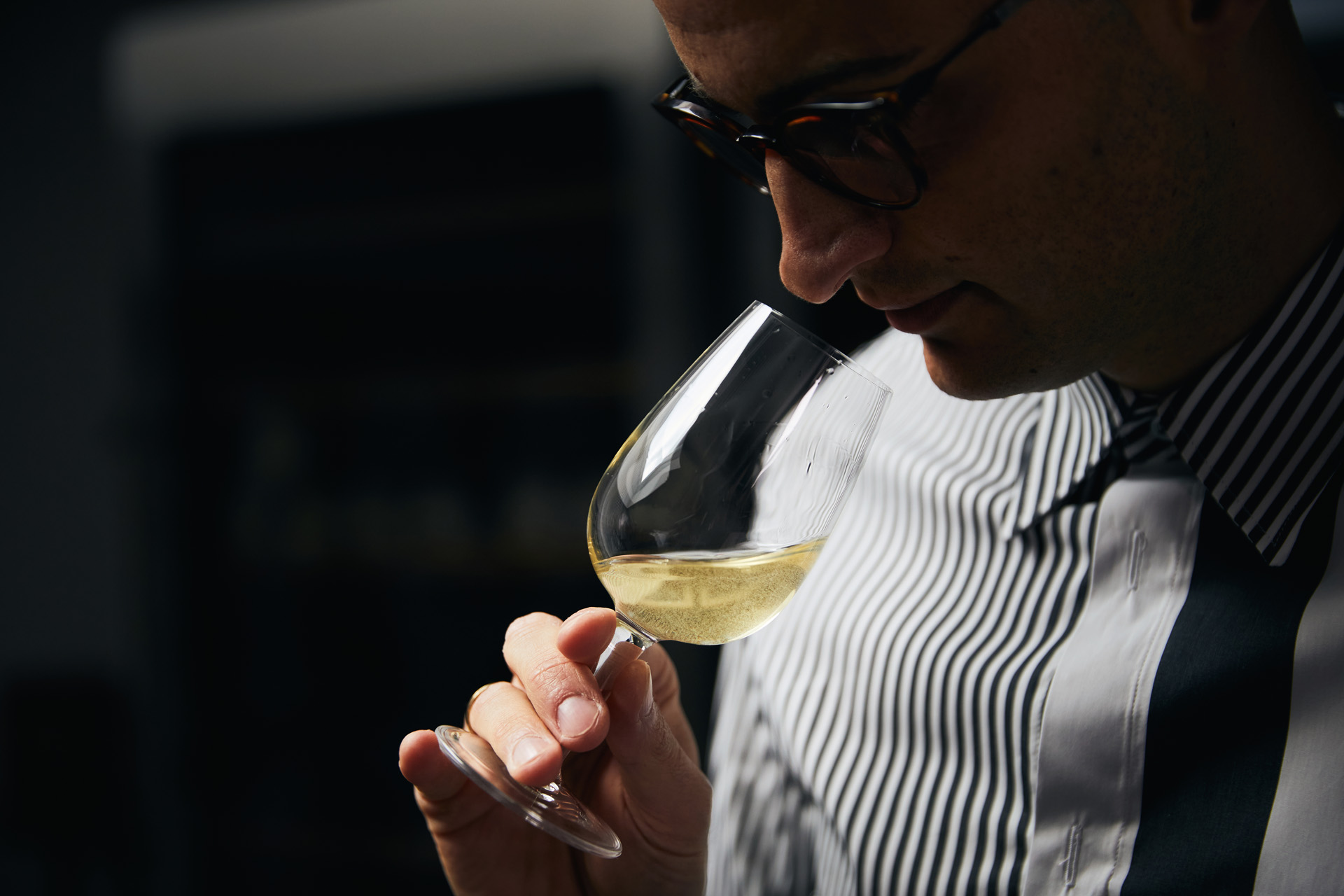 We visited during plant-based week, a takeover that occurs every two months – 'an opportunity to try something completely different for us,' says chef Luke. If you do dare to break the wax seal, the menu describes each course in one word or phrase only, merely hinting at the experimental creations to come, which highlight the best of British ingredients. Think a warming winter spiced muffin to start, with rum infused butter and a grating of chestnut. Or, later, a Confit Roscoff onion with pickled onions, lemon thyme emulsion and burnt onion and whey sauce; who knew onions could be so delicate?
As we move into sweeter courses, the dishes are no less experimental. 'Lost in grapes' is a grape sorbet with roasted yeast crumb and fermented cherry powder, along with grapes on the vine and fizzy grapes. Daniel serves a unique wine pairing: Pojer and Sandri, Zero Infinito, a sparkling white wine col fondo ('with the bottom', meaning the lees or yeast from the fermentation process is left in the bottle), the colour of pressed apple juice with a hint of the same sweetness. Then, indulgent Jerusalem artichoke toffee is accompanied by white amaretto ice cream and a glass of sweet, moreish Amaretto Adriatico Bianco.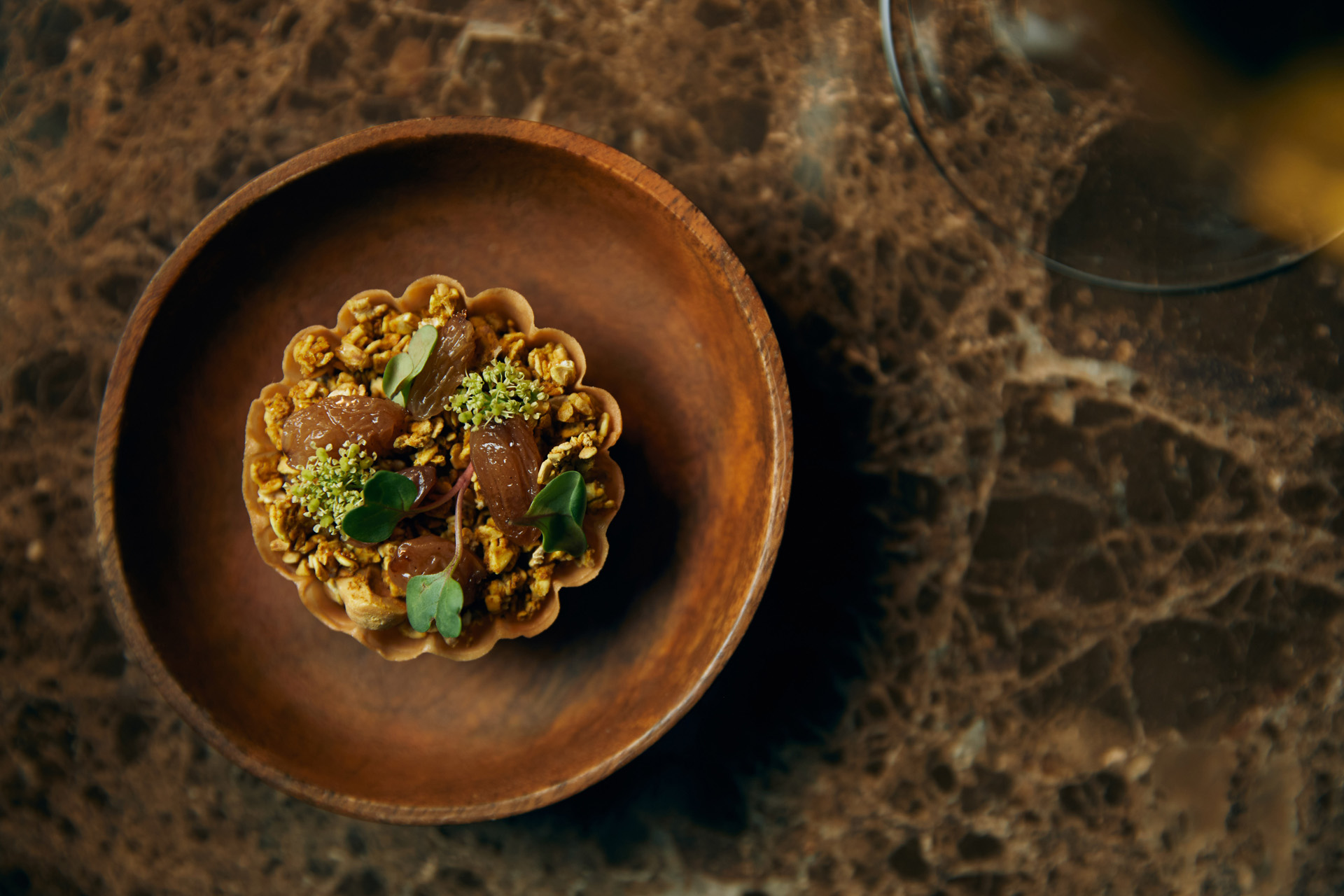 Start and end the night in the small bar. A glass of English sparkling wine is the perfect introduction to the long menu ahead, and Daniel's adept choices. After, he will serve nightcaps with a smile – you'll probably want another glass of Amaretto – and a story to tell as you sink into the cosy sofas.
DO
After a delicious breakfast of fruits, fresh local pastries, breads and sweet treats, and juices and hot beverages, The Vices is a short taxi ride from the city centre. But, to really make the most of its delightful location, fling your curtains wide, stretch your legs and venture into the crisp morning air. Just steps down a silent residential street lined with terraced houses, and you're suddenly at the leaf-laden riverside path along the River Ouse. Turn right to head into the city: it'll take less than 20 minutes before the familiar old bridges rise up in the distance.
Or stay inside: The Vices can arrange bespoke wine, champagne or whisky tastings, situated in the chic wine library. Or relax in the lounge, if you can pull yourself out of the sumptuous, spacious bed, that is.
THE FINAL WORD
For the ultimate in indulgence, escape to York where The Vices and Allium await, ready to welcome you in with wine- and food-laden open arms.
BOOK IT
The three suites at The Vices are available for individual hire, or all three can be hired for exclusive use. thevices.co.uk 
Six courses from £100 per person at Allium, or £80 per person for the plant-based menu. Due to the set menu offering and small capacity, note that Allium cannot cater to allergies or dietary requirements at this stage. instagram.com/alliumatthevices 
Featured image: the wine library; all images courtesy of Olivia Brabbs Photography.