Pheu Thai's presumed candidate for prime minister in this year's General Election gave short shrift to media rumours and speculation of a Pheu Thai coalition arrangement with the

beleaguered 

Palang Pracharat Party when she said that her party would not shake hands after the election with anti-democratic actors. It comes amid media reports this week that an attempt may be made to sway Pheu Thai into such an alliance by using the leverage of the unelected upper house or Senate which controls 33% of the votes for the next prime minister after this year's General Election and which is likely to support either General Prayut Chan ocha or General Prawit Wongsuwan, former key members of the military junta, the National Council for Peace and Order (NCPO) which ruled Thailand from 2014 until 2019 and which appointed the body before the March 2019 General Election.
On Sunday, there was a double blow for Deputy Prime Minister Prawit Wongsuwan and the Palang Pracharat Party as the country's most popular political party, Pheu Thai, appeared to rule out a coalition with it after the next General Election and an opinion poll released in Bangkok showed it running sixth out of six political parties in the capital with Pheu Thai leading the way as it has done in all recent polls. At the same time, that party's assumed prime ministerial candidate and the runaway public favourite for the position, Ms Paetongtarn Shinawatra appeared to rule out shaking hands with parties which had anti-democratic links saying that Pheu Thai may opt to deal with parties who have consistently had similar principles as it. Pheu Thai was in government in 2014 when a military coup led by General Prayut, the current prime minister and former PM candidate for Palang Pracharat, ousted it from power.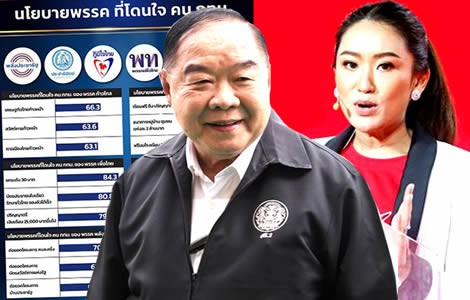 A new opinion poll into voters' attitudes in Thailand's capital Bangkok released on Sunday has worrisome news for the ruling Palang Pracharat as it came in last out of a selected list of parties which appeared to ignore the newly formed Ruam Thai Sang Chart Party (RTSC), the current political bandwagon of General Prayut Chan ocha.
The Super Poll survey showed that only 6.6% of voters in the capital intend to vote for Palang Pracharat Party compared to 33% for the Pheu Thai Party which led the poll.
In the last General Election in March 2019, the Palang Pracharat Party polled 23.34% of the vote nationally compared to just 21.92% for Pheu Thai.
Trend for the Palang Pracharat Party since December when General Prayut appeared to signal his move to a new political home has been a downward slide
The trend follows a pronounced slide which appeared in December when a National Institute of Development Administration (NIDA) opinion poll throughout Thailand saw the Palang Pracharat Party suddenly losing ground after it became clear that it was parting ways with General Prayut Chan ocha, the current prime minister who is still battling against the odds to stay in power after the next General Election with the help of the upper house or Senate which, as a bloc, commands 33% of the vote in the combined National Assembly poll for prime minister, a controversial power that will expire after June 2024.
During the week, political scientists speculated that the Senate which was handpicked by the National Council for Peace and Order (NCPO), the former Thai military junta, would support either one of the two generals, General Prayut, the prime minister or General Prawit Wongsuwan, deputy prime minister and the leader of the Palang Pracharat Party in the vote which is due to take place in the aftermath of the General Election now widely accepted as scheduled for May 7th.
Theory mooted of a Palang Pracharat, Pheu Thai coalition has been doing the rounds in political circles since August 2022, reemerged this week
One theory that has been doing the rounds since August 2022 and which was raised strongly in media speculation linked with political sources this week was the possibility of Pheu Thai combining with Palang Pracharat and General Prawit after the next election to give the public what over 95% of them want, according to an opinion poll this week. That is a new prime minister after 8 years of General Paryut at the helm.
Such an arrangement, so went the speculation, would see General Prawit installed as leader of the government supported by the Pheu Thai Party in a coalition government arrangement possibly with other parties.
However, on Sunday, this proposition was knocked on the head firmly by Ms Paetongtarn Shinawatra, the daughter of former premier Thaksin Shinawatra who is expected to be nominated as the main prime ministerial candidate for Pheu Thai over the coming weeks.
Deputy government spokesperson Tipanan Sirichana resigned from Palang Pracharat to follow General Prayut in his latest political quest to retain power
There was even further bad news for General Prawit at the end of the week when party member and deputy spokesperson at the Prime Minister's Office Tipanan Sirichana, on Thursday evening, visited him at his offices at the Forest Border Foundation to tender her resignation from the Palang Pracharat Party as she is expected to follow General Prayut on his new political odyssey with the new Ruam Thai Sang Chart Party (RTSC) which he joined last Monday.
General Prawit issued a very unusual statement published on Friday on his Facebook social media page which spoke at length about his relationship with General Prayut and referred in detail to the steps leading up to the 2014 coup and attempts afterwards to assist General Prayut, who led the coup, transition to becoming a political leader.
In 2014, the then army chief ousted the remnants of the Pheu Thai-led government which saw cabinet ministers including the current popular Governor of Bangkok, Chadchart Sittipunt, then Minister of Transport, arrested by military officers and taken into custody with a hood placed over his head.
General Prawit Wongsuwan's statement to the media this week was unusually frank and explanatory, some would say completely out of character for him
This media interaction attributed to General Prawit has been questioned by loyalists of the deputy prime minister over the weekend as out of character for the normally coy political leader who since taking power has become known for his short and curt rejoiners to the media and is being represented in some quarters as a move by strategists within his camp to open up a divide or chasm between the two former army chiefs, something both of them have insisted, up to now, is not possible.
Ms Paetongtarn, also known as Ung Ing, however, did not rule out some sort of coalition arrangement with other parties after the election but insisted that it must be first of all with parties that hold the same principles as the country's main opposition and largest party.
She warned that Pheu Thai would not shake hands with parties who have shown themselves to be anti-democratic in nature but would opt to deal with parties with the same values who were intent on pursuing similar policies for the good of the people.
'We must respect the rights of the people first,' she told reporters and said that the party would be guided strongly as to what were the wishes of the people.
Ung Ing makes it clear that Pheu Thai will not 'shake hands' with what she termed anti-democratic political parties after the next General Election
Ms Paetongtarn's comments were endorsed later by Pheu Thai Party Secretary-general Prasert Jantararuangtong who said the matter did not need much thought as the party has always been guided by such principles.
The new opinion poll, just released on Sunday, also appears to have some good news for the Bhumjaithai Party which registered 26.4% voter support in Bangkok with 23.5% for the Democrat Party and 9% for the Move Forward Party.
Recent national opinion polls by the National Institute of Development Administration (NIDA), however, consistently showed the Bhumjaithai Party registering nowhere near the 10.33% support it attained in the 2019 General Election in Thailand when it came in fifth place, with just under half of that level of support or less than 5%.
The results of the poll in the capital conducted from December 12th to 15th with a sample of 1,207 respondents were presented by Mr Noppadol Kannika, the Director of Super Poll Research Centre.
Further reading:
Corruption and the role of the unelected Senate in electing the next PM to be General Election issues
Prayut to make his move for a third term but is the battle for power already lost to Pheu Thai?
PM and Ung Ing to do battle in 2023 for the top job with public debt and the economy as key issues
Pheu Thai, Palang Pracharat coalition now a distinct possibility after the next General Election in 2023
PM upholds status quo as he seeks a path back to power with the help of the Bhumjaithai Party
3 out 4 believe that Pheu Thai will take power in 2023 with a third Shinawatra taking the reins
Court decision on electoral law is a big boost for Pheu Thai Party as Prayut remains tight-lipped
Constitutional Court voting decision a watershed moment for Thai politics says top Pheu Thai MP and whip
Uncertain politics ahead as PM reported to be planning to dissolve the House of Representatives
Prayut hails economic progress by his government but his path to reelection next summer is still unclear
Pheu Thai looking at property developer tycoon Srettha for PM role after next General Election
Possible Pheu Thai PM Paetongtarn Shinawatra promises a new society where everyone is secure
Drugs to be an election issue as Anutin digs in insisting that attitudes must change on cannabis
Kingdom engulfed in crisis with over 93% of the public saying Prayut must relinquish power now over term limit
Senator warns that Paetongtarn Shinawatra or Ung Ing, Thaksin's daughter, is wrong for the job
Legal pot does not appear to be working for Anutin's Bhumjaithai Party in latest opinion poll
New Shinawatra may lead the next quest for power as Pheu Thai Party aims for 14 million members
Cannabis remains illegal as ministers push through a law controlling its use by the public after decriminilisation
Bad news for PM and Palang Pracharat in Bangkok on Sunday as resurgent Pheu Thai Party wins big
Democrat Party victories in the South seen as a vote for stability despite vote-buying claims by Ratchaburi MP
About the Author
Joseph Anthony is an expat from Ireland who has lived in Thailand for the last decade. He has worked extensively in the media including editorial positions in Ireland and Thailand. He is focused on economic and business stories in Thailand as well as the expat lifestyle.