Bangkok candidate for the main opposition party reminds voters that this election is about the economy and why change must come. Juthaphon Keturathorn calls for the public to make sure Pheu Thai gets 300 seats in the new parliament after the May 7th General Election to deal with the economic crisis and inertia facing Thailand as it falls behind other countries.
A Pheu Thai candidate in central Bangkok has called on voters to come out and help elect at least 300 MPs for the main opposition party in order to save the stuttering Thai economy. Juthaphon Keturathorn said that Thailand may be facing a technical recession and that the country's income per capita for the last two years from 2020 until the end of 2022 has actually fallen by 2% leaving it trailing significantly behind other countries in Asia.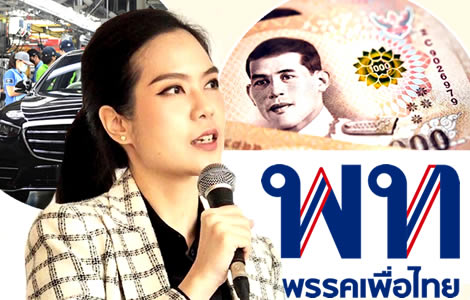 A Pheu Thai candidate for the General Election in central Bangkok has urged the public to get out and vote in the forthcoming General Election in order to bring an end to Thailand's lacklustre economic performance in the last eight years under General Prayut Chan ocha.
Juthaphon Keturathorn is standing for election in the Bangrak, Sathorn and Pathumwan areas of the capital and has highlighted the stark fact that Thailand's per capita income has actually fallen back over the last two years since the pandemic crisis.
Per capita income in Thailand has fallen by 2% since 2020, says a Thai candidate in central Bangkok. Current coalition has been an economic failure
In 2020, per capita income in Thailand was $7,200 while in 2022 the figure had fallen to $7,069 or a fall of just under 2%.
The economic data for the current coalition government which came to power in 2019 makes particularly grim reading when Thailand is compared to other countries in Asia notably South Korea, Malaysia, Vietnam, the Philippines and Indonesia.
The economic malaise which has taken hold of the country, especially since 2018, is widely felt and is the reason why the Pheu Thai Party and the Move Forward Party are currently surging in the polls as Thai voters seek to punish the outgoing government for the country's lack of economic growth and widespread corruption.
Pheu Thai is on track to win the election although the scale of the victory will be critical given that the upper house of 250 senators has a role in selecting the next prime minister with each senator having a vote until June 2024.
Pheu Thai plans big spending, high borrowing, pro-growth policy with a ฿600 daily minimum wage
The main opposition party's pro-growth policy is based on increased government spending funded through higher borrowing or deficits.
The party also proposes a higher minimum wage of ฿600 per day for workers by 2027, something which has galvanised voters in every part of the country since it was introduced in early December.
On Wednesday, Ms Juthaphon, like other Pheu Thai candidates running for election in 75 provinces across Thailand for the just confirmed May 7th General Election, issued a call to arms to voters.
She urged them to think about the economy and seek to ensure that the Pheu Thai Party is returned to the House of Representatives with at least 300 MPs, a figure recently cited by party leader Cholnan Srikaew as the number required to ensure that the unelected Thai Senate does not attempt to override the will of the people after the poll on the basis of moral right.
Fear of technical recession with exports suffering from sluggish demand and facing competition from China, economists remain sanguine about 2023
Ms Juthaphon raised the rising spectre of a technical recession in the opening three months of 2023 following a seasonally adjusted GDP contraction of 1.5% in the last quarter of 2022 for which new and disturbing figures continue to emerge.
The shocking reversal of economic fortune occurred despite the arrival of 5.5 million foreign tourists in the last three months of 2022.
It was driven by a 10.5% fall in exports year on year together with an 8% decline in government spending as the Ministry of Finance reined in the public purse.
Many economists, this week, however, remained sanguine about the full year ahead in 2023.
They insisted that the kingdom's economy can grow by up to 3.7% this year aided by the reopening of China to trade and an increased number of foreign tourist arrivals especially from China with government projections currently suggesting up to 30 million arrivals in 2023, a 269% increase on 2022.
But there is also a significant downside to Thailand's trade with China.
China is Thailand's second-largest export market accounting for 14% of its outgoing shipments. 
However, it is also increasingly a competitor as its industries take advantage of easier access to the ASEAN market under the new Regional Comprehensive Economic Partnership (RCEP) which is a growing cause of concern to the Federation of Thai Industries (FTI).
Federation of Thai Industries (FTI) calls out government about the volatility of the Thai baht and elevated electricity and energy costs in the country
At the same time, the Federation of Thai Industries (FTI) is warning the Thai government that geopolitical instability, a highly volatile Thai baht and elevated energy costs for the manufacturing industry are hurting Thailand's manufacturers and exporters at this time.
The baht has careered from a low of ฿38.18 against the dollar in mid-October to a high of ฿32.65 this month, a variation of 14.5% over 6 months.
The federation would like to see a stabilised value for the Thai currency at something like ฿34 to the US dollar.
The Federation of Thai Industries (FTI) has also expressed deep concern about the lower level of investment in Thailand in the last year at 15% of GDP compared to 30 to 35% in past years.
The country's economy is increasingly seen as the sick man of Asia with intractable problems like a sharp demographic challenge within the workforce with 30% of the population projected to be over 65 by 2050 from just 13% in 2020.
The figure is even more alarming when the government's own figures suggest that the number of people working in the economy under 60 years of age will be just half what it is now by 2040.
The country is also facing a rising private debt mountain as struggling firms and households attempt to make ends meet due to a lack of growth and opportunity in the economy over the past decade.
Longer term, over the past decades, Thailand has not done well but is falling behind even more in recent years compared to other countries in the region
For long-term planners, the situation is clear but is not good news. Thailand has fallen into the middle-income trap and is failing in its efforts to develop into a high-income economy.
The country's paltry growth rates with only 2.2% in 2019, a contraction of 6.1% in 2020, a 1.5% figure in 2021 and last year's adjusted growth rate of 2.6% compare unfavourably to its neighbours.
Malaysia's economy in 2022 grew by 8.7% with Vietnam at 8% and the Philippines at 7.8%. Even Singapore, a wealthy first-world economy with its own demographic problem, managed to grow by 3.6% last year.
The lack of progress in Thailand's economy can be seen from its progress in per capita income over the last sixty-three years when compared directly with South Korea and Malaysia.
Recession should set off an alarm for those in charge
In 1960, Thailand's per capita income was 66% of that seen in South Korea. By the end of 2022, this had fallen to 22.7% with South Koreans earning an average of $33,592 per annum. 
The situation is different when it comes to Malaysia.
Thailand's per capita income was 42.4% of that seen in Malaysia in 1960. By 2022, that had risen to 54% although Malaysia has become a high-income economy with a per capita income of $13,108 last year compared to just $7,069 for Thailand.
Ms Jutaphon said that if Thailand does fall into a technical recession when figures are released for this current quarter, it should set off alarm bells at the highest levels about the failure of the kingdom's economic policies.
Further reading:
Credit crunch as firms seek more bank loans with tightened lending criteria and recession fears
Even as the baht surges, Thailand faces economic recession in mid-2023 with lower earnings
Soaring baht as the Thai economic spirit rises with one of the world's lowest levels of inflation
Finance Ministry unveils green bonds as it seeks ฿900 billion for investment over four years
Thailand feels the pinch of lower tourism earnings as second ex-minister queries economic data
Former minister questions export growth data as Bank of Thailand plans to rein in consumer loans
Warning to central bank to preserve Thai foreign exchange reserves for a brewing 2023 economic storm
Baht slide continues as Bank of Thailand sticks to its dovish and soft approach to interest rates
Choppy waters for the economy as central bank tries to cling to its benign interest rate policy
Prawit stuns the cabinet demanding a ฿35 to the dollar rate and action from the Finance Minister to stop the slide
Low spending tourists and slowing export growth but 'intact' economic recovery stays on track say officials
Central bank reassurances as ex-minister raises loan quality with China's economy in trouble
Thailand with a falling baht caught in stagflation spiral with high inflation and low GDP growth this year
Fears for the baht as it hits a 15-year low and Thai economic performance in the medium term with chronic ills
World inflation crisis may lead Bank of Thailand to act before August and raise interest rates more sharply
Good economic news, test now is how to emerge from stagflation with large price shock looming as inflation rises
Prolonged Ukraine war to see Thai inflation at 6.3%, a stalled economy and a possible downgrade
Oil still boss as Thailand's economy faces a return to 1970s stagflation over the ongoing Ukraine war
Fears for Thailand's economy over Ukraine war with rising inflation rates and loss of confidence
Thailand should move more towards a circular economy as the country faces intractable hurdles
Inflationary fears for Thailand more muted than in the United States but planners should prepare
A cautious recovery in 2022 says Bank of Thailand boss but PM strikes a mildy more optimistic note
Shaky economic recovery as planners target only a 1% gain in 2021 with rising headwinds in Quarter 4
Economy climbing out 'of a hole', foreign firm's confidence levels rose sharply during October
Foreigners in Thailand have nearly ฿600 billion in the bank as inequality and poverty rise alarmingly
A dead mother beside her children and a taxi driver who slept, show us a nation riven by an extended crisis
Economic fears rising as Thailand faces a bigger crisis than 1997 with rising job losses and debt
Thailand to reopen to 'big fish' tourists as a cryptocurrency friendly haven says promotion agency boss
IMF urges government to loosen nation's purse strings as finances tighten with the tax take down
About the Author
Joseph Anthony is an expat from Ireland who has lived in Thailand for the last decade. He has worked extensively in the media including editorial positions in Ireland and Thailand. He is focused on economic and business stories in Thailand as well as the expat lifestyle.