You'll struggle to find a Parisian neighbourhood not steeped in artistic or literary history, but St-Germain-des-Prés on the bustling Left Bank blends iconic history with modern and youth culture thanks to its proximity to the flamboyant Latin Quarter. The Hôtel Dame des Arts, sitting on Rue Danton, aims to reignite the liberal cultural movement that Picasso, Coco Chanel and Hemingway established a century ago, by focusing on the experience as equivalent to comfort. Top of your list of experiences for 2023 should be a visit to the hotel's incredible Rooftop Bar, which is set to offer unrivalled 360-degree views of the Paris skyline. Rebecca Cox checks in to check it out…
Hôtel Dame Des Arts Review
STAY
One of the most pleasing things about Paris is that a little height goes a long way when it comes to views. The city's historic architecture has been preserved and protected throughout, so unlike other major cities where building upwards in every minute gap is the order du jour, Paris has banished the high rises to the very outskirts. The result: rising a few floors up allows an oversight of the city's major landmarks, the Eiffel Tower (love it or hate it) rising above them all and visible from thousands of hotel rooms and apartments in every corner of Paris. But usually one must pick a side (and few choose to look away from the iconic metal tower), as true 360-degree views are rare.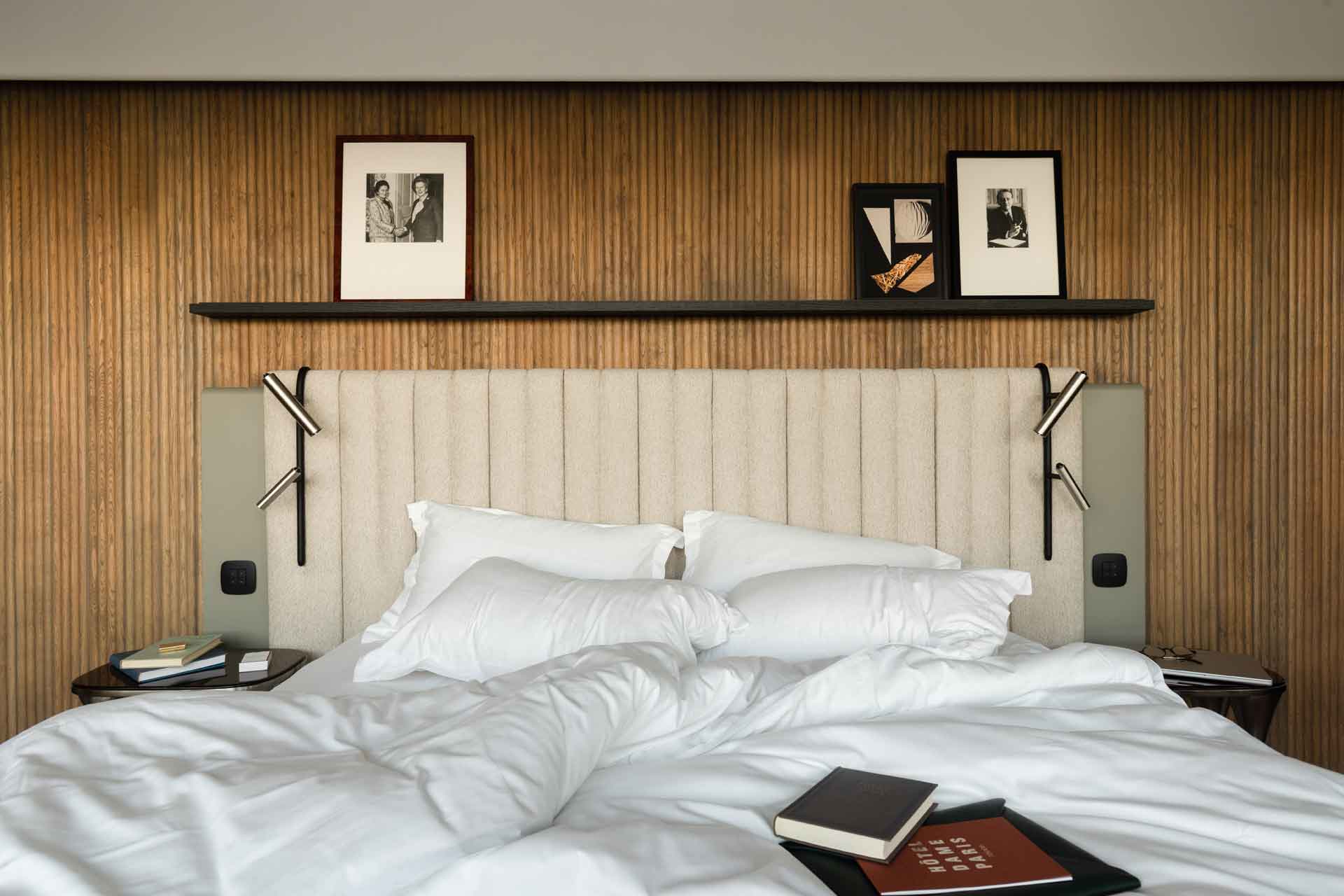 Rare, but not non-existent, and the newest addition at Hôtel Dame Des Arts is set to be one of the most popular spots of 2023, with a panorama of the Eiffel Tower up front, to Notre Dame (still being lovingly restored) behind, Sacre Coeur on the hill between. Charming crooked, sloping residential buildings litter the path between. The Rooftop is due to open this spring, with bar manager Federico promising fun in the form of free-flowing cocktails (with a heavily Mexican-inspired bar menu in homage to the Latin Quarter) – there was even mention of a bubble bazooka, a canopy of bubbles through which to view Paris by night. For now, though, the Rooftop remains a private oasis for hotel guests to wrap up warm and relax on. Visit at sunset with a glass of red (make it the Bourgogne Domaine Pestre) for the most exclusive (and for now, peaceful) sundowner in Paris. 
From the roof to the rooms. In neat and stylish rooms designed by Raphael Navot, who has just launched a furniture line for Loro Piana, sit enormous, comfy king beds. And… that's about all there is space for (unless you're splashing out on a suite), save for a chic and compact bathroom with shower, sink and loo and just about enough space to navigate between them, elevated significantly by the presence of all-Diptyque toiletries. Opt then, if you can, for a room with a terrace, particularly an Eiffel view, which extends this minute room to the size of Paris itself, stretched out before you and ready to explore. 
DO 
When in Paris, one can take two routes. If you're a first, second or tenth time visitor, there are sites too beautiful to miss, so to completely skip sightseeing would be remiss. The hotel sits within walking distance of some of the city's most iconic sites, including Notre Dame, Musée D'Orsay and the Panthéon. 
One of the city's most famous bookshops Shakespeare and Company, is just around the corner, and is the perfect place to wile away a morning. Or if the city's art has you craving something more visual, head to Assouline Books & Gifts for a collection of the most beautiful coffee table books around.
If a visit to the Rooftop has got you in the mood to party, you should follow the urge, out onto the streets of the bustling Latin Quarter, its winding streets packed with fun, lively bars, some filled with students and cheap drinks, others exclusive cocktail clubs frequented by models and musicians. Door policies in Paris can be somewhat inexplicable. Dress well and say as little as possible to have the best chance of entry, particularly if your French is below par. Café Mabillon, Caveau de la Huchette and Caveau des Oubliettes are worth checking out locally, but the best nights in Paris are spent unplanned, following the crowds and the music. (But if you run out of ideas and want a guaranteed wild time, hop in a cab over the river to Pigalle, read our guide here.)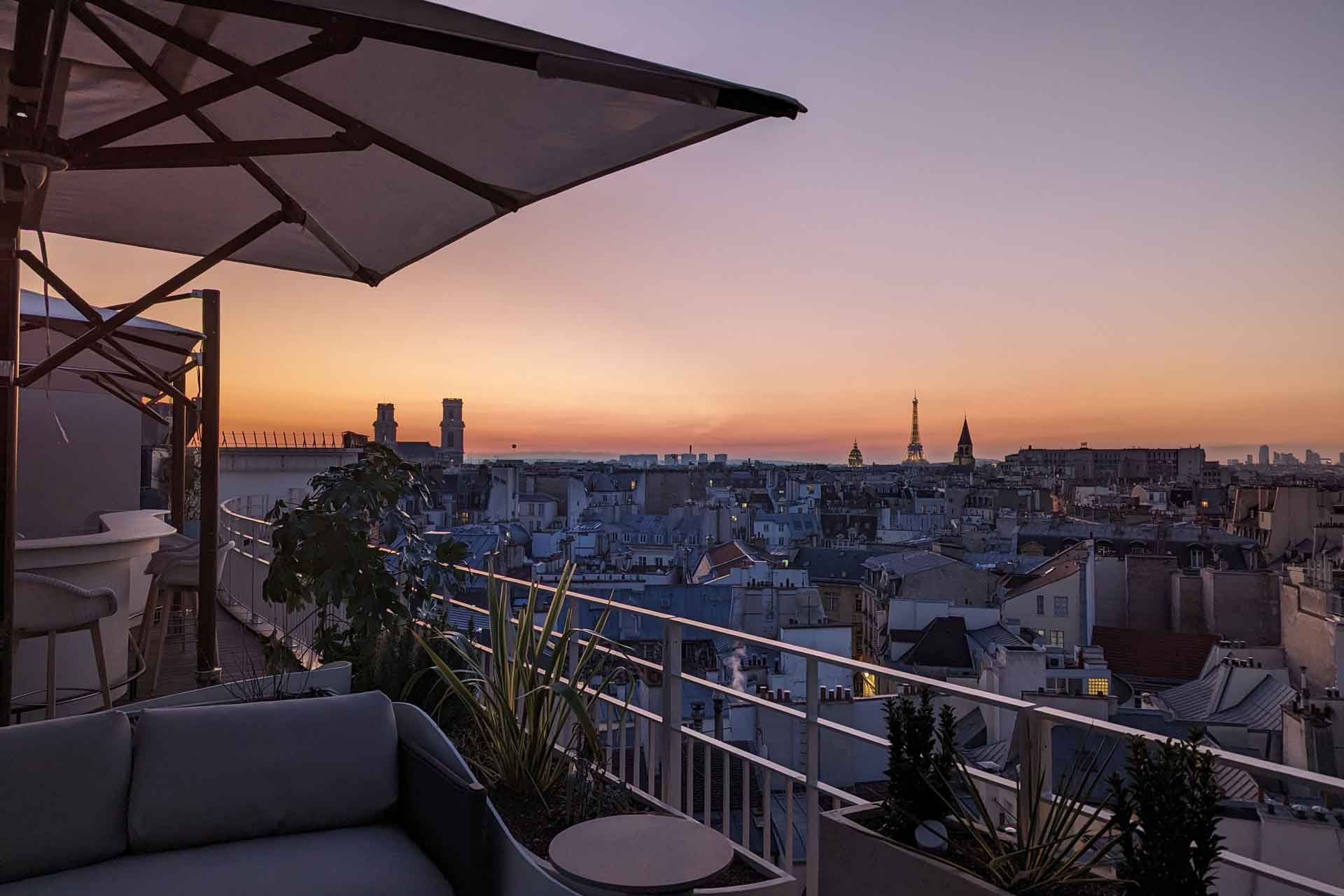 EAT 
You'll be requiring fuel for all this sight-seeing and bar-hopping, and Paris isn't short of superlative options. Café-hopping is just as enjoyable as museum or bar-hopping in the city, and grazing on small plates with a glass of French red in each is the most enjoyable way to fill a day. But while you're in the Latin Quarter, some Latin cuisine is a must, and there's none better on offer than that at Hôtel Dame des Arts itself. From oysters with blackcurrant, crispy sweetcorn ribs and tuna tacos to jalapeno and lime sorbet served with tequila (unexpectedly brilliant) and churros so crisp and delicious you'll need at least three helpings, this is comfort food elevated to fine dining, the perfect place for sharing plates with a date or a gathering of friends. Brunch is also sure to be a big pull for the Parisian set, particularly for the morning after the night before, an entire section of the menu dedicated to 'Hangover Cures' (sampled and enjoyed, for purely investigative purposes during our visit). 
VIBE
We don't usually add a 'vibe' section to our hotel reviews, but Dame des Arts requires one. The hotel staff are what sets this trendy little gem apart from the many other 'coolest' openings that are promoted every year in Paris. Each and every hotel employee is chic but not pretentious, warm while exuding an air of effortless cool. All are welcome, and made to feel so, by the team that feel like old friends by check-out, however brief your visit. 
THE FINAL WORD 
A buzzy rooftop bar stacked atop cosy and chic city crash pads with an excellent restaurant and uber-stylish subterranean sauna and gym at its base. The views will bring you in, the staff will bring you back. 
BOOK 
Rates start at £280 per room per night. damedesarts.com
See more pictures from the hotel, below.