New to Covent Garden is the four-star Amano hotel, the first international hotel for this cool Berlin-based German brand, the AMANO Group. You can't miss it on the corner of the iconic Drury Lane and Russel Street in an imposing historic 17th-century building once owned by Sir Robert Drury. 
In the 1980s the building was used as an office block but there is nothing officious about it now. The building has been restored and renovated to produce this stylish and contemporary hotel in the heart of London's popular Covent Garden.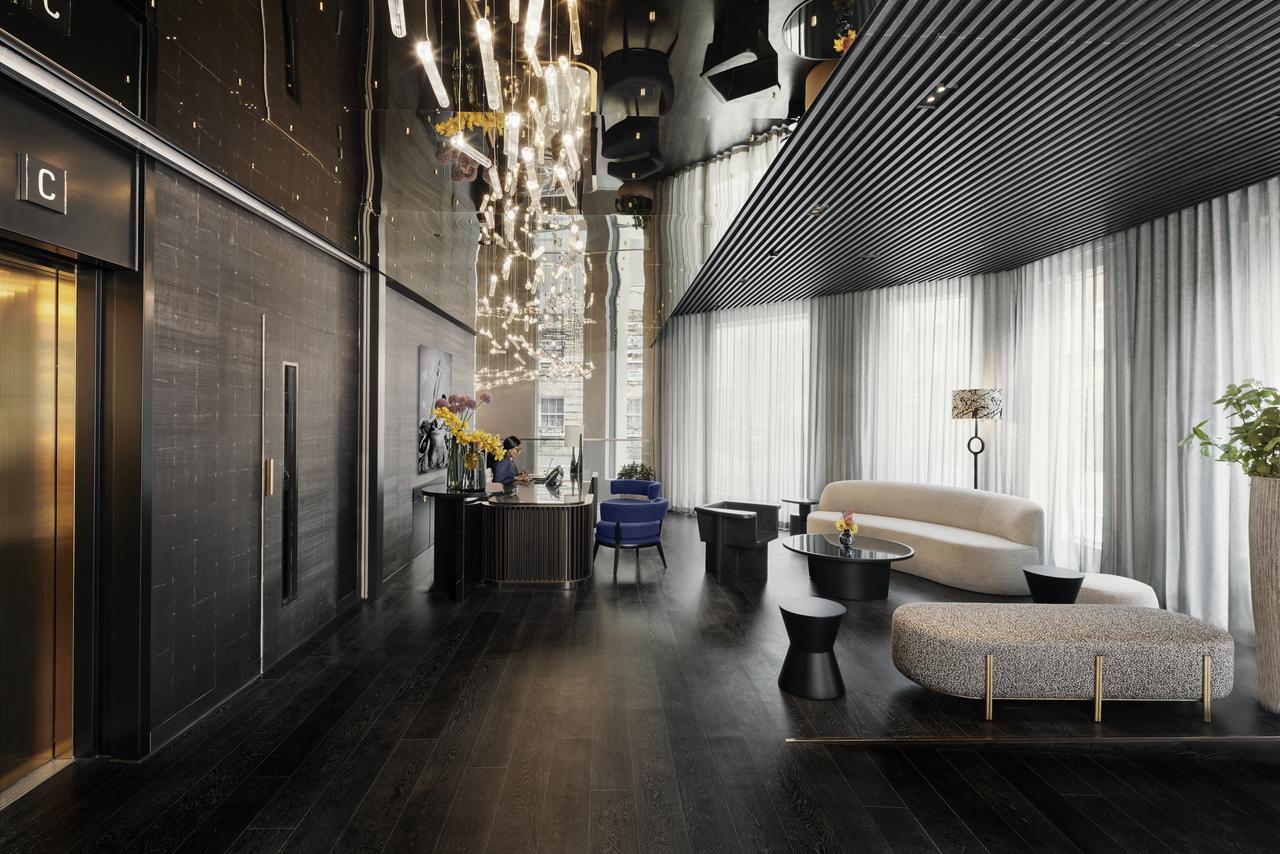 The reception is smallish, clad in brown wood with overhead lighting that seems to fly above two check-in desks. A couple of minimally designed sofas complete the scene. It's slick yet cosy. 
Who for
When you want a reasonably priced, well-located hotel close to London's theatres and bars for a night or two, Amano's comfortable pied-a-terre rooms fit the bill.
Accommodation
Moody corridors lead to Amano's 141 air-conditioned guest rooms. These are spread over six floors, and are available in various categories:  'Cosy' – best for a solo traveller, 'Comfy' – with an open bathroom, 'Roomy', 'Roomy Plus' and 'Goldy' for the pleasure of bathing in a free-standing golden bath with views over London.
Ours, number 321 was in the Roomy category. Decor comprised stylish clean lines, earthy browns and dark grey walls with golden features that added a touch of luxury. Though a tad small, there is a desk, coffee and tea facilities, a King sized double bed, a comfy headboard, a tv and a spacious, well-powered shower room.
Food and Drink
Amano hotel has an outstanding restaurant – Penelope's – offering a fusion of Spanish and Israeli cuisine with outstanding results. The menu is tapas style and you get to pick several sharing plates such as Israeli Mezze and Stuffed Piquillo Peppers or Bourekas stuffed with crab. Read our full review of Penelope's. 
Breakfast is served in Penelope's and there is a limited buffet and a menu of cooked dishes. I chose the Shakshuka for a taste of the Middle East – eggs poached in a sauce of tomatoes, olive oil, peppers, onion and garlic, commonly spiced with cumin, paprika and cayenne pepper. Though there are several less spicy egg dishes on offer.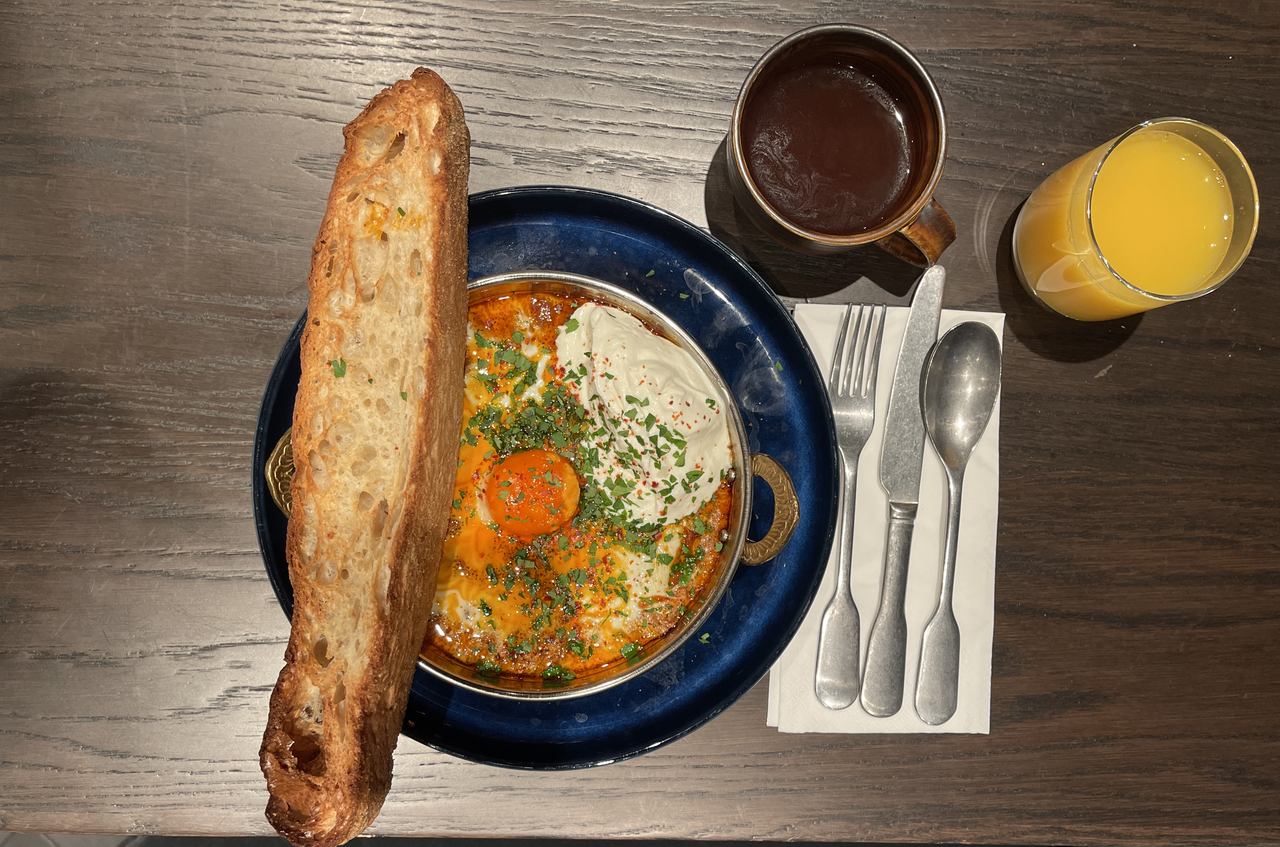 There are two bars, one that extends from Penelope's restaurant and also a rather lovely rooftop bar on the seventh floor which is part alfresco. From there you get views over the West End, the London Eye and the Shard.
From Thursday to Saturday evenings, DJs spin out toe-tapping dance music. The cocktail selection is impressive and seating on blue velvet banquettes is comfortable.
Get there on warm heady evenings, to drink, chat and enjoy the skyline of London lit up against a dark night. It's very romantic.
Facilities
There is free wi-fi throughout and all rooms come with a tablet with hotel information via which you can communicate with reception.
How much:
Rooms from £235 per night.
What's Nearby?
Amano hotel has a great location on the corner of Russel Street and Drury Lane. It is steps away from the Fortune Theatre and Theatre Royal. Seven Dials with its amazing independent shops and the Donmar theatre is around five minutes walk away. Slight further away are the National Gallery and Trafalgar Square, Theatreland, Soho and Chinatown
VERDICT: Good value stylish rooms with clean lines, a rooftop bar and a fabulous restaurant located close to everything Covent Garden offers. Think of Amano Hotel as your pied-a-terre in London.
You may also like: Hotel Review: Radisson Blu, Seven Dials, Covent Garden