Looking for a city sleepover with the kids in tow and on the hunt for something a little different? The Athenaeum Hotel & Residences is an independent, five-star hotel in the heart of Mayfair, perfectly-positioned for exploring London's biggest attractions on foot, and their latest partnership means bedtime has an extra special appeal for young guests. Rebecca Cox reviews (with the help of mini reviewer Jack). 
The Athenaeum Hotel & Residences Review
A Screen-Free Staycation With Yoto
Finding truly family-friendly hotels in London can be easier said than done. Most have family rooms and chips on the menu, but few go above and beyond to make young guests feel really special. Family-run hotel The Athenaeum Hotel & Residences does more than pay lip service to its younger visitors. The dedicated Children's Concierge has a toy store to be dipped into, will organise kites for flying on Green Park across the road, can recommend a host of the city's best child-friendly attractions, and has a range of nannies and babysitting services on hand (for when it's time for the adults to take priority). The hotel has also recently partnered with children's audio platform Yoto, to offer in-room educational entertainment to little listeners. Family rooms are equipped with the audio players and stocked with dozens of story cards to choose from, allowing children to select their favourite stories or music to set the soundtrack to their stay. As well as settling them into their temporary home, the Yoto player makes bedtimes a breeze, with kids picking out their own bedtime stories (and potentially even starting the day with one, so you can have a lie-in). Before checking in, I told the hotel that Jack is football-mad, and on arrival he was incredibly impressed with his Ultimate Football Heroes cards, listening to the story of Mbappe while I unpacked (Messi while I had a bath and Rashford while I had a glass of red, happy day). The rooms also have TVs, but with any luck, yours, like ours, won't be turned on during your stay.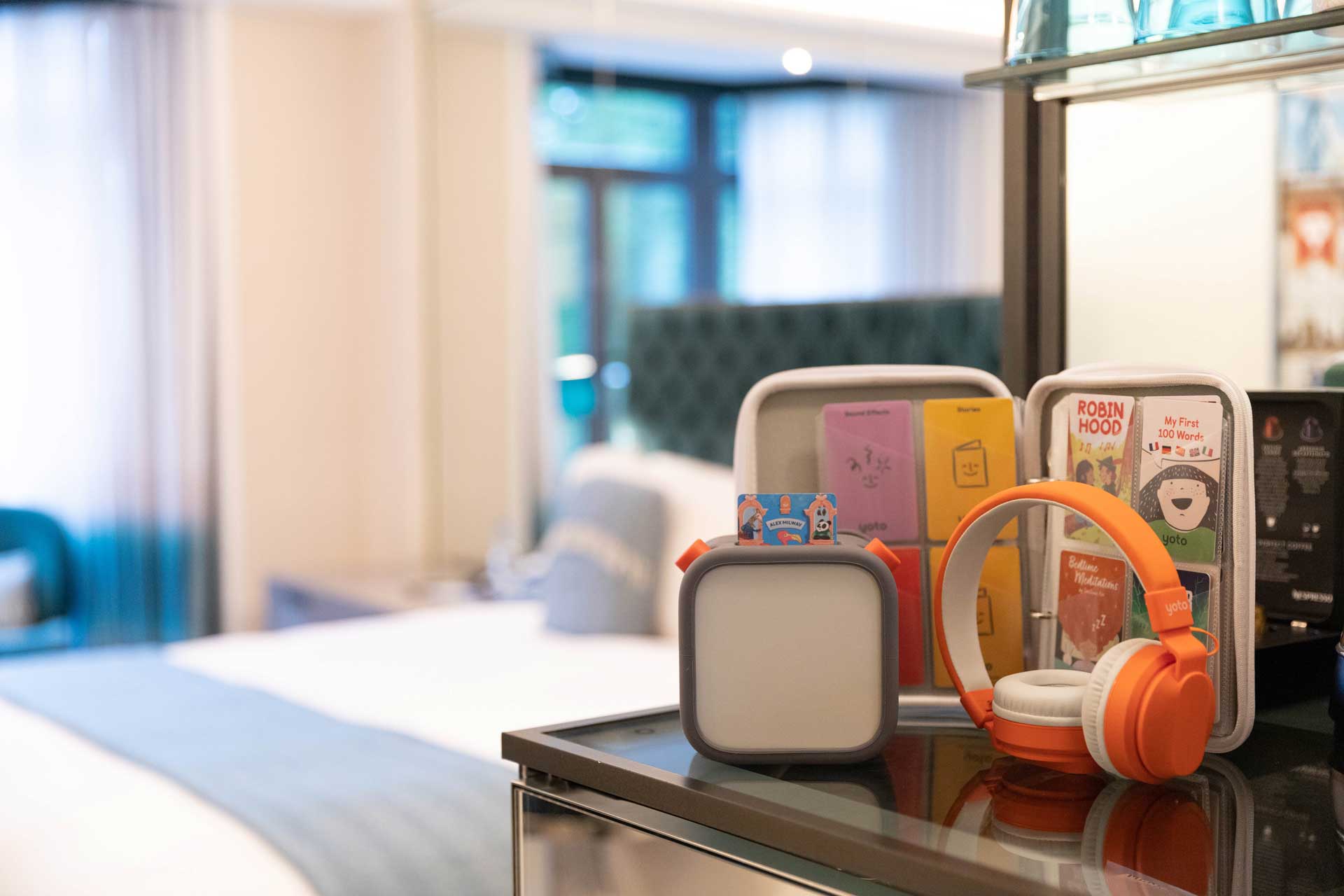 STAY 
The hotel's private residences are ideal for families that want a home away from home, with fully-equipped kitchens, dining areas and sitting rooms, plus interconnecting bedrooms, child beds and cots or bunk beds on request. Our Green Park Suite featured gorgeous views across the park, an enormous comfy bed, lounge area, desk and the most impressive luxe marble and mirrored bathroom you'll find in the capital, with a bold jade shower room so large you could (and should) throw a mini party in it. All the spaces are light, bright and inviting, with playful modern artworks, plenty of tactile velvet and chic coral or teal colour palettes. 
Read our opening review of The Athenaeum Hotel & Residences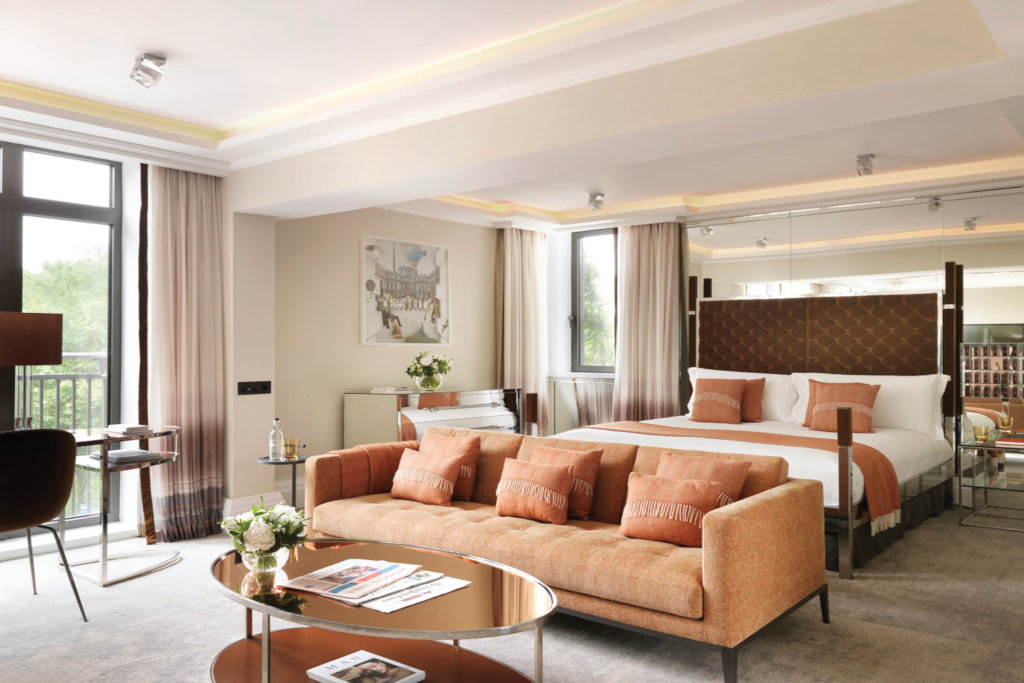 DO 
The hotel features a lounge on the top floor called 'The View' (pictured top), and it does what it says on the tin, delivering floor-to-ceiling visions of London's skyline across Green Park, from Big Ben and the London Eye to the towering skyscrapers of the city further down the river. (There's also a fascinating row of blue plaques to take in and learn more about the building's former visitors and inhabitants.) Before immersing yourself in the view on foot there are board games aplenty (if you like to put the 'stay' in staycation and remain planted for the duration) plus drinks and snacks so it feels like home. Out and about you can walk down to Buckingham Palace, along to Piccadilly Circus or up into Mayfair for some retail therapy. Of course, if you're in town at the moment you'll do well to keep little ones away from the allure of Winter Wonderland (avoid rounding the corner onto Park Lane if you can). 
EAT 
Start the morning with the most important meal of the day and set yourself and the kids up with the energy to take on all that London has to offer (or at least to muster up the willpower to leave your beautiful room). While so many hotels have returned to buffet breakfasts, table service remains at 116 The Athenaeum (hurrah), but there's no need to compromise on choice, with two-courses as standard and four-strong pastry plates to please all palettes. And if all the aforementioned shower raving, board-game playing and Yoto listening has resulted in a rather late night, you'll be needing that extra coffee. 
JACK'S (7) VERDICT: 
'This hotel is so fancy, can we live here? The Yoto player is clever and I love the footballer stories. There's a chess set made of London landmarks that is very cool. Oh, and the shower is so big. SO big.'
THE FINAL WORD
Incredibly 'fancy' rooms, warm staff that make young guests feel special, and in-room entertainment that doesn't involve a screen (or any hard work for mums or dads). YOTO-tally awesome. 
BOOK 
Rooms at The Athenaeum Hotel & Residences start from £429 per night on a bed and breakfast basis | Rate is based on double occupancy | athenaeumhotel.com