Tuscany greets the visitor with timeless beauty straight from the canvasses of Michaelangelo and there's no better place to enjoy it than from Palazzo Cheto, says Rod Gilchrist
Read the C&TH Responsible Tourism Guide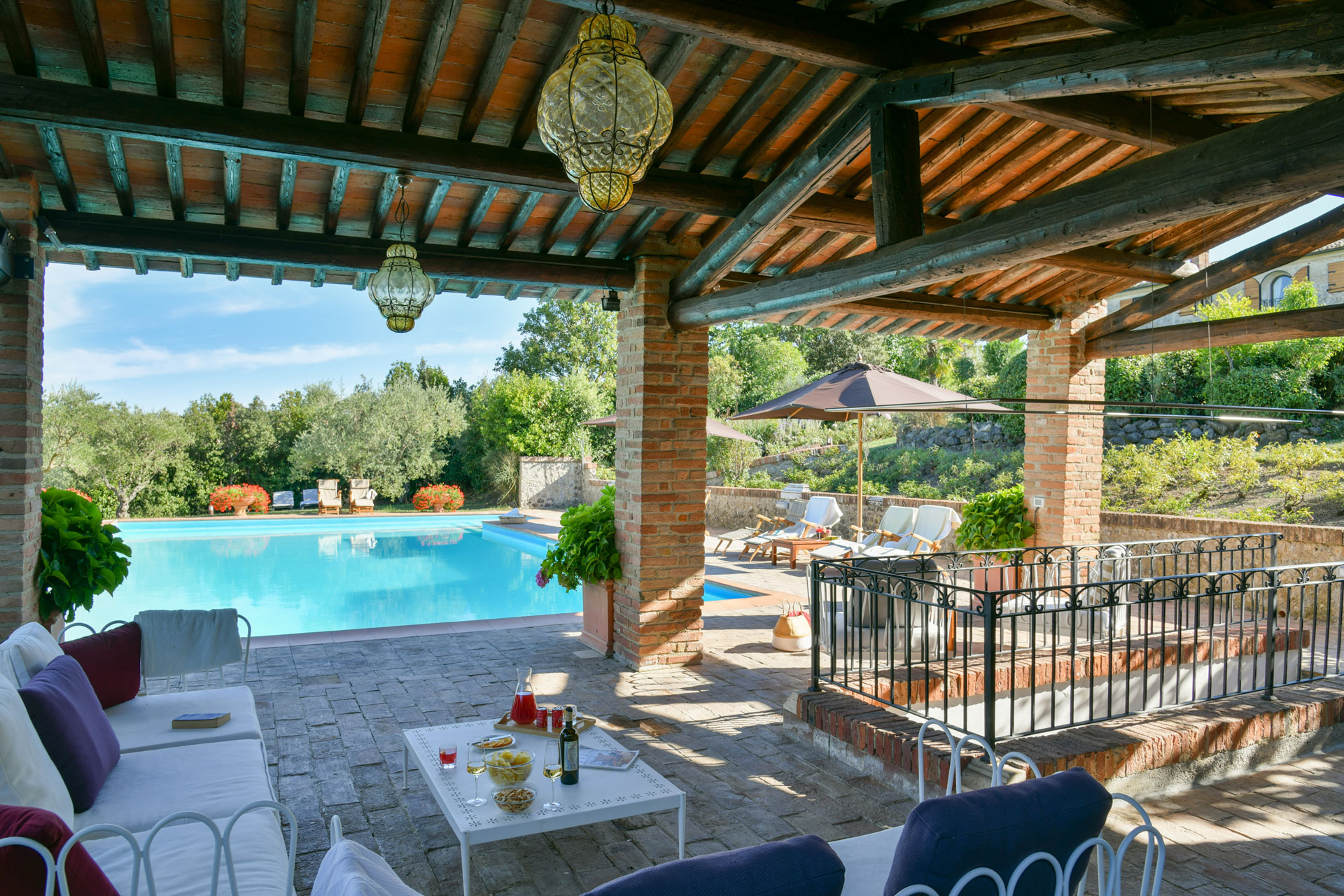 As you veer off the autostrada from Florence to Siena onto chalky white roads, a tailored tableau, as if painted by a Renaissance artist, unfolds; of vineyards, closed ranks of silvery olive trees, ancient stone farmhouses, turreted castles and sentry-straight cypresses that seem to stab the heavens like daggers.
This vision of perfect harmony between nature and man, so familiar to us not just through museum art but films and television; A Room With A View, Stealing Beauty, The English Patient; evokes the Tuscan myth we British, more than any other nation, have fallen in love with ever since Byron and the Grand Tourists set up camp here.
The Palazzo Cheto, a former 13th-century monastery, perched on a sunburnt hill-top, just 15 minutes from the ravishing medieval city of Siena, graces this bucolic idyll. The landscape, spread out before it seemingly to eternity, is of chestnuts forests and yellow seas of head turning sunflowers.
Siena is Italy's most perfectly preserved Medieval city. A plague in the 14th century followed by a banking collapse in the 16th century and lack of funds meant nothing new was built but mercifully nothing got knocked down either.
The city's cobbled town square, actually fan-shaped like a shell in which Botticelli's Venus rose out of the sea, is the most beautiful in Europe. It's the scene of the annual thrilling horse race, The Palio, where barebacked riders dressed in medieval colours, risk their lives, and those of the horses, for the honour of victory and pride of their contrade (district).   
Siena is big on heritage. According to legend the city was founded by the son of Remus, symbol of the wolf feeding the twins Romulus and Remus, founders  of Rome, and is stuffed with ravishing,  artistic treasures from the Middle Ages. 
Siena is not as daunting as its neighbour Florence, just 25 miles away, smaller, not choked with traffic, easier to walk around and seemingly orchestrated to a symphony of magical, ever-chiming church bells.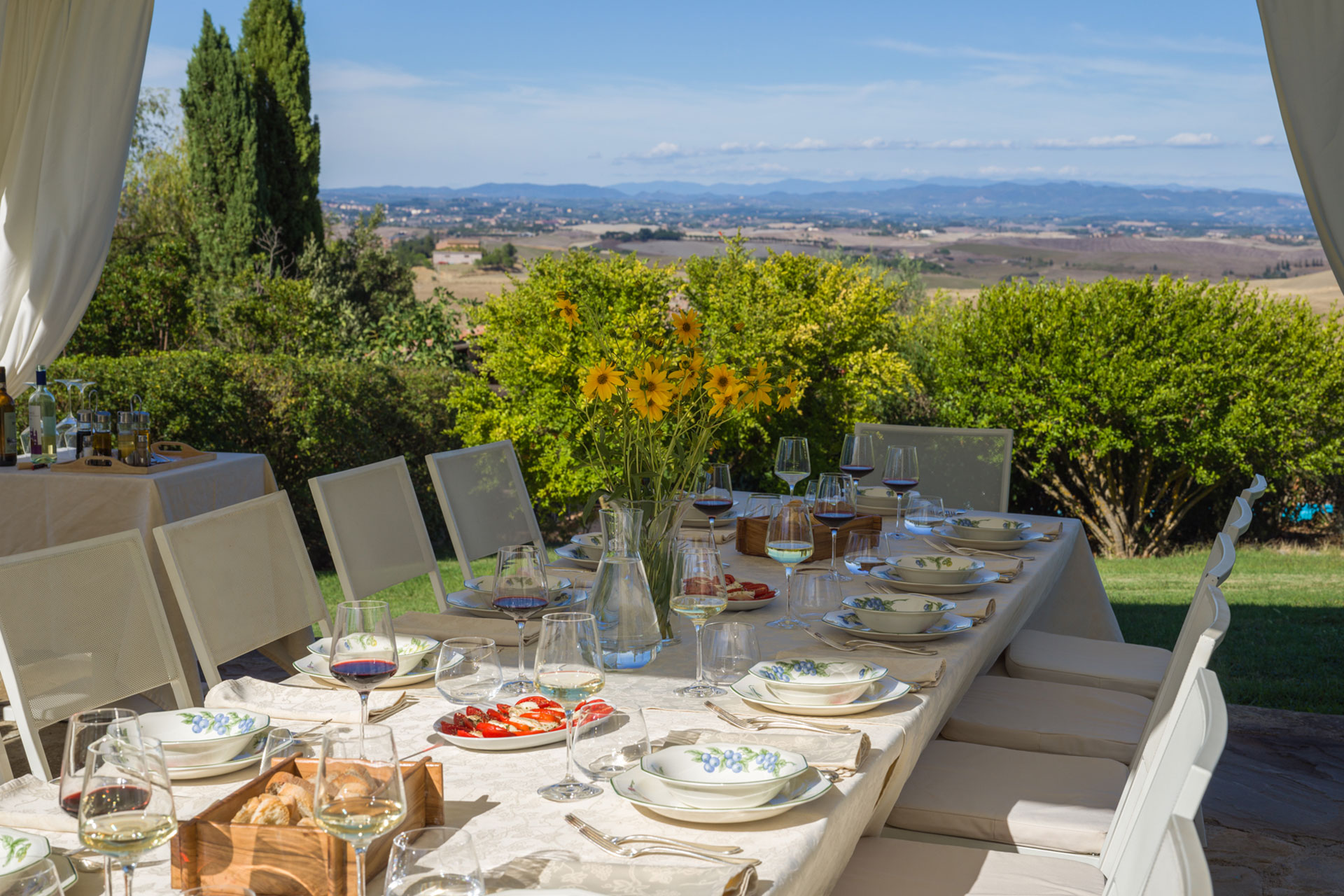 DO
Siena's twisting and turning labyrinthine of streets all lead to The Piazza del Campo, more of an amphitheatre than a town square. It has been the centre of city life since it was built in 1349, created in nine distinctive segments designed to reflect the folds of the Madonna's cloak. Enfolded by gently curved buildings the Campo has been the  a setting for executions, bullfights, opera and the drama of the Palio, Siena's famous, thrilling horse race.
The Campo's restaurants and galleries are lorded over by the Palazzo Pubblico, the town hall, the whole scene dominated by the imposing 300 feet high Mangia Tower which, if you have the puff to climb the 503 steps to the vertiginous top  and peer down (take a bottle of water it's quite a climb), offers  fabulous views of the warren of ochre buildings, terracotta tiled roofs and splashes of green where gaps between trees sprout lovingly tended vineyards.
Leave plenty of time to arrive at the Palazzo Pubblico so you aren't rushed to see the decorated walls and superb paintings such as Martini's Equestrian portrait of Guidoriccio da Fogliano, a solitary rider wearing the same diamond patterned jacket as his horse is riding through the southern Tuscan countryside. In a painted archway the infant Christ is being carried across a river by Saint Christopher. There is a spellbinding large painting of the Massacre of the Innocents and endless entrancing Madonnas and Child.
When night falls and the dusky pink walls of the bell tower change colour to a deep purple as the sun settles, tourists and locals gather in trattorias at outside tables. The buzz of conversation and air redolent of garlic, music and mozzarella is intoxicating.
Beautifully preserved Siena is of course high on the Italian art trail, chock full of Gothic stunners and religious artefacts. Every one of its palazzos, museums, chapels and convents boasts sumptuous sacred treasures, few more so than the Romanesque Cathedral. Built in 1215, its façade is a riot of green white and pink marble, a prelude to the bold black and white zebra striped patterns of the interior. Quite a show stopper. It has statues by Michaelangelo and breathtaking mosaics.
For an unforgettable, out-of-body experience lie on your back on the hot medieval brickwork of the Campo at night and enjoy the happy music of people chatting and laughing without any traffic noise while gazing up at the stars. 
There is of course another thrilling way to see Siena – from the air. Take an hour-long, dawn hot air balloon flight over the verdant meadows, still wet with dew and the glinting Siena rooftops, as the first rays of sunlight pierce the morning mist. Magical. Palazzo Chato will arrange for £320pp.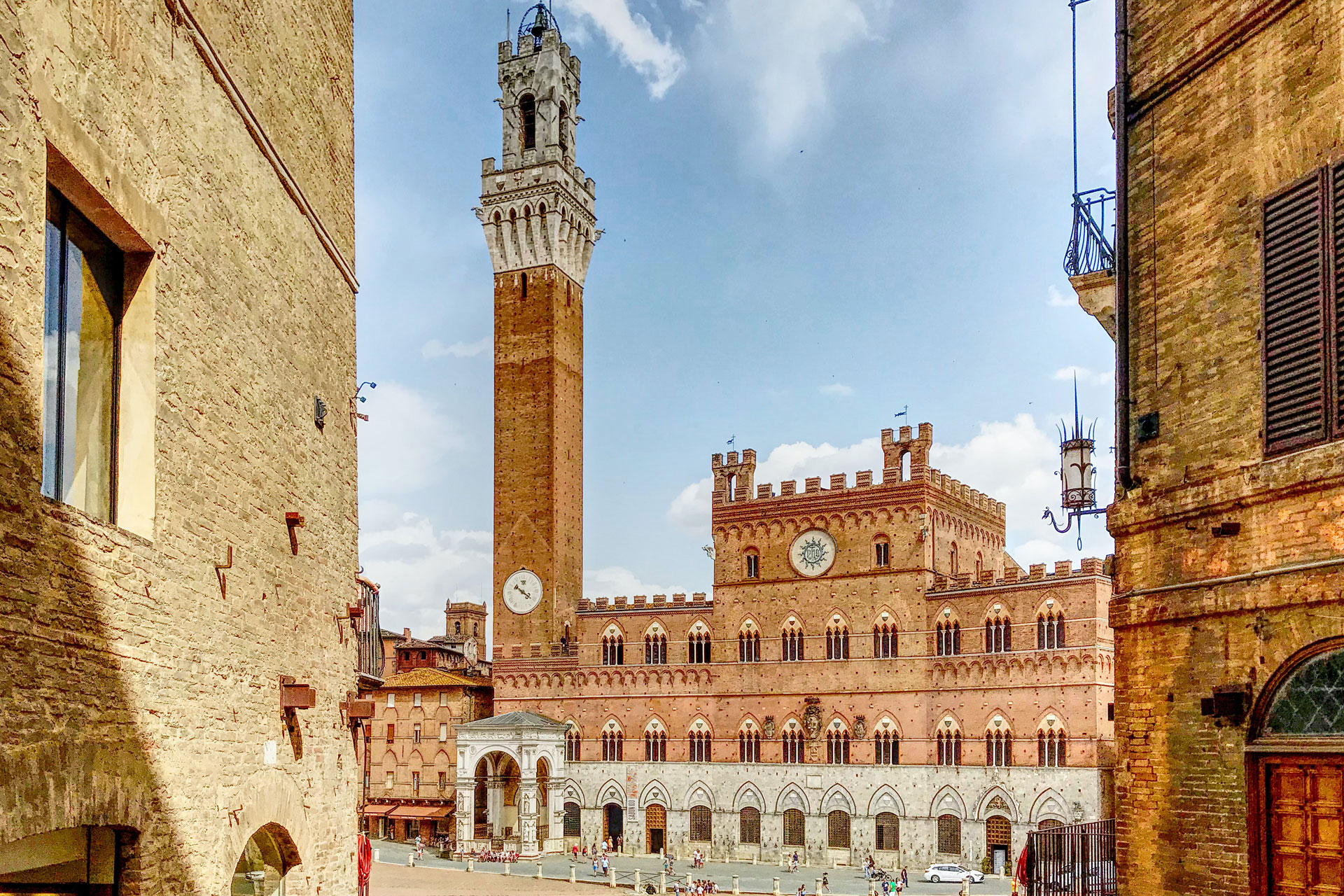 EAT
Siena has wonderful, filmic, restaurants, that combine dining with theatre. By the grace of God and the town planners they have banned McDonald's and all the other fast food joints around the Campo, meaning the integrity of the cafes, which harmonise with the architecture ,remains true.
There can be no better way to sample simple traditional fare, pizza with olives, parma ham, mushrooms and peppers, with a bottle of local wine, Chianti Classico (because it contains no chemicals, there is no hangover) while watching the passing parade which is something of an art here.
For tasty fresh pasta head to the authentic Osteria il Vinaio on Via Camollia, a short walk from the Campo but worth it, where photos of the local football teams and other Italian heroes line the walls. Reckon on £80 for a delicious meal with wine for two. The best recommendation is that the locals eat here.
At busy Al Mangia right on the Campo with views at night of the floodlit Palazzo Pubblica, don't miss the tiramisu, rich, creamy and oozing with alcohol and Ricciarelli biscuits, almond macaroons that are strangely addictive.
For those favouring a quieter night Osteria Le Logge,  on Via del Porrione, a side street beside Palazzo Publica, delivers charm and appetising dishes at reasonable prices. It's opposite Tutte Ose, a tile shop selling lovely hand-made ceramics that its fun to browse around in between courses.  
While it's tempting to eat out every night to sample the buzz of Siena back at Palazzo Cheto, in house cook Christina's tempting  herb, olive oil and garlic flavoured suppers of Parmigiana, aubergine, mozzarella, tomato sauce, parmesan cheese and basil or Ragu with wild boar meat, which you can watch her prepare in the kitchen before she serves it up at a big table, is food of the Gods and not to be missed. She is helped by her daughter and husband, the Palazzo's odd job man, which helps creates a relaxed family atmosphere. A charming young jazz trio play on special nights. At £15 a head with wine it's a bargain.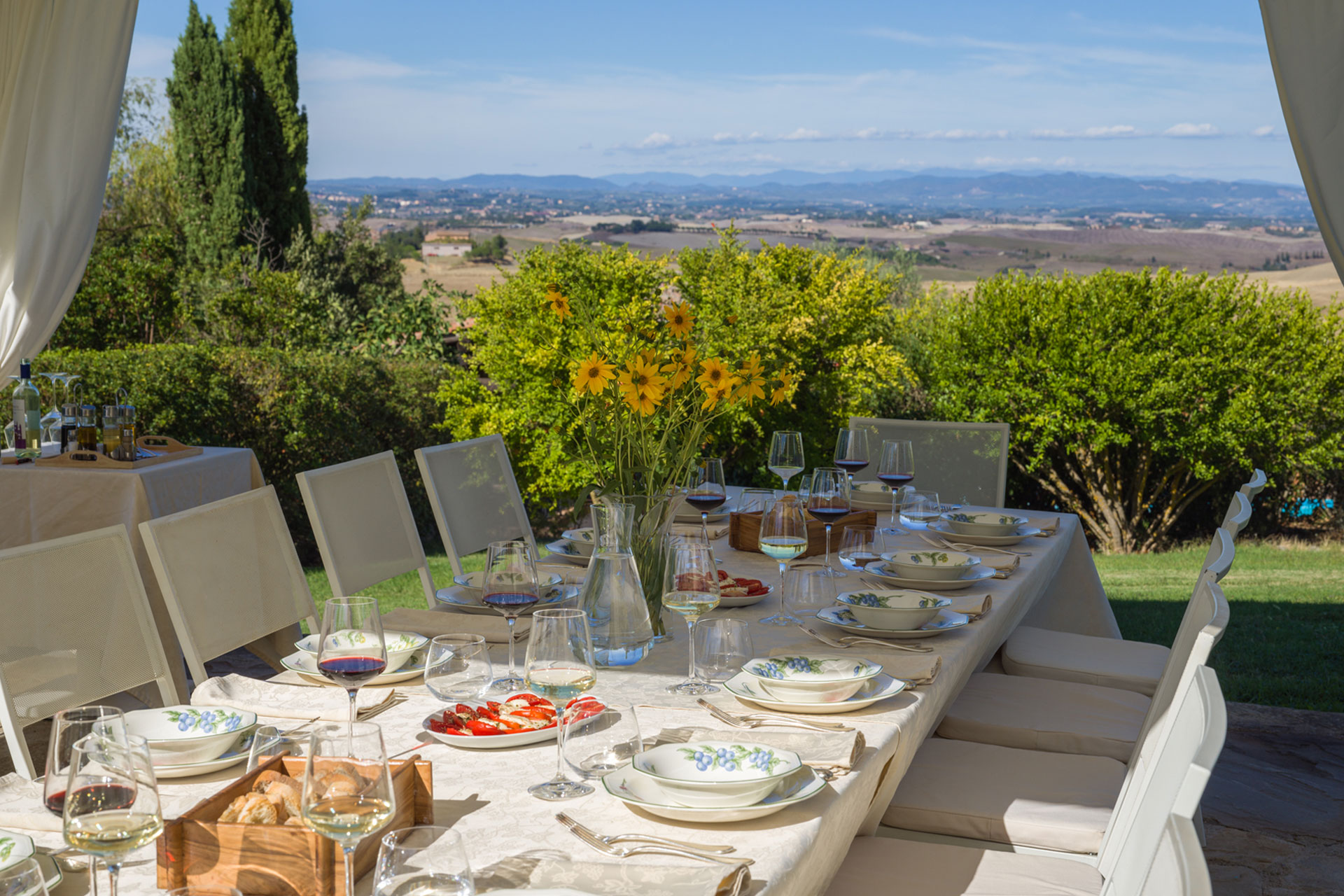 STAY
Arriving at Palazzo Cheto, once a 13th century Franciscan monastery, is to feel the pleasure of being welcomed into a ducal Palace. The drive along a mile long, private, white chalky track, cut through a sweet smelling pine forest, home to roaming wild deer, leads to the tiled courtyard where lemon and orange trees perfume the air with the scent of citrus.
The handsome honey-washed brick and terracotta Palazzo sits as if laid down by the hand of God, at the top of a sunburnt hill lording it over the spectacular panorama below of chestnuts forests, meadows decorated with delicate wildflowers. Rescued from ruin 30 years ago by a local family, who continue to control affairs with a loving hand, its elegant rooms are furnished, with tasteful antiques, pictures and heirlooms.
Palazzo Cheto lies just 15 minutes from Siena close to the charming village of Ville di Corsano. It's ideal for excursions to the medieval time capsule that is Italy's most perfectly preserved city centre as well as visits to Florence, Pisa and San Gimignano, bristling with high bell towers looking like a medieval Manhattan. It's perfect for parties of family and friends with special facilities for children such as cots and high chairs and is just one of more than 150 delightful palazzo's in the region available through Tuscany and More, run by a resident English family. 
The Palazzo, which can accommodate 19 people has nine air-conditioned bedrooms, many with four poster beds, some ensuite, ten marbled bathrooms, solar heated swimming pool, ringed with pretty pink rose bushes, gym, yoga, and tennis court, ideal for relaxing or active holidays. The spacious ground floor living room with pool table, music centre ,and working fireplace leads out to a courtyard and paved terrace for al fresco meals. It's also possible to hire your own private chef who will prepare meals to order.
Palazzo Cheto offers Tuscan cooking lessons, horse riding, golf, private wine tasting from their own professional sommelier with vintages from its own vineyard, as well as painting lessons for those inspired by the sacred art of Siena and landscapes. 
The villa puts great emphasis on its green credentials. The pool is entirely solar powered. Guests can take guided nature walks through woods where boar snuffle for truffle, picking mushrooms along the way, or cook up home grown produce on site for an Italian feast on zero gas electric stone walled stoves. It helps sustain the local community with employment from the local villages which supply fresh food and wine.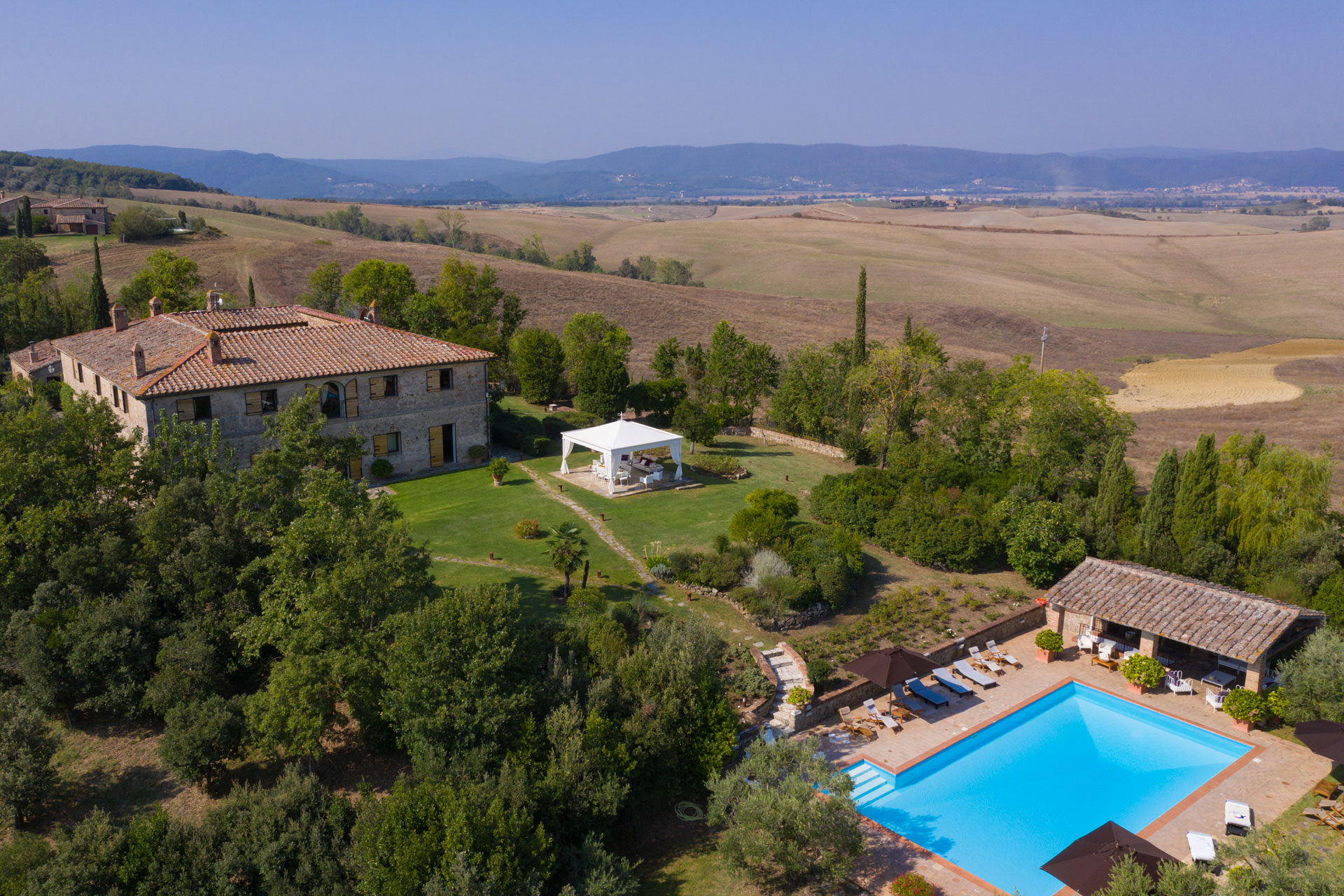 THE FINAL WORD
Siena offers a perfect combination for those who wish to combine high octane thrills with high art. Adrenalin junkies will love the blood pulsing Palio, the manic horse race watched by crowds of 30,000 who cram into the sweltering Campo for the race twice a year on on 2 July and 16 August. Horses gallop round on the cobbles three times at dangerous speeds and spectators explode into a scream. The contrast of this hysteria with the cool beauty of Siena's treasure houses crammed with old master paintings, offers a revealing insight into local passions. 
Palazzo Cheto, somehow represents the moon and the sun of of these twin emotions. An elegant ducal villa serviced with every luxury it provides a stimulating, or relaxing, as you see fit, holiday pleasure.  
BOOK
Tuscany Now and More offers nine-bedroom Palazzo Cheto from £12.922 a week. tuscanynowandmore.com