Whistleblower extraordinaire Mr Chuwit Kamolvisit is worried that the Chinese mafia in Thailand may exert its corrupt influence to unravel the complex and massive case that must be brought to court and proven to ultimately convict Mr Chaiyanat Kornchayanant and those linked with him. On Friday, he raised his concerns for two of the key witnesses to the case linked with the Du Hao semi-legitimate business empire.
On the day that the Office of the Attorney-General ordered charges relating to international drug trafficking and money laundering against the Chinese crime kingpin known as 'Du Hao' or Mr Chaiyanat Kornchayanant and 40 others, the whistleblower who helped lead police in the right direction, Mr Chuwit Kamolvisit, has warned that efforts are underway already to sabotage the criminal case against him with two witnesses coming under pressure, one who wants to retract a key statement and another who was under police protection but went missing this week according, to Mr Chuwit.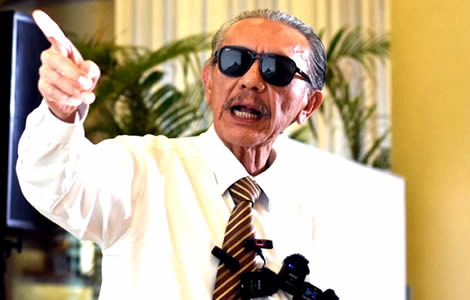 The Thai Office of the Attorney-General, on Friday, formally brought charges against the Chinese mafia boss known as 'Du Hao' or Chaiyanat Kornchayanant which include crimes related to drug trafficking and money laundering.
The Attorney General, Mr Naree Tantasathien, specially ordered that all the suspects listed on charges be brought before Bangkok South Municipal Court by the Bureau of International Narcotics and Law Enforcement Affairs (INL) indicating the transnational nature of this case.
Crimes including drugs, money laundering, firearms and assisting illegal immigrants among the charges
In addition to Mr Chaiyanat, it is being reported that 40 other people have been charged in connection with the drug kingpin. We do not yet know if this includes his wife, Ms Wattanaree Kornchayanant, a former Police Colonel in the Royal Thai Police in the Foreign Affairs division who has recently been dismissed from her position.
A perusal of the legal proceedings being brought against the crime lord shows that as well as drug trafficking offences, he is also being charged with being part of a transnational criminal organisation, illegally being in possession of firearms and ammunition, the illegal operation of entertainment complexes and facilitating illegal migrants in Thailand.
The criminal charges being brought against Mr Chaiyanat are based on a 332-page report detailing the findings of a huge criminal investigation which was delivered to the Office of the Attorney-General on Friday last the 13th of January 2023.
The report was prepared by National Police Commissioner General Damrongsak Kittiprapat who recently took over supervision of the case leaving Deputy National Police Commissioner Surachate Hakparn in a critically important coordinating role as the case is still developing.
The police commissioner, at the time, expressed satisfaction that the case against Mr Chaiyanat Kornchayanant and those involved with him is substantial.
Case sparked by a huge police raid on October 26th has opened up an enormous criminal case and perhaps Thailand's biggest-ever corruption scandal
The case was sparked by a huge raid on a nightclub complex, exclusively reserved for Chinese patrons only, by hundreds of Metropolitan Police Bureau officers in the Yannawa district of Bangkok in the early hours of October 26th 2022 where huge quantities of high-priced illicit drugs were found and an extensive distribution and packaging centre for the drugs was detected within the building.
The raid on the Jinling Pub on Charoen Rat Road in Sathorn has since sparked the biggest corruption scandal in Thai history with revelations and developments that have already seen the head of several police and legal oversight agencies removed from their positions while internal enquiries and criminal proceedings are still ongoing concerning officers within different parts of the Royal Thai Police with many also being removed from government service.
Mr Chaiyanat Kornchayanant or Du Hao was arrested when he surrendered himself at the headquarters of the investigation, then being directed by General Surachate Hakparn, at the Royal Thai Police Sports Club on Vibhavadi Rangsit Road in Bangkok on Wednesday afternoon, the 23rd of November 2022.
฿5 billion in assets seized but Chuwit says there's more in Mr Du Hao's tank yet which can be used to thwart and suppress the criminal case against him 
The drug kingpin was subsequently denied bail by the Bangkok South Municipal Court and has remained in custody since.
So far, according to the most recent updates and information, released by the Office of the Attorney-General on Friday, over ฿5 billion in assets have been seized from the criminal empire by various law enforcement bodies including the Narcotics Control Board (NCB) reporting to the Ministry of Justice but there are reports that this could rise to ฿8 billion as the case progresses.  
A key agent and unlikely hero who has emerged in the ongoing dismantling not only of Mr Chaiyanat Kornchayanant's vast criminal empire but other Chinese mafia groups is former politician and massage parlour boss, Mr Chuwit Kamolvisit.
Mr Chuwit has been personally praised by both the top police officers within the Royal Thai Police and the Minister of Justice Somsak Thepsutin who has confirmed that the private citizen is entitled to 5% of the seized proceeds of crime linked with the case.
Chuwit himself has vowed to give all this money to hospital services for the poor in Bangkok.
Case to be brought up in parliament in February
Mr Chuwit has also used his sources and impeccable intelligence to expose not only the corrupt activities of Chinese criminal gangs in Thailand but also to identify the corrupt activities of key officials in both law enforcement and possibly within the government itself.
Mr Chuwit recently handed over a file on what he knows regarding government figures to Mr Rangsiman Rome, the Move Forward Party MP for use as he sees fit when the government will be the subject of a debate in the House of Representatives in February.
On Friday, Mr Chuwit again gave an informative briefing to the media in Bangkok in which he warned that he feared key witnesses in the case against Mr Chaiyanat Kornchayanant and his gang may already be disappearing or are retracting their evidence.
He indicated that he feared that forces under the control of the extended Chinese mafia gang who still have access to enormous financial resources may be at work.
One witness sought to retract a previous statement given to the DSI and the Office of the Attorney-General while another one could not be contacted
He especially talked about one witness who has withdrawn evidence and another who can no longer be contacted by police.
Mr Chuwit told reporters that, in all, there were over 400 witnesses linked to this enormous case and ongoing criminal investigation being coordinated between the Royal Thai Police and the Office of the Attorney-General.
The social activist described how one witness, who has retracted information given in a statement to both the Office of the Attorney-General and the Department of Special Investigation (DSI), was surprised that associates of Mr Chaiyanat Kornchayanant appeared to be aware of this.
He said he knows that this witness had been approached by an individual seeking the withdrawal of the evidence.
Extended and complex nature of the case could give the crime kingpin and his cohorts time to undermine it step by step especially if some are granted bail
Mr Chuwit also pointed out, on Friday, that the extended nature of this case means that authorities working on it may take up to two years to formally interview all the witnesses and to assemble the case to meet legal requirements before the court.
He said he worried that this time will be used by criminal associates to destroy or discredit the evidence that now exists and that may be aided further if the defendant or some of those connected with the criminal gang are granted bail as the development itself would intimidate witnesses.
He also expressed his concern that assets linked with Mr Chaiyanat Kornchayanant may be still available to him saying the kingpin's total holdings amounted to ฿8 billion even though his bank account contained less than ฿100,000 in funds.
Mr Chuwit Kamolvisit said he could not provide more detailed information but said he worried about two witnesses close to the business and semi-legitimate empire of Mr Chaiyanat who are now under police protection.
One of those was the person who has gone missing and who police, according to Mr Chuwit, have had difficulty contacting.
People have been placed in fear, says Mr Chuwit, even those with police protection. He fears anonymous officials also may tamper with the case from within
Mr Chuwit said both people have been placed in fear and that he worries that Chinese mafia elements may still have access to anonymous, low-key but corrupt officials who may assist them in delaying, damaging and distorting the case that eventually is finalised before the court, aided by witness intimidation.
The concerns expressed by Mr Chuwit echoed similar fears expressed by Deputy National Police Commissioner Surachate Hakparn at the outset of the case.
General Surachate has long warned that Mr Chaiyanat Kornchayanant through his extensive criminal empire and connections has access to vast resources which can, first of all, be used, quite legally, to buy top-flight legal representation.
Mr Chuwit Kamolvisit, on Friday, worried that resources linked to the Chinese mafia in Thailand may be used in other ways to thwart the case against Du Hao as justice takes its course.
He said witnesses may also be offered attractive financial inducements to change or even withdraw their statements entirely by again acting on behalf of the Chinese triad gangs both within and outside Thailand.
Whistleblower defended the DSI boss on Friday
On Friday, Mr Chuwit appeared to come to the defence of former Department of Special Investigation (DSI) chief, Mr Traiyarit Temahiwong who was removed from his position this week by Minister of Justice Somsak Thepsutin for failing to take action against five of his officers implicated in the extortion of bribes from Chinese suspects during a raid last month.
Mr Chuwit Kamolvisit said that, to his knowledge, the DSI boss did not know of the actions taken by 5 DSI officers who are accused of requesting bribes to allow the release of Chinese suspects found after a raid on the former home of a retired diplomat linked with the tiny Republic of Nauru on December 22nd last in the Sathorn area of Bangkok.
Chuwit previously expressed confidence in the DSI
The top whistleblower explained that the request from the Metropolitan Police Bureau to seek a warrant to raid the property was made because DSI officials believed that it was the fastest way to obtain a warrant before the Chinese suspects would move again.
Before this, Mr Chuwit had expressed full confidence in both the Ministry of Justice and the Department of Special Investigation (DSI) in dealing with the case.
He told reporters that the news story was released by a person working within the management of the DSI while also insisting that he had no knowledge of where the ฿9.5 million reported to have been extorted by the DSI officers and policemen at the scene ended up. 
Further reading:
DSI chief removed from his post as scandal over a raid on a former diplomatic residence grows
Police officer, wife of Du Hao kingpin and niece of former police chief arrested and grilled by prosecutors
Chinese gangs approaching expectant Thai fathers in private hospitals seeking identity transfers
Chinese mafia case taken over by police chief with top officers assigned to different key roles on the probe
Top Immigration Bureau officers investigated by high-level panel over Chinese corruption claims
Chinese-controlled Thai language schools used by criminal network to obtain visas for associates
Police and drug control agency act to seize assets of Chinese drug kingpin 'Du Hao' and his police officer wife
Arrest and detention of alleged Chinese crime boss puts political pressure on Palang Pracharat Party
Chuvit claims Chinese gangster billionaire may be still at large in Thailand as is his executive jet
Net set to widen on Chinese money gangs, top police officer warns of powerful financial interests
Colourful Bangkok former sex industry tycoon Chuwit told to quit sniping by an aide to the PM
Chinese businessman in the heart of Bangkok with a fake Chinese Embassy car and police escort arrested
Police unearth huge new threat from Chinese drug cartels with ฿300 million seized in Bangkok
Chinese links to nightlife underworld and police collusion being investigated in drugs crackdown
Drugs showdown in the works bound to prompt memories of decisive 2003 crackdown by Thaksin government
Shock police probe into drug dealing and money laundering linked with Myanmar to strain ties
Drugs to be an election issue as Anutin digs in insisting that attitudes must change on cannabis
Marijuana revolution and overdoses raise concern with calls for action to outlaw recreational use
One of the biggest drug dealers in the South flees home as Thai police and army move against him
Evil drugs trade in Songkhla sees Thai woman burned alive by her family for 300 grams of ice missing in village
UK man arrested on drugs charges by CSD police in Pattaya claims ex Thai wife set him up