TD Guest Writer
Guest Writers are not employed, compensated or governed by TD, opinions and statements are from the specific writer directly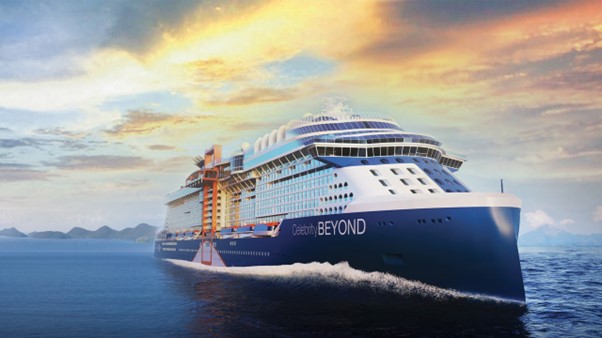 The first voyage of Celebrity Cruises' newest ship, Celebrity Beyond, began in Fort Lauderdale, Florida, and headed towards the Caribbean.
The official naming ceremony for the ship was the highlight of the sailing celebrations, and it was presided over by the ship's Godmother, Simone Biles, a 19-time world champion and seven-time Olympic medallist.
The arrival of Celebrity Beyond in the United States, captained by the first and only woman to hold such a position on a "Mega" cruise ship, ushers in a new era for the industry and follows closely on the heels of Celebrity's new advertising campaign.
As its maiden season begins, guests will be treated to luxury hotel-style accommodations, Michelin-level food, and world-class spa amenities as it sails to destinations like Grand Cayman and Puerta Plata in the Caribbean.
The Royal Caribbean Group, which owns Celebrity Cruises, has named Olympic gymnast Simone Biles the ship's godmother. "I can think of no one better to be the Godmother of this fantastic ship than the G.O.A.T. herself – Simone Biles," said Royal Caribbean Group president and CEO Jason Liberty.
"The beauty, power, and resilience of this ship set the benchmark against which all others will be measured." Simone's determination, progressive nature, empowered attitude, and grace in the face of adversity inspire many people worldwide. All of these qualities make Simone Biles an excellent choice to watch over Celebrity Beyond's journey.
Celebrity Cruises president and CEO Lisa Lutoff-Perlo added, "I've been waiting for this day to arrive for a long time and I am 'Beyond' excited to be able to share her with our passengers." She is the gold standard against which other ships are measured, and she exemplifies the definition of relaxed luxury.
"She is full of wonder and excitement, and our passengers will definitely feel reconnected to the world around them as they visit new destinations and immerse themselves in culinary delights and wellness luxuries not found anywhere else at sea."
At a ceremony attended by 2500 guests and media, Simone Biles and Liberty, Lutoff-Perlo, and other Celebrity Cruises executives formally named Celebrity Beyond. The event culminated with a live performance by singer Leona Lewis.
Before Biles, Celebrity Apex was introduced by Girls Who Code's Reshma Saujani and Celebrity Edge by Nobel Peace Prize winner Malala Yousafzai.
"It is an honour to be selected Beyond's Godmother and to join such a distinguished group of courageous, boundary-breaking women who have previously been chosen Celebrity's Godmothers," Biles said.
"I value the critical message this distinction conveys in recognising our achievements as powerful women, and I am honoured to join the platform today with other courageous, boundary-breaking leaders like Lisa-Lutoff Perlo and Captain Kate McCue."