The National Police Commissioner General Damrongsak Kittiprapas on Monday advised that visa-on-arrival facilities from China be looked at as they may be attracting spurious criminal elements from the communist country into Thailand. He accepted the importance of the country's critical foreign tourism industry but suggested that some safeguards could be applied in the interest of national security and ultimately, the safety of law-abiding tourists and visitors.
Police, on Monday, investigating the torture and murder of a Chinese 22-year-old student revealed that the young woman probably died after being strangled when a cloth hood was placed over her head and fastened around her neck by the sadistic gang after they had, first of all, burned and inflicted multiple stab wounds all over her body. Police also revealed that at least one of the men was known to the victim and had, in the past, unsuccessfully attempted to woo her. They also disclosed that a 19-year-old Thai woman, a karaoke bar hostess, had befriended the murderous trio from China believed to have carried out the sickening outrage and assisted them, both before and after the murder. Warrants were issued on Monday for their arrest by the Nonthaburi Provincial Court with Thai police already pursuing their apprehension by authorities in China and extradition back to the kingdom where they face charges including premeditated murder with torture, a capital crime punishable by the death penalty which is, however, rarely enforced in Thailand.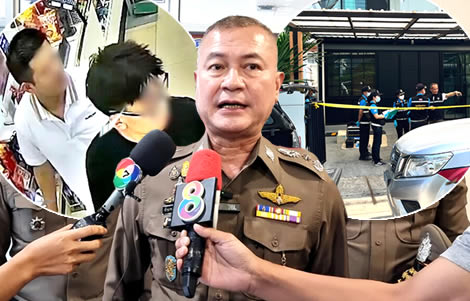 There were more developments on Monday in the case of the 22-year-old Chinese woman brutally murdered by three compatriots last week as police revealed that a 19-year-old Thai woman may have assisted the gang.
It comes as the heartbroken parents of Jin Can flew into Thailand to assist police with the investigation and claim the body of their daughter who was only in the country 20 days when she was subjected to a hideous death at the hands of her captors.
At least one of the young male suspects knew the Chinese victim from her time as a university student in China and had tried unsuccessfully to woo her
On Monday, it was revealed that at least one of the young Chinese men was known to the young woman from her time in China where she was a music undergraduate at university for two years before becoming an overseas exchange student in Thailand in her third year.
Police suggest that while one of the Chinese men was known to her, he was not in a relationship with the Chinese victim but, in the past, had attempted, unsuccessfully, to woo her.
On Monday, senior police officers confirmed that arrest warrants for the three named suspects identified as 23-year-old Zhou Xiongfei, 24-year-old Zhou Pengfei and 23-year-old Chen Saikang were issued by Nonthaburi Provincial Court and police were liaising with their counterparts in China and Interpol to have the murderous trio deported back to Thailand to face charges.
The three are residents of the Chinese northern province of Hebei and had fled the country on March 30th on a flight from Bangkok to Chengdu in Sichuan province in central China.
Warrants issued for the arrest of the three Chinese suspects who are residents of the northern Chinese province of Hebei, police seek their extradition
Senior police, on Monday, held a conference between top brass at the Metropolitan Police Bureau Region One and key officers working on the case from Bang Mae Nang police station in Nonthaburi which is investigating the murder.
The initial task was the finalisation of the arrest warrants which were subsequently issued by the Provincial Court in Nonthaburi.
A media briefing was given by Deputy Chief of Region One Police Lieutenant General Worachat Saenkham flanked by deputy chief of Nonthaburi Police Colonel Somphon Wongsrisoontorn at 4 pm after a two-hour conference. 
He revealed the existence of a fourth suspect in the case, a Thai woman who surrendered to police on Monday for interrogation and who is likely to face charges for rendering assistance to the murder trio both before and after they killed the young woman on the night of March 28th last.
19-year-old karaoke bar hostess likely to be charged but is cooperating with police after assisting the trio before and after the murder of Ms Jin Can
The 19-year-old is believed to be a worker at a karaoke bar on Soi Inthamara 45 who became known to the three Chinese suspects during their first visit to Thailand.
Police suspect that the woman formed some sort of romantic attachment to at least one of the men in the group.
Investigators also revealed that the fourth suspect has been cooperative and admits to giving local advice to the Chinese men she had become quite friendly with.
She denies, however, taking any part in the torture and murder of the 22-year-old victim who police believe suffered an agonising death at the upmarket house in the Bang Yai district of Nonthaburi which was rented from an agency by the three men on their arrival in Thailand.
Victim died after being strangled when a hood was placed over her head and tightly fastened to her neck
The latest autopsy report from the Institute of Forensic Science has concluded that it is unlikely the young woman died from, the five reported stab wounds to her left-hand chest area, a wide wound on her right shoulder nor from extensive burns to her back but instead suggested that the young woman died as a result of strangulation when a cloth was put over her had fastened around her neck with an adhesive tape.
Medics are still working on a final autopsy report and are still conducting further tests.
Police also revealed that the three men flew into Thailand without a visa and availed of the more convenient visa-on-arrival facilities at Suvarnabhumi Airport when their flight touched down in Bangkok.
National Police Commissioner General Damrongsak Kittiprapas calls for safeguards in respect of visa on arrival passengers arriving from China
On Monday, National Police Commissioner, General Damrongsak Kittiprapas noted that the easier access to the country is potentially attracting more criminal elements from China and called for additional safeguards while also protecting the country's critical foreign tourism industry.
General Damrongsak told reporters that the motives for the appalling murder appeared to be the failure of her family to pay the demanded ransom mixed with the rejection by the young woman of romantic advances from one of her killers.
It is understood that the three men entered Thailand and were granted a 15-day visa.
Rented home and Mazda car central to enquiries on Monday as forensic teams sought DNA evidence
Police on Monday began conducting an exhaustive search and forensic examination of the rented property used by the men and where it is believed Ms Jin Can was murdered.
Forensic specialists were looking for evidence such as blood stains or spatter as well as DNA evidence related to the accused and the unfortunate victim.
A similar examination of the red Mazda car used by the three young men was carried out with the same objectives.
Police have revealed that the house was rented by a Thai woman believed to be the 19-year-old karaoke bar worker on March 20th.
She signed a contract and paid for one month's rent.
However, on March 29th, the woman contacted the owner of the property and requested a refund of a portion of the month's rentals saying something had come up and she needed to leave Thailand to return to her home country urgently.
3 men face a capital charge of premeditated murder with torture with the death penalty as punishment
It is understood that the three young men are facing charges of false imprisonment, ransom and extortion with the threat of violence, premeditated murder with the use of torture as well as concealing and trying to dispose of a corpse.
The charge of premeditated murder with torture is a capital offence in Thailand punishable by the death penalty, a sentence regularly handed down but rarely enforced with the latest execution carried out in June 2018, under five years ago.
Deputy police chief, General Surachate Hakparn was reported, on Monday, to be assisting the parents of the young woman while in Thailand and also liaising with police in China and Interpol so that the culprits are rendered back to Thailand to face legal proceedings as soon as possible in a case that cries out for justice.
Further reading:
Chinese student here only 20 days kidnapped, tortured and murdered by evil gang from China
Fear-mongering, fake news and disinformation being stoked in China against visiting Thailand
Chinese tourists arrested on kidnapping and extortion charges insist they are innocent
Police defend Pattaya search warrant raid which saw two officers shot with Chinese man arrested and charged
Chinese man linked to organised crime arrested at luxury Pattaya mansion after shooting policemen
Illegal lending app run by Chinese staff charging up to 20% interest per week taken out by immigration police
Four Chinese men arrested after hideous murder of a Chinese tourist and his wife last Monday night
Iconic 70s Bangkok comes to life again as the dark story of The Serpent wows world Netflix audiences
Chinese woman seeks death penalty for husband who tried to murder her in Thailand by pushing her off a cliff
Chinese man who killed his wife in Thailand may face further charges including premeditated murder
Chinese credit card scammer arrested in Lumpini by Thai police after complaints from banks
Chinese pickpockets staying in hostels as backpacker visitors targeting tourists in Bangkok
About the Author
Carla Boonkong is a magazine writer who writes extensively about woman's issues in Thailand. One of her key subjects is the story of Thailand's growing influence in the world and the role played by Thai women in the process. She is now a staff writer with Thai Examiner.com in Bangkok. Son Nguyen is an international writer and news commentator specialising in Thai news and current affairs. He commenced working with the Thai Examiner News Desk in May 2018.