The victim in the case, a 32-year-old Chinese woman who is studying in the kingdom at university filed her complaint with Thong Lor police on Friday after being kidnapped at 10 pm on Thursday night and held until the following morning in a rented, black Toyota Alphard van. During this time, she was forced at knifepoint to transfer ฿3.2 million into the account of her captors which included another Chinese woman who she had recently befriended in Bangkok.
Three Chinese tourists arrested on Sunday for the kidnapping and extortion of a fellow Chinese woman, a student, out of ฿3.2 million, on Monday were reported to be refusing to cooperate with police and demanding to speak with the Chinese Embassy as they claimed innocence in the matter. This is despite being positively identified by CCTV footage and several witnesses interviewed by police at Thonglor Police Station who took up the case on Friday afternoon when the Chinese victim filed a complaint.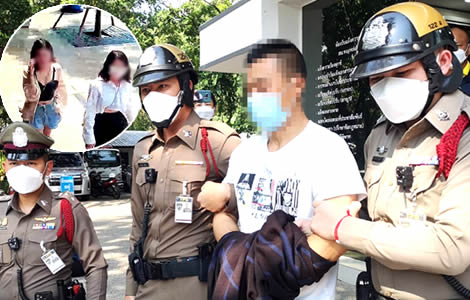 Three Chinese tourists were remanded in custody on Monday after appearing before the Bangkok South Municipal Court charged with kidnapping, false imprisonment, extortion and carrying a lethal weapon in a public place by police at Thonglor Police Station in Bangkok.
The three, who were arrested on Sunday morning by investigating officers in Sa Kaeo Province, were named as 51-year-old Mr Ran Xiao Yong, 41-year-old Mr Zheng Bo and 24-year-old Ms Nie Li Jiao.
All are reportedly Chinese nationals who were in the kingdom as tourists.
Arrested suspects reportedly refused to cooperate with police enquiries and insisted that they must speak first with the Chinese Embassy in Bangkok
Police at Thonglor Police Station have revealed that two of the accused are not cooperating with police enquiries while there are also translation problems with communication between the police and the suspects.
The suspects have insisted on speaking with the Chinese Embassy in Bangkok before they respond to police questioning.
The arrests came after a Chinese student in Thailand, 32-year-old Ms Menglu Weng, reported to police on Friday that she had been abducted the night before by a Chinese gang in the black Toyota Alphard van after she had dined with 24-year-old Chinese compatriot Ms Nie Li Jiao at a restaurant in Ekkamai on Thursday the 16th of March just before 10 pm in the evening.
Ms Menglu is a university student studying for a bachelor's degree in Thailand.
She told investigators that she had been walking with Ms Nie Li Jiao through the car park adjacent to the restaurant when she was grabbed and pulled into a black Aphard van.
Woman pulled into an Aphard van, confronted by a man with a knife who forced her to execute three transactions involving the transfer of ฿3.2 million
Inside, she said was confronted by a man with a knife who, at length, forced her, through her smartphone and applications, to transfer ¥250,000 into an account together with $8,000 held in the cryptocurrency tether.
She said another Chinese man was at the wheel of the vehicle where her newly found Chinese friend Nie Li Jiao was also present.
She told officers that she and the Chinese woman spent the night in the van during which the Chinese man forced her to contact her boyfriend in China who transferred $50,000 held in the same cryptocurrency to the kidnapper's accounts.
In total, the gang obtained what police estimated to be ฿3.2 million.
Late Friday morning, the gang dropped the victim off on the street in Bangkok along with the younger Chinese woman.
Police verified from CCTV footage the details of the woman's story and quickly obtained further evidence and witnesses to track down the three suspects
Ms Menglu returned briefly to her apartment in the Asoke area of central Bangkok and immediately afterwards contacted police at Thonglor Police Station to report what had happened.
Police raced to the restaurant where Ms Mengu had dined on Thursday evening and retrieved CCTV footage confirming her report in detail.
Officers in the case quickly formed the view that Ms Nie Li Jiao was part of the gang.
Following up on the CCTV footage and after speaking with other witnesses, police were able to establish that the three Chinese gang members had spent time in Pattaya days beforehand in the Bang Lamung district of the resort city before eventually tracking them down in the Aranyaprathet district of Sa Kaeo Province.
The suspects were staying at an establishment known as the Hitz Hotel and investigators believe the gang intended to cross the border into Cambodia. 
Case reviewed by Metropolitan Police Bureau Region 5 commander who ordered fingerprints and a check on Chinese police database for criminal records
On Monday, the case, which is being directed by Police Colonel Pansa Amaraphithak of Thonglor Police Station, was reviewed by the Commander of Metropolitan Police Bureau Region 5, Police Major General Thawatkiat Jinda Kuansanong.
This followed repeated claims by the arrested Chinese gang that they were nothing but tourists in Thailand and had no involvement with the kidnapping and extortion operation.
Police had earlier discovered that the Toyota Alphard van had been hired from a local car rental outlet at a rate of ฿5,000 per day from March 15th to March 17th.
They also raided a property Soi Sukhumvit 39 in Bangkok which was associated with the gang and seized 9 paper-based assets.
Investigating officers say that witnesses, including the victim in the case, have positively identified the three Chinese suspects.
In the face of repeated refusals by members of the gang to speak with police investigators, Police Major General Thawatkiat ordered that they be fingerprinted and that Thai police liaise with their Chinese counterparts to establish if they have a criminal record in China.
There have also been, it is understood, representations from the families of some members of the gang to police in Bangkok protesting their innocence.
Three appeared in court on Monday and were remanded in custody with their detention period extended to March 31st 2023, police objected to bail
On Monday afternoon, Thonglor police escorted the three accused, each accompanied by two policemen as they appeared before Bangkok South Municipal Court charged under Section 310 of the criminal code for deprivation of liberty, Section 313 for holding a person for ransom and Section 337 for extortion and threatening violence as well as a charge for carrying an illegal weapon.
Curiously, as they were taken to court, in front of the media, the gang members spoke out in Chinese and claimed to be victims of a gang they identified as 'Guan Mong Lu' which they linked with Cambodia.
Police objected to bail on the grounds that the defendants had no permanent address in Thailand, were a flight risk and based on the potential penalty in this case if they are convicted by the court.
The court agreed to extend their detention period by a further 12 days from March 19th until March 31st next.
The two men were transferred to Bangkok Remand Prison while the woman was ordered to be held at the Central Women's Correctional Institution.
Further reading:
Police defend Pattaya search warrant raid which saw two officers shot with Chinese man arrested and charged
Chinese man linked to organised crime arrested at luxury Pattaya mansion after shooting policemen
Illegal lending app run by Chinese staff charging up to 20% interest per week taken out by immigration police
Four Chinese men arrested after hideous murder of a Chinese tourist and his wife last Monday night
Iconic 70s Bangkok comes to life again as the dark story of The Serpent wows world Netflix audiences
Pattaya police arrest 6 people in major drugs raid on a house linked to Aussie crime gang network
Gambling Godfather arrested in Rayong linked with the murder of a moto-taxi driver in Pattaya
Chinese woman seeks death penalty for husband who tried to murder her in Thailand by pushing her off a cliff
Chinese man who killed his wife in Thailand may face further charges including premeditated murder
Chinese credit card scammer arrested in Lumpini by Thai police after complaints from banks
Chinese pickpockets staying in hostels as backpacker visitors targeting tourists in Bangkok