As the UK staycation market continues to flourish in the current climate, hotels are going further than ever to offer their guests a complete escape. How does a spiritual wellness programme in one of the London's chicest hotels sound? From breathwork journeys to crystal bowl sound healing and morning meditations amongst jasmine and passionflower hanging gardens – by the end of your stay you might just feel like you've travelled a million miles from your Fitzrovia starting point. Rebecca Cox checks in to The Mandrake to check it out.
The Mandrake London Review
STAY
Post-lockdown safety measures have taken nothing away from the warm welcome always on offer at The Mandrake, one of the most exclusive-feeling boutique hotels in London. With its discreet entrance on Newman Street you'll be greeted with a smile, followed by a temperature check and the offer (rude to refuse though, no?) of a hand sanitising station. The hotel's beautiful and interesting indoor shared spaces (about which you can read more of in our roundup of the best design hotels in London) are currently closed in favour of its gorgeous outdoor areas, voted amongst the best in the world thanks to its stunning Jurema Terrace edged by hanging gardens of sweet-smelling jasmine and passionflower. As the hotel fell silent throughout lockdown the birds moved into the garden spaces and this city retreat now feels like more of a nature retreat than ever.
Guests can choose from 34 luxurious rooms and suites, all with beautiful marble bathrooms, from cosy but chic Mandrake rooms up through junior suites, the opulent Mandrake suite complete with tented bed or the light and stylish Penthouse, famed for its glorious bathroom, complete with enormous marble jacuzzi and gold and feathered palm tree. From every room you can easily access the terrace spaces where you can relax with a drink or join in wellness activities at various times of day.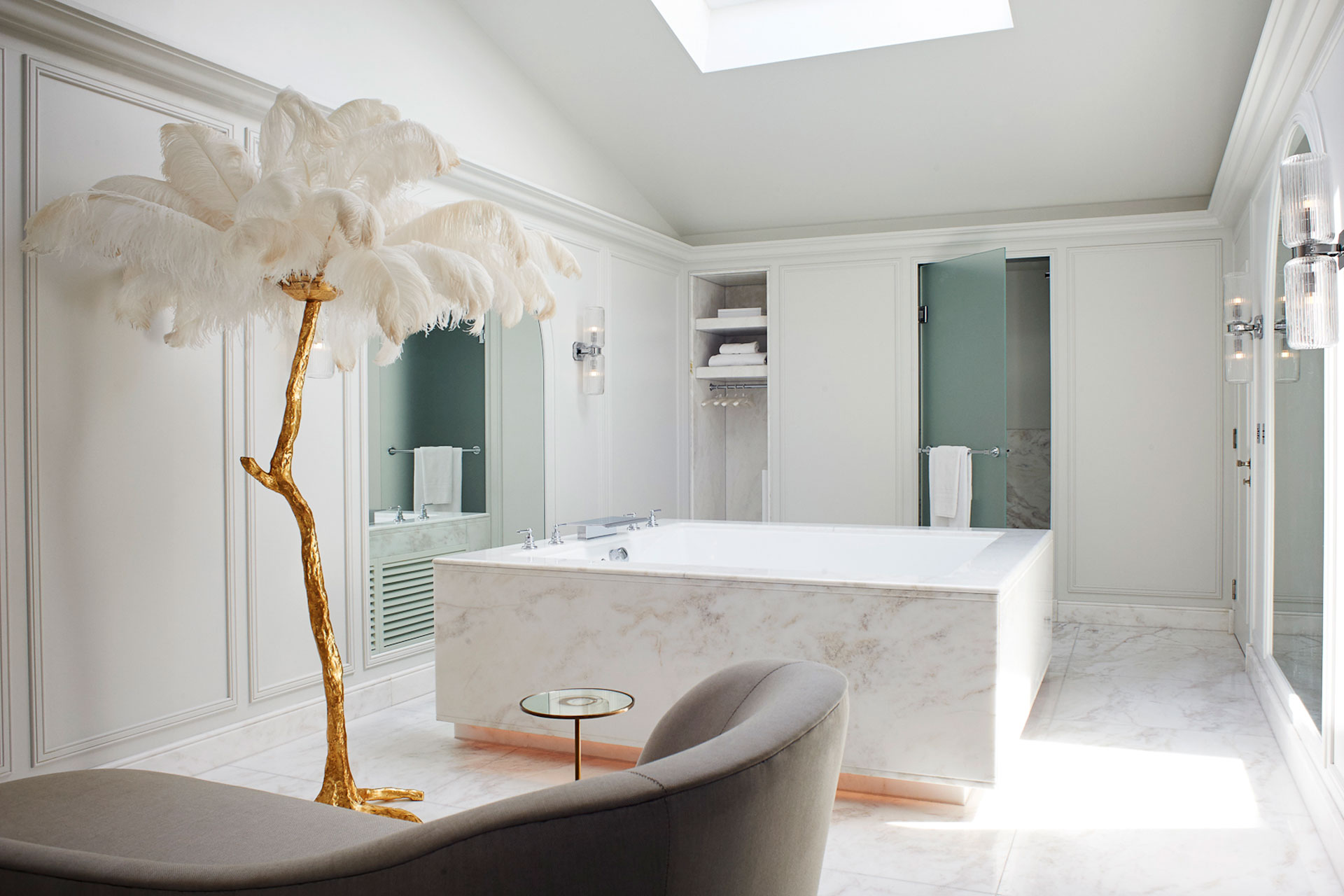 DO
A statement on the Mandrake's website reads: "we have realised what we place the most value on; the pursuit of wellbeing is just as important as that of pleasure. The Mandrake is moving towards the light." The most important thing to 'do' then, in your time at the Mandrake, is to make your wellbeing your priority. This is easier than ever, with a full programme of wellness sessions available from a Spiritual Wellbeing Concierge Menu, from morning meditations with the brilliant Catherine Turner (truly the best way to start the day) on the quiet terrace listening to birdsong in this city oasis, to bespoke private energy healing sessions with hand-picked crystals and bespoke meditation cushions.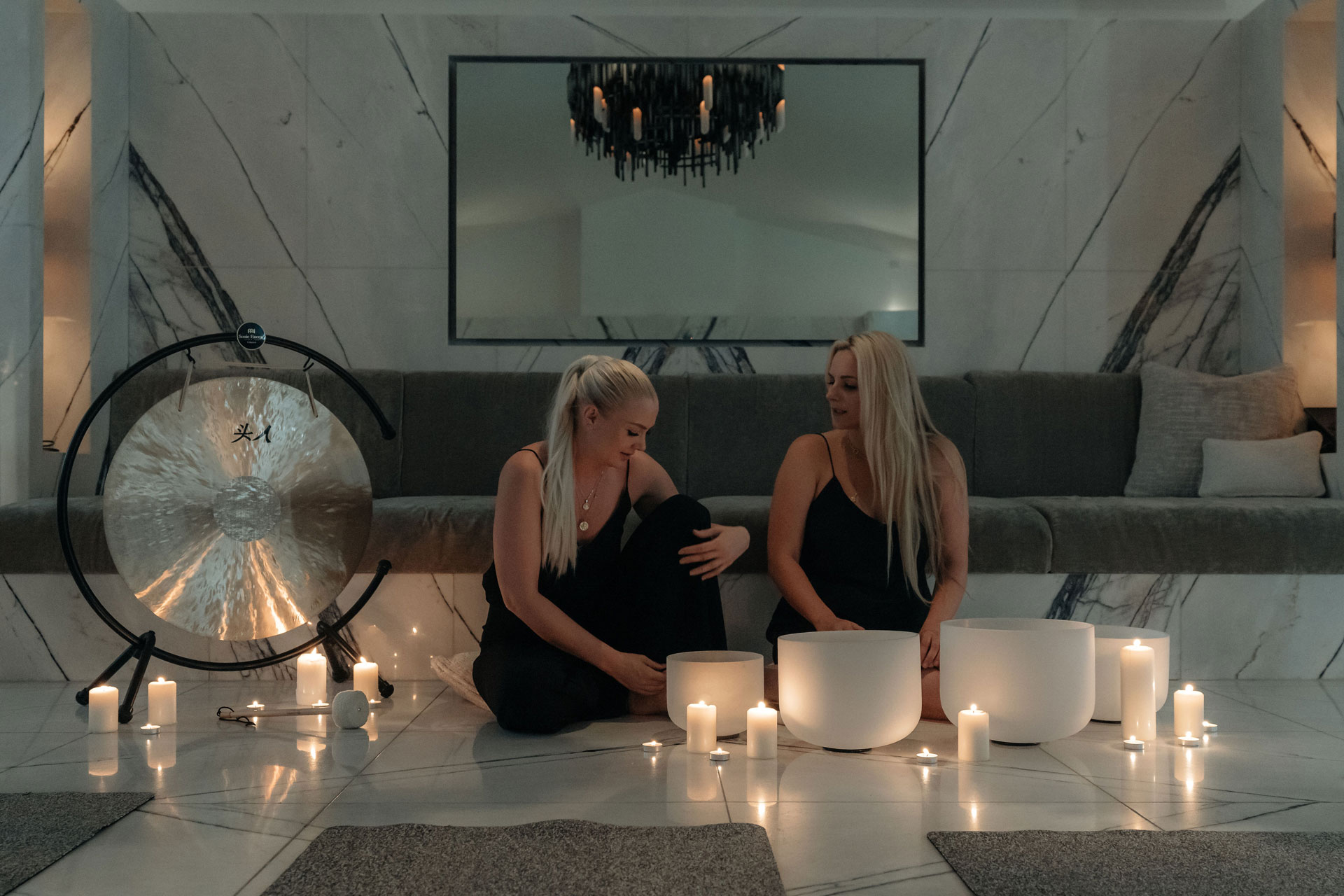 Particularly special is the Cosmic Gong Bath. Enlist the lovely Maria from Mystic Sisters to help awaken and activate your body through ancient gongs and other healing instruments. Each treatment can be tailored to your needs, and Maria tells us the experience can bring up emotions deep inside us, whether that's happiness or anger. It can be done one-on-one or in a group, and Maria will set up the space with cushions and blankets to help you relax. It's great for people who struggle to meditate, as the sound of the gongs helps you drift into a meditative state and fully relax, and you can expect to leave feeling calm, yet energised.
During your stay, we'd recommend not leaving the hotel, lest you break the spell. And wherever you're headed onward, ensure your route doesn't involve neighbouring Oxford Street. Decidedly un-om.
EAT
The beautiful Yopo at Jurema is the perfect place to ease yourself back into fine dining in London, with spacious, laid-back cabana seating, a wooden shack-style bar (with serious far-flung vibes) and a kitchen serving up delicious, fresh small summer plates inspired by South American cuisine, with a playful cocktail menu to transport you away from London lockdown and onto a beach of your choosing (we headed to Mexico courtesy of the 'Jalapeno', mixing Casamigos Blanco Tequila with jalapeno vinegar, chipotle and pink grapefruit). Eat the parmesan tapioca, the octopus tapioca and the burrata served up with Charentais melon.
THE FINAL WORD
With endless (excellent) options when it comes to London staycations, the Mandrake is offering something really special with its Soul Reset package; a genuine wellbeing experience that will go a little way to undoing the tension you've been storing up since hotels closed their doors in March. A drink on the terrace is like a breath of fresh air, an overnight stay and wellness experience like a fresh set of lungs. Check in, switch off, and breathe.
BOOK
Prices from £350 | themandrake.com
The post Wellness Staycation: The Mandrake Hotel Review appeared first on Country and Town House.