In the heart of France's Les Trois Vallées, the piste-side Aman, Aman Le Mélézin, offers ski-in, ski-out facilities against a backdrop of ultimate luxury and relaxation. Luke Abrahams checks in to experience this snowy spa retreat.
Read the C&TH Responsible Tourism Guide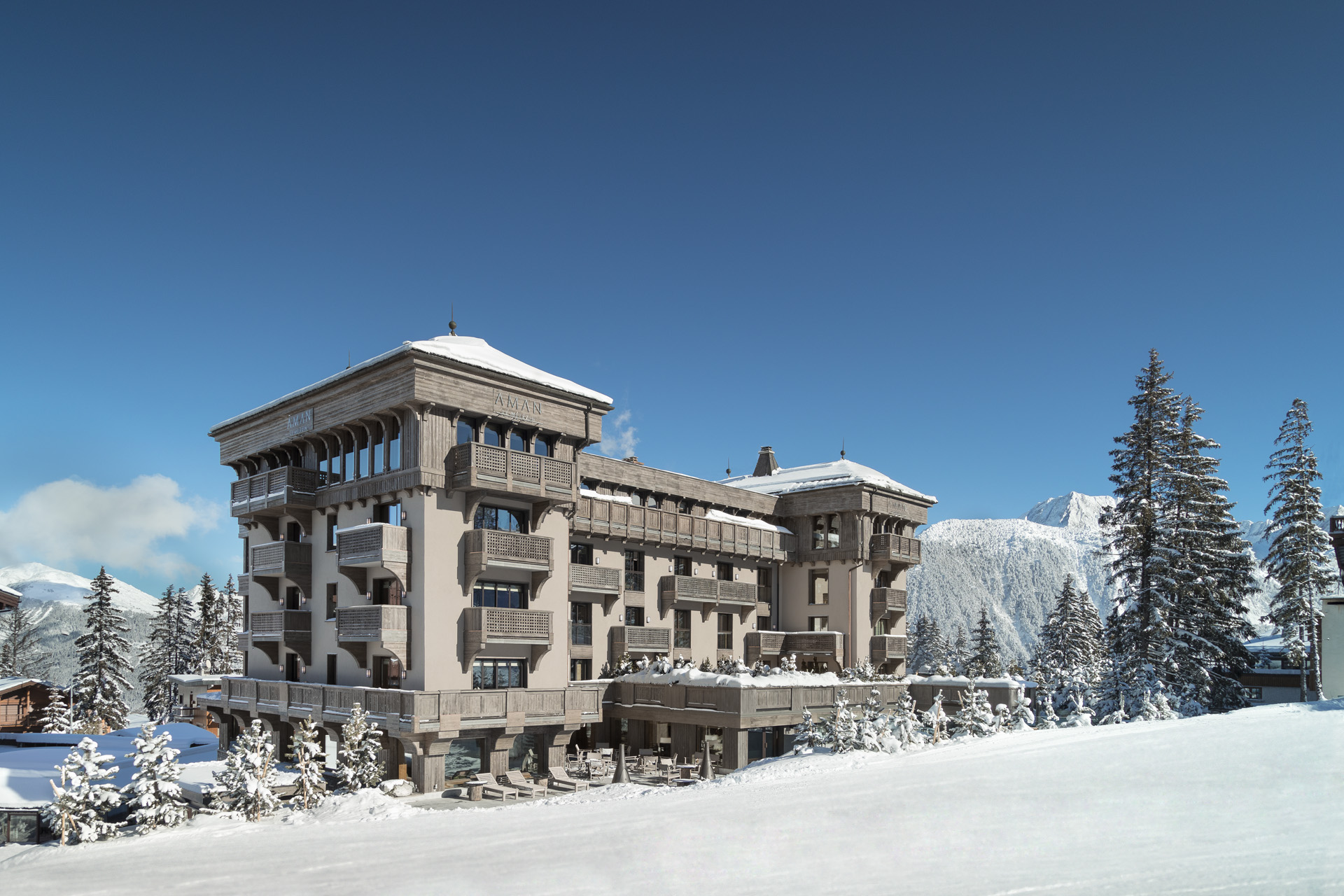 It's all very prime piste-side cool at Le Melezin. Refreshingly, there's nothing overtly showy or in-your-face about its muted chateau-style façade whatsoever. In place of all the fur tat, cheap gimmicks and hideous ski lodge quirks found elsewhere on the slopes of 1850, AMAN resists the 'basic' for the discreet, the supremely cosy and, at times, rustic minimalism that packs in an extra dose of Asiana bling. Think parquet and grey-stone floors, hand blown glass panels and perfectly framed windows that eye stone terraces, fire pits and those all-important mountain vistas. It's all very visually wow.
Its pride of place setting is also worth bragging about. Ski-in, ski-out Bellecôte Piste access makes it an easy run for the laziest of skiers – plus, it's well connected to the main ski lift station, linking the resort with the Three Valley ski summit.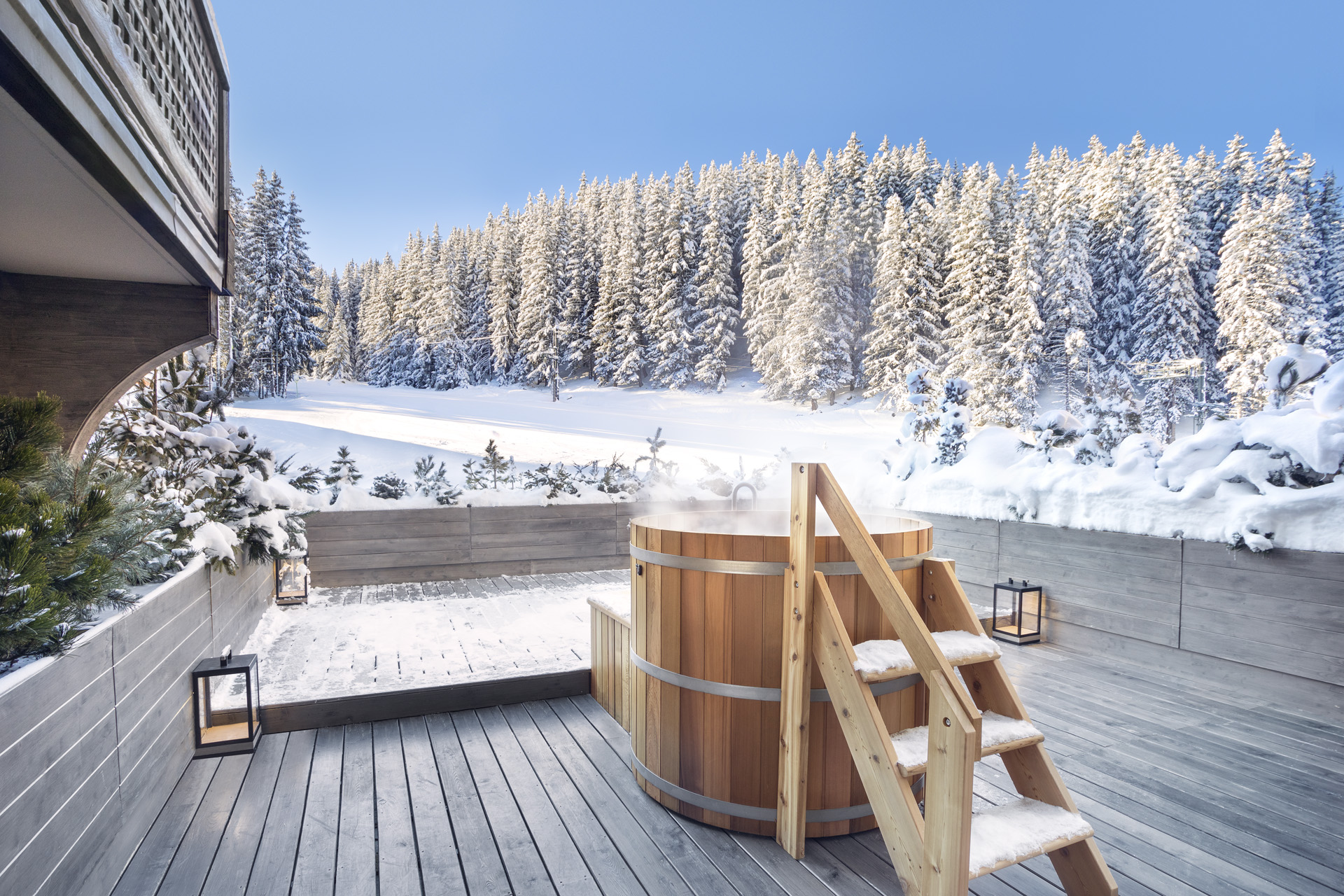 Rooms? Oh, so sexy. Most don spectacular views over the Bellecôte Piste, plus private balconies and, if you're lucky, terraces crowned by bubbling hot tubs. In true Aman style, the lighting is set to a mood (all very dim and subtle) and there's plenty of space to plant your tushes in chambres set to the rhythm of chill. 
A mish mash of cuisine keeps the bellies happy, too. At first, it might seem a tad weird eating Japanese in a French ski lodge – but they pull it off, and well. Sharing plates make up the bulk of the finessed medley of starters and mains: the yasai tempura, sushi salads, anything Wagyu and the matcha tiramisu are standout must-trys. 
All lovely, yes – but the real reason I am here is to check out the wellness offering for the blokes on the slopes. To kick off the new season, the swanky brand has introduced a new health and fitness method to its wellbeing roster, the aptly named 'Wellness in the Snow'. 
I begin my wellbeing pilgrimage in the spa, naturally. The resident yogi awaits in the basement level fitness room promptly at 9am to flex me out. Forty-five minutes later, I can feel parts of my body (especially in the groin) that I was not aware could be stretched at all. I am told it is good for me and my joint health. Proud, and rather suspicious, I hobble into the spa for my next dose of TLC in the form of a three-hour signature massage and scrub down.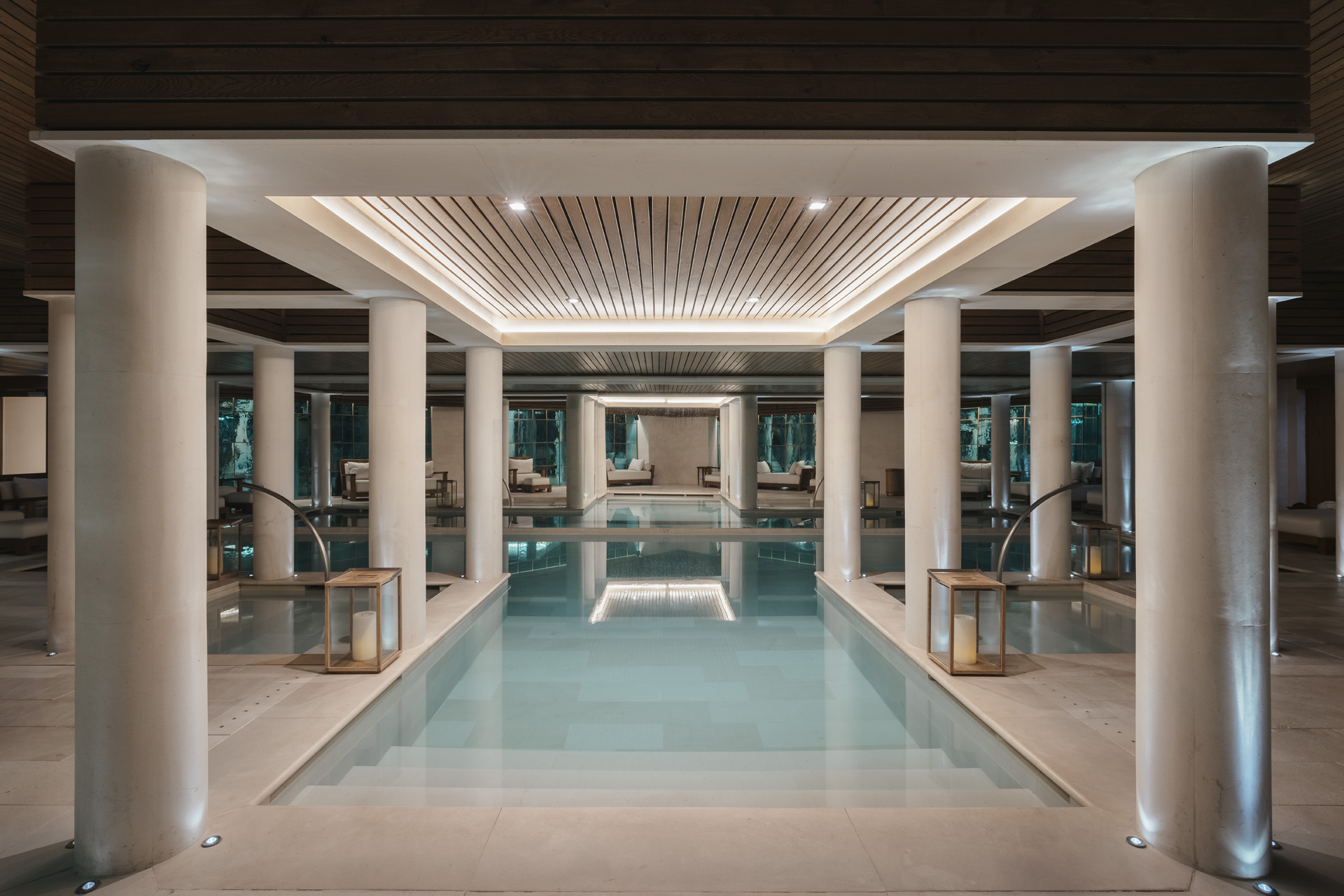 The entire concept was developed with a 'post-slopes recovery front of mind, for both the body and the face', Kristina Romanova, CEO of AMAN Essentials tells me. The signature offering, she says, specifically reduces the build-up of lactic acid in the legs, so guests can optimise and maximise their time on the slopes while getting pampered. Why is it good for men? I ask. According to Kristina, it's the perfect introductory experience to guys who perhaps aren't as 'confident with traditional treatments'. 
Post-recovery is at the forefront of the experience to ensure you can get more action out of the slopes, essentially. 'Everything we put on your skin' – honey, rosehip, wheat germ, cactus oil and jasmine stem cells, the 28-year-old entrepreneur tells me – 'are known for their powerful hydrating qualities and their abilities to help rejuvenate the skin barrier.' The result is skin that's less affected by the impact of extreme climate conditions, such as the cold weather in the mountains here. 
Naturally, it was time for me to put it to the test. The experience begins with me getting my kit off. I lie down and the therapist smothers all sorts of potions into my tired (and thanks to the cold, now dry) skin. It all begins with a scrub down with creams packed with rejuvenating antioxidants and oils to deeply moisturise the skin. I head to the shower, wash it all off and return face down to the bed. For the next hour, my therapist pummels my skin with the help of hot stones to help relieve all the muscular tension across my back, especially around the shoulders. She finishes off with a brisk facial (nothing too invasive) and the result is, as expected, skin that looks plump, supple and not like death.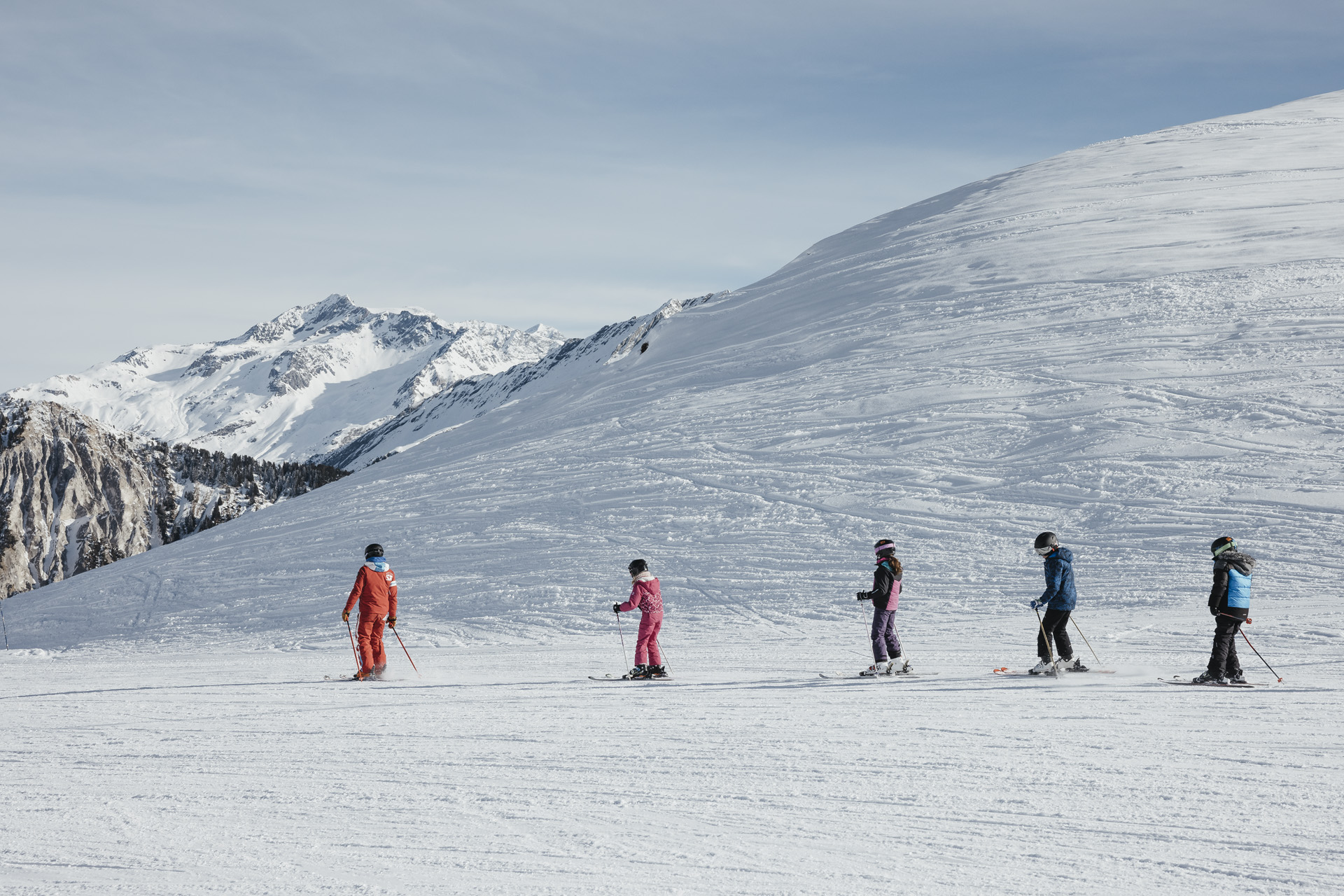 Pampered, it's then time to face the elements. I had a dodgy knee during my visit, so I opted into a calm, yet brisk snowshoe walk with my companion for the day, Rose, and our instructor Laurent. I've not once put ski gear on before, so the sight of chunky boots and penguin flipper-like strap ons (the snowshoes) got my heart racing. It was minus eight – or something like that – outside at the time, and we began our ascent up the slopes on what I am told is the more 'scenic' route.' Ten or so minutes later, I break into a sweat as I meander all sorts of obstacles – snow, rocks, trees and the odd squirrel – as we plop through the trees learning about all the local flora and fauna. Though it might not seem as exciting as whizzing down a mountain, somersaults and all, we all finished up agreeing that the 'behind the scenes' shrubbery tour was, overall, less stressful and far more peaceful than those busy pistes. It was, as Laurent said, 'a dose of chill.'
Back at the lodge, it's time to warm up courtesy of an Iyashi Dôme sauna session. For 20 minutes or so, my body is blasted with infrared rays to, as the therapist explains, rid my body of toxins to help me relax, sleep better and improve the quality of my skin. You sweat bucket loads and, I must say, my knackered knee felt much better once I shimmied out of the roomy heat tube. I am then loaded with all sorts of 'teatox' teas, again to rid my body of poisons, before I spend another twenty minutes alone in the steam room and sauna. Yes, it was bliss.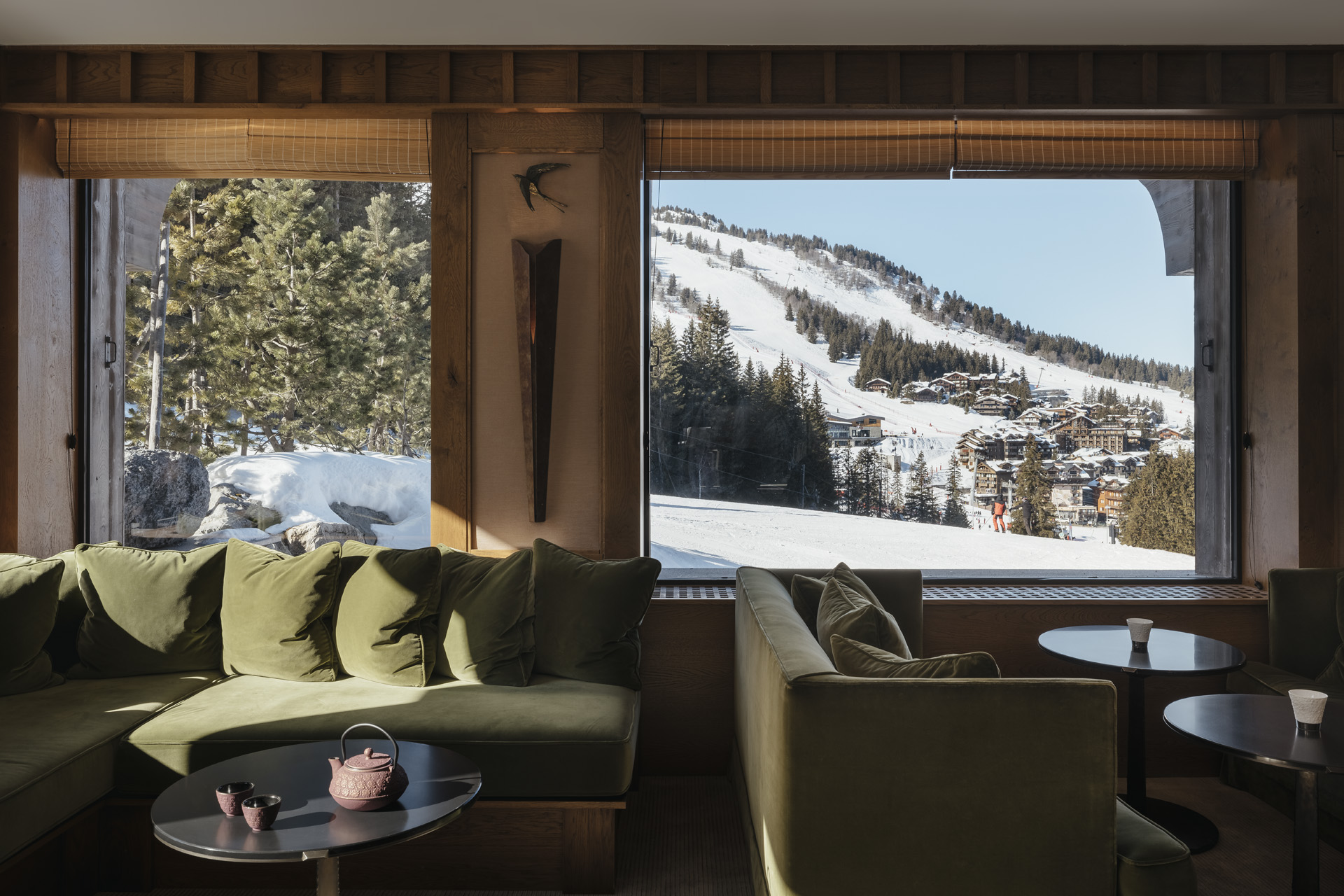 That night, I finish off my wellness moment with an evening adventure into the showy snowy hills. We're dropped off on a roadside and greeted by the rather dashing Valdive, a Jura horse I dub the one from Beauty and the Beast. 
I stumble into the carriage our noble steed is set to pull, and she begins to silently trot through the snow uphill in the pitch black. Post a quick pee-stop (the thought of wolves cascading us in the dark tested my bladder), we arrive at our destination: a very pretty 'Last Christmas'-style chalet flecked by flickering torches. All that was missing was an appearance from George Michael. Guillaume and Julian, our hosts for the night, dazzle with local Savoire treats rustled up by chef Julien Machet. You might think wellness is all about clean eating and green juices but, up here, cheese fondue and a mean French salad dressing gets the serotonin pumping at peak levels.
After a sleigh ride back down to meet the car, we return to the lodge, sleep and wake up to a patch of fresh snow. As I shovel a bowl of porridge down, I sit watching the snow fall in a hazy daze, quite literally the picture of ultimate zen. 
BOOK IT: Stays at Aman Le Mélézin start from EUR 1,400 for a Chambre Junior per night, based on double occupancy and including taxes and a service charge and on a half board basis.
Three other ski adventures worth splurging on…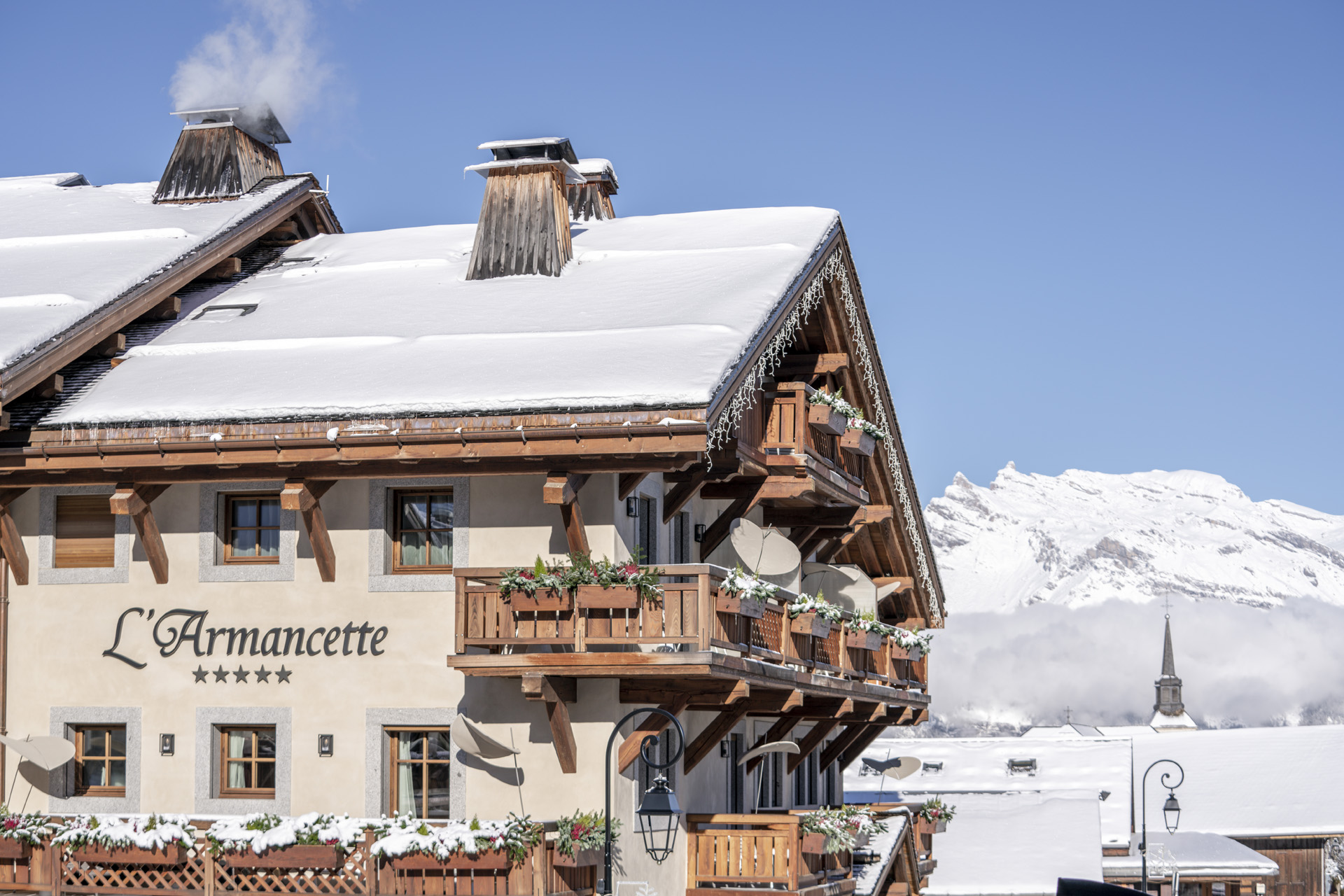 Armancette, Mont Blanc
If you prefer to live life on the quiet side, hit up this chill chalet in the sky. The 17-suite lodge enjoys a prime spot beside the Mont Blanc massif, ideal for those brave enough to trek it up Europe's highest mountain. Expect alpine adventures in the form of very energetic mountain bike tours, paragliding, and sky-high yoga. The hot tub is well worth the hit, if not just for a peep at those spectacular views, bubbles and all. armancette.com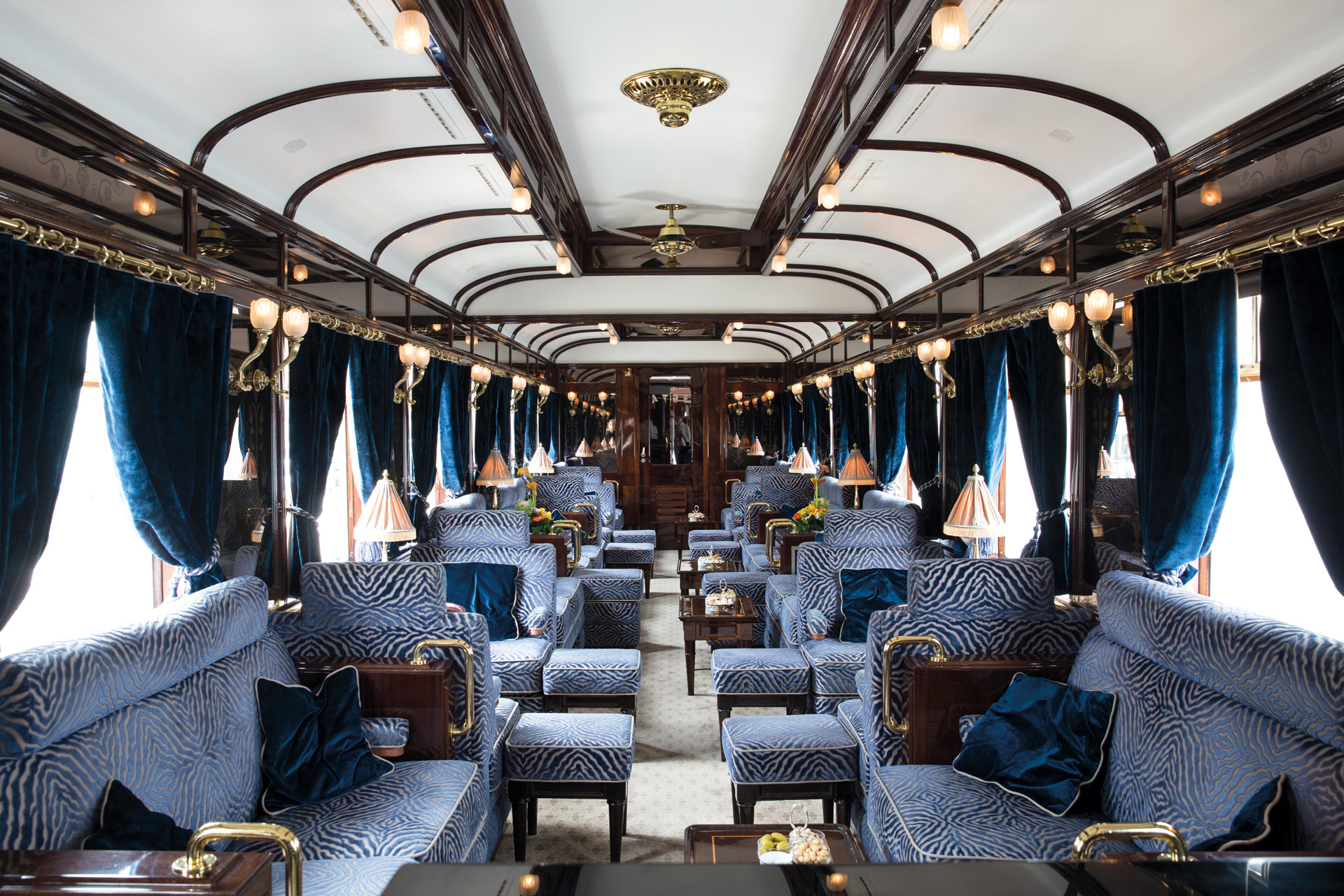 VSOE it to the Alps
If you want to experience the alps in true style, hop on the Venice Simplon-Orient Express from Paris to Moutiers. As expected, the overnight soiree is bling to a tee, with dress up billed as non-negotiable. Storied cabins will wow alongside alpine food served up by bad-boy French chef Jean Imbert. Views are magical, as are the dishy army of staff who do everything in their power to keep you happy, well-boozed and entertained along the way. belmond.com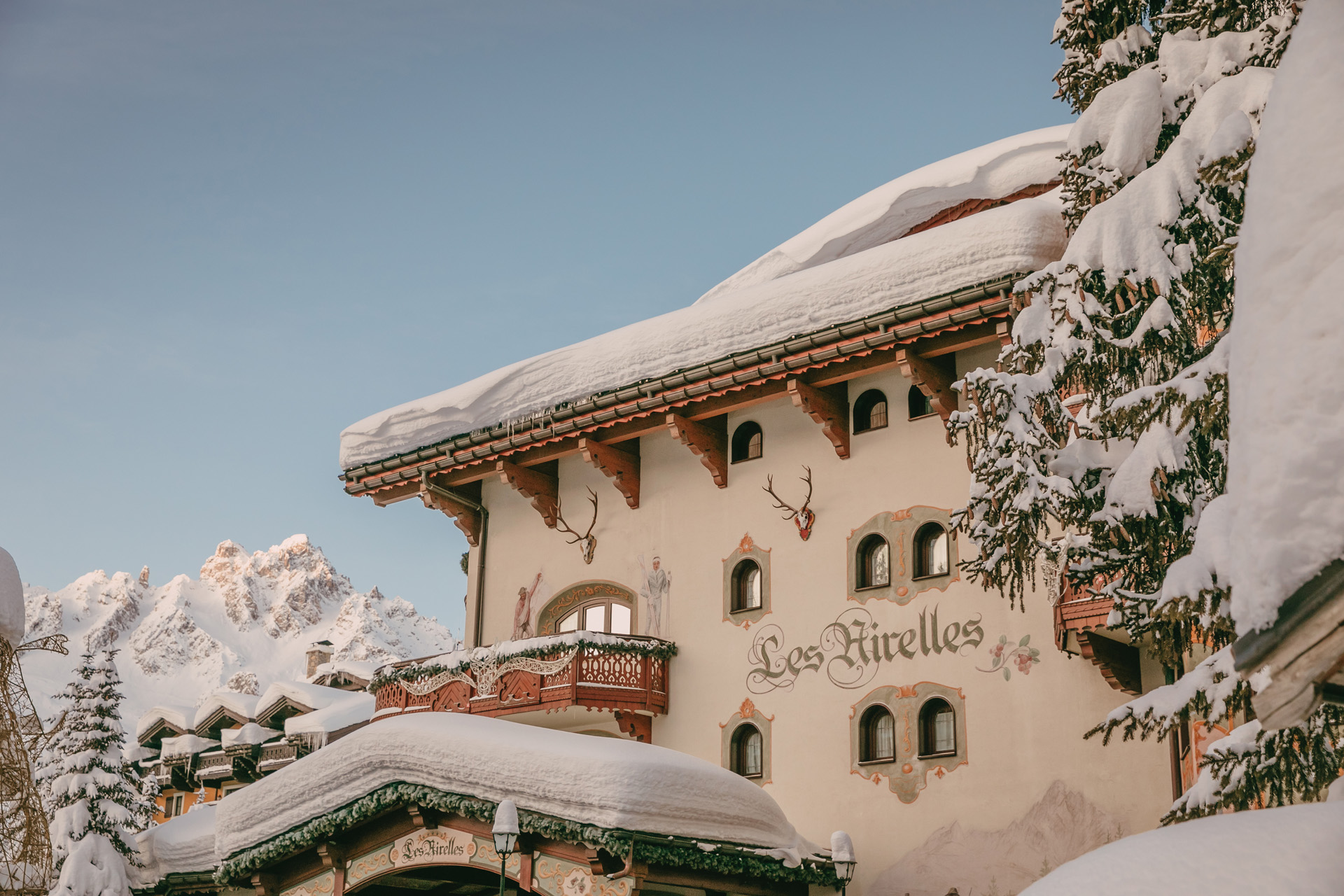 Les Airelles Courchevel
The classic alpine experience is no stranger to Les Airelles' stunning lodge in Courchevel. Two new private chalets have popped up for skiers set to the tune of absolute privacy. Designed by Christophe Tollemer, Savoyard style reigns supreme with authentic wood and stone exteriors, each boasting panoramic views of the snow-covered summit of the Saulire, romantic crackling fires and cashmeres from the house of Loro Piana. All very lovely indeed. airelles.com
Images © Amanresorts Limited 1996-present. Featured image © Alex Moling.