No firm details yet as to what date the new regime comes into force nor how it will be administered. Minister Anutin Charnvirakul said it was necessitated by a need for a non-discriminatory response to the return of potentially large numbers of Chinese tourists from next week with a ramp-up of flight connections expected over the coming months. The kingdom suffered another blow after New Delhi imposed testing requirements on all Indians returning from Thailand. 
Thailand's foreign tourism industry was thrown a curveball on Thursday when a conference of officials from three ministries met in Bangkok and decided to introduce a Covid vaccine requirement for all incoming travellers in light of the return of Chinese tourists next week. The announcement was made by Minister of Public Health Anutin Charnvirakul after the decision was made. Full details Of the new regime have yet to be released.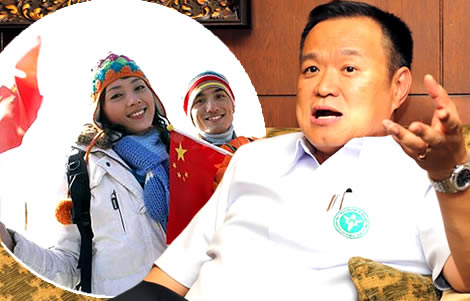 Thailand's public health authorities have reintroduced a requirement demanding that all incoming travellers to the country have proof of being fully vaccinated.
In the past, this has been taken to mean the administration of two approved vaccines.
The move comes in response to the impending reopening of China on Sunday next January 8th which, it is anticipated, will lead to increased foreign tourist traffic into Thailand from the communist country currently in the grips of its largest outbreak of Covid since the crisis began there in late 2018 when the threat first emerged in Wuhan.
Reports suggest high levels of rampant infection in China which has prompted caution and this blanket response from Thai officials to all travellers
There appears to be no data available from authorities in Beijing to offer guidance on the scale of what is thought to be a massive outbreak but there have been unconfirmed reports of 1 million infections per day while a report from medical officials in China's commercial centre, Shanghai, suggested that as much as 70% of the huge city's population of 26.32 million have become infected.
The threat has seen many countries such as the United States, France and Italy impose specific test requirements on all travellers originating in China, an approach which has been rejected by Thailand.
Today's announcement by Minister of Public Health Anutin Charnvirakul, which still has to be clarified with more detailed information as to its implementation is certain to cause disruption to Thailand's rising tide of foreign tourism in the short term as the market has shown consistently that such requirements are unpopular among potential tourists to the country and are resisted by the travel market.
Uncertainty and red tape quickly put off potential tourists or visitors to Thailand, experience shows
The uncertainty caused by them and the red tape involved in compliance is not conducive to a carefree holiday excursion which is what Thailand was seen as offering tens of millions of visitors up to 2020.
The news is coming amid another blow to the kingdom with a requirement from Indian authorities in New Delhi that all arrivals from Thailand will now be subjected to RT-PCR testing on arrival.
This new requirement is a response by nervous Indian officials to the news from China which has lifted its quarantine for arrivals requirement as part of scrapping its deeply unpopular zero covid policy which has led to the current outbreak.
The development has seen governments across the world place restrictions on arrivals from China and, in this case, countries such as Thailand which is associated with China in terms of travel and tourism.
India was a mainstay of inbound tourism to Thailand in 2022, now that is put in jeopardy by New Delhi
India, in 2022, became a mainstay of foreign tourism to Thailand with 9% of the 7.36 million visitors arriving in the country from January to October 26th, second only to Malaysia with 17%.
The country's estimated arrivals in 2022 are 11.5 million visitors with an uptick in more long-haul visitors from western countries reported after all entry requirements were cancelled in October.
The Indian market, assisted by special Thai Airways flights between the subcontinent and the kingdom, saved the country's foreign tourism industry which has singularly failed to recover its former markets in the same fashion as other countries in the aftermath of the global emergency that today's development shows is still not yet over.
Up to October 26th 2022, the top five markets for tourists to Thailand, which made up 44% of arrivals between them, were Malaysia with 1,246,242 arrivals, India with 661,751 arrivals, Laos with 538,789, Cambodia with 373,811 and Singapore with 365,593 arrivals.
This saw the average expenditure per tourist decrease from approximately ฿50,000 in 2019 to between ฿40,000 and ฿43,000 for this period.
No mention of free vaccines on arrival offer for tourists, the idea proposed by Minister of Tourism and Sports last week to be discussed at the meeting
Today's announcement that Thailand is reimposing the need for proof of vaccination to enter the country made no mention of a proposal from Minister of Tourism and Sports Phiphat Ratchakitprakarn who last week proposed offering free vaccines to incoming tourists at Thai international airports on arrival.
The statement by Deputy Prime Minister Anutin also made clear that passengers transiting through Thai airports to a destination where a RT-PCR test will be required will also have to have travel insurance.
This may have extended ramifications as many countries worldwide have now imposed a test requirement on passengers of any nationality whose flights originate in China, a move which has been harshly criticised by Beijing as discriminatory but which was surprisingly defended by a World Health Organisation (WHO) spokesman on Thursday who said that in the absence of proper data and guidance from authorities in China particularly as to the sequencing of detected strains of the virus, such moves were understandable.
Thai medical officials deem the Covid threat as the same in China as it is in Thailand based on data they have seen while other countries criticise China
Thai medical officials are reportedly satisfied that the strains of Covid in China and Thailand are the same based on data they have received.
The reason for the health insurance requirement according to Minister Anutin was to ensure that those who test positive for the disease in Thailand can pay for their treatment in the country.
In October, Thailand cancelled all tests and requirements concerning Covid when the disease was declared endemic and reverted to entry requirements as they existed in 2019.
Today's announcement will be a bombshell not only to visitors already on the way to the kingdom but also to those planning to visit in the coming months.
There are already reports of some prospective tourists changing plans or cancelling their trips.
While the vast majority of the population of western countries are fully vaccinated, the uncertainty created by Thursday's decision will cause a loss of impetus to the trade.
Only a small minority of western travellers remain unvaccinated according to data from key countries
Data in the United States shows a sizable minority of the population (21%) do not qualify as fully vaccinated although the country strictly enforces a requirement for all non-residents to be fully vaccinated against Covid just as Thailand now proposes to do.
The latest data from the US government shows that 79% have received at least one vaccine dose with 21% fully unvaccinated.
This figure is 17% in Canada and is even lower in the United Kingdom where 94% of people have had a vaccine and 89% have received the required two vaccine doses leaving just 11% unvaccinated.
It is reported that many of those who are not fully vaccinated are men under 30 years of age with up to 25% of his group falling into the category.
The figures are even stronger in Australia where 96% of the population is fully vaccinated.
The problems for Thailand's foreign tourism industry after these developments are the likelihood of a sharp downturn in Indian arrivals and a slowdown in bookings from western countries, particularly because of the uncertainty caused by the renewed requirements.
Thursday's decision according to Minister Anutin was about not discriminating against Chinese tourists to Thailand, the kingdom's main market in the past
Mr Anutin emphasised on Thursday the determination of the Thai government to be non-discriminatory as he acknowledged that the kingdom attracted visitors from across the world but most particularly from China.
'The principle is there will not be any discrimination against a particular country because Covid-19 is spreading in all countries and the strains are similar. So, Covid-19 should not be an issue of discriminating against any country,' he told journalists after the meeting of key ministries and officials.
It is understood that today's conference involved representatives from the ministries of Transport, Tourism and Public Health as well as the Office of the Insurance Commission and the Bangkok Metropolitan Administration.
There was no indication as to when the new regime would take effect but officials indicated that it would coincide with the arrival of Chinese travellers.
It is thought that next week after the restrictions on China are lifted, it will take some time for a volume of tourists to arrive due to sky-high ticket prices, limited flight services and the current turmoil in the communist country.
Increased flight frequency from China to Thailand is ready to commence from next week right up to a possible 400 flights a week if the market normalises
The Director-general of the Civil Aviation Authority of Thailand (CAAT) Suttipong Kongpool said the first newly scheduled flights will land on Thursday, January 12th but that within 3 months, there will be 15 flights a day between Suvarnabhumi Airport, Chiang Mai International Airport and Phuket International Airport.
The relaunch of the Chinese market however is expected to ramp up considerably after this with up to 400 flights a week expected if the situation reverts to normal.
China was Thailand's largest tourist point of origin and all indications are that it will account for between 5 to 10 million projected visitors in 2023.
This will again make it the main driver of the tourism industry and perhaps even on a more dominant scale as the country's efforts to revive its traditional markets have met with quite disappointing results in 2022 with increased numbers of visitors from Southeast Asia covering up what would otherwise have been a disastrous recovery and one which, even as things stand, is well behind the performance of its international peers.
Lack of flight connectivity was the bugbear for Thailand in 2022 and was caused by an unpredictable entry environment such as we have seen this week
One of the key reasons given for the disappointing performance of the foreign tourism sector last year was a lack of flight connectivity with sources within the airline industry pointing to the unpredictable nature of entry conditions to Thailand which has now again changed and resulted in confusion at this time due to the country's proximity to China and its reliance this year on Indian tourists.
The Ministry of Public Health, on Thursday, said it would continue to monitor the situation and adjust its measures in line with updated risk assessments.
It is understood that Chinese tourists who do manage to visit Thailand at this time will still face an RT-PCR test on arrival back in the communist country, something which may act as a further impediment to an immediate surge in arrivals from China.
Ahead of Thursday's meeting, Minister Anutin described his goal as balancing out the needs of the economy with protecting public health, a similar refrain to other crises and volte-faces which we have seen in 2020, 2021 and 2022 in line with external developments.
He said that his ministry and officials had a duty of care to the Thai public who he enjoined to avail of free booster shots against the virus at this time.
Prime Minister Prayut described Thailand's measures against Covid and its management as 'Grade A'
Earlier in the week, Thai Prime Minister General Prayut Chan ocha described Thailand's measures against the virus as 'Grade A' and said that the country was admired for its ability to manage the situation.
He said it is important that everything at this time was approached with care and caution.
There had been hopes within the travel industry that the government would not impose new entry criteria across the board and avoid interfering with the recovering industry with many respected doctors such as Dr Thiravat Hemachudha, the chief of the Red Cross's Emerging Infectious Diseases Health Science Centre, over the last few days coming forward to explain that now was the time to live with Covid and not to be afraid of the infection which was already declared endemic in Thailand when all restrictions were lifted in October resulting in a boost to foreign tourist arrivals which surged to over 1.5 million a month.
Today's announcement will inevitably damage confidence among foreign tourists planning to visit over the coming months while there is growing concern that this pandemic and the 'new normal' it has ushered in, impacting the international travel industry, has caused significant changes which have particularly had an adverse impact on foreign travel to Thailand.
Further reading:
Tourism minister's plan to offer vaccines to foreign tourists as recovery mired at 29% of 2019
Airline boss pleads with government to delay the Thailand Tourism Fee (TTF) due later this year
Tourist levy hits further turbulence with fears it could harm airline's effort to boost flight numbers
Negative reaction and horror at Thailand's plan to charge foreigners more than locals at hotels
Anutin: time to halt foreign tourism price deals, Thailand to be the Louis Vuitton of the world travel market
Good news from airports as arrivals help offset damage from inflation and supply chain blocks caused by war
Fears for the baht as it hits a 15-year low and Thai economic performance in the medium term with chronic ills
World inflation crisis may lead Bank of Thailand to act before August and raise interest rates more sharply
Concern for the Thai baht and liquidity if Thailand does not move swiftly to raise interest rates
Thai bond yields spike 20% as kingdom adopts a confident, pro growth pose amid capital flight
Good economic news, test now is how to emerge from stagflation with large price shock looming as inflation rises
Prolonged Ukraine war to see Thai inflation at 6.3%, a stalled economy and a possible downgrade
Travel sector calls for endemic status, scrapping of Thailand Pass and full normality on entry
Oil still boss as Thailand's economy faces a return to 1970s stagflation over the ongoing Ukraine war
Fears for Thailand's economy over Ukraine war with rising inflation rates and loss of confidence
Thailand should move more towards a circular economy as the country faces intractable hurdles
Inflationary fears for Thailand more muted than in the United States but planners should prepare
A cautious recovery in 2022 says Bank of Thailand boss but PM strikes a mildy more optimistic note
With Omicron hovering, firms already suffering a cash flow crunch with the economy again in peril
Shaky economic recovery as planners target only a 1% gain in 2021 with rising headwinds in Quarter 4
Economy climbing out 'of a hole', foreign firm's confidence levels rose sharply during October
Another GDP contraction looms as Thailand tries to boost its economic fortunes by spending more
Economic fears rising as Thailand faces a bigger crisis than 1997 with rising job losses and debt
Central bank to lower GDP growth forecast as its attention turns to private sector debt management
Loan bill passes but Thai economic prospects are not bright with a 1.8% 2021 GDP gain predicted
Thailand to reopen to 'big fish' tourists as a cryptocurrency friendly haven says promotion agency boss
Baht to strengthen later in the year even after July as foreign tourists will return says top bank economist
Industry leaders and central bank all warn that foreign tourism must return to avoid a collapse
Fact – only 6,556 visitors arrived in Thailand last month compared to 3.95 million in December 2019
Desperate foreign tourism business concerns are clinging to straws as they try to survive the crisis