It may be small, but Saint Lucia manages to pack a lot into its 238 square miles. Not only are there white sand beaches aplenty, but rainforest reserves to explore, mountains to climb, historical and archaeological sites to delve into, and a drive-in volcano to marvel at. Go whale watching, find out how chocolate is made, visit family friendly resort towns…  And well, you know, it may just be the perfect Caribbean island for your next holiday.
Read the C&TH Responsible Tourism Guide
STAY
StolenTime by Rendezvous
Set in a seven-acre tropical garden on Saint Lucia's north-west coast, the five-star adults-only hotel StolenTime by Rendezvous flanks the white sand beach. One hundred gloriously kitted-out guest rooms include 43 suites, which come in a wide range of styles, but common to all is the absence of televisions.
Days here can be as laid back or as busy as you choose, and facilities are extensive. You might choose to be pampered at The Spa in the Water Garden, keep mind and body healthy with yoga, tai chi and meditation, or be more active with archery, tennis, water skiing and volleyball. There are outdoor hot tubs, two swimming pools – one with swim-up pool bar – and a lazy-river with water-waiter service, so you don't even need to move from your sun lounger. Staff are genuinely friendly and happy to arrange special experiences for guests. For instance, how about a boat ride to an out-of-the-way spot for a beach picnic or a romantic dinner in the gazebo complete with tea lights and lanterns? Dietary requirements are well catered for, with plenty of variety in the resort's three restaurants. The champagne bar offers free nightly tastings during 'Happy Hour', too.
BOOK IT: Rooms from US$465 per person per night, including full-board accommodation, all beverages, land/watersports, SCUBA boat dives with personalised instruction, unlimited tennis with on-site pro, and nightly entertainment. stolentime.com
Collection de Pépites
The Saint Lucia tourism authority recently launched the Collection de Pépites. This accommodation database – housing around 200 properties with fewer than 35 rooms – is designed to encourage tourists to consider alternative accommodation to the island's all-inclusive resorts. Its name originates from the island's French heritage and translates to a collection of small pieces or nuggets of gold. The villas, guest houses, town houses and boutique hotels within the collection are certainly worth browsing.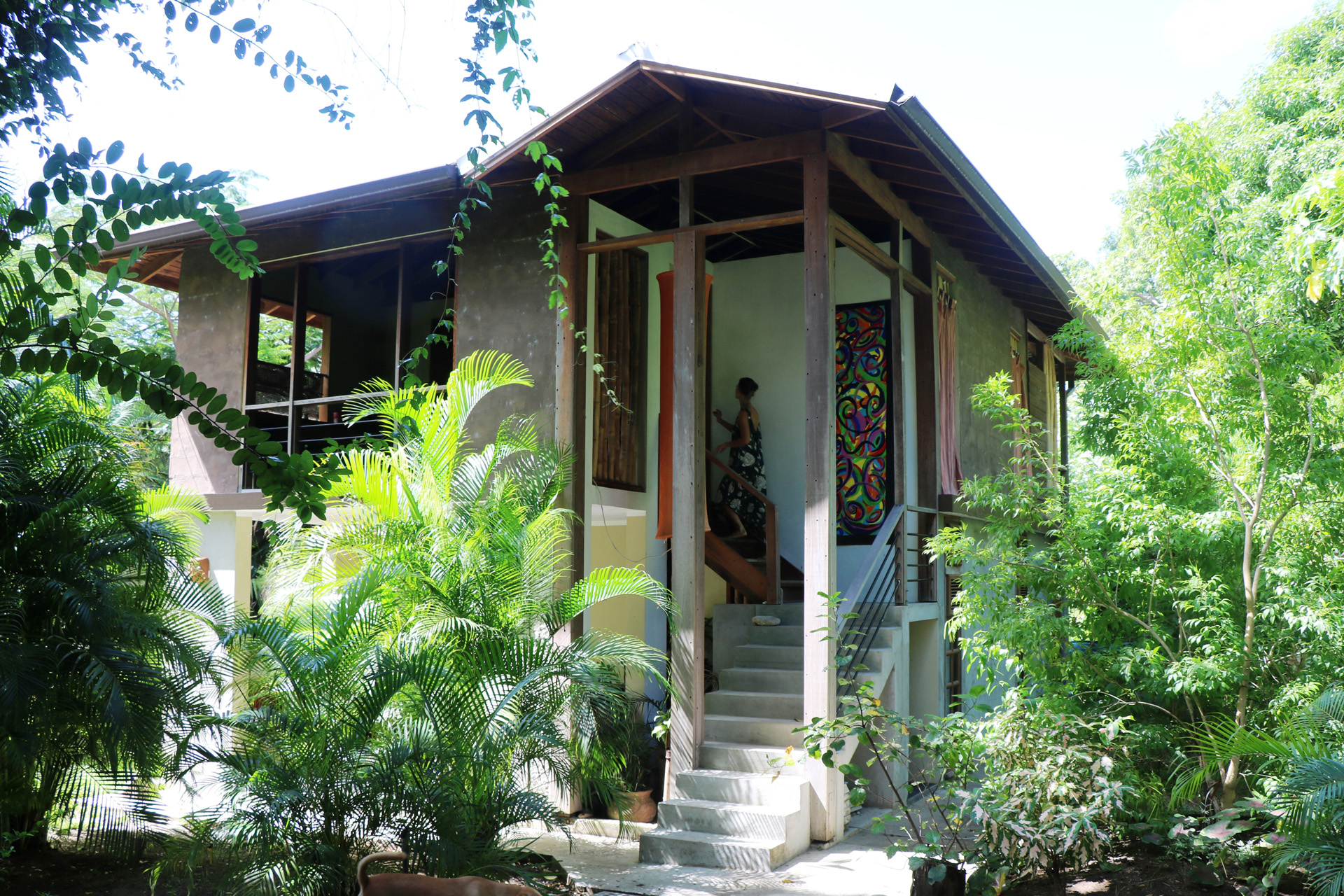 One 'nugget' is Balenbouche Estate eco lodge and organic farm. This former 70-acre sugar plantation is cocooned from the outside world, and owned and run by a lovely Austrian lady and her daughters. The property, which includes a small river and two beaches, has several cottages dotted throughout the grounds – just the ticket for those who want to chill while experiencing the island in its natural but cultivated state.  
Another 'piece of gold' from the Collection is Sol Sanctum Wellness Hotel in Rodney Bay Village, with Reduit Beach only a few minutes' walk away. Peaceful guest rooms are perfect for a transformative yoga and meditation holiday; the ultimate zen getaway. Classes are held in the 1,200 square foot studio, and massage, reflexology, breathwork and energy healing treatments are also available. 
BodyHoliday
'Give us your body for a week and we'll give you back your mind.' A tantalising promise, indeed. BodyHoliday feels as if it's far, far from the madding crowds, but is actually only a 10-minute drive from Rodney Bay. It offers the ultimate in beach holidays, with luxurious guest rooms and fabulous food, but is also designed to be a super-relaxing, rejuvenating wellness holiday. A multi-faceted spa complex comes with thalassotherapy pool, Ayurvedic temple and yoga decks. Sporty activities include tennis, golf and water sports.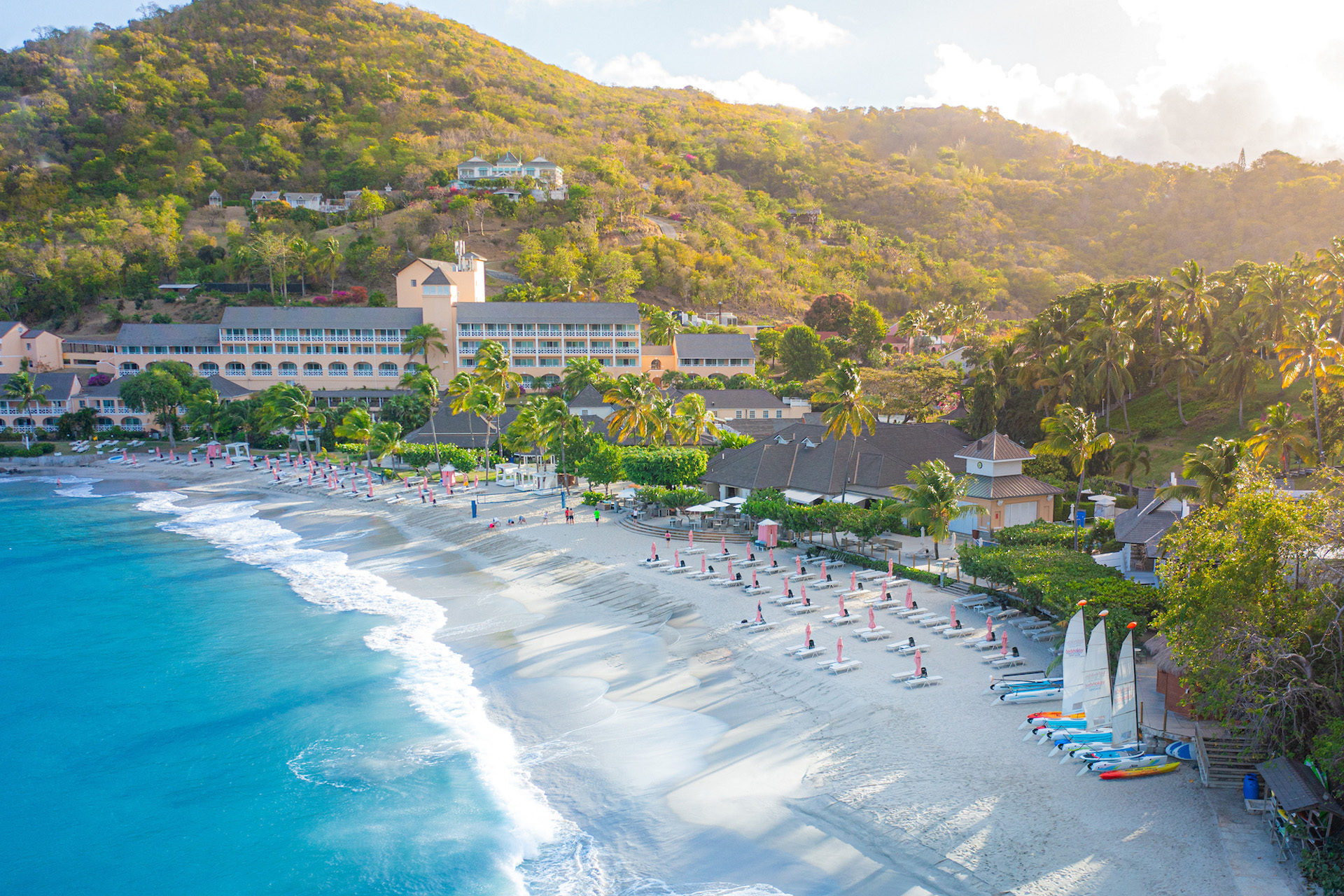 Read Our Full Review of BodyHoliday Here
BOOK IT: Rates start from £313 per person per night on an all-inclusive basis, including various fitness activities, a daily spa treatment and all meals. thebodyholiday.com
Windjammer Landing
At first sight, Windjammer Landing – siatuated at Labrelotte Bay on Saint Lucia's north west coast – could pass for a Mediterranean village, with its red-tiled roofs and whitewashed buildings spread across a hillside. Fronted by a 200-yard-long sweep of sandy beach, the resort has six swimming pools, a water sports centre, tennis courts and high-end spa with several treatment rooms and a juice bar. Next door to the spa is a well-equipped gym.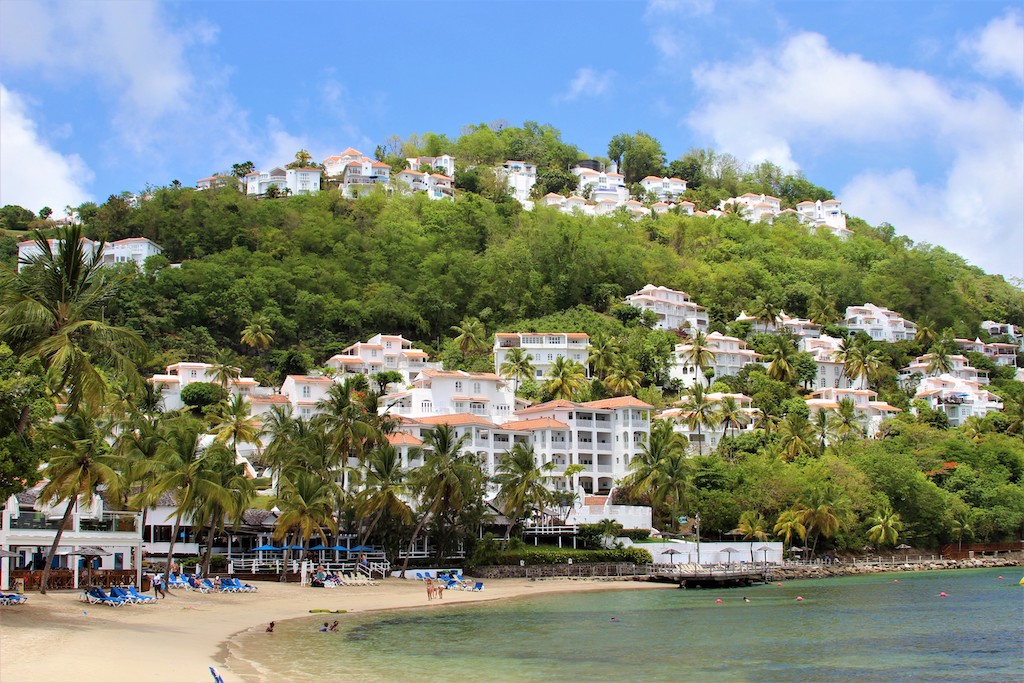 There is a kid's club for children aged 4–12 years old, offering a programme of supervised fun activities, and there is also a teen club for older ones. Guests can choose to spend their holiday in one of 60 ocean view guest rooms or suites, or opt for an elegant, modern villa – there are 131 to choose from, each accommodating between four and twelve guests, with most having a plunge pool, too. Due to the hilly terrain, a clutch of shuttle buses with smiley drivers ferry guests up and down the winding, steep roads that link villas, public areas and restaurants.
BOOK IT: windjammer-landing.com
EAT
The Trysting Place 
This French fine dining restaurant is one of StolenTime by Rendezvous's three restaurants. Open for dinner only, The Trysting Place oozes elegance: a vision of silver cutlery, damask linen and crystal glassware. It's just the place for dressing up, in fact. The food is top notch, and the menu inventive, updated regularly with items such as grilled garlic marinated salmon served on buckwheat noodles with sun dried tomatoes. Veggie options might include plant based kofta pumpkin hummus, pumpkin seeds and tahini sauce. stolentime.com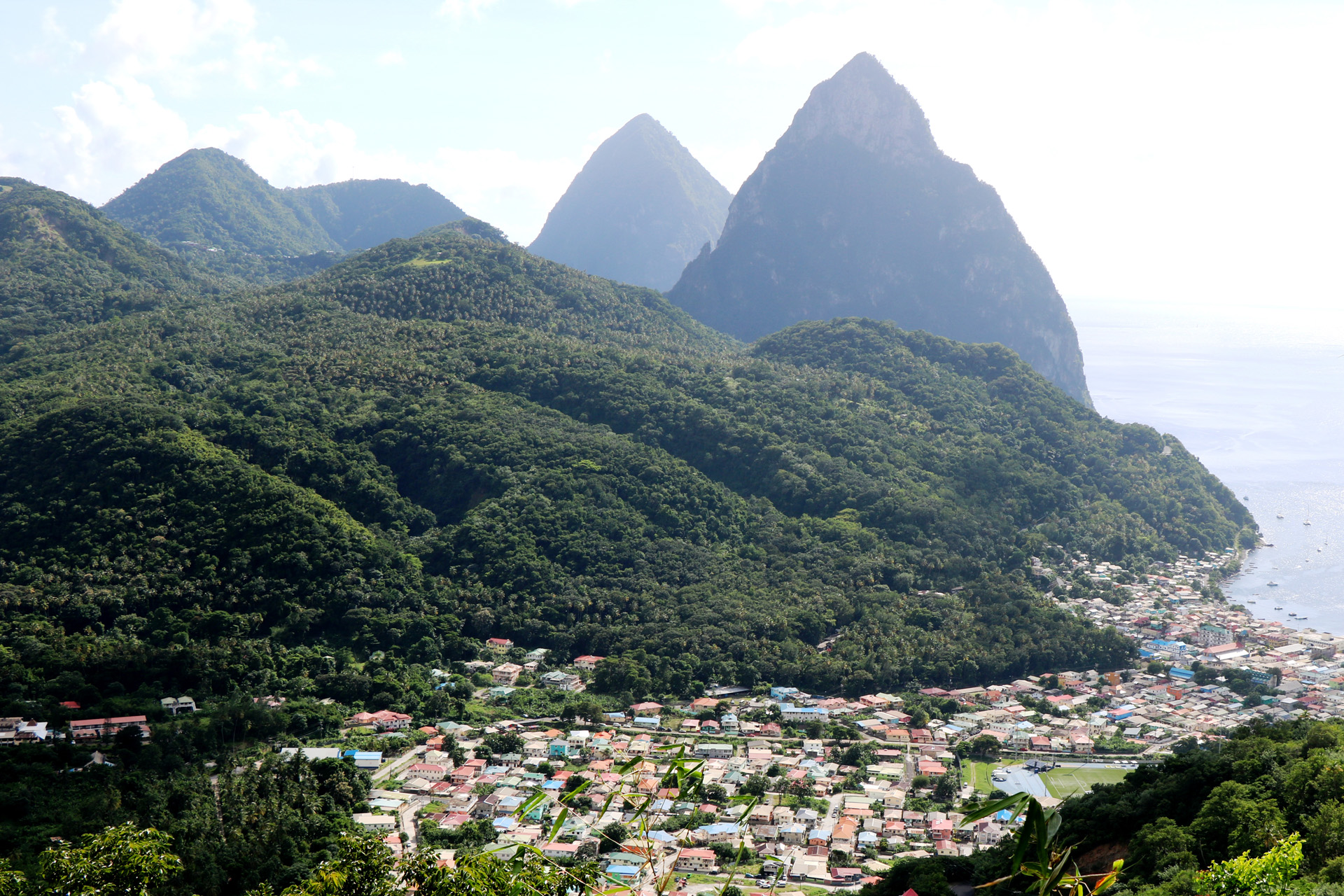 Fond Doux Plantation Eco Resort
You'll find Fond Doux a mere stone's throw from two of Saint Lucia's 'don't miss' attractions: the Pitons and Sulphur Springs. Surrounded by rainforest, cocoa fields and jungly gardens, the plantation was originally owned by King Louis XIV. It had more royal visitors a few years ago in the shape of Charles and Camilla when they toured the plantation. Non-residents are welcome for lunch, followed by a tour of the cocoa plantation for those interested. Local produce, beautifully cooked and presented, includes pan-seared kingfish and coconut salad, or Creole vegetable bakes. fonddouxresort.com
Dasheene
Dasheene in the Ladera Hotel offers one of Saint Lucia's top dining experiences – not only as far as food is concerned, but also thanks to its location. The upmarket, adult-only, all-trimmings-present boutique hotel ranged along a 1,000ft-high forested ridge offers superb views of the Caribbean Sea framed by the cone shaped twin peaks, the Pitons, Saint Lucia's trademark landscape. The hotel's imaginative chef focuses on sustainable cooking sourced from locally harvested ingredients and produces Creole dishes with a stylish twist. The menu offers delights such as plantain gratin with coconut rum sauce; sautéed shrimp with island peppers and saltfish patties with coleslaw or micro greens and Creole sauce. ladera.com
Papa Don's
Papa Don's is one of Windjammer Landing's five restaurants. Specialising in rustic Italian fare, this pretty restaurant sits halfway up the hill from the resort's centre, and is only open for dinner. Guests don't have to hoof it up there though: you can arrive in style by way of one of the hotel shuttles. Menu offerings include pumpkin and ginger soup and Champagne shrimp Risotto. As you might expect from the Italian theme, there is also a tasty selection of pizzas and pastas to whet your appetite. Staff are efficient and super-friendly. Make sure you reserve a table. windjammer-landing.com
DO
Visit the Diamond Falls Botanical Gardens, a timelessly beautiful place with  impressive waterfall. 
Don't miss Sulphur Springs near Soufriere either, it's known as the world's only drive-in volcano. This otherworldly sight of bubbling pools, high pressure outlets of steam and multi coloured mineral deposits is where people go for detoxifying natural mud baths. The mud is washed off under a gushing waterfall.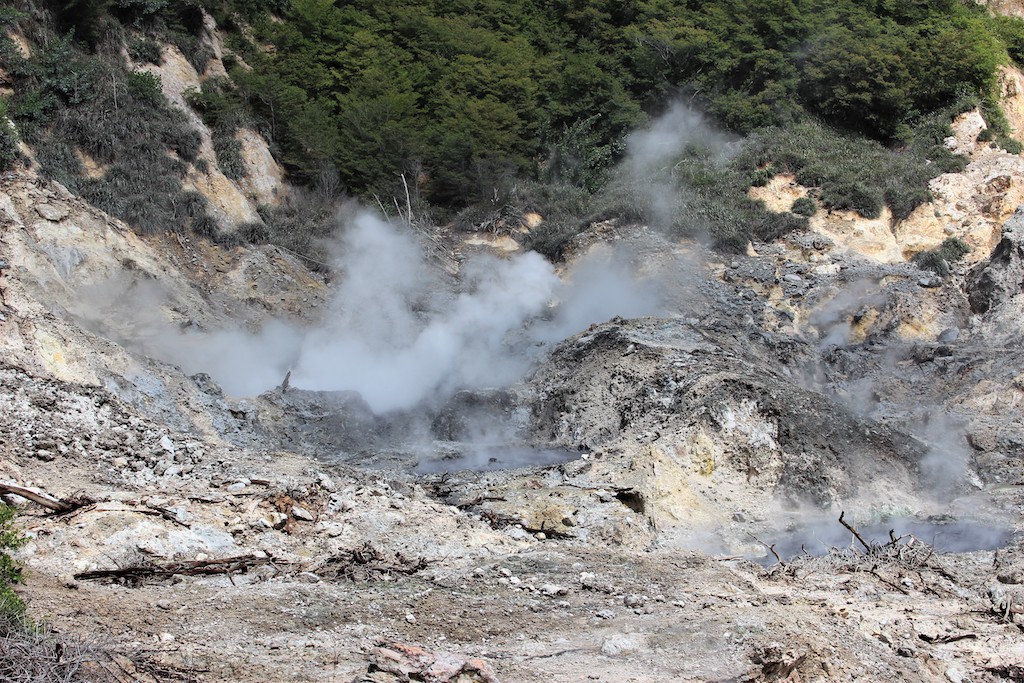 Climbing the cone shaped volcanic spires, the twin Pitons forming the island's trademark landscape, is a major activity for visitors with a good level of fitness. The climb takes from three to six hours, but don't attempt it without a local guide.
Saint Lucia is big on vegetation and wildlife. Guides at the Lushan Country Life trail have a near-encyclopedic knowledge of the herbs and plants which grow there and delight in explaining their medicinal and culinary uses. Comfrey is used for colds and flu, coconut milk facilitates digestion and improves teeth and gum health while aloe vera is the business for earache, burns and as a hair treatment.
Everyone likes chocolate. They do, don't they? At Howelton Estate, near Castries the island capital, you can make your own chocolate bar. Mind though, it's no easy job, much tougher than it looks – but worth the effort when your masterpiece finally takes shape.
It's a good thing, too, that activities like this are part of a wider effort by the local tourism authority to get visitors engaged in the local community. As is the Kabawe Krawl, an organised tour designed to give visitors a better understanding of local culture and nightlife. If you're out and about look for the Kabawé Krawl signs at participating venues or follow the interactive map on the SLTA website.
Not satisfied? Party animals should head for Rodney Bay village with its nightclubs, restaurants, chic cocktail bars and the island's only casino. Named after Englishman Admiral George Rodney, who sailed out of the bay to defeat the French in one of the many battles for the island, it's the throbbing hub of the island's nightlife.
And, of course, when evening comes after another day in paradise, you could just grab a rum punch and watch the sun drop sizzling into the Caribbean Sea…
BUY
The bustling markets in Castries, Anse La Raye and Soufriere are the best places to buy locally made items, including cocoa sticks, coconut oil, handmade soaps, cooking posts, figurines and pottery. Fresh and fragrant spices worth bringing home include bunches of huge cinnamon sticks and nutmeg, which is sold in its 'mace' (the shell).
The island's African heritage is evident in its colourful art and crafts. Popular with visitors are the vividly coloured handmade wooden masks and handwoven beachwear. Wood carvings often feature wildlife such as turtles or the island's national bird, the gaudily beautiful Saint Lucia parrot. Foodies might opt to take home whole spices and authentic cocoa sticks. Grate them then steep in hot water with bay leaves, nutmeg and cinnamon and voila! You have the local specialty, cocoa tea.
How to Get to Saint Lucia
British Airways flies from London to Saint Lucia from £850 return.
Airport Parking: Holiday Extras UK airport parking, hotels, lounges, transfers.
For more information about Saint Lucia visit stlucia.org