The reaction of the shocked Thai woman after hitting the young college student with her BMW car in dark conditions, on a quiet country road in Michigan, may end up landing her in more legal trouble than the fatal collision itself which even the victim's father accepts was an accident. The FBI has learned that Ms Tubtim Howson was adamant she did not want to deal with the police concerning the incident and told a friend heatedly 'no cops, no cops' when advised to turn herself in.
A Thai woman who fled the scene of a fatal road accident in the early hours of January 1st this year in the US state of Michigan is understood to be facing more serious federal charges following her flight from the country four days after the accident in an apparent attempt to avoid accountability. The 57-year-old woman was arrested last week by the Royal Thai Police in Chonburi and appeared at a press conference beside Deputy National Police Commissioner Surachate Hakparn who told reporters that she was now in contact with US officials and would be extradited. Earlier in the month, the father of the 22-year-old victim, an ER hospital physician, told US CBS News that he was shocked that the woman lacked the empathy to stop to aid his young son and wondered if he might have survived if brought to a hospital to receive treatment promptly.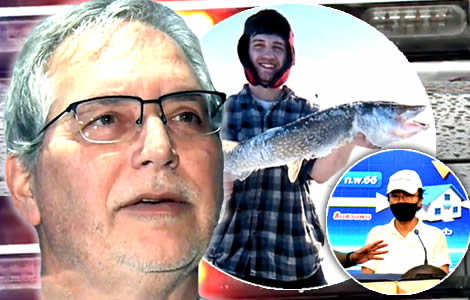 A 57-year-old Thai woman who fled back to her home country after being involved in a fatal hit-and-run incident on January 1st in the US state of Michigan was arrested last week in Ratchaburi and will be extradited to the United States to face legal proceedings there.
The case was highlighted at a press conference on Friday hosted by Deputy National Police Commissioner General Surachate Hakparn.
57-year-old Tubtim 'Sue' Howson appeared wearing a face mask at the briefing. The middle-aged woman had fled the US just four days after the road traffic accident in the Oakland County area of Michigan on January 1st.
Hit and run collision occurred just before dawn on January 1st 2023 after the young man, a student, was asked to get out of an Uber cab on a country road
She hit 22-year-old Benjamin Kable just before dawn on a country road near Detroit as he was walking after emerging from an Uber cab on Rochester Road in the county.
Mr Kable, who was a student at Michigan State University, was staying at home for the holiday season when he attempted to hail Ms Tubtim's car as it passed by.
The Thai woman claimed to have been afraid at the time that he may have been seeking to rob her and in a moment of terror hit the young man in what she described as dark weather conditions.
She told reporters that she was also aware of an Uber vehicle parked on the road as she approached.
'I believed I was about to be robbed. I was observing the car by the roadside. I hit something in front of me while it was pitch-black,' she explained as she recalled what happened in the early hours of the first day of 2023. 'At first, I thought I hit a deer, but I later realised I hit a man.'
Thai woman was driving a BMW 3 series car when she hit the 22-year-old electrical engineering student
Mr Kable's father told CBS News in Detroit that his son had left a New Year's Eve party early and was being brought home in an Uber cab when he was asked by the driver to get out of the car, just seconds before the incident. It is not known why he was asked to exit the Uber cab by its driver.
It is reported that the Thai woman was driving a new BMW 3 series model when her car collided with the young electrical engineering student who was in the middle of the road.
The accident occurred at 5.45 am just after the young man began walking away from the parked Uber car at the scene.
Ms Tubtim disclosed that when she returned home, she immediately spoke to her younger sister in Thailand who advised her to return to the kingdom.
She explained that she had fled the scene of the accident in a state of shock. The gravity of the situation was too much for her to process individually.
Senior police officer said Ms Tubtim was left reeling by the accident and sought the support of her family in Thailand. She will be extradited to the US
General Surachate told reporters that the terrified Thai woman immediately decided to return home to Thailand and consult with family members while reeling from what had happened.
He revealed that the 57-year-old is also a US citizen and has been in contact with authorities in the United States dealing with the incident who are now seeking her extradition.
Thailand has an extradition treaty with the United States since 1992, being one of 15 countries with which the kingdom has such agreements including the United Kingdom, Belgium, Canada, China, South Korea, Hungary, Indonesia, Fiji, Bangladesh, Laos, the Philippines, Malaysia, Cambodia and Australia.
It is understood that officials in Oakland County are preparing to charge the Thai woman with several offences in relation to the hit-and-run incident on her return to America. She is also facing charges from federal authorities related to the incident.
One of them will be a more serious charge of taking flight from the country to avoid prosecution charges.
Younger man was one of six adult children. Physician father spoke to the media about the loss of his son criticising Ms Tubtim's failure to help Benjamin
Benjamin Kable is one of six children, three boys and three girls, all younger adults. Earlier this month, his father spoke of the pain of his loss and the additional suffering caused by Ms Tubtim's actions.
'It's disturbing to think that there are people in this community who could do something like this,' he told a CBS News reporter at his home.
'We're not out for vengeance, accidents happen but, you know, people have to take responsibility for their actions.'
He suggested that the Thai woman lacked empathy for failing to stop and call an ambulance or emergency services for his son at the scene.
'It's super difficult to lose children in the first place but to lose a child like this, to realise that there is someone who doesn't have the empathy to call an ambulance or render aid. It's terrible, honestly, it shakes your faith in humanity. I mean this is a young man dying on the road.'
Federal Bureau of Investigation (FBI) formed the view that the Thai woman was taking flight to avoid culpability for her role in Benjamin Kable's death
In the United States, in the days after the fatal accident, the Federal Bureau of Investigation (FBI) revealed that the Thai woman had purchased a one-way ticket to the kingdom which departed on January 5th 2023.
The ticket was purchased on January 3rd just two days after Benjamin Kable was killed and left for dead on the road.
Investigators concluded that the Thai woman was seeking to avoid the consequences of her actions on January 1st.
An initial charge of failing to stop at a serious incident, a state-level offence, was filed by local police on February 2nd last in cooperation with the Federal Bureau of Investigation (FBI) who are actively investigating the case against Ms Tubtim or Sue Howson.
'Howson, a United States citizen, is originally from Thailand and allegedly told a close associate after the crash that she thought she killed somebody and she was going back to Thailand,' Matthew Schuff, an agent with the Federal Bureau of Investigation (FBI) testified in a court filing. 'When encouraged to turn herself in to police, Howson allegedly stated, 'no cops, no cops,' Schuff further revealed.
Father believes his son could have been saved
The case has received considerable media attention in Michigan.
'I call on the Thai government to extradite her so we can hold her accountable for her actions involving this young man's tragic death,' Sheriff Mike Bouchard of Oakland County was quoted in a statement to CBS News Detroit which also featured a heartfelt interview with Mr Kable's distraught father, Michael Kable, an experienced hospital physician who told reporters that he was haunted by the fact that his son may have survived if emergency services were called and he had reached ER.
In the interview, he said that he saw similar cases in the past where an accident victim had been revived even after their heart had stopped or ER staff had deemed them dead on arrival.
When asked if he thought his son might have survived, he said: 'A lot of people come in that were DOA or unresponsive that get resuscitated, so I can't answer that question with any certainty but you at least should get a shot at it.'
Further reading:
Fraud suspect nabbed by police in Phuket linked to $100 million fraud centred on Jersey, US deli shop
UK man's killer behind bars after shooting him off his motorbike on Thursday at point-blank range
Mysterious death of Australian man found on Saturday in Pattaya ruled as suicide, case closed by local police
Police probing murder-suicide theory after the bodies of two lesbian lovers were found at Pattaya hotel resort
92% of suicides due to the virus are among the self-employed according to expert research group in academia
Death of 32-year-old Olga Frolova on Ko Samui either suicide or natural causes – case to be closed by police
Mobile phone of Ukrainian woman key to the puzzle as police decide between murder or suicide
Ko Samui police probe the death of a Ukrainian woman found in a forested area last Sunday by a local man
Dutchman in Suphan Buri missing from wife with reports of a mystery rendezvous in Uthai Thani province
UK ex WHO director warns of 2 to 3 years of chaos as IMF sees Thailand as the hardest hit economy in Asia
Covid 19 electricity price reductions overshadowed by reports of skyrocketing energy bills nationwide
Australian retiree is spending his own pension money on supporting the poor during the crisis in Chiang Mai
Government begins looking at borrowing options to fund huge ฿1.9 trillion economy rescue package
Challenge of defeating both a health and economic emergency a big ask for Thailand's government in crisis mode
Thailand faces a third shock after the virus if high debt and the informal economy are not prioritised
Health Minister in an outburst against western foreigners as 7 more are infected by the coronavirus