Thailand is an export-led economy operating in an increasingly unpredictable and uncertain world. In 2023, it finds itself relying on a foreign tourism industry which has not yet fully recovered like other countries. The kingdom is still facing elevated inflation and a worrying dip in exports which has wiped out any foreign tourism gains although it has injected badly needed money into the grassroots economy and boosted confidence.
Thailand's economy in 2023 is already facing challenges and mired in difficulty despite the resumption of the Chinese tourist trade with the country recording a current account deficit in November with a sharp drop in exports in the last three months of 2022 culminating in a 7.5% dive in December. These latest figures have led to a revised GDP growth for the last quarter of the year down from 4.5% to 2.5%. The downturn in the manufacturing and export sector which accounts for 60% of the economy is coming with the government seeking to fund a ฿3.34 trillion budget announced on Thursday for the year ahead while seeking to control public sector debt including short-term liabilities of ฿250 billion incurred to tamp down inflation last year, money that is owed to the country's oil fund and electricity generation firms.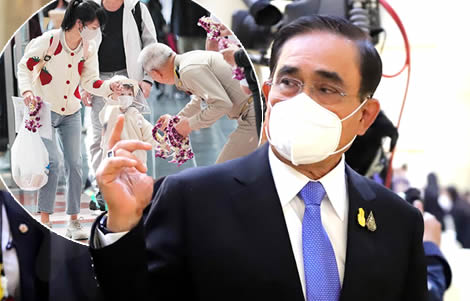 Thai Prime Minister Prayut Chan ocha and key ministers attended a ceremony at Government House on Thursday where the budget to 2024 was unveiled totalling ฿3.34 trillion in expenditure.
General Prayut pointed out that the government would have to find the tax revenue to fund the budget and referred to the ongoing economic recovery, particularly in the foreign tourism sector.
Minsters at the event included Minister of Finance Arkhom Termpittayapaisith, Minster at the Prime Minister's Office Thanakorn Wangboonkongchana, Deputy Prime Minister Anutin Charnvirakul, Minister of the Interior General Anupong Paochinda, Deputy Minister of Finance Santi Prompat and Minister of Labour Suchart Conklin.
Economy expected to grow by 3.5% in 2023 driven by a doubling of foreign tourism income to the country this year and a subdued export performance
The prime minister said Thailand expected its GDP to grow by 3.5% in 2023 following a projected 3.2% growth in 2022 led by a stronger performance of the foreign tourism industry with approximately 22.4 million arrivals expected this year including a return of mass foreign tourism from China which opened its gateways to individual travellers to Thailand on January 9th and which has just seen the first scheduled flights with Chinese tourists land at Suvarnabhumi Airport.
That would be twice the level seen in 2022.
However, even as General Prayut spoke, there was growing concern about the kingdom's export performance which in the last three months has suddenly dived.
This comes as they have become less competitive because of a precipitous fall in the value of the US dollar against the Thai baht since mid-October last year to date.
Baht value gained dramatically against the US dollar since mid-October making exports less competitive
This has seen the baht appreciate by 13.25% against the US currency making Thai services and goods less competitive in the United States, its top market and across the world as the dollar is still the world's leading reserve currency although this is changing and may account, to some extent, for the fall in its value.
On Tuesday, the University of the Thai Chamber of Commerce (UTCC) boss Thanavath Phonvichai came out to emphasise the positive aspects of an economy which appears to again be pivoting in response to what General Prayut referred to on Thursday as an increasingly unstable external world.
Mr Thanavath put aside the negatives when he told reporters that the surge in foreign tourists and the return of Chinese visitors has lifted consumer confidence in the kingdom which rose in December 2022 to a 25-month high of 49.7 from 47.9 in November.
'We expect consumer confidence will gradually improve, as the faster than expected arrival of Chinese tourists is a factor that is supporting the economy,' said Mr Thanavath.
Mr Thanavath predicted that Thailand's economy may grow by as much as 4% in 2023 or at a minimum 3.5%.
This is in agreement with a World Bank projection of 3.6% growth based on the kingdom receiving 22.4 million foreign tourist arrivals in 2023 of which it estimates 6.3 million will originate in China.
In recent comments about the impact of rising foreign tourism numbers and the expenditure it brings, Bank of Thailand Governor Sethaput Suthiwartnarueput made the point that income related to the industry was applied to a greater degree within the local economy than the export and manufacturing sector which is a bigger GDP driver.
Chinese tourists pay 20% more than in 2020 with fewer flights, more demand and tours prohibited
Tourism Authority of Thailand (TAT) executives, at this point, are predicting 5 million arrivals from China in 2023 spending ฿250 billion between them although currently, prices for Chinese tourists travelling to the kingdom have gone up by 20% because of a lack of flight connectivity.
It is the same as the situation for western long haul travellers who up to recently were paying 40% more for air tickets although these hikes are expected to recede from February 2023. 
Chinese operators are not in a position to organise tour excursions because there is still a ban on such activities imposed by authorities in January 2020 at the onset of the virus crisis.
Chinese airlines have begun the process of resuming flights to and from China to Thailand with more to follow in the weeks ahead including Thai Airway seeking to resume its former services spanning 13 routes.
However, it will take time to bring back flight capacity to anything like normal as it existed before last week when there were only 15 flights weekly.
Flights in the next three months from China may exceed 25% of the level seen in 2019 says CAAT boss
The Director-general of the Civil Aviation Authority of Thailand (CAAT) Suttipong Kongpool has predicted that in the opening three months of 2023, there will be up to 105 flights a week between China and Thailand with the potential for this to quadruple over the coming quarters to reach the 400 flights a week that existed before the shutdown of foreign tourism between the two countries in 2020.
In the meantime, Thai tourism promotion executives and the aviation sector are facing up to challenges coping with the rising demand being placed on Thai airports and resources while also dealing with competition from other tourist destinations and more lucrative global airline routes, as Chinese airlines like all international airlines, move to take advantage of higher load levels on routes to Thailand while diverting resources to more profitable long haul destinations.
Thailand's manufacturing and export sectors which drive 60% of the economy have seen a marked downturn in the last three months of 2022 which is beginning to worry economists and the government's policy chiefs. 
Exporters report a 7.5% drop in output for December 2022 as worries mount for the sector and the wider economy, industry itself says it will come right
This week, the Thai National Shippers' Council revealed that exports dived by a substantial 7.5% in December 2020. This followed a fall of 3.65% in October and a 5.5% drop in November.
The body, at the same time, remains upbeat and predicts that for 2023, the country may still see a 2% gain. 
Most economic projections for Thailand in 2023 have allowed for minimum growth in exports against the backdrop of a world economy that both the International Monetary Fund (IMF) and World Bank have warned in recent weeks is threatening to slide into recession due to tighter monetary policy being pursued by central banks to curb inflation.
Thailand's exports grew 6.5% in 2022 although problems were seen in the second half of the year with pronounced volatility linked to the situation in China and supply chain shortages.
The current downturn in exports seen in the last quarter of 2022 was accompanied by a contraction in the kingdom's manufacturing index which was down by 4.8% in October and November 2022 following a massive spike in activity when it grew 8.1% in the quarter before.
Interestingly, Thailand's net Foreign Exchange reserves fell marginally from $219.5 billion on the 16th of December 2022 to $216.6 billion on the 6th of January 2023 despite the country's recovering foreign tourism trade.
Thailand's foreign tourism recovery is slow and contrasts with other countries with large foreign tourism sectors.
However it must also be noted, despite the hype and hoopla, that the foreign tourist arrivals seen in November and December are still well off by as much as 50% of the numbers seen in 2019 and many are spending less income as it it is still far from clear that Thailand can regain its lucrative foreign tourism engine which it was forced to shut down in April 2020, again.
The figures consistently show the kingdom lagging behind other major foreign tourism industries in its ability to recover from the setback suffered.
Countries such as France and Greece easily surpassed their 2019 visitor levels in 2022 but the Spanish industry, also a budget sunshine destination, saw 15% fewer arrivals. This must be compared to 71% for Thailand.
A better rationale for Thailand's woes in reviving its foreign tourism trade may be needed, for now, the culprits are flight connectivity and uncertainty
If this continues, a better explanation for what has happened to Thailand's foreign tourism sector will be required. 
At present, this is being put down to a delay in the country's winning back flight connectivity and repairing damaged confidence and goodwill among both foreign tourists and business concerns due to political and administrative uncertainty which arose from April 2020.
The significant 5.5% contraction in Thailand's exports in November 2022 was more than enough to wipe out any foreign tourism gain with the kingdom's current account falling from a $600 million surplus in October 2022 to a $400 million deficit in November.
The far steeper drop in exports in December is expected to have a similar impact.
What this all means is that the pressure is on for Thailand to perform in 2023 with a government and Minister of Finance committed to pairing back the country's public debt level and which already owes money to a fuel fund coming to ฿154 billion and the country's electricity generators to tune of ฿100 billion.
This was used to pay for subsidies to tamp down inflation in 2022 to just 6.1%.
Inflation is still a factor and threat in 2023 despite the projections with a lack of government funds to subsidise prices and rising interest rates
The continued rise in the Thai baht may help with inflation which is expected to come under control in 2023 but remains elevated at 5.5% with higher electricity costs for firms coming into play in January.
The control of inflation is predicated on the basis that oil fluctuates at a price of between $70 and $100 a barrel for West Texas Intermediate (WTI) crude in 2023 with Goldman Sachs already warning of a higher-end price with China's economy opening up, Organization of the Petroleum Exporting Countries (OPEC) cutbacks in output and the ongoing war in Ukraine.
Despite lower inflation being reported in the United States, past inflation in 2022 impacting western goods and services will play out in Thailand during 2023.
Thailand also faces a gradual rise in interest rates over the course of 2023 impacting highly leveraged households and the wider private sector.
Baht gained against the dollar by over 13% since October 2022, good for inflation but bad for exports
It should also be noted that the Minister of Finance, Mr Arkhom, recently told a public gathering that he expected the baht to depreciate in 2023 while it instead gained sharply on the greenback.
The Thai currency is presently valued at ฿33.20 against the US dollar compared to ฿38.27 in mid-October 2022.
This makes Thai exports and tourism less competitive while it may help with cushioning the price of imports and inflationary pressure.
Entry debacle for foreign tourists last weekend saw thousands of cancellations and damaged confidence
The short-lived debacle last week when thousands of foreign tourists were forced to cancel their holidays to Thailand although rectified within 48 hours, has also damaged confidence in the country's foreign tourism sector among western travellers and within the industry and airline sector.
The litmus test for the economy will come at the end of March when the current high season for foreign tourism ends and the kingdom's economic performance for the first quarter of 2023 is analysed.
Already there are reports that the 2022 growth figure may have to be reappraised as the Thai economy grew by only 2.5% in the final quarter despite what appeared to be a rampant return of foreign tourists because of the bottom falling out of exports and tourism sector income still coming in at well below 2019 values.
Thailand's economic chiefs and General Prayut will be hoping the situation can be brought under control by the end of March as the country's House of Representatives is due to be dissolved and an election called. 
Further reading:
Economic chiefs promise a brighter 2023 for Thai people despite the more gloomy world outlook for the year
War erupts over Pheu Thai's ฿600 minimum wage plan with the economy as the key election issue
Even as the baht surges, Thailand faces economic recession in mid-2023 with lower earnings
Soaring baht as the Thai economic spirit rises with one of the world's lowest levels of inflation
Finance Ministry unveils green bonds as it seeks ฿900 billion for investment over four years
Thailand feels the pinch of lower tourism earnings as second ex-minister queries economic data
Former minister questions export growth data as Bank of Thailand plans to rein in consumer loans
Warning to central bank to preserve Thai foreign exchange reserves for a brewing 2023 economic storm
Baht slide continues as Bank of Thailand sticks to its dovish and soft approach to interest rates
Choppy waters for the economy as central bank tries to cling to its benign interest rate policy
Prawit stuns the cabinet demanding a ฿35 to the dollar rate and action from the Finance Minister to stop the slide
Low spending tourists and slowing export growth but 'intact' economic recovery stays on track say officials
Central bank reassurances as ex-minister raises loan quality with China's economy in trouble
Thailand with a falling baht caught in stagflation spiral with high inflation and low GDP growth this year
Fears for the baht as it hits a 15-year low and Thai economic performance in the medium term with chronic ills
World inflation crisis may lead Bank of Thailand to act before August and raise interest rates more sharply
Good economic news, test now is how to emerge from stagflation with large price shock looming as inflation rises
Prolonged Ukraine war to see Thai inflation at 6.3%, a stalled economy and a possible downgrade
Oil still boss as Thailand's economy faces a return to 1970s stagflation over the ongoing Ukraine war
Fears for Thailand's economy over Ukraine war with rising inflation rates and loss of confidence
Thailand should move more towards a circular economy as the country faces intractable hurdles
Inflationary fears for Thailand more muted than in the United States but planners should prepare
Economy climbing out 'of a hole', foreign firm's confidence levels rose sharply during October
Foreigners in Thailand have nearly ฿600 billion in the bank as inequality and poverty rise alarmingly
A dead mother beside her children and a taxi driver who slept, show us a nation riven by an extended crisis
Economic fears rising as Thailand faces a bigger crisis than 1997 with rising job losses and debt
Thailand to reopen to 'big fish' tourists as a cryptocurrency friendly haven says promotion agency boss
IMF urges government to loosen nation's purse strings as finances tighten with the tax take down
Industry leaders and central bank all warn that foreign tourism must return to avoid a collapse
Economic picture continues to darken as cabinet approves new ฿700 billion loan to plug the gap of higher deficits