From private island paradises to wildlife wanderlust, keep it green in Tanzania with Olivia Palamountain.
Tanzania: Six Dreamy Places To Stay
Thanda Island, Mafia Archipelago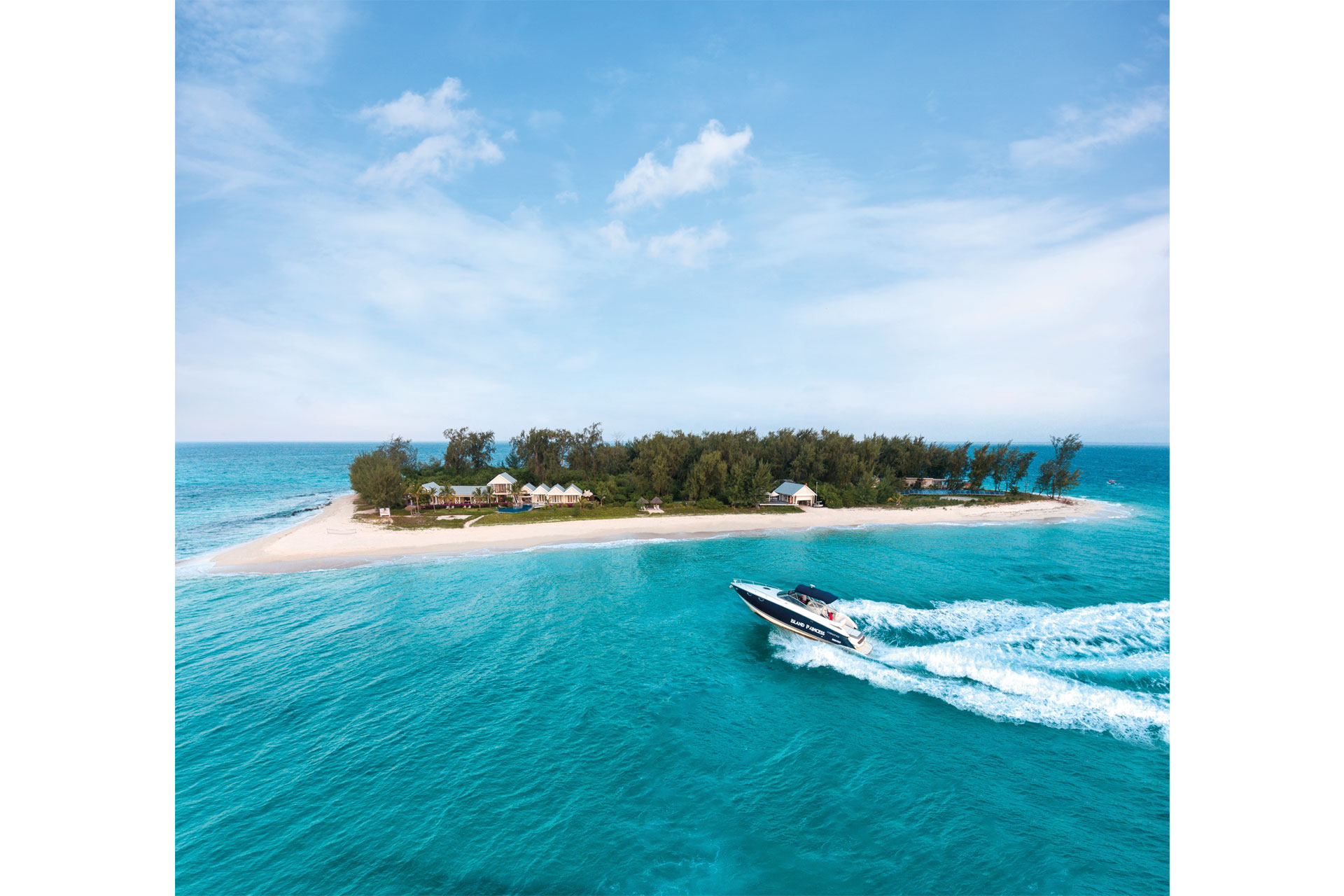 At Tanzania's Thanda Island, an eight-hectare private jewel set within a protected marine reserve, sustainability and luxury go hand in hand. Discover the range of marine conservation initiatives and education programmes that exist on the island and in the region, from a visit to the coral nursery to immersive experiences in local community projects. Guests are assigned their own personal marine biologist for whale shark excursions and responsible underwater activities. Even the diving gear is eco-friendly, thanks to rash vests made from recycled plastic, and with the marine reserve teeming with more than 280 species of tropical fish, you're guaranteed a dazzling view. Fishing might be illegal here, but that doesn't mean you'll miss out on incredible local seafood. Foodies can expect magnificent dining experiences such as a Swahili feast, a decadent affair that includes curries with hand-squeezed coconut milk, fresh lobster and oysters, or themed cooking classes to learn how to cook traditional dishes using locally sourced ingredients.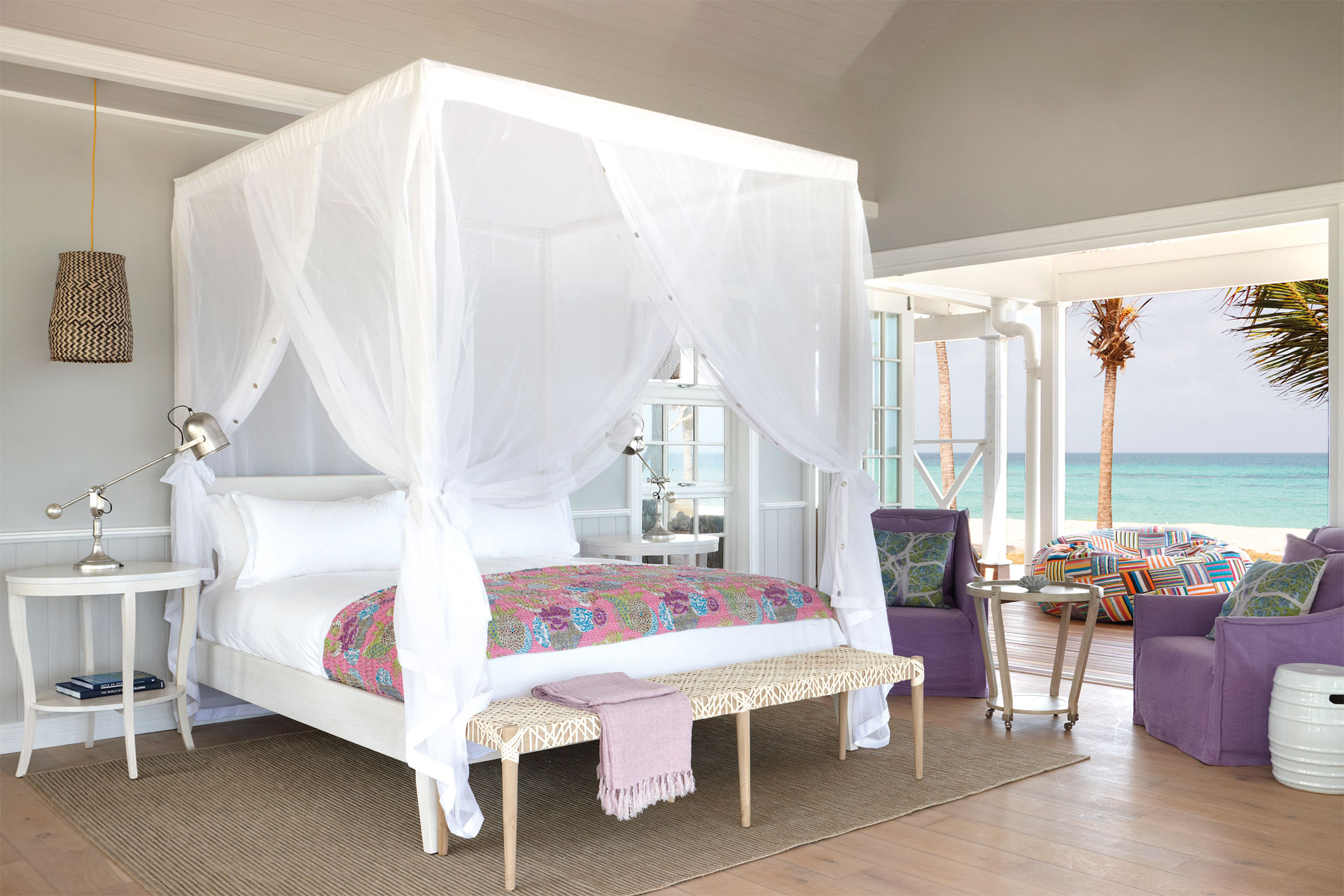 BOOK IT: A buy-out of Thanda Island costs £25,400 per night. Minimum stay is five nights. thandaisland.com
Lake Manyara Tree Lodge
It might not be the largest or best known of Tanzania's safari destinations, but Lake Manyara National Park is one of the country's most diverse. One minute you're driving through dense riverine forest, and the next following a bone-jangling rocky path that edges around a mountain to trace the shoreline of the swampy lake. Such different terrain makes for excellent and varied wildlife spotting. For starters, there are over 400 types of birds: the African grey hornbill with its distinctive mournful call; the green-and-yellow bee-eater; the long-crested eagle, known as the Rasta, because of its towering crest. The park is also renowned for elephants – it was set up in 1960 to protect the large number of herds that resided here – and unusual tree-climbing lions.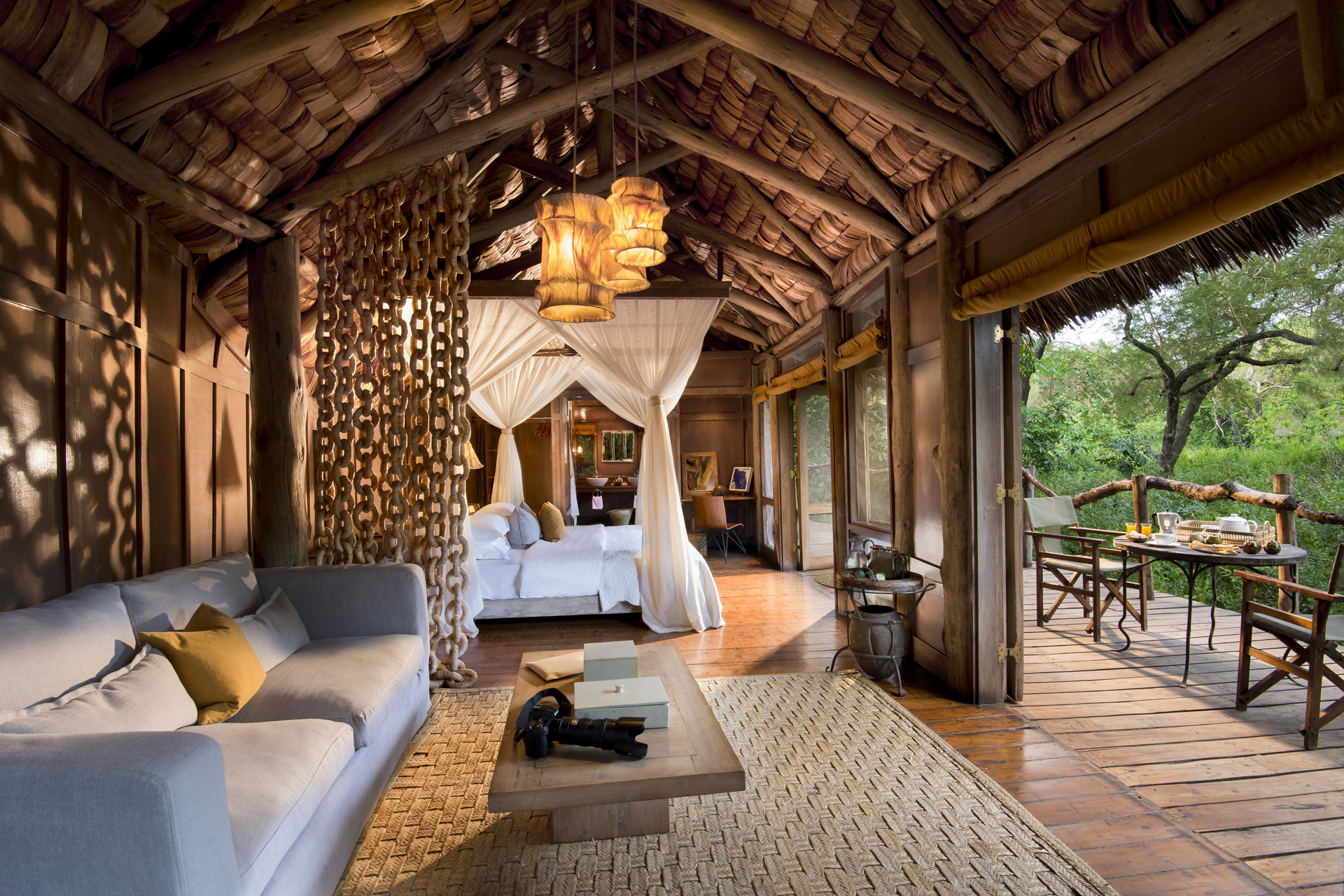 Lake Manyara Tree Lodge is the only permanent camp in the park and, although it opened two decades ago, remains utterly timeless. Nine rooms and a family suite are designed as treehouses, each with a woven banana bark roof, palm leaf matting on the wooden floor and rattan ceiling lights. There's an outdoor shower (as well as a freestanding tub inside) and a terrace where you can watch monkeys swinging playfully through the trees. Baboons often drink from the pool, and at night, you'll fall asleep to the shrill sound of bush babies calling. There's also a ping pong table, a massage sala and a lounge bar for pre-dinner gin and tonics.
The entrance to the boma is marked by a row of upended wooden mokoros and a firepit. Each day, the lunch and dinner menu are chalked up on the board and all the dishes are laid out on the table to share, family-style. One day it might be an Indian feast, with naan bread baked in a traditional brick oven, tandoor chicken and yellow lentils; the next, pork ribs with spaghetti and butter bean salad. Don't miss having sundowners by the lake, when a mokoro is turned into a makeshift bar full of Kilimanjaro beers and bottles of champagne, and camping stools are arranged around help-yourself nibbles of biltong and popcorn, as you survey the otherworldly scene of spindly, half-submerged trees in the gently lapping water.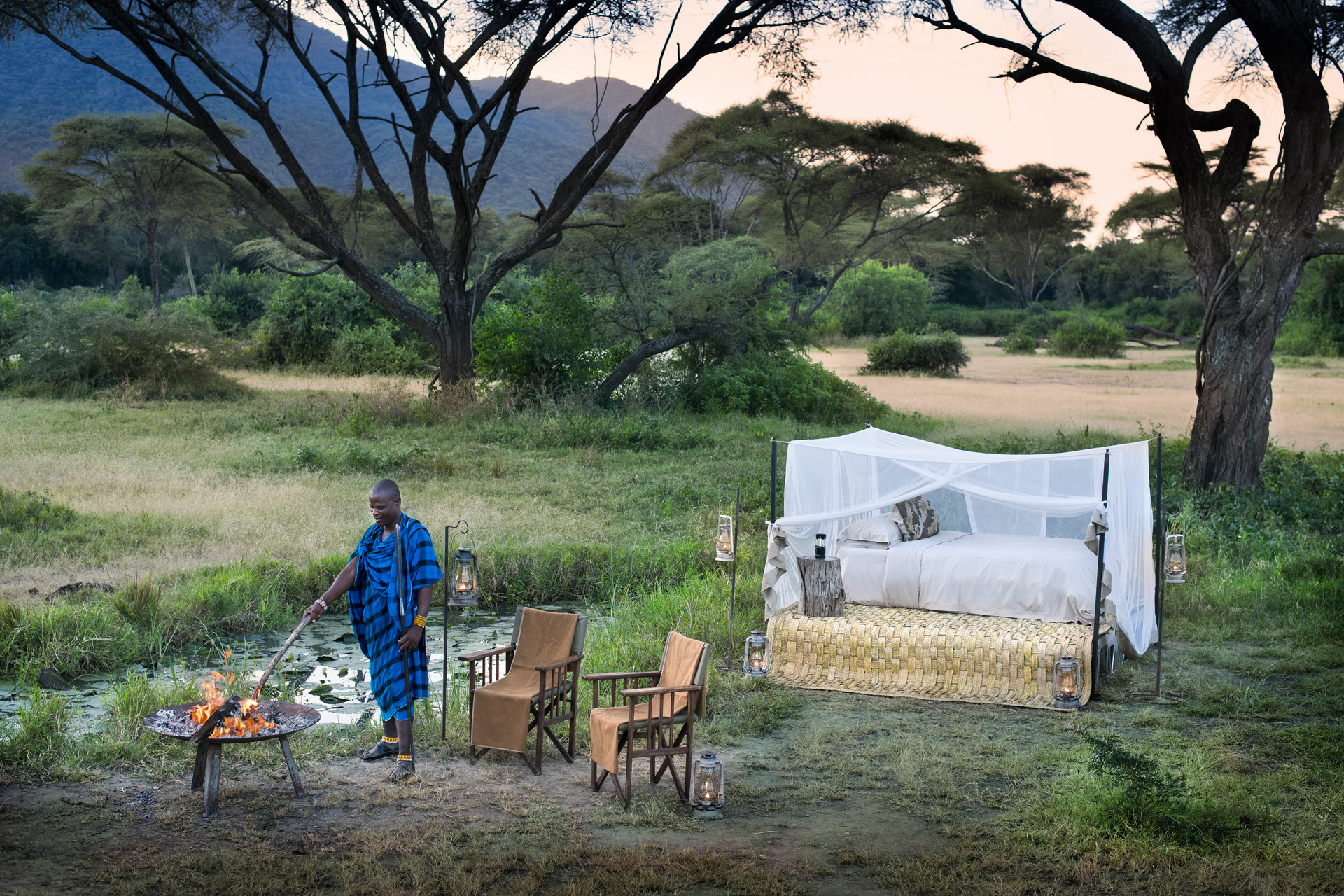 By far one of the best things about staying here is head ranger Abdallah Hassan – bag him as your guide if you can – whose endless knowledge runs the gamut from Tanzanite jewels to leopard tortoises and everything in between. Night drives are special, not least because lodge guests often have the park to themselves after 6pm once the day visitors have left. From a lone hippo lowering itself into the lake to klipspringer (known as the bush ballerina) up high on a rock, cat-like genet sleeping in a tree to the rare glimpse of a honey badger's bottom as it scurries off into the darkness, the bush is just as alive and fascinating after dark.
Launched last year (and another must) is the once-in-a-lifetime sleep out experience that offers guests the chance to slumber below inky, star-strewn skies. Ideal for couples or friends travelling together (four people max), two double beds with mosquito nets are set up by a roaring fire while a lodge ranger, park ranger and Masaai security guard keep watch. The rumble of lions might be heard in the distance; birds call at dawn. It feels cosseting and soporific, and a privilege to sleep so deeply in the wild. By Emma Love
BOOK IT: Rooms at andBeyond Lake Manyara Tree Lodge start from USD960 per person per night sharing (all inclusive). andbeyond.com
Usangu Expedition Camp, Ruaha National Park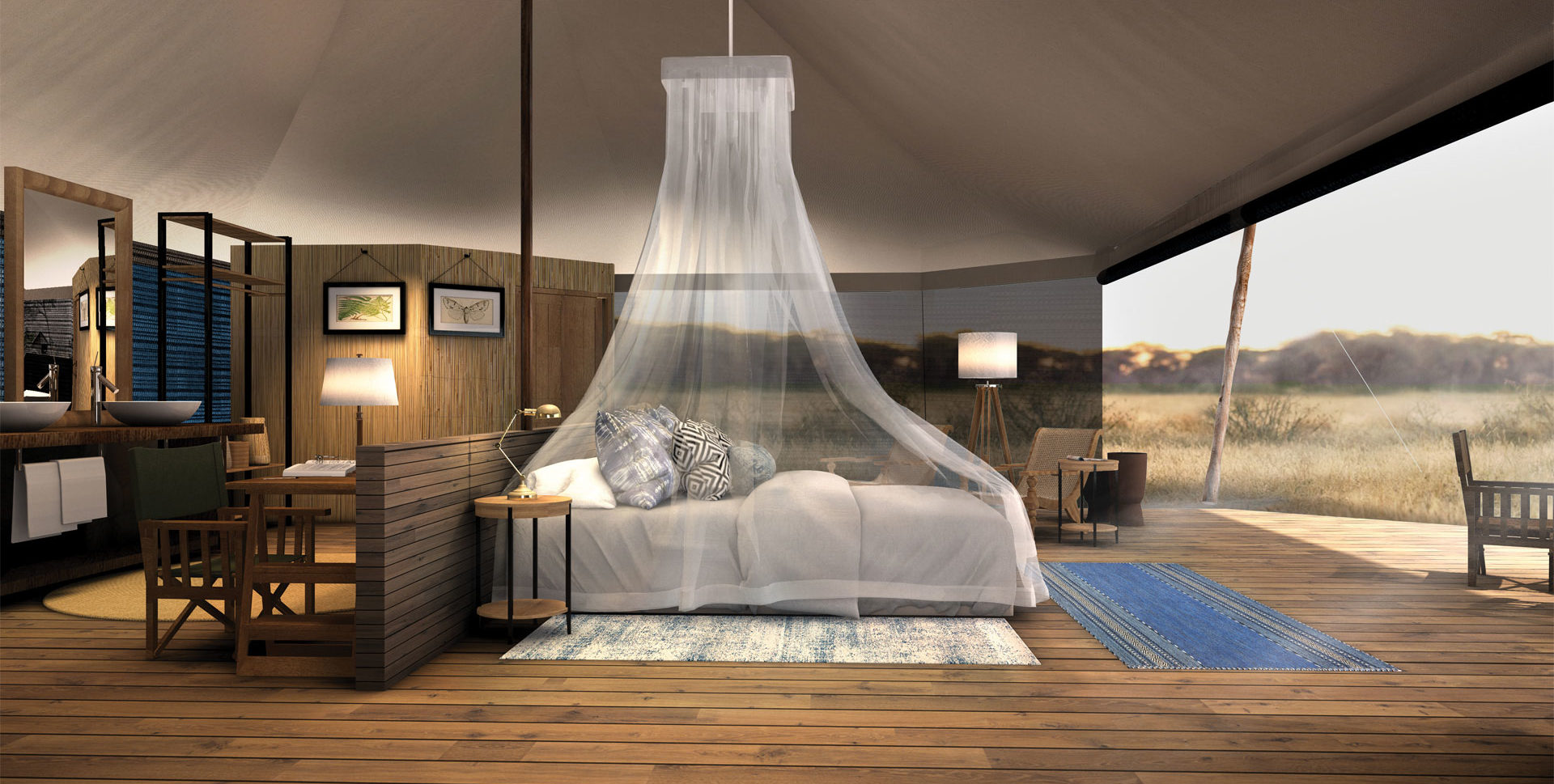 Relatively new to Tanzania, Usangu Expedition Camp is a citizen science and conservation experience in the wild and uncharted Usangu wetlands of Ruaha National Park. It's the only camp for almost 100 kilometres, so close-up animal encounters with herds of roan and sable wild dogs, ostriches and the thousands of migratory bird species are likely to be all yours. When not relaxing in one of four ensuite tents, or exploring the bush on a game drive or canoe safari, guests are invited to get involved with the camp's efforts to discourage poaching, uplift local communities and collect important scientific data pertaining to the local ecosystem. Every booking includes a private guide and vehicle, so you're free to follow your own agenda, as well as a camera trap for you to place around the camp for overnight recording of animals. If you're really keen, you can help researchers back at the lab catalogue the footage and ID individual predators – or possibly identify a new one.
BOOK IT: From £530 pp per night. asiliaafrica.com
Dunia Camp, Serengeti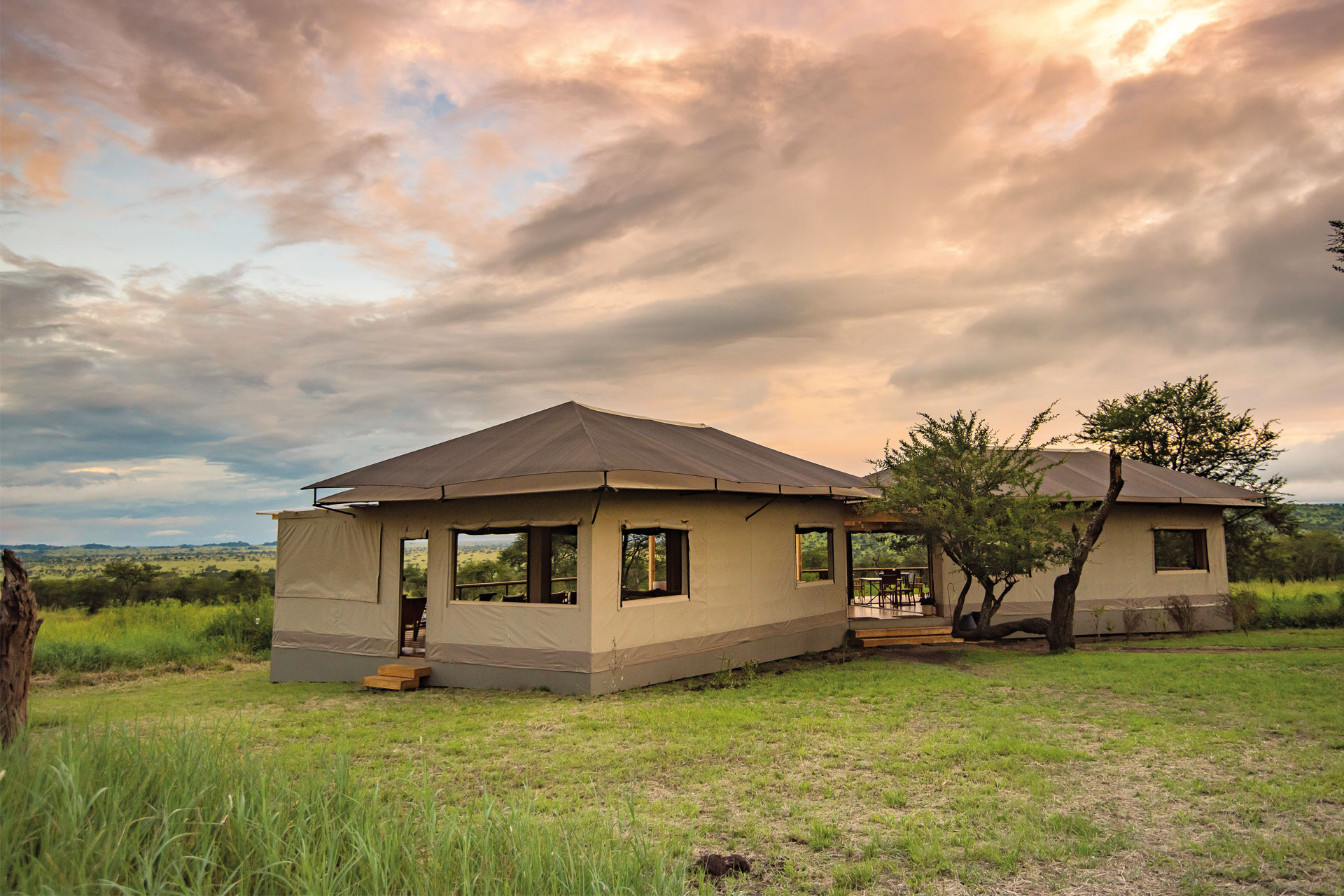 Finding female energy in the male-dominated safari industry is a struggle. But at Dunia Camp, deep in the Serengeti National Park, you are guaranteed a woman's touch. Why? The only camp in Africa run entirely by women, every single employee at this trailblazing lodge is female, which lends Dunia a unique and special energy. The great wildebeest migration passes straight through camp, bringing with it lions, leopards and even the endangered black rhino, so get set for enthralling predator action. Or find a new perspective from the heights of a hot-air balloon. Additionally, the camp has access to specially modified photographic vehicles that allow both wannabe snappers and professionals to shoot at eye level. Equipped with all the gear needed to capture killer animal shots, expect beanbags, camera rests and 360° swivel seats.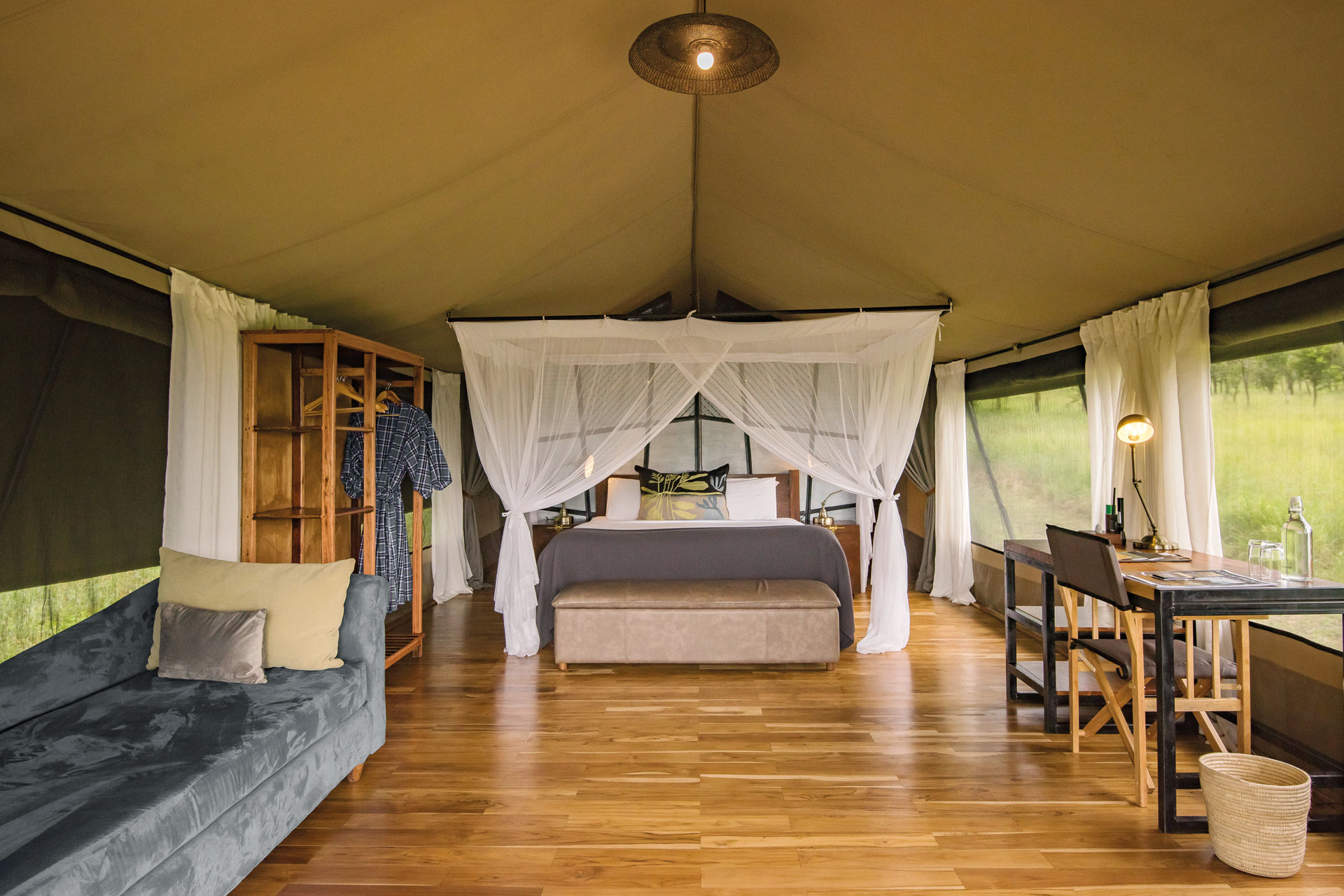 BOOK IT: From £350pp per night. asiliaafrica.com
Serengeti Grumeti River Lodge
From resident hippo pods to remarkable lion prides, Tanzania's remote western Serengeti corridor has it all – and with no crowds. The Great Migration passes through from May to July but there is consistent game viewing all year-round. Wildlife aside, the big news here is the newly revamped Serengeti Grumeti River Lodge, a two-minute drive from the airstrip.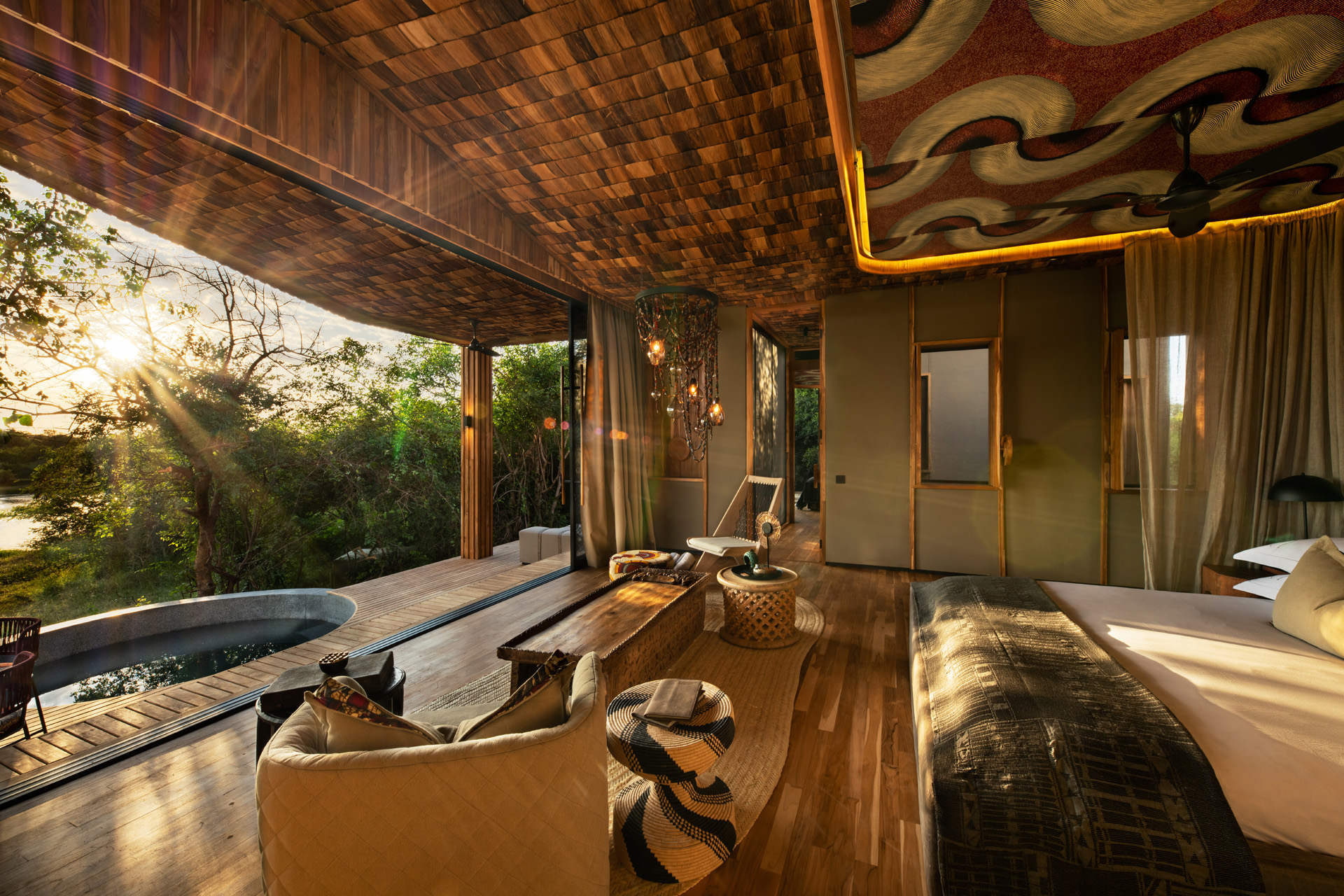 Set on a tributary of the Grumeti River, where huge pods of hippos wallow out front, this rebuilt river lodge is a sensation. A flood in 2020 was the catalyst for the redesign (it re-opened last year) which takes its cues from the circular forms of a traditional Maasai manyatta. Nine rooms plus a family suite: each feature ceilings crafted from woven banana leaves, elephant hide-inspired grey-green walls, furniture upholstered with colourful kitenge fabrics, and locally hand blown glass. There's a plunge pool on the deck for cooling off after a game drive, a vast bathroom, and a complimentary help-yourself mini-bar. Equally impressive – and echoing the room design with the same bold kanga fabrics and African objects – is the sweeping arc of the communal area, which has a central circular bar with a dramatic light installation above, a lounge area to one side and the restaurant to the other. Yoga sessions take place on the deck of the contemporary glass-fronted gym and there's a fire pit and boma by the water.
At lunch, seasonal international menus range from a selection of small plates and interesting salads – crispy prawn cakes, charred broccoli, green beans and paneer – to pizzas and sharing bowls of pappardelle and lamb ragout. Tables for dinner can be set up anywhere from down by the water's edge to the pool deck; dishes might include steak with peppercorn sauce or grilled tiger prawns with paella-style vegetables followed by chocolate brownies. Afternoon tea is available at the bar and wake-up call coffee can be delivered to your room through a hatch, before an early morning game drive.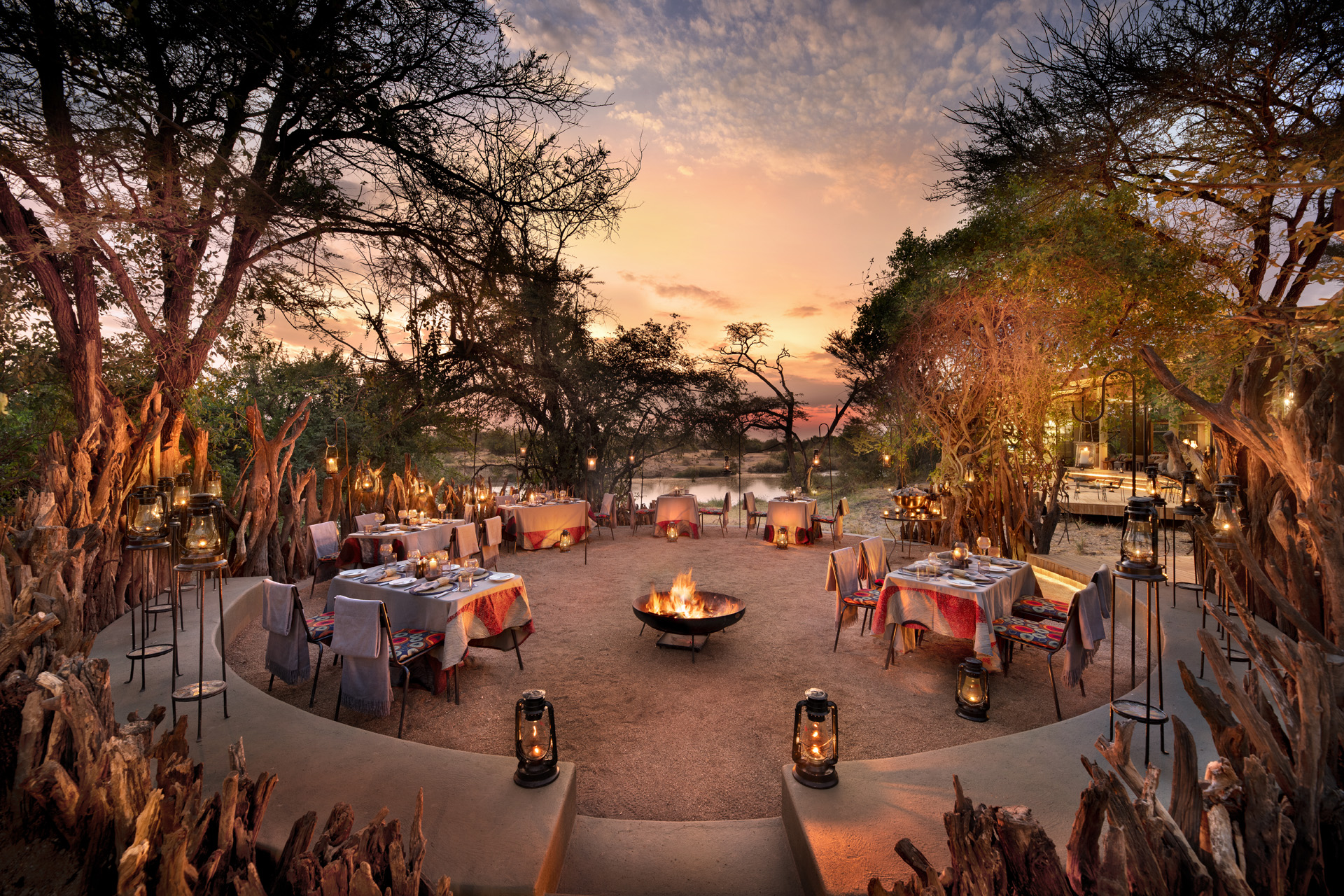 This part of the Serengeti is famed for its changeable weather – which means a morning game drive through the open plains chasing the sunrise as you watch young lion cubs resting on a rock and then, late afternoon, suddenly being caught in a flash hail storm complete with fork lightening, booming thunder and biblical rain (the only answer: sitting tight and sipping Serengeti beer in the vehicle while watching clouds scud across the elemental sky). Both are exhilarating in their own way, as is the extensive list of wildlife you'll see and a sunrise hot air balloon ride with Serengeti Balloon Safaris. Gliding silently over the treetops is magical – a birds' eye view of all kinds of creatures from impala to giraffe and warthogs (pilot Zumo Godliving doubles as an excellent spotter). The trip ends with a champagne toast and a delicious cooked breakfast, eaten under the shade of acacia trees. By Emma Love
BOOK IT: Rooms at andBeyond Serengeti River Lodge start from USD1135 per person per night. andbeyond.com
Matemwe Retreat, Zanzibar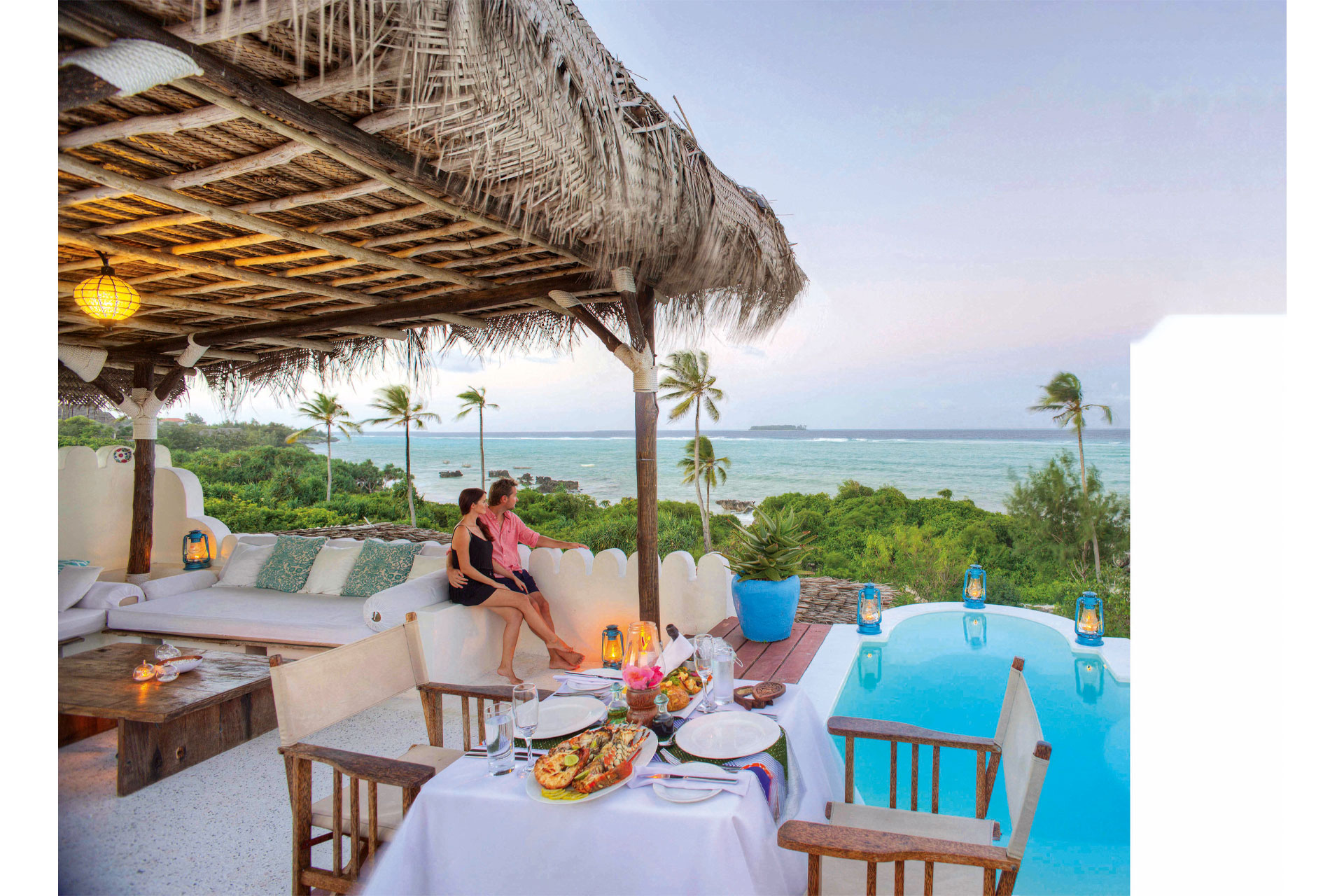 Sweet dreams are made of Matemwe, a boutique beach resort set on the lush northeastern coast of Zanzibar, Tanzania. The property is made up of three accommodations – the Lodge, Beach House and Retreat – but if it's romance and privacy you're after, it has to be the Retreat. A lesson in decadence, each of the four Retreat villas are elevated over the beach so you can throw open your ground floor bedroom doors and immerse yourself in the turquoise horizon of the Indian Ocean beyond. Drink it all in with a cocktail from the dreamy sunken bathtub. Upstairs, meanwhile, a vast, secluded roof terrace has nude sunbathing written all over it. A dedicated butler caters to any whim and a personal chef is all yours. The food? Fabulous, a true celebration of the many cultural influences that make up the island, with a laser focus on seasonality and sustainability, with seafood sourced only from local fishermen using responsible techniques.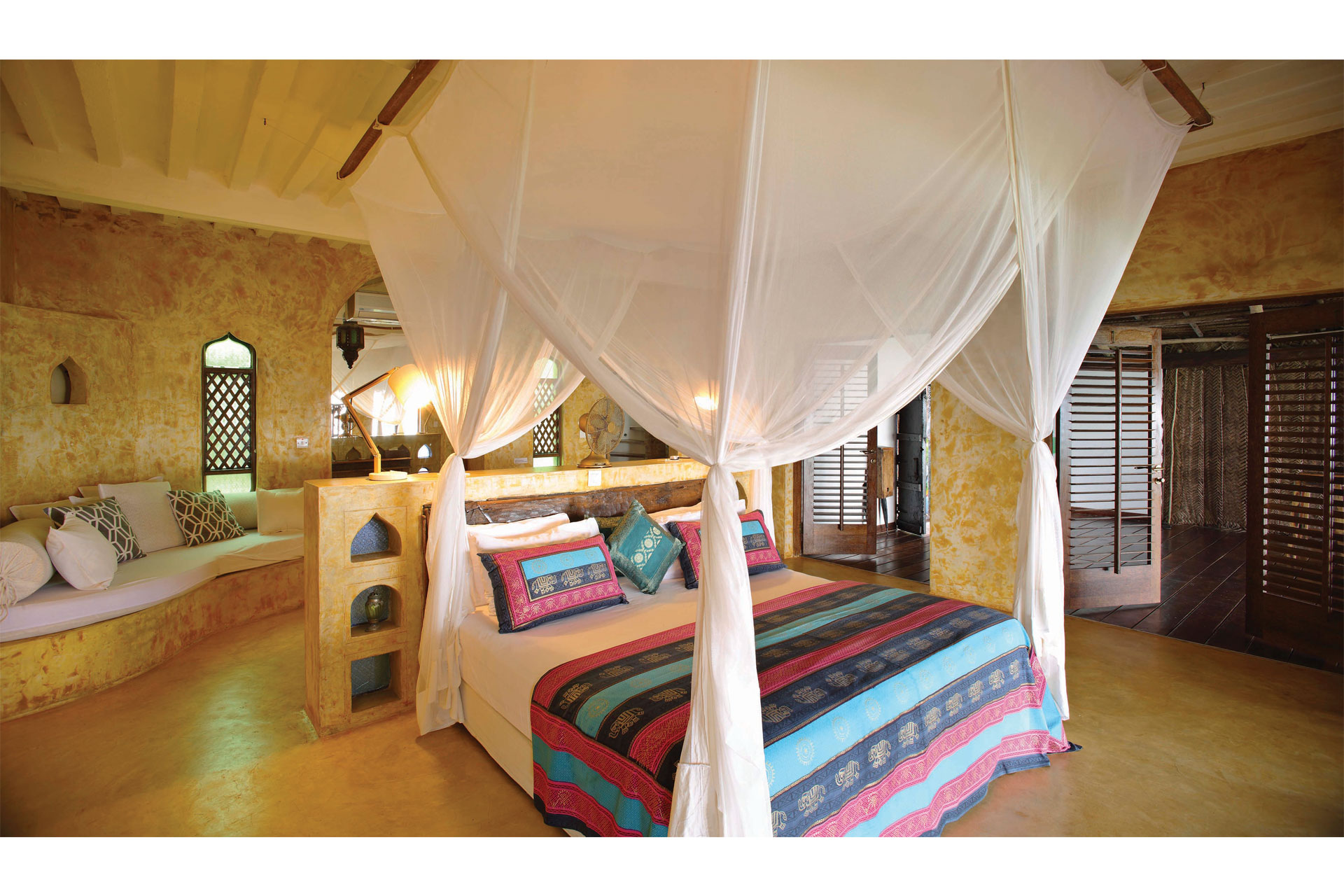 BOOK IT: Retreat villas from £390 pp per night. matemwe.asiliaafrica.com