Police at Suvarnabhumi Police Station in Roiet are investigating the death of the Swedish man but this is just a matter of routine. It appears that the 50-year-old, who came to Thailand in search of love with a Thai woman, discovered also the deadly danger presented by the country's infamous roads.
A two-year love story that blossomed between a Swedish man and his Thai girlfriend ended in tragedy on Saturday afternoon with the Swede killed when he lost control of a borrowed motorbike just days after arriving in Thailand and settling on marrying his 27-year-old fiancé from Roiet with the blessing of her family.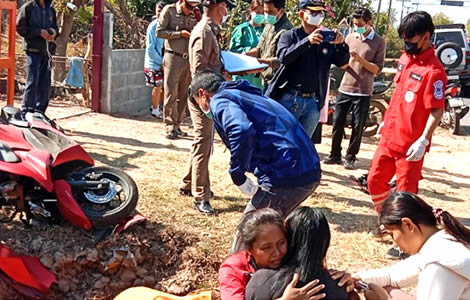 A 50-year-old Swedish man died in a freak motorcycle accident in Thailand on Saturday just minutes after leaving the home of his new Thai fiancé in the northeastern province of Roiet.
The Swedish man has been identified as 50-year-old Steffan Mattias. He has just travelled to Thailand this week to meet his Thai girlfriend, 27-year-old Wiranuch Buthinkong from the Suvarnabhumi District of the province for the first time.
Pair had been dating online for two years, Mr Mattias had taken time off work to meet his future wife
The pair had been dating online for the previous two years and were planning to get married after Mr Mattias had met and received the approval of the Thai woman's family over the last few days.
On Saturday afternoon, Police Lieutenant Tharathip Wijarn of Suvarnabhumi Police Station was called to a tragic scene at 2.30 pm after the Swede had lost control of a motorbike he borrowed at the woman's home leading to the horrible accident.
It is thought the bike hit a rut on the road causing Mr Mattias to be thrown into a culvert on the side of the road where his head hit a concrete pipe as well as sustaining other serious injuries as he fell.
Crash occurred on a dangerous curve of a local road 6km from his fiancé's home, the Swede was riding a red lady's model motorbike which he had borrowed
The incident occurred on the Suvarnabhumi to Ban Dong Mai Road in the Thung Sri Muang Sub-district.
The motorbike, a red Honda PCX model used by female drivers, registration No 4991 Roi Et and was relatively new before the accident but was badly damaged with debris from it strewn near the remains of the foreign man. 
The body of Mr Mattias was found by rescuers covered in blood.
It is understood the Swedish man broke his neck in the incident as well as suffering a very severe laceration to his right-hand thigh.
There was no eye witness to the accident except reports from locals who heard a loud bang after they became aware of the motorbike passing by on the country road.
People rushed to the scene and discovered the Swedish man's remains.
Tragic sight greeted arriving police as the young woman was consoled by female relatives sitting near the body of the 50-year-old Swede in a culvert
Police when they arrived at the accident site were met with the tragic sight of Ms Wiranuch who was distraught and being comforted by her relatives, reportedly her mother and sister.
The Swedish man had taken time off work and travelled to the kingdom just 5 days ago.
Before he left on the motorbike, he had been having lunch with Ms Wiranuch's family at her home in a joyful atmosphere.
He had asked to borrow the motorbike as he wished to take pictures of the locality and the surroundings where his fiancé lived.
He was 6 km from her home when the traffic accident occurred on a curved part of the road which locals describe as difficult for anyone driving at speed who would be unaware of the area.
Family warned the Swedish man about the dangers of roads in Thailand before he set off to take photos of the locality, police investigation launched
Ms Wiranuch's and her family told police that they urged their guest to take care and warned him that Thai roads were dangerous.
Police are understood to have ordered an autopsy which is normal in such cases and are investigating the accident which is also routine although legal proceedings in the matter cannot be ruled out at this stage.
Every day between 40 to 50 people die in road accidents connected with motorbikes in Thailand accounting for 85.2% of all road traffic accidents while the kingdom is regarded as having the second most dangerous roads in the world apart from war-torn Libya.
A disproportionate number of these deaths are attributed to foreigners living in the country who are often less aware of the road traffic culture in Thailand or the terrain of local roads.
Further reading:
Harrowing scene as Canadian cries for his dead wife at early morning accident in Kanchanaburi
Confusing traffic lights and reckless driving may have caused death of French tourist in Ayutthaya
Police investigate Ukrainian teacher's death after a hit and run traffic incident in Sa Kaeo province
Tragic death of a beauty queen and two others in a road accident near Khon Kaen University is a loss
Another fatal passenger van crash in Sa Kaeo claims at least 5 lives as a car ploughs into it after losing control
Young woman killed in a moment as pickup driver opens his door on a quiet Chonburi road last Friday
5 people die including 4 young men hurled from a pickup truck in early morning road tragedies on Monday
World Bank report warns Thailand of huge potential economic loss caused by road carnage
Another fatal crash as express train smashes car off the tracks in Phetchaburi – woman killed
GPS policing to be studied for all cars and motorbikes in Thailand to curb road accidents, deaths and carnage
About the Author
Carla Boonkong is a magazine writer who writes extensively about woman's issues in Thailand. One of her key subjects is the story of Thailand's growing influence in the world and the role played by Thai women in the process. She is now a staff writer with Thai Examiner.com in Bangkok. Son Nguyen is an international writer and news commentator specialising in Thai news and current affairs. He commenced working with the Thai Examiner News Desk in May 2018.