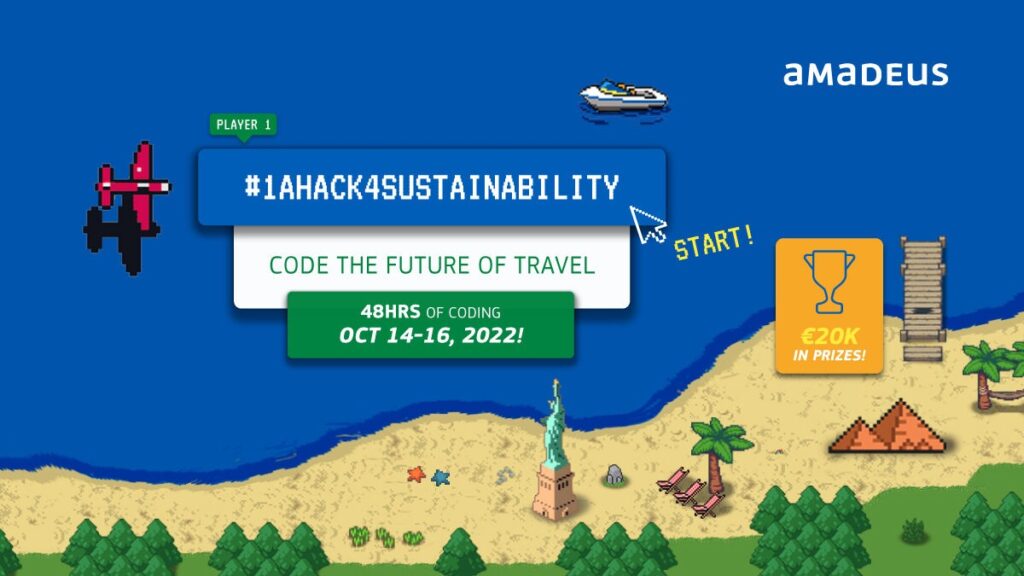 Sustainability in travel was the focus of Amadeus' worldwide hackathon, which saw more than 2,500 student registrants. The hackathon offered students an opportunity to code on a cloud native platform and compete for prizes. These included internships with Amadeus and other industry partners.
The virtual event, held over the course of October, saw over 100 university students advance to participate in the final challenges related to Sustainable Development Goals (SDGs), Emission Offsetting and Green Hotels, among others.
A member of the team that won the 'Sustainable Development Challenge' and recent computer science graduate from the Netherlands, Kimberly Dijkmans, said: "I really enjoyed participating in this hackathon and I discovered a lot about sustainability in travel. The topic is very important to me personally – so the lessons I gained from this hackathon will go a long way towards my future career decisions. I also had an opportunity to work with a diverse group of people from around the world and am happy to have made new friends who are passionate about the same subject. I also feel my coding skills improved: I learned Java at university – but through this hackathon – I developed new skills. I used Figma for the first time to create a prototype and React to create a web app. We also worked on GitHub as a team – which was new for me. The feeling of being part of a community was great. Amadeus did a lot to make us all feel involved – we had webinars, mentor sessions, and the Work Adventure platform created a sense of togetherness."
Dijkmans' team developed 'FlyLight', an app that rewards travelers when the weight of their luggage remains below an airlines' luggage allowance. This helps airlines reduce the amount of fuel they need for certain flights.
During the two weeks, participants received insights and support from leaders of some of the biggest players in the travel and tech industries, including representatives from Air France-KLM, Etihad Airways, Microsoft, Red Hat, MongoDB, CHOOOSE, Woosmap, Airbus, American Airlines, United Nations World Tourism Organization (UNWTO), Saving the Amazon and others. The students also enjoyed a fun coding platform, a virtual DJ, yoga sessions, and interactions with talented mentors.
Christophe Bousquet, chief technology officer, Amadeus, said: "My congratulations to all of the student winners of our worldwide hackathon. The actions we take today to make travel more sustainable could have a profound impact on how the future looks. This hackathon was about empowering the next generation of coders to make a difference. We view sustainability and humanity's response to climate change as one of the greatest challenges of our lifetime. As such, this hackathon was a prime opportunity to reflect on the way travel and coding can deliver a positive environmental and social impact. The entire travel industry must put its best minds together to come up with the innovative solutions required to create a better future."
The event offered Amadeus the opportunity to engage with new talent who share an interest to make travel more sustainable.
As an important global player in the travel industry with the ability to drive sustainability through technology, Amadeus has both a responsibility and an opportunity to be a catalyst for positive change. Against this background, the company's environmental sustainability strategy focuses especially on three main pillars: reducing Amadeus own impacts; supporting Amadeus customers by providing solutions that help mitigate their environmental impact and collaborate with key industry stakeholders to drive change collectively through a variety of initiatives.
Congratulations to all the winners:
Inspiration phase challenge winner: PlanIT, an app to plan trips and minimize carbon footprint at every step along the way with eco-friendly suggestions
Carbon offset challenge winner: Eco Motion, a mobile application used to compute multi-modal itineraries and compare them based on time, cost, and information like CO2 consumption
Green hotel challenge winner: Sustainable Hotel Booking, provides a selection of hotels using metrics such as distance, transport type, type of area, cost, and space
Sustainable development challenge winner: FlyLight, an app that rewards travelers when the weight of their luggage remains below an airlines' luggage allowance
Open data challenge winner: Lug Lite by the sustainable developer, a mobile application to help reduce the amount of baggage checked in by passengers
AF/KLM cargo/maintenance challenge winner: 5+2=5, a solution that reduces the time to compute the right location of pallets and containers
Etihad Airways green development challenge winner: Smart CPM Parser & Sustainable Message Processor, a smart parser app for Etihad Airways cargo messages, allowing cargo flights to be more accurately planned, and potentially more fuel-efficient
Microsoft business travel challenge winner: B.R.A.S.R.- Bitmasking Recursive Scheduling and Routing, a customised approach for commercial vehicular route optimisation to reduce carbon emissions
Delighted with the outcome of the hackathon, Mani Ganeshan, global head of engineering (r&d) for travel distribution and centre head, Amadeus Labs said: "Building a sustainable path within the travel industry can become a major challenge, with less to be achieved in isolation. 1Hack4Sustainability is an innovative approach that brings people and technology together to ensure that global travel can grow responsibly and create a positive community impact. We congratulate everyone who participated in the hackathon to build sustainable solutions that will enable businesses to meet their present requirements without jeopardizing the industry's long-term prosperity.
The hackathon also allowed us to draw attention to sustainable travel while encouraging future leaders and providing them with a direction to sustainable travel industry. Sustainability is a journey rather than a destination, and consistent improvement is essential for continuous progress on the industry's environmental goals. Through these initiatives, we continue to invest in the young minds of the country facilitating the opportunity to unitedly create a greener, more sustainable world."