Birkenhead House is perched on a cliff boasting a gawp-worthy, unimpeded view of the whale watchers' paradise of Walker Bay in the Atlantic. Come here to retreat and recharge in stylish sea-facing rooms, to spa, eat ocean-to-fork food, and do more activities than you can shake a stick at.
Read the C&TH Responsible Tourism Guide
Review: Birkenhead House – Hermanus, South Africa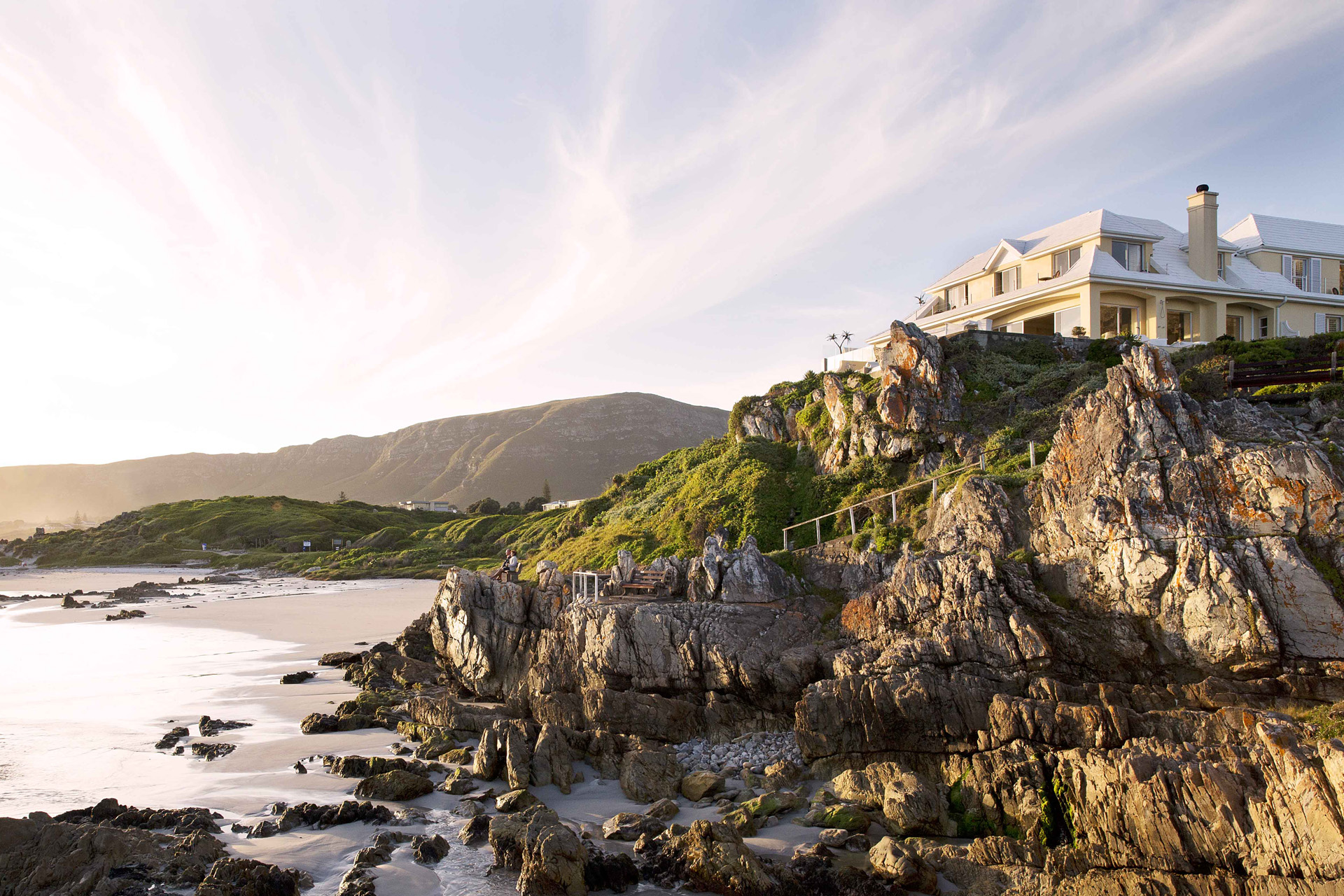 STAY
If you drive here – on roads better than those in the UK – you'll know you're nearby when you see the signs reading 'Whale Coast'. The Birkenhead House is situated in Hermanus, on the south western coast of South Africa. There are just 11 chic bedrooms – with characterful décor, the comfiest of beds, feather pillows, underfloor heating and air con – spread across three modern houses filled with endlessly accommodating staff in naval whites. There's also a two-level lap pool and a plunge one overlooking the cliff, a card room with squishy sofas in which to watch sport, an airy drawing room with open fireplace and ooh-ah views, plus a spa and gym.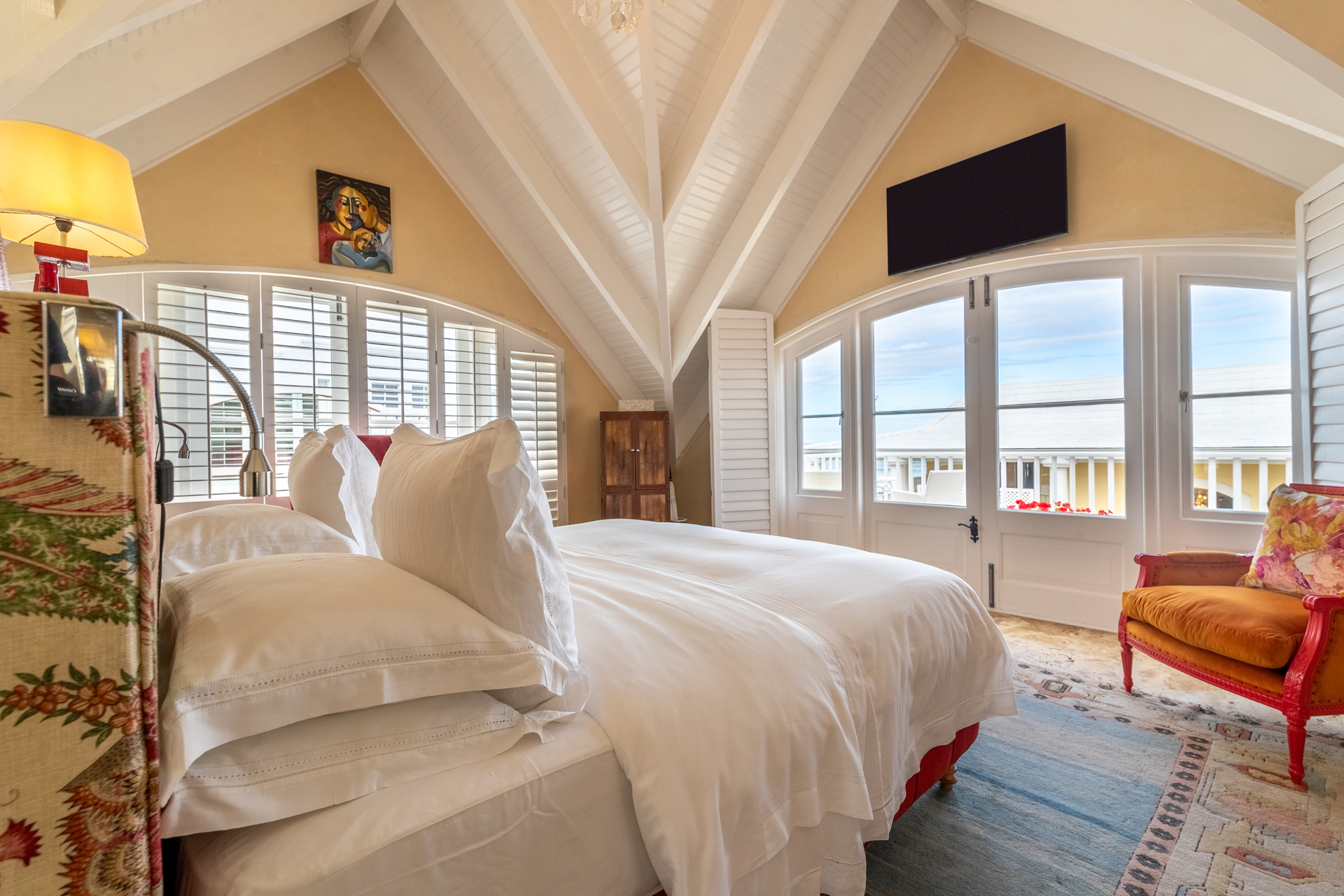 Who could fail to love the creamy expanses filled with owner Liz Biden's signature splashes and riots of colours, and juxtapositions of eclectic pieces? From chandeliers and a massive shell-covered cabinet, to local paintings and a Georgian-style porter's chair upholstered in rice bags? With vases everywhere of local flowers with names like banksia (a brush style protea), slangbos, pin cushions and kolkol (with little ball buds)? And who could fail to adore the bathrooms with claw-foot tubs, complimentary laundry, litres of toiletries in wine bottles and yet more in decanters?
Bag Room 1 with its double bed looking out onto the ocean. If you want a family treat, book one of the latest additions to the portfolio: three luxury villas overlooking the spectacular coastline – private residences with all the services (including in-house butlers and chefs), amenities and food of the heavenly Birkenhead House. Best of all, in September and October, you can sometimes see up to 15 whales a day from the hotel's terrace. Little wonder that there are so many happy comments in the whale-sized guest book.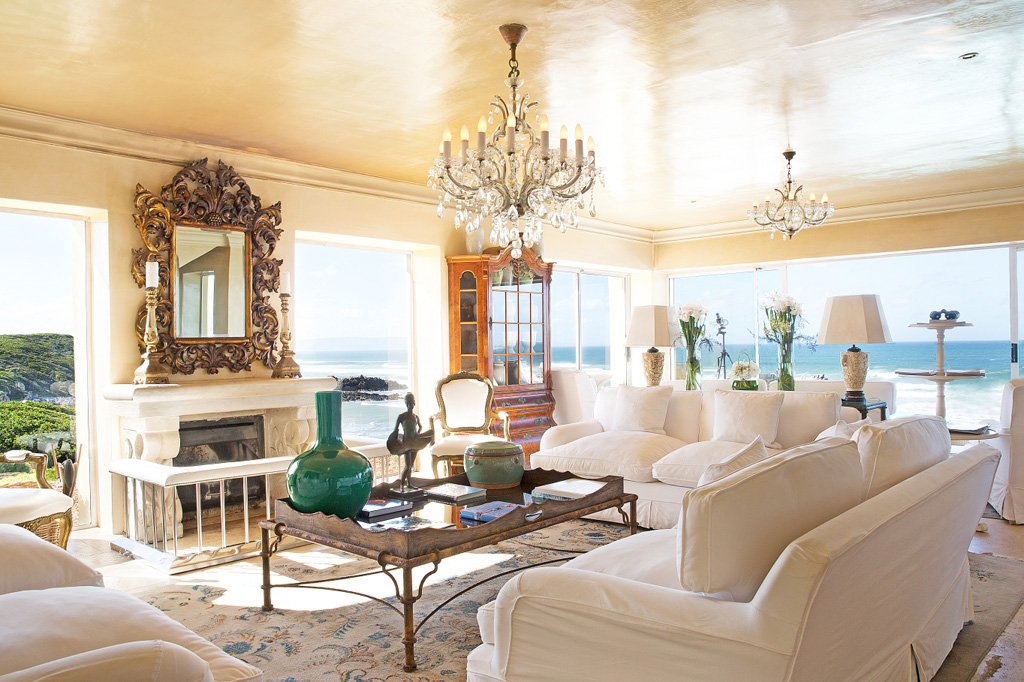 DO
You can loll around the pool with a William Boyd or book on Mandela from the hotel library while the ocean crashes in your ears and you drink a watermelon and cucumber mocktail – or sip Rosemary Jane, rosé from their sister hotel, La Residence. Or you can bag an African fusion massage with Marula-herb infused body oils in the spa in the Middle House. Otherwise, there's shark cave diving, birdwatching on the River Rat, reef fishing and tuna fishing; wine tours and tasting; surfing lessons with Craig, the wonderful assistant general manager; hiking in the Fernkloof Nature Reserve; kayaking; a visit to the Stoney Point penguin colony; or an abalone farm visit. But it's hard to beat a simple but bracing cliff and beach walk. Just below Birkenhead House, there's a golden sandy beach of 27 km that wraps the coast (great for watching kiteboarders emerge from the estuary out to the ocean) and a cliff path heady with the scent of fynbos plants (and also with Public Safety patrol wearing bibs).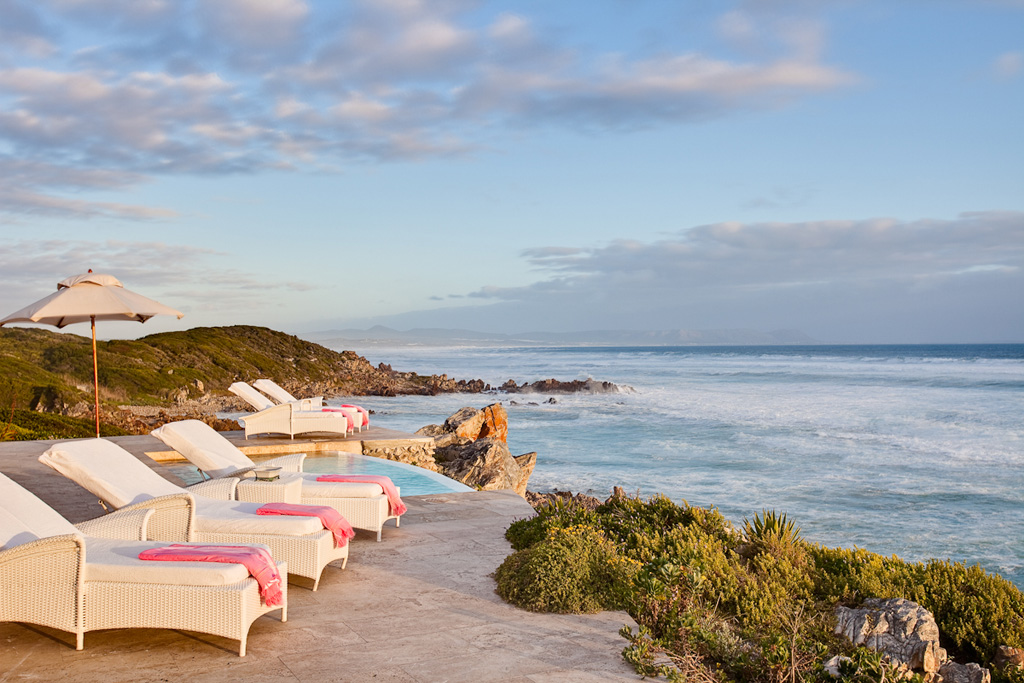 Don't miss the hotel's mussel picking and cooking lesson. You'll get up earlier than is civilised (say 6am) to be there when the tide is far enough out. Craig and lovely Bianca from reception will give you webbed rubber shoes to stop you slipping on rocks, and then you'll walk out into the water (which will be between 13 and 20 degrees and will, despite your best efforts, soak your rolled-up trousers). You may find the water cold — perhaps a south easterly has been blowing — but oh! what sights. You'll pick thumb-sized mussels and learn about the different types (black, blue and white) of these molluscs and how, amazingly, they live to be octogenarians. (The ones we pick are black and merely toddlers). 
Craig will enthusiastically show you seals on the nearby Voelklip rock (translated as 'bird rock'), cormorants and oyster catchers; suggest that you touch the jelly-like, colourful sea anemones; pick tiny purple sea urchins, food for crayfish and lobster; and pull sea worms off the rocks – 'Caviar for fish,' he declares. Bianca will give you beauty tips on how to lose 30 years of wrinkles: by rubbing bright green seaweed on your face — reader, it works (almost). And she'll steady you with a helping hand as the sand disappears beneath your feet. Later, if you wish, you can cook the bounty that you've foraged in Birkenhead House's stainless-steel kitchen.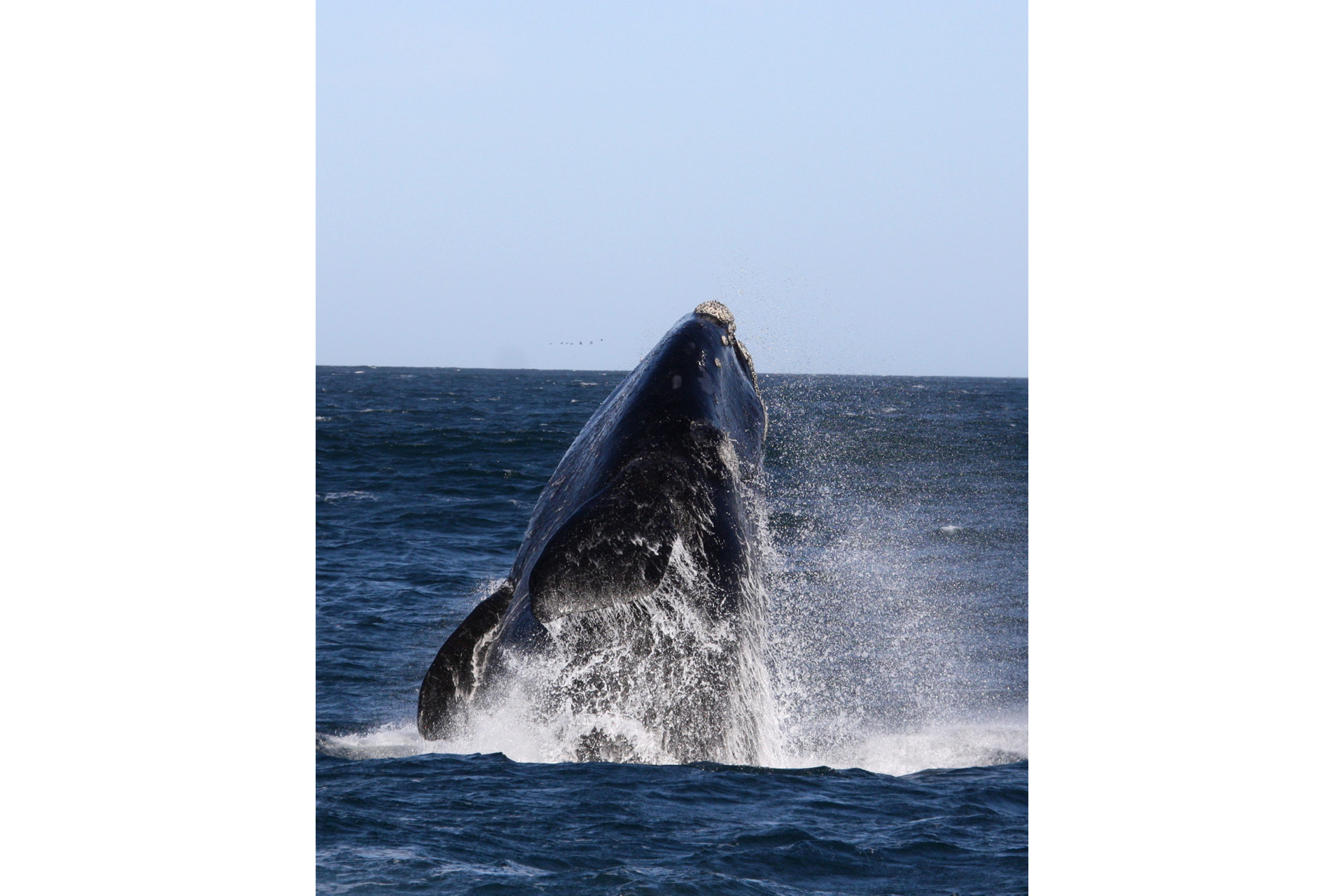 Don't miss a trip with Hermanus Whale Cruises, for harbour-boat-based whale watching (from June to November). You'll drive 15 minutes from Birkenhead House, past houses with names such as Whale View and Whale's Tale. Then pop aboard the company's new boat, Whale Cruiser, which seats 87 passengers, including 28 on the top deck – but, once you're standing up on the front viewing deck, the excitement is so great you'll forget you're in company. They don't crowd the whales with boats, either; instead, you may see a 45 ton, circa 13 metre Southern Right Whale (which has no dorsal fin on its back and sports what look like white barnacles on its nose but turn out to be callosities, or white warts). He may be spirting a v-shaped spray of water, and breaching: his version of a chat-up line. The shallow, sandy-bottomed and sheltered bays of this coastline are perfect for mating, calving, and nursing their young. There may be a handful or three of whales in the bay at once. And did you know that they can hold their breath underwater for 45 minutes? That there could be four or five under your boat? And that they migrate from South Africa to the South Pole?
As Christopher, the guide, fills you in, you'll have a whale of a time, (er, boom boom). To make the experience even better, the Company's registered guides and skippers are all from the previously disadvantaged local community of Hawston, providing much-needed job opportunities for the local community.  
EAT
Go to The Fisherman's Cottage for simple seafood dishes in a relaxed atmosphere and late 1800s building. La Pentola buys you a lunchtime slot at the seafront – with panoramic views of the Walker Bay area – with international cuisine, which includes abalone. And go to Harbour Rock – known to locals as 'The Rock' – if you're into sea grills and sushi (who isn't?) while perched on the top of a cliff with 280-degree sea views across the bay. 
Or just stay put in the Birkenhead House restaurant in the Front House. You'll watch whales and seals – grab a pair of 'binos', as they call them here, to sneak a closer look – and have a view of waters that stretch to meet the sky. You'll savour breakfast of mashed avocado on sourdough as surfers catch the crashing waves in front of you. At lunch or dinner, you'll nibble warm, homemade olive bread with hummus served on a wooden board while you wait for food that's pretty as a picture. Then you'll eat hard-to-beat tiger prawns in coconut broth, or crayfish from the rocks below, while a swift swallow hovers in the light above your table (if it's not diving into the pool for a drink). Or perhaps you'll try spaghetti a la puttanesca with just-caught or picked mussels, squid and Kingclip. You might opt to eat a chocolate mousse afterwards. But, if you're sensible, you'll leave space for the dark chocolate bar that's left in your bedroom, chock full of nuts and orange peel.
FINAL WORD 
This is the place to head for some of the best whale watching in the world, and some of the sunniest, most obliging staff. Not to mention chic rooms and meals of flipping fresh fish.
BOOK IT: From R5,100 / £242 per person per night, all inclusive. theroyalportfolio.com 
Featured image (c) Felix Studios.