New virtual banking services are expected to offer cheaper and more inclusive banking products to customers who are currently not catered for by the existing banking network. With only three licences available and already over 10 potential applicants, it is expected that the competition will be intensive to be one of those awarded a licence in 2024.
Siam Commercial Bank CEO, Arthid Nanthawithaya, on Thursday, made it clear that the bank intends to be among 3 new virtual bank operators that the Bank of Thailand is expected to licence in 2024 and which a senior executive at the central bank expects to be operational by 2025. The new virtual banks will provide a full spectrum of banking services but will be prohibited from deploying ATMs or having physical bank branches. Last week, an assistant governor with the bank, Mr Tharith Panpiemras, said a minimum investment of ฿5 billion to ฿15 billion would be required to establish such an operation.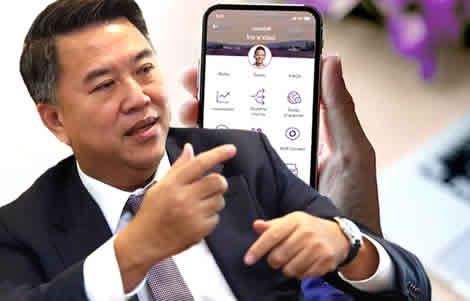 Siam Commercial Bank's holding company SCB X has said it is awaiting the Bank of Thailand's deliberations and regulatory framework on digital banks before preparing an application to launch its own virtual banking entity to keep Thailand's oldest commercial bank competitive in a fast-changing world where online technology and banking services are increasingly converging.
The news came on Thursday at an extraordinary general meeting of the bank held to confirm a new bond issue. The bank's Chief Executive Officer, Arthid Nanthawithaya, told reporters that the top financial institution was pursuing the goal.
Siam Commercial Bank's mothership approves ฿100 billion debt bond to fund expansion of subsidiaries through to 2024. Executives questioned on Bitkub
SCB X is a holding company of Siam Commercial Bank recently described by one analyst as the 'mothership' of the bank to allow it to be more dynamic and flexible in taking opportunities in this new fast moving world driven by technology.
In November 2021, Siam Commercial Bank announced a plan to buy 51% of Thailand's highly successful and resilient cryptocurrency exchange Bitkub in a deal worth $535 million or ฿17.83 billion making the new technology firm Thailand's first unicorn but the deal stalled in due diligence with both firms agreeing to terminate the transaction due to regulatory issues Bitkub was working its way through with the Thai Securities and Exchange Commission which appeared to have an uncertain timeline.
This was in August 2022.
Bank of Thailand has invited submissions from interested parties as it prepared a framework for virtual bank licence bids to be launched in months
The Bank of Thailand is currently involved in a public consultation process related to digital and virtual banks.
It issued a consultation paper specifically concerning virtual banking on January 12th inviting submissions from interested parties.
This followed a wider consultation process which the central bank initiated in February 2022 related to how the country should adapt to the digital economy.
The bank has pursued a difficult regulatory and oversight path between being disinclined to encourage the use of cryptocurrencies for trading to advocating a central bank-powered digital currency while it is now seeking to extend the country's banking infrastructure online through digital banking and the creation of virtual banks.
The bank sees such institutions as becoming operational by 2025 but initially being restricted for a limited term while operating to strict standards with rigorous supervision of operators who can demonstrate that they have the resources, systems and business models to make such ventures a success.
Virtual banks are seen by analysts as a clear path and tool towards greater financial inclusion which is badly needed within Thailand's banking system
One of the key benefits of such banks is that they can assist in creating more financial inclusion in Thailand where, despite the banking system being strongly capitalised and sound, a small proportion of depositors control the bulk of the country's financial resources.
An analysis of deposits conducted during the height of the pandemic in Thailand for instance showed that 1.52% of all funds added to accounts in Thailand's commercial banks in 2020 came from 91.22% of account holders.
The same analysis showed that expats or foreigners living in Thailand play a significant role in the banking system although this is dwarfed by the country's wealthy elite with 91% of all funds held in Thailand owned by only 1.6% of depositors.
Siam Commercial Bank will face competition for a limited number of licences from a joint Krungthai Bank, AIS bid which is reported as being formulated
On Thursday, Mr Arthid did not give a deadline for when the bank expected to apply for such a licence but indicated that Siam Commercial Bank expected to be operating such an institution over the next few years.
The Bank of Thailand itself, just last week, indicated that there are already specific parties who have expressed an interest in running virtual banks for which a limited number of licences will be issued.
One of these is the state-owned Krungthai Bank which is understood to be in discussions with mobile phone market leader Advanced Info Service (AIS) to operate a virtual bank taking advantage of the customer database of both concerns and vast business skill set.
Press reports also suggest that a Stock Exchange of Thailand (SET) listed company, Jay Mart, a Thai-based technology retailer which has developed banking resources, is also expressing an interest in seeking a virtual banking licence.
Bond debt financing mechanism may be used again by Siam Commercial Bank to raise funding for a strong virtual banking bid said CEO Arthid on Thursday
On Thursday, the shareholders of SCB X gave the green light to a new ฿100 billion debt bond which will give the holding firmly a war chest with which to create new business opportunities through its subsidiary firms over the next three years with the disbursement of up to ฿30 billion annually to develop such business opportunities.
Mr Arthid indicated that such a financial mechanism can be deployed also exclusively for the creation and development of a digital or virtual banking division.
'We could raise new funds for that goal if the company decides to launch a virtual bank within the next three years,' he told reporters.
He clarified that the funding already raised was earmarked for its current operations from 2022 to 2024 which included digital banks and the provision of loan facilities online.
He also made it clear that the financial war chest would be used for the expansion of the existing digital banking arms of Siam Commercial Bank and its involvement in the trading of digital assets.
Questions about Bitkub deal answered by Chairman
He was questioned by shareholders on the Bitkub deal which was abandoned by both firms last August.
The question from the floor of the extraordinary general meeting was answered by Siam Commercial Bank Chairman Mr Vichit Surapongchai who explained that all such deals must be scrutinised carefully and any uncertainty that arises must be processed based on risk assessment and analysis.
In a statement last week, the Bank of Thailand, through assistant governor Tharith Panpiemras said that the central bank would grant three virtual banking licences in 2024 and he expected that such institutions would be operational by 2025.
He confirmed that at least 10 parties have, so far, expressed an interest to the bank and were preparing to submit applications.
Thai virtual banks required as giant online firms are now providing cross-border services to consumers
The banking boss explained that with large international online firms such as Ant Group in China and Grab Holdings already providing cross-border services in this sphere, it is imperative for the kingdom to develop such services.
Mr Tharith said that the Bank of Thailand expected to be in a position to invite and accept such applications in the second quarter of 2023. 
Currently, no Thai bank has developed a separate stand-alone virtual bank despite the development of strong online banking networks and services by the kingdom's retail bank network which has shown itself quite able to innovate and adapt.
Last week, Mr Tharit gave some idea or vision of how such banks will perform and how they will differentiate themselves from current online banking operators.
Improved banking service to consumers on a lower cost base helping to bring in 'underserved' clients
The Bank of Thailand boss said these banks will be expected to provide a full spectrum of banking services but will specifically not be allowed to operate physical branches or such facilities as ATMs.
They will also be subject to the same regulatory requirements which will be rigorously enforced and monitored.
This will include funding and reserve requirements, settlement terms as well as compliance with strict data protection laws.
This will offer existing banks an advantage at the outset according to analysts.
'More competition will strengthen the overall banking system by encouraging existing players to enhance their services and innovations. With lower costs that would benefit all customers, new virtual banks will also broaden their service offerings to new underserved clients,' he explained.
The bank chief noted that the establishment of such banking operations online would require, at a minimum, a ฿5 billion to ฿10 billion investment.
Further reading:
Bank of Thailand boss hints at a digital baht which may help revive the virus ravaged cash economy
Thailand embraces the world of cryptocurrency as bond market to move into the blockchain era
Industry leaders and central bank all warn that foreign tourism must return to avoid a collapse
Refloat of foreign tourism in the 2nd half of 2021 with vaccines pushed by minister and industry for the sector
Fact – only 6,556 visitors arrived in Thailand last month compared to 3.95 million in December 2019
Desperate foreign tourism business concerns are clinging to straws as they try to survive the crisis
Strict entry criteria to remain as officials await clarity on the medical status of vaccinated people
Challenge of the virus and closure to tourism leads to major long term changes in the Thai economy
Finance Minister says economy must pivot away from tourism with a switch to S-Curve industries
Steady as she goes economy driven by exports and public investment with a 3.3% growth rate forecast for 2021
Thailand's tourism boss targets thousands instead of millions as public health is prioritised above all
Thailand unlikely to reopen doors to mass-market tourism before the end of 2021 until after a full vaccination
Strengthening baht predicted as investors bet on a reopening of Thailand to mass tourism in 2021
World's biggest free trade deal just signed will be a huge boost for the Thai economy and exports
US move against Thailand on trade is a warning as Thai exports to America boomed in September by over 19%
Thailand's trade agenda may be complicated and thwarted by raised tensions in the Indo Pacific region
RCEP deal agreed as India opts out – busy Bangkok ASEAN summit concludes on a low key
Industry boss urges Thailand to join alternative Pacific trade pact and plan for a long recovery from virus debacle
Chinese FM to visit Thailand in a Covid battered world of raised tensions and potential conflict
Lowering of US flag in Chengdu is a wake-up call for foreigners living in Thailand and with close ties here
US is a better friend for Thailand than China says US ambassador as tensions grow between the 2 powers
Prime Minister indicates that the cabinet reshuffle will be complete very shortly with no problem
Thailand's economy has become dependent on government expenditure to stay above water
Industry boss urges Thailand to join alternative Pacific trade pact and plan for a long recovery from virus debacle
Thailand and US aim for a new more 'proactive' trading relationship as ambassador meets Prayuth
Rice price spike but drought conditions to recede – security concern for the Mekong river
US election will impact investment and moves by US firms from China to Thailand says new American envoy
Thailand faces a third shock after the virus if high debt and the informal economy are not prioritised