Driver, with a woman in tow, fled the scene in a taxi. Onlookers took video clips and photos of the escape which showed a bottle of wine on the seat of the luxury car which retails new in Thailand at between ฿20 to ฿23 million or $660,000. Although the Bentley appears not to have been insured, the driver has offered to pay for any damage including the purchase of a new fire engine.
A senior police spokesman in the Thai capital Bangkok is promising the public that full charges will be levelled where appropriate against the driver of a luxury Bentley Continental car who on Sunday night caused a smash-up on a busy city centre expressway by crashing into a car as it passed it out on the left-hand side, overturning it and causing it to career into an oncoming fire engine with both the impacted vehicles being destroyed but thankfully without loss of life.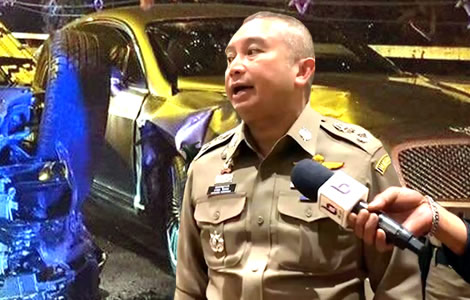 A senior police officer and spokesman for Bangkok Police has assured the public that full charges will be announced against the owner of a luxury Bentley Continental car which was involved in a serious road traffic accident in the city on Sunday night in which several vehicles were damaged and written off including a fire engine.
This will include publishing the results of blood and drug tests taken after the incident on Wednesday although it was announced earlier that the results of a test conducted at Police General Hospital would not be on hand until February 1st.
Bentley Continental driver and a lady friend took flight from the scene of the smash-up after hailing a taxi in a move recorded by appalled onlookers
The owner of the car, accompanied by a woman, was seen taking flight from the scene of the accident after hailing a taxi by appalled onlookers who made a video clip of the incident.
Afterwards, videos and photos taken by onlookers showed a bottle of wine on one of the car seats of the damaged luxury Bentley Continental which retails new in Thailand at a price of ฿20 to ฿23 million or up to $660,000.
The driver of the vehicle, it is now understood, subsequently surrendered to police and has been interviewed by officers concerning the incident.
He strenuously denied that he was in a drunken state when he left the accident scene with his lady friend.
Police spokesman on Tuesday promised the law will be applied without discrimination in this case with a range of charges to be put before the driver
A spokesman for the Royal Thai Police, Major General Archayaon Kraithong, indicated on Tuesday that the driver will be facing charges linked with his actions on the night of the accident which occurred after, it is understood, the driver of the Bentley car overtook vehicles on the left-hand side of the busy Chalerm Mahanakorn Expressway causing a newly acquired blue Mitsubishi Pajero SUV to overturn and crash into an oncoming fire engine responding to a fire in the Sukhumvit area of the city.
The police officer said it was important for the public to see that the law was applied fairly and without fear or discrimination in this case.
In all, it is reported that six vehicles were involved in the crash which has sparked public interest because of a pattern of such incidents in the last decade in Thailand, often involving deaths, where wealthy individuals appear to have been spared the full rigours of the law either through paying compensation to victims and receiving lenient court sentences or evading justice altogether.
Specter of Red Bull heir haunts Thailand and is a sore in the public's consciousness representing injustice, corruption and inequality in Thai society
The ongoing story of the now 37-year-old Red Bull heir, Vorayuth Yoovidhya who fled Thailand in 2017 after he was due to appear in court in connection with the death of 47-year-old Police Sergeant Major Wichian Klanprasert of Thonglor police station in September 2012 while driving his Ferrari supercar, is still an open case and sore in the public's consciousness representing corruption in the kingdom, injustice and the ability of the rich, in a country with widening inequality again according to the World Bank over the last four years, to buy their way out of wrongdoing.
The case was the subject of a special report to the Prime Minister's Office in 2020 which confirmed massive collusion between an array of police officers and experts to deny the course of justice and corruption linked with the administration of the case.
In recent weeks, Prime Minister Prayut Chan ocha has raised the case again and tasked the Royal Thai Police with finding Mr Vorayuth and bringing him back to face justice in Thailand as public unease at corruption in the kingdom particularly in the administration of justice promises to be a key election issue this year.
New SUV owner whose 21-day-old vehicle was written off demands full compensation from Bentley owner
On Monday, the shocked and upset owner of a newly acquired Mitsubishi Pajero SUV demanded that he be paid full compensation for the value of his written-off car which he had only purchased 21 days before the accident.
It is understood that there is no evidence, at this point, as to whether the Bentley Continental was insured at the time of the accident.
On Tuesday, Police Major General Archayaon suggested that police were satisfied with bringing charges against the Bentley driver based on his behaviour and evidence supplied by video and photo clips taken at the scene of the accident.
They will also act based on the results of the blood and drug tests on the driver which are also reported to be imminent.
The driver of the Bentley, who has not yet been identified, is understood to be a wealthy property developer. 
Witnesses at the scene claim he was drunk but this was rejected by him out of hand when interviewed by police investigators.
Taking flight from the scene of an accident is a crime in Thailand with a penalty of up to one year in prison but police initially said he surrendered
No one was killed in the crash while several people sustained non-life-threatening injuries including a broken arm.
The law requires drivers involved in an accident in Thailand to remain at the scene and a penalty of up to one year in prison or a fine of between ฿10,000 to ฿20,000 can be applied to anyone failing to do so.
However, there is consideration given to the driver's state of mind in the aftermath of such a traumatic event where he or she may claim momentary loss of reason.
Opted to have tests at Police General Hospital
Initially, it emerged that the Bentley driver would not face a charge in this respect.
The deputy superintendent of an Expressway Police Station told reporters that the driver had presented himself to police and opted to have alcohol and drugs tests done at the Police General Hospital.
The officer told reporters earlier that these test results would not be available until February 1st while the driver was understood, at that point, to be only facing a charge of reckless driving.
The driver of the car, it is being reported, has offered to pay compensation to all those involved in the crash including paying city authorities for a new fire engine.
Officers have also defended initially not pursuing claims made that the driver took flight from the scene of the accident or that a bottle of wine had been found in the Bentley on the basis that he had voluntarily turned himself in to investigating police.
Further reading:
Police charges against top cop's Porsche driving son at the centre of fatal Bangkok car accident
Big Joke reprimanded and deputy national police chief removed on the Prime Minister's orders this week
Master of lies and death, the gold shop killer's life, actions and motives probed by police as wife flees
Lopburi child killer is a primary school director who murdered 3 people this month just for kicks
Big Joke shooting controversy linked to the new ฿2.1 billion biometrics immigration system contract
Police top brass leading a thorough investigation into gun attack on former top cop Big Joke's car
'Big Joke' replaced by 'Big Oud' as Deputy PM says 'case closed' on departure from his previous role
'Big Joke' – Shock as Thailand's best known and most high profile police officer removed abruptly from post
Assistant Attorney General in Red Bull case named as a senior prosecutor to central Bangkok district
Murder charge against 'Boss' Yoravuth should have been weighed after mowing down policeman
Explosive report on the Red Bull scandal exposing 'corruption' due at the Prime Minister's office
Police witness in Red Bull case had talks about witness protection with department at the Ministry of Justice
Prosecutor appears before House committee as Chairman worries for safety of expert witness in the case
Boss Vorayuth criminal case descends into chaos with mounting review panels and extra lines of enquiry
Boss to be charged again with reckless driving causing the death of a policeman after review of the case
Boss Vorayuth case key witness dies riding his motorbike early on Thursday morning in Chiang Mai
Expert stands by evidence that Red Bull Boss Vorayuth's Ferrari was travelling at 177 km/ph
Strong new evidence suggests that there was no basis to prosecute Red Bull driver 'Boss' Vorayuth
Anger at news that Red Bull heir is free to return to Thailand after charge is dropped by Bangkok prosecutor
Prosecutors urge police to track down location of Red Bull heir to allow for extradition proceedings against him
A politically incorrect economic success: Thailand is home to some of the world's richest people
Government moves to clarify that it is not seeking cash from the kingdom's richest business leaders in overture
PM calls in business tycoons to help the country crawl back to economic normality after virus
Challenge of defeating both a health and economic emergency a big ask for Thailand's government in crisis mode
Thailand faces a third shock after the virus if high debt and the informal economy are not prioritised
Richest man in Thailand calls for less time spent at school and a Thai education revolution for a new era
A politically incorrect economic success: Thailand is home to some of the world's richest people
About the Author
Carla Boonkong is a magazine writer who writes extensively about woman's issues in Thailand. One of her key subjects is the story of Thailand's growing influence in the world and the role played by Thai women in the process. She is now a staff writer with Thai Examiner.com in Bangkok. Son Nguyen is an international writer and news commentator specialising in Thai news and current affairs. He commenced working with the Thai Examiner News Desk in May 2018.