We all know it: Paris c'est chic. But hip? That's a trickier sell. If you're looking for the coolest spot in the French capital for a fun-filled city stay, Pigalle should be on your radar. Pigalle has ditched its seedy image of girly bars, sex shops and Moulin Rouge tourists (although all three are still very much at home here) over the last decade, and is now a thriving hub of emerging artists and hip culinary offerings by day and one of the best nights out in the city after dark. Join Paris' BoBo by checking out the best art, hotels, restaurants and bars in Pigalle, Paris…
Read the C&TH Responsible Tourism Guide
STAY
Le Pigalle
Waking up with a hint of a hangover in your feather-soft bed in your Parisian-apartment-style room in Le Pigalle, you can throw open the floor-length windows and feel at once inadequate and relieved. Inadequate because the joggers are out and the young family with the baby-wearing dad are wrapping up breakfast and ready to start their day. But relieved, because at least you aren't part of the motley crew across the street seeking entrance to the last bar standing for just one final drink.
France: Our Travel Guides & Reviews
Le Pigalle, which counts Pablo Picasso and Andrew Breton amongst its former guests, is today a hub of art and coffee-drinking-creatives, nestled neatly on Pigalle's liveliest street with a blink-and-you'll-miss-it understated elegance, meaning you feel like you're part of the city's best kept secret when you're in residence. The hotel has 40 rooms, all decorated in the local Nouvelle Athenes style, and designed to feel like a friend's (very chic) bedroom rather than a cookie-cutter hotel room.
When you finally emerge from your room, take a late petit dejeuner (the best in the city, and served until 4pm) of avocado, cream cheese and oranges on sourdough, smoked salmon and comte cheese and enjoy the best people watching in Paris. The aforementioned club is open until lunchtime at weekends, and the scenes unfolding surpass anything you'll find on Netflix in entertainment value. lepigalle.paris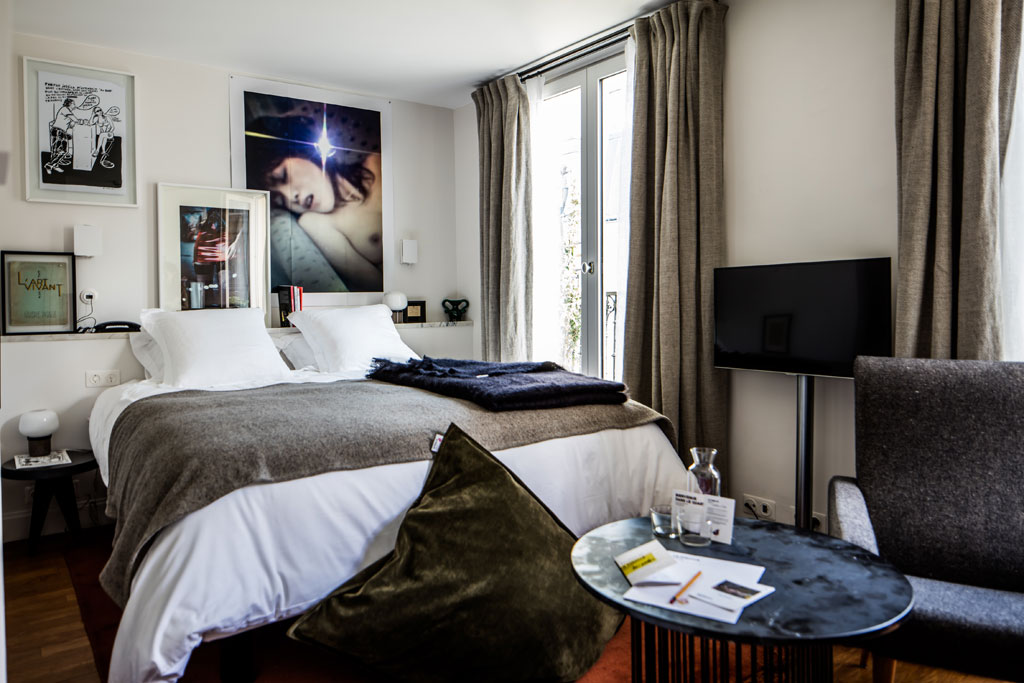 Soho House Paris
The 36 bedrooms at Soho House Paris, located in the heart of Pigalle in a 19th-century apartment building that was once home to the family of Jean Cocteau, are bookable by Soho House Members and Soho Friends. Set across five floors with interiors by Soho House Design, the house boasts an art collection of over 150 works, made up entirely of paintings and curated by Head of Collections Kate Bryan. As well as the rooms set over the top three floors (ranging in size from 'Tiny' to 'Big Boudoir'), the club spaces include several dining and drinking areas set around a Winter Garden, plus a basement Cabaret Room and the Soho Health Club for wellness pursuits. For memberships: sohohouse.com | Soho House Paris, 45-47 Rue La Bruyere 75009 Paris, sohohouse.com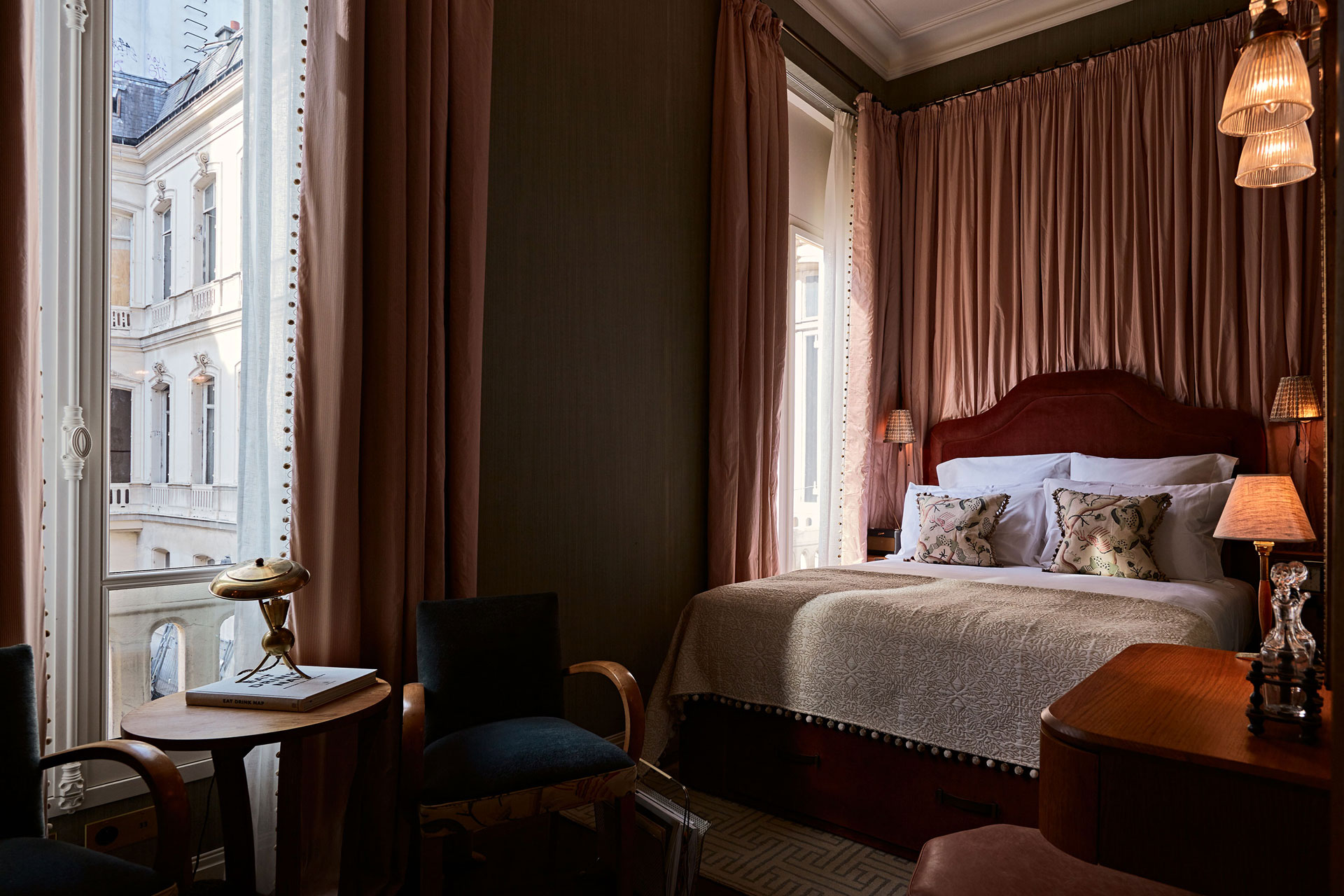 DRINK: Best Bars in Pigalle
All the action takes place on one street, which happens to be the very street Le Pigalle is located on. (And if you can't beat them, join them.) For early evening drinks, take in a glass of wine from the excellent selection available in the hotel, and then switch to cocktails, because you'll find some of the best in the city being mixed on the Rue Frochot.
Dirty Dick
Internationally renowned and for more than its unusual moniker (which has remained the same since the former mafia-owned girly bar opened in the 30s), Dirty Dick is an unlikely tiki haven in the middle of the city, where the mixologists are amongst the best in Paris. Hours of prep go into the ingredients, with six homemade juices and over a dozen syrups made in house, which really pays off in the taste. Don't be intimidated by the menu; just name your favourite liquor and allow the staff (who serve up their tiki punches with a side helping of playful rock attitude) to present your perfect drink. This is where locals and visitors alike go to escape Paris for the night, for more tropical climes. facebook.com/dirtydickparis
Lulu White Drinking Club
A chic, understated entrance paying homage to one of the mothers of the prohibition era, this classy joint serves up excellent cocktails with space to sit and enough light to see the person you're drinking with (a bonus in Pigalle). luluwhite.bar
Lipstick
Open until 5am and serving up well-mixed drinks, a welcoming atmosphere and some old-school tunes, this red-velvet bedecked bar gets more popular later in the evening, as the swirling mix of revellers start to enter from the crowds hedging their bets on the sidewalk outside. facebook.com/Lipstickbar/
EAT: Best Restaurants in Pigalle
Luz Verde
If Mexican is your jam, there is choice in Pigalle. But the obvious one is Luz Verde, where a bowl of guacamole alone is worth the wait. Add a few plates of tacos and a refreshing ceviche platter into the mix and you've got one of the best meals in the city. Take a shot of Mezcal with the bar staff before departing. It's the Pigalle way. luzverde.fr
Le Pantruche
If it's classic French bistro you seek, head to Le Pantruche for an affordable sampling of the area's offerings. Oyster tartare and creamy lettuce soup are worthy house favourites, and the elegant, old-school interiors are a welcome break from the trendy modernism you'll find throughout much of the district. restaurant-lepantruche.com
Pink Mamma
If Italian's your thing, book ahead or be prepared to queue for a table in Pigalle's Big Momma offering. You'll know you're in the right place from the gorgeous salmon pink tiles adorning the outside of the restaurant, and once inside you'll find four levels of chic drinking and eating spaces, topped off with a light and airy botanical rooftop serving up some of the best pizza and pasta in Pigalle. Opt for the burrata (always) to start, followed by the octopus or one of the doughy seafood pizzas if you've got plenty of space. If you want a nightcap, head underground to the basement (don't be put off by the 'no entry' sign keeping riff-raff at bay) for another superior cocktail spot. bigmammagroup.com
Best Restaurants & Bars in Paris
ART: Best Museums in Pigalle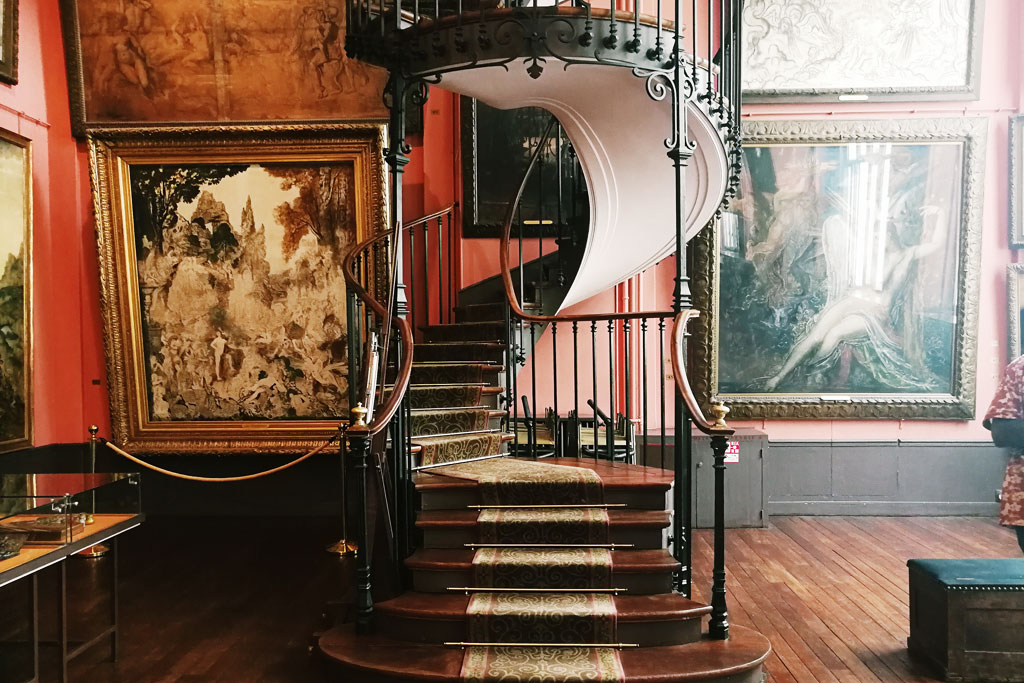 Just when you thought Pigalle was all about over-indulgence, it delivers a weighty slice of culture to keep your weekend in balance. Neighbouring Montmartre may have the edge when it comes to art history, with Picasso, Van Gogh and Matisse all associated with Paris' hilltop village, but the crowds of tourists now somewhat dampen the area's creative appeal. Instead, the city's BoBo (bourgeois bohemian) set has migrated south to Pigalle. For the art enthusiast, there is something for everyone from classical brilliance at the small but beautiful Gustave Moreau Museum to contemporary pop-ups featuring the city's artists du jour at Le Pigalle. The hotel is currently housing the 'Can't Be Deleted' exhibition in partnership with London's Woodbury House with work from Eve de Haan and Tom Webb lighting up the hotel's communal areas.
But to discover the artistes de demain, speak to your waiter, the hotel staff, your bartender or the people having breakfast at the table next to you, who may be working through the night to fund their daytime pursuits in one of the area's art communes, where wages are spent on easels, brushes and supplies and invite-only exhibitions show off their latest creations. It is here, rather than in the artisan bakeries and boujee cocktail bars that you'll discover the real heart of Pigalle.