Bettina Campolucci Bordi returns to La Donaira, a place she dreams of when caught in life's everyday hustle and bustle, and the ultimate retreat in the Andalucian hills.
Read the C&TH Responsible Tourism Guide
The last time I visited La Donaira was seven years ago. They had recently opened their doors to the public, and we had just heard rumours of this amazing slice of heaven in the Andalucian hills. I have spent years running Wellness Retreats in the area, and can vouch that it steals a part of your heart.
The most magical part is the arrival. If you are driving, you'll be told to park in the nearest white washed village, and instructed to visit one of the tapas bars, where you'll be welcomed in with a delicious glass of red wine and some tapas while waiting to be picked up. One of the Fincas hosts arrives to pick you up and take you to La Donaira, where you'll be whisked away for the next 48 hours.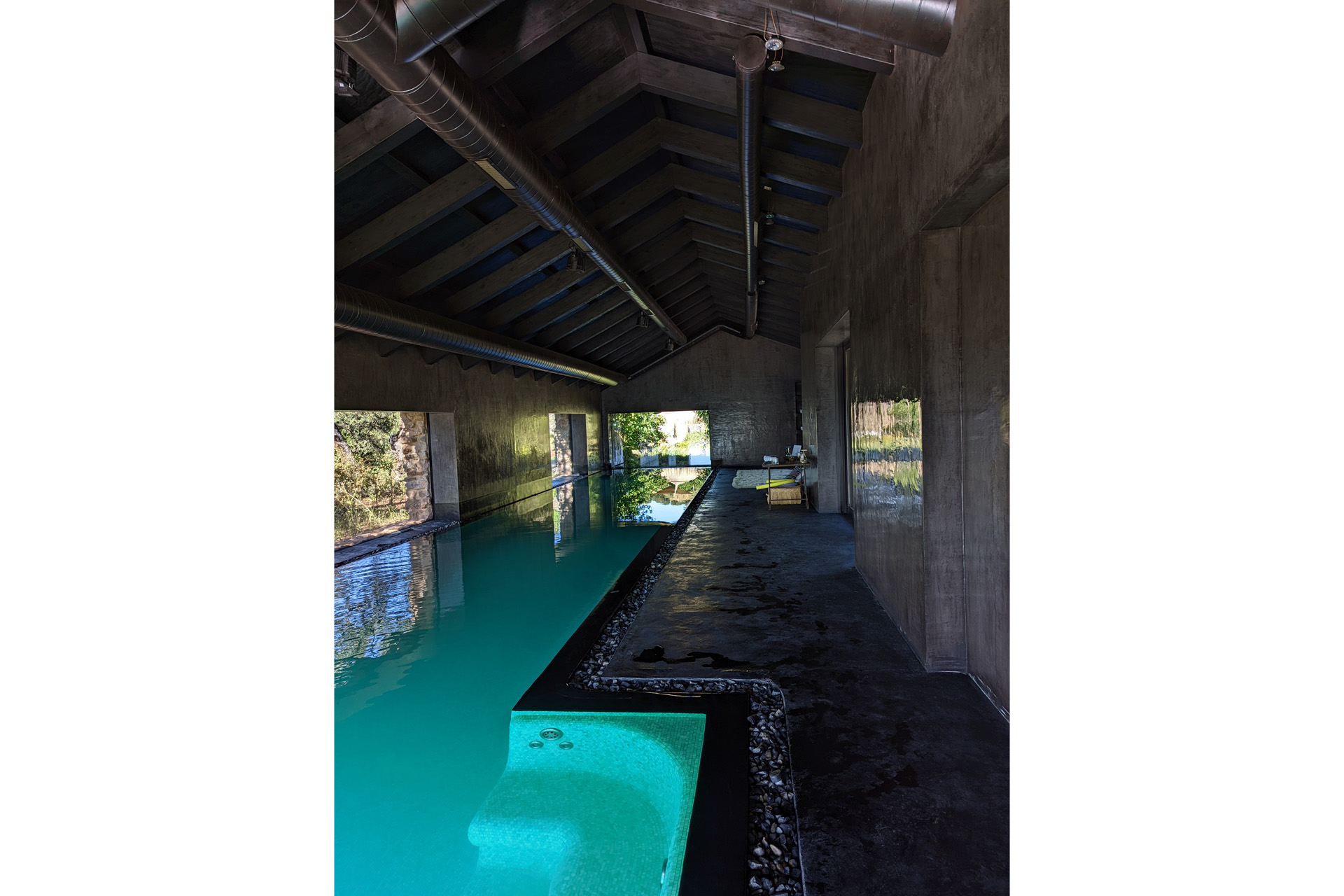 When I think of somewhere you can truly relax in the most stunning surroundings – really let go of the chaos, hustle and bustle of everyday life, I think of La Donaira. I was excited to be back. This beautiful eco-farm between Rhonda and Seville is set on 1,700 acres, nestled in the middle of the Andalucian countryside, atop a hill with 360 degree views you will never tire of. There are nine rooms, each with its own individually rustic yet stylish decor, where you feel completely at home. 
Originally a home, La Donaira opened its doors to share the owners' philosophy of true biodiverse farming. It takes years to perfect: huge amounts of land must be regenerated, with many layers and bits that need to be timed and need to fit well. The last time we were here, head gardener Gigi was in full swing, creating the medicinal garden that houses a huge amount of herbs, flowers and a large variety of plants. As someone who loves plants, this is a slice of paradise. The Finca also grows most of the veggies and fruits that are prepared in the kitchen.
Whether you choose to fully chill out or get active, there are a whole host of activities to enjoy and events to attend at this luxurious southern Spanish retreat. For example, there is yoga, hiking, horse riding, cycling, swimming in their natural spring pool, as well as wine tasting, music festivals and wellness weekends. Or you might want to try bee bed meditation.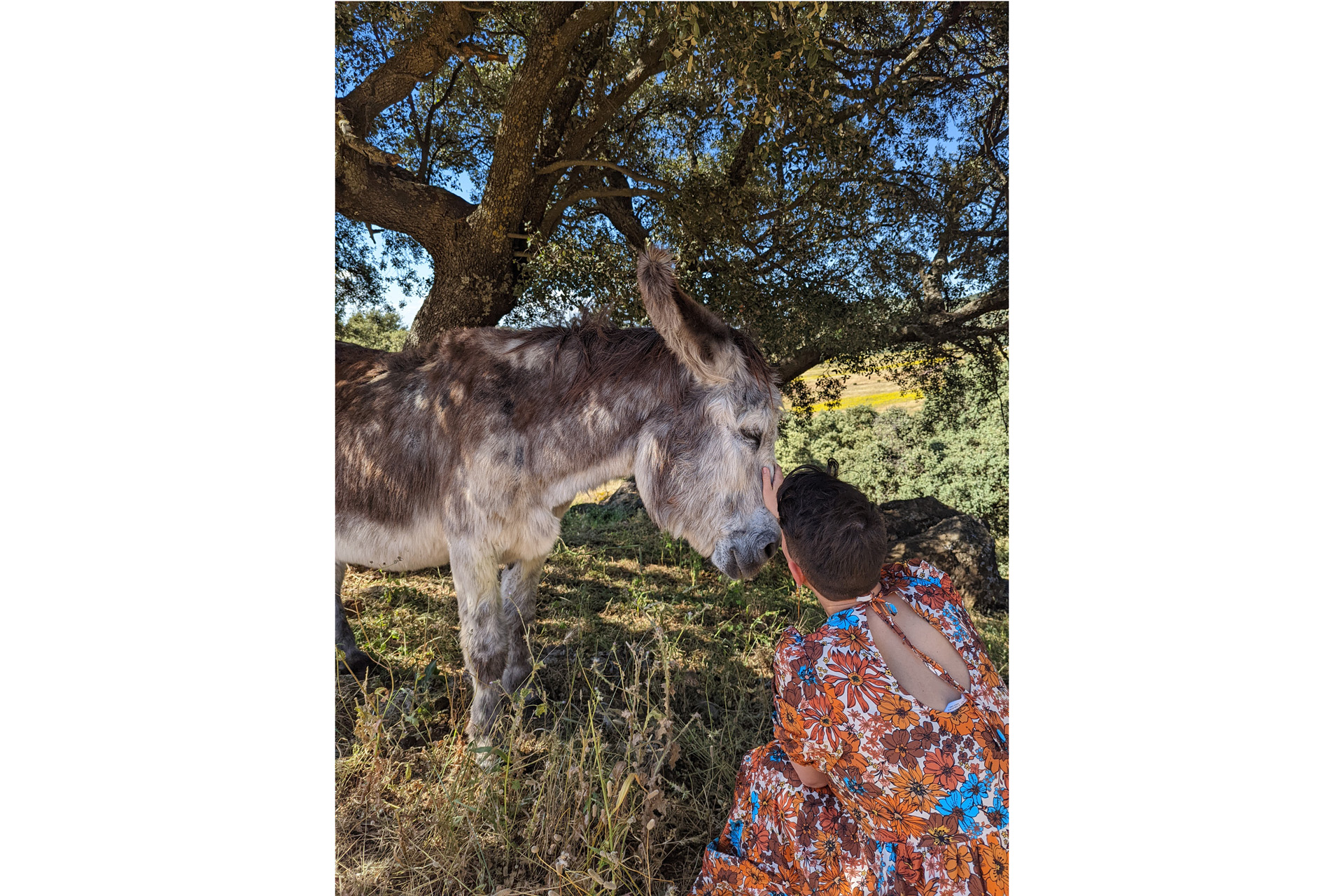 One of my favourite activities was forest bathing with donkeys that have been saved from a hard life. There is an incredible programme where they create therapeutic sessions with the donkeys. Another highlight was walking into the herd of horses that the Finca houses. They are cuddly and absolutely gorgeous, looked after by the magical Irish Horse whisperer. 
La Donaira is also an equestrian centre where beautiful Lusitano horses are bred. You can spend quality time among the 90 horses that roam the land and, whether you are a beginner or an expert, I'd highly recommend going out for a ride though the glorious countryside.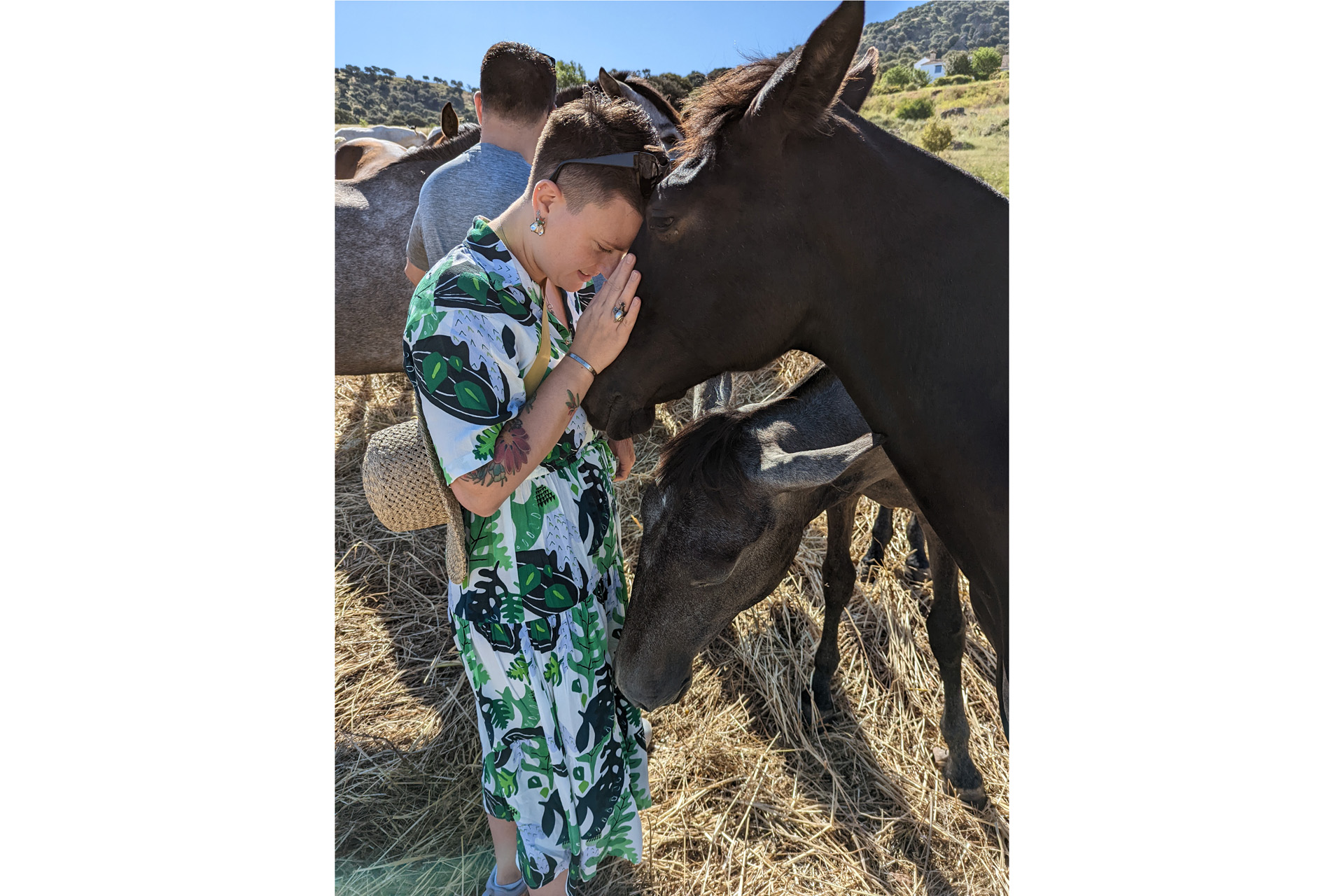 We also spent every morning visiting the spa facilities – you receive a spa kit on arrival, and can privately go through the motions of treating yourself to some self love. You will also have the opportunity to immerse yourself in the rejuvenating spa with its unique treatments. You will never forget this experience. All the spa products are made from locally sourced ingredients and, whether you indulge in a massage or one of their beauty treatments, bathe in the relaxing infinity pool, or spend time in the hammam or wood fired sauna followed by a dip in the icy plunge pool, there really is something for everyone here.
Most of the amazing food that you will eat is prepared from the incredible organic vegetable and medicinal garden in the grounds, which you can take a tour of to learn more about how it all works. A farm to fork concept, practically everything is made in house, and what isn't is sourced from local suppliers. Fresh eggs are collected daily, and you'll savour homemade bread and cheese. La Donaira harvests its own honey, and even the organic and biodynamic wines are a hit.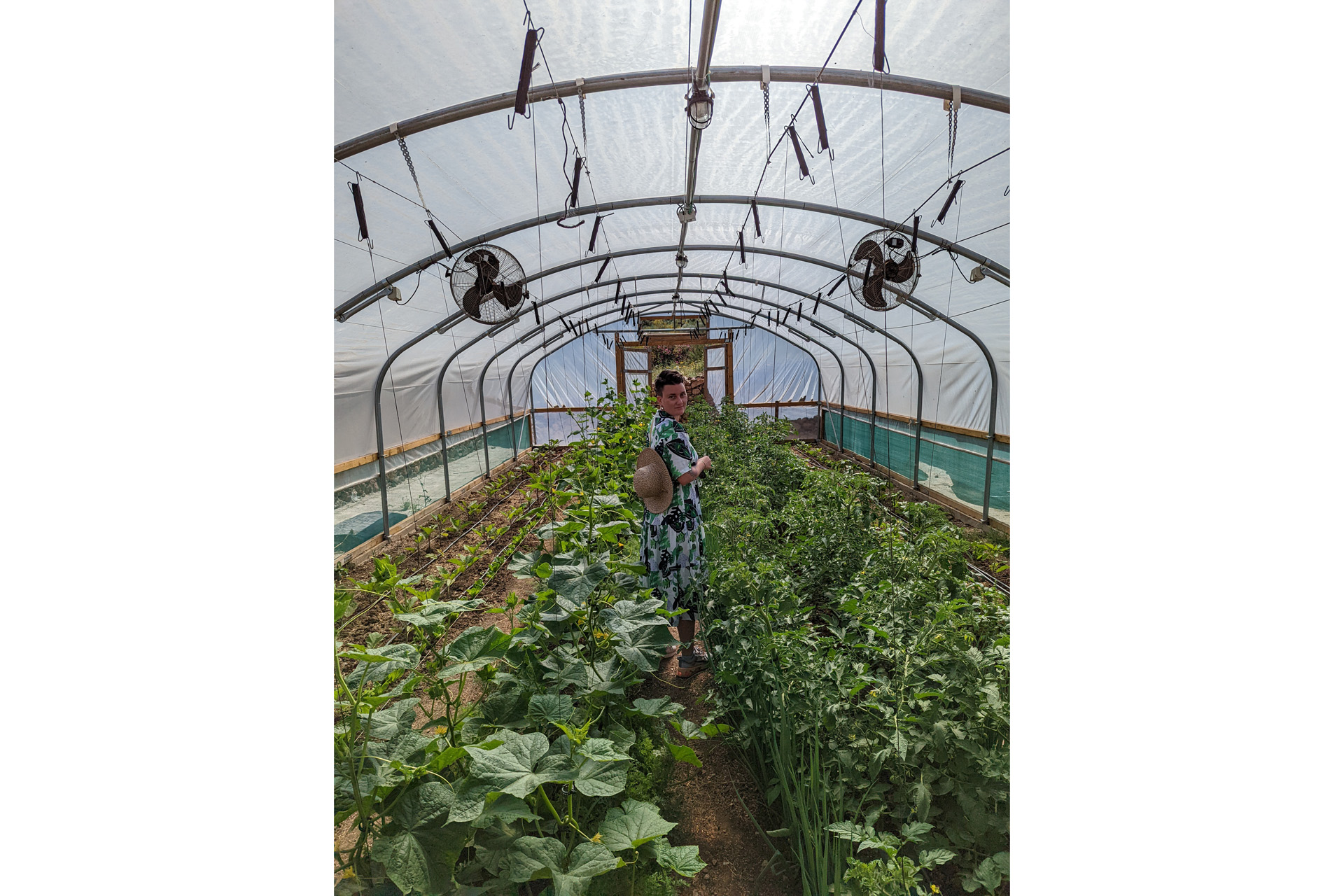 We also experienced an incredible wine tasting while at  La Donaira. The Finca is in the process of producing its own biodynamic wines, and have had a few successful yields. Every meal is paired with the perfect wine chosen by the Finca's in house sommelier, who nails it every time. It will be exciting to see where the wine journey goes in a few years time.
We were lucky enough to stay in the Glass Suite, a unique, yurt-like accommodation with a luxurious four poster bed and a huge wooden bath to sink into while enjoying the stunning views from the floor to ceiling windows. You'll want to come back here at least nine times to try each of the uniquely designed rooms – they all offer something different.
I think the magic of La Donaira is being whisked off to a home; everyone who works at La Donaira is truly special, and there to make you feel as at home as you could possibly be. With all food and drinks included, you do not have to worry about a thing from the minute you step into this paradise – you can truly focus on switching off. I will be back here for sure, as it is still one of my favourite places on earth.
BOOK IT: ladonaira.com