Over the last six weeks, Mr Chuwit's anti-corruption crusade has moved on to politics and his attacks on the Bhumjaithai Party which he has labelled the 'Mad Marijuana Party' have led to fears that his campaign has become divisive. He is reported to have been very disturbed by the attempt to discredit him and his campaign by whoever was behind the cash payment made at his hotel in Sukhumvit by two as yet unidentified men.

 
Top lawyer Sittha Biabangkerd reported to the Central Investigation Bureau (CIB) in Bangkok on Thursday after, earlier this week, Mr Chuwit Kamolvisit met the police division chief Police Lieutenant General Jiraphat Phuridet and offered to turn over ฿6 million purportedly paid to him in early February in an attempted bribe for his silence. The money, in cash, was contained in two paper bags delivered to his hotel in the Sukhumvit area of the city. Mr Chuwit subsequently, within days, donated the money to two Bangkok hospitals who later returned it after Mr Sittha gave a press conference exposing the cash payments. Mr Chuwit, who claims the attempted bribe was an effort to discredit him and his whistleblowing activism, has now tasked the police with tracing the source and origins of the money.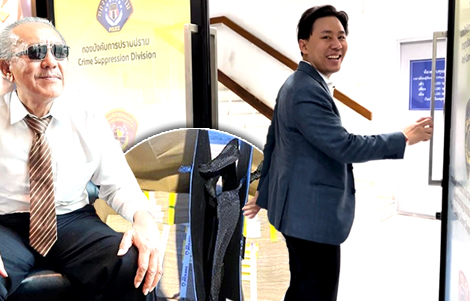 A Thai lawyer who held a press conference last week to expose the payment of ฿6 million to whistleblower and activist Chuwit Kamolvisit, on Thursday, reported to the Crime Suppression Division (CSD) after Mr Chuwit responded with his own manoeuvre in recent days by volunteering to turn over the ฿6 million through his own lawyer, Mr Ananchai Chaiyadej, to senior police authorities led by Police Lieutenant General Jiraphat Phuridet so that the source of the monies can be investigated.
Mr Chuwit, it is understood, believes that the money was offered to him by sources trying to undermine his campaign of anti-corruption activism.
Chuwit admitted to quickly having received the bags of cash but revealed that the money had been donated to two Bangkok hospitals within days by him
When details of the payment were revealed by well-known Thai lawyer and human rights campaigner Mr Sittha Biabangkerd last week, Mr Chuwit Kamolvisit promptly countered that the monies in question, delivered to his hotel by two as yet unidentified men who are believed to have links with the police and law enforcement, had been immediately donated by him to two well known and loved Bangkok institutions, Siriraj and Thammasat University hospitals.
The monies were paid over to Siriraj Hospital on Valentine's Day and the day after to Thammasat University Hospital on February 15th last.
Last Friday, the Dean of the Mahidol University's Faculty of Medicine at Siriraj Hospital, Professor Apichat Asavamongkolkul confirmed that the monies had been returned to Mr Chuwit and that when he presented the hospital with a cheque, he was issued with a receipt for legal and financial administration purposes in accordance with the law.
'Later I learned that the money may have been linked to an illegal business. The Faculty of Medicine at Siriraj Hospital has not been idle about this. We will return the money to Chuwit as soon as possible,' Professor Apichat explained just after news of the cash payments emerged.
Whistleblower responded this week by saying he would hand over the attempted bribe to the Central Investigation Bureau (CIB) to trace its origins
On the same day, Mr Chuwit responded by telling his social media followers that he would present the money to the police to have its origins investigated.
He had earlier openly admitted that he believed the money was paid to him ostensibly by a senior police officer who is under investigation because of his links to illegal gambling sites but that this had not influenced him and he had promptly donated the money to a good cause, suspecting, all along, a hidden motive.
On Tuesday, the former massage parlour tycoon and politician met with top police officer Police Lieutenant General Jiraphat and gave testimony concerning the affair explaining that he sincerely did not accept the money as a bribe for his silence and requested that the Central Investigation Bureau (CIB) seize the funds now returned to him and pursue the origin of the payment.
Well-dressed emissaries with bags of cash critical to the next phase in this emerging controversy shining a light on the dark world of Thai corruption
At his press conference last week, Mr Sittha Biabangkerd showed a blurred image of two well-dressed men presenting two bags each containing ฿3 million in cash to an associate of Mr Chuwit at the Davis Hotel in the upmarket Sukhumvit area of Bangkok which the tycoon owns and which has hosted his memorable press conferences over the past 6 months which have rocked the establishment in Thailand, seen thousands of Chinese gang members under investigation or take flight while smashing a huge Chinese triad network which has built up in the kingdom over the last decade.
In recent weeks, Mr Chuwit has opened fire on political targets including the Bhumjaithai Party and its highly controversial cannabis legalisation campaign vowing to oppose it in the coming election and labelling it as the 'Mad Marijuana Party' tapping into a strong grassroots feeling in the country that is opposed to the legalisation of the drug.
Chuwit has come under fire for his attacks on cannabis legalisation and the Bhumjaithai Party or as he puts it, the 'Mad Marijuana Party'
Chuwit has called for the General Election to be used by the public as a referendum on the cannabis issue and its widespread legalisation in June last year ushered in by Deputy Prime Minister and Minister of Public Health, Anutin Charnvirakul.
At the same time, there is a strong and vocal support base for the legalisation of the drug not least among western expats living in Thailand and this has led to Mr Chuwit latest campaign being criticised by observers who have warned that he risks alienating a key cohort of public opinion that had supported his anti-corruption crusade.
In the shorter term, this week's controversy over the ฿6 million donation has led to the waters being muddied in respect of Mr Chuwit's activist efforts with his detractors accusing him of using his special information to extort money while the activist has told his followers that his actions on receipt of the cash show that he did not gain personally from it.
Chuwit prayed at a local temple seeking inspiration after being disturbed by the campaign against him
He has admitted to being disturbed by the revelations which led him this week to seek inspiration by praying at a local temple.
After revealing that he had donated the cash received to the two hospitals, the tycoon was subsequently accused of benefiting from an alleged ฿50 million cryptocurrency transfer through his son, a claim the activist has violently denounced as untrue.
This led Mr Chuwit to strike back this week through his lawyer, another highly respected whistleblower and anti-corruption campaigner whose exposé last year into police collusion with criminals in the South, in Narathiwat, led to the removal of the police chief in the province, Mr Ananchai Chaiyadej.
The lawyer-activist, on behalf of Mr Chuwit, commenced legal proceedings against Mr Sittha Biabangkerd or 'Lawyer Tam' as he is known, seeking ฿100 million in damages.
Mr Ananchai made a range of claims in a press conference this week detailing the lawsuit and suggested that third parties were behind the actions of Mr Sittha.
He said these people, who had hired the services of Mr Sittha, sought nothing, more or less, than to undermine, discredit and damage Mr Chuwit.
Whistleblower met with Lieutenant General Jiraphat Phuridet of the Central Investigation Bureau (CIB) on Tuesday and set the investigation in motion
A meeting between Mr Chuwit and Police Lieutenant General Jiraphat of the Central Investigation Bureau (CIB), on Tuesday, March 28th 2023, has led the senior police officer to appoint a lead investigator into the case who will begin work immediately.
Following this, the lawyer, Mr Sittha, who has no connection with the bribe except for information he may be a party to, reported on Thursday at 5 pm to provide information to police as a witness in an unpublicised visit to the Central Investigation Bureau (CIB) reporting centre on the Phaholyothin Road in the Chatuchak area of Bangkok.
The high-profile lawyer was in the building for two and half hours and it is understood he gave a full statement to police to assist them with their inquiries into the controversy over the cash payment to Mr Chuwit.
It is understood that, on Friday, Mr Chuwit himself will return to the Central Investigation Bureau (CIB) to bring ฿6 million in cash destined to be handed over to police authorities and seized.
Further reading:
Top Royal Thai Police officers under scrutiny over links to huge illegal online gambling cash flows
General Election turns into a referendum on Pot as Chuwit calls on the public to kick out Bhumjaithai
Cannabis revolution targeted as MPs and public confront the Bhumjaithai Party's populist gambit on pot
Emergency Room admissions for cannabis up 566% as parties call for it to again be criminalised
Drugs to be an election issue as Anutin digs in insisting that attitudes must change on cannabis
Recreational cannabis use can be legalised under the current law being passed through parliament