The sudden death of the young teenager pursuing his dream of learning to play football in the United Kingdom came as a huge shock after February 14th last following an incident two days earlier at his exclusive boarding school where he was a student since late last year in Leicestershire. An inquest process began before the Coroner Court days later which should, in the months ahead, provide a fuller explanation of the circumstances surrounding the tragic loss of Duangphet Phromthep.
Even after the ashes of Wild Boar football player Dom were returned on Saturday to Thailand, inquiries are ongoing in the United Kingdom into his demise although a provisional cause of death has been furnished to the Leicester City and South Leicester Coroners court which, at the end of February, set a pre-inquest review hearing in the case for July 6th without revealing the provisional findings.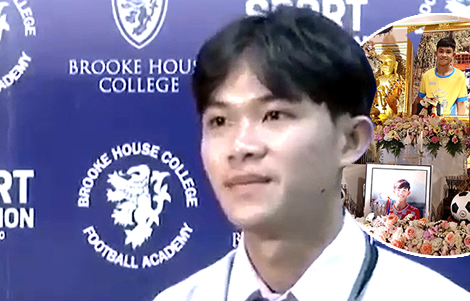 The ashes of beloved Wild Boar football team member Duangphet Phromthep or 'Dom' were returned to Thailand on a Thai Airways flight which landed at Suvarnabhumi Airport on Saturday at 6.30 am.
Former Thai national soccer team player Kiatisuk Senamuang also known as 'Zico' carried the package leading to an emotional reunion with Dom's mother Thanaporn Phromthep at the arrivals hall of the airport.
Mother, relatives and friends at Suvarnabhumi Airport to welcome Dom's remains early on Saturday, off a Thai Airways flight, in a tearful reunion
She was accompanied by relatives and friends of the 17-year-old young player who was a key star of the team dramatically rescued from Tham Luang cave in Chiang Rai in 2018 before the eyes of the world, a story which remains legendary in Thailand and throughout the globe.
The death of the teenager has left many people in Thailand and around the world shocked by the tragedy and seeking a fuller account of his death.
Just months before the terrible news from Leicester last month, in August 2022, Dom had been walking on air when he was granted a scholarship to study and learn football at an exclusive UK school. 
Dom had previously been studying in Thailand at the Vachiralai Bee School in Chiang Mai, a renowned secondary-level institution.
During the rescue in 2018, he was, reportedly, the first of the football team members to yell out to rescuers when they broke through initially to reach the trapped players and their coach.
Sincere young man followed his dream
After accepting the scholarship which saw him feted at the UK Embassy in Bangkok, Duangphet thanked Kiatisuk Senamuang or Zico for his good fortune.
'I would like to thank Coach Zico for this. I promise to work hard and do my best,' the sincere young man promised and similarly promised his father later in 2022 while in the United Kingdom.
When asked on Saturday about the nature and cause of her son's death, Ms Thanaporn told reporters simply that it was as reported in the media.
Coroners Court hearing days after the death saw an inquest review hearing date set for July 6th. Coroner did not divulge the provisional cause of death
In the UK, the sudden death of the young Thai footballer is still before an inquest in Leicestershire where Professor Catherine Mason, the senior coroner of Leicester City and South Leicester, recently told a preliminary hearing into the matter that a cause of death for Duangphet, who died at Kettering General Hospital on Tuesday, February 14th following an incident at Brooke House College in Market Harborough on Sunday, February 12th, has already been identified.
Leicestershire Police had earlier told the press that while a file on the death of the teenager had been sent to the coroner, the death was not suspicious.
'A cause of death has been provided. The cause of death is provisional until the formal hearing,' Professor Mason told the expedited hearing just days after his death was confirmed. 'Investigations and inquiries are continuing and I'm not in a position to proceed.'
Inquests into Dom's death could take a day or two depending on witnesses called or evidence presented
The corners set a date of July 6th for a pre-inquest review hearing where it is usual for the coroners court to decide on what evidence and witnesses may be called or required for the formal inquest itself which will be scheduled for later.
An inquest before a UK Coroner's Court can take a day or possibly two.
At the conclusion of proceedings or maybe some time later, the coroner reaches a verdict on the cause of death or circumstances surrounding it.
At the end of the opening hearing in February, the coroner declined, at that point, to reveal the provisional cause of death. 
Further reading:
Tragic death of Wild Boar captain in UK to be reviewed by coroner's court. Severe head injury reported
Elon Musk in court bid to have the case against him filed by UK man Vern Unsworth thrown out
Vern Unsworth sues Elon Musk in Los Angeles court while UK proceedings are also pending and being prepared
Wild Boar soccer team become millionaires after signing deal with Netflix for Tham Luang story
Tham Luang cave was the place where the miracle happened. Now it is going to become a tourist attraction
News that the Thai boys were alive started a world media news quake
About the Author
James Morris is a pename for an international writer based in Bangkok who works on various international news media. He is a sub editor with the Thai Examiner news website since it began in 2015. Son Nguyen is an international writer and news commentator specialising in Thai news and current affairs. He commenced working with the Thai Examiner News Desk in May 2018.