High up on the steep mountains above a sandy bay the Socalco Nature Hotel in Calheta is a unique and alluring place, that unfurls down the hillside. This boutique hotel combines back-to-nature relaxation, rural tourism, fine dining, a cookery school and even farming in a space that mixes modern architecture and design with centuries-old tradition.

Who for
Socalco Nature Hotel is a boutique hotel for either enjoying the peace and quiet with nothing to do but relaxing in the sun, or for getting involved with nature and joining in with cookery classes, gastronomic tours, hiking, helping out in the surrounding vineyard, taking on-farm tasks, preparing jams or making bread. All in verdant surroundings and in unique designer rooms. 
Accommodation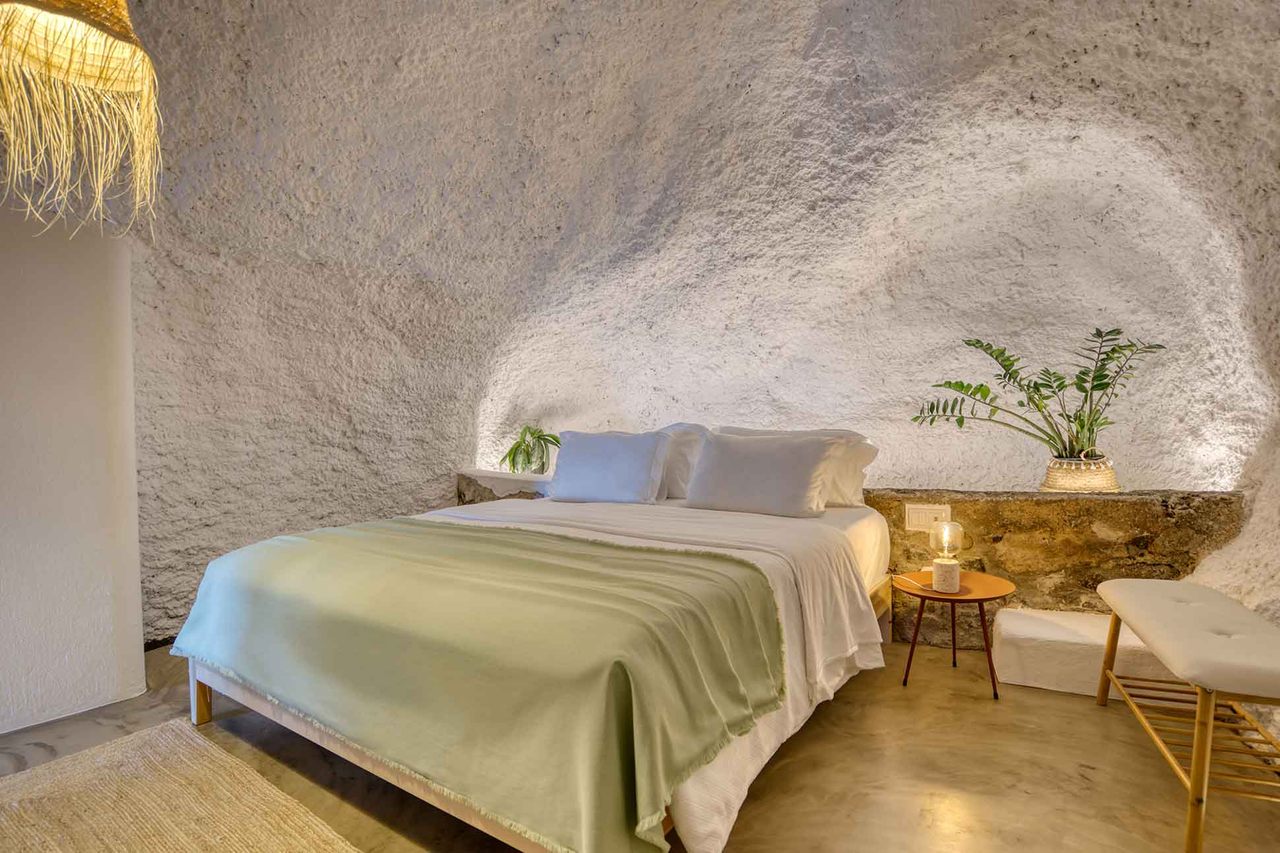 Socalco Nature Hotel comprises eight charming 'houses' and ten rooms scattered up and down and follow the contours of the surrounding hills and land with some actually organically embedded into the rocks.
Others are built tracking the angles of the old limestone paths that wind through the vineyards around the site. Old farm buildings have been remodelled and the 'Motherhouse', the original traditional farmhouse, has two unique suites on the top floor.
The design is minimal and Scandiwegian throughout and ever so stylish, with natural woods and antique items.
Food & Drink
The hotel finds most of its vegetables from its own gardens and what it can't grow itself, it sources from around the local area.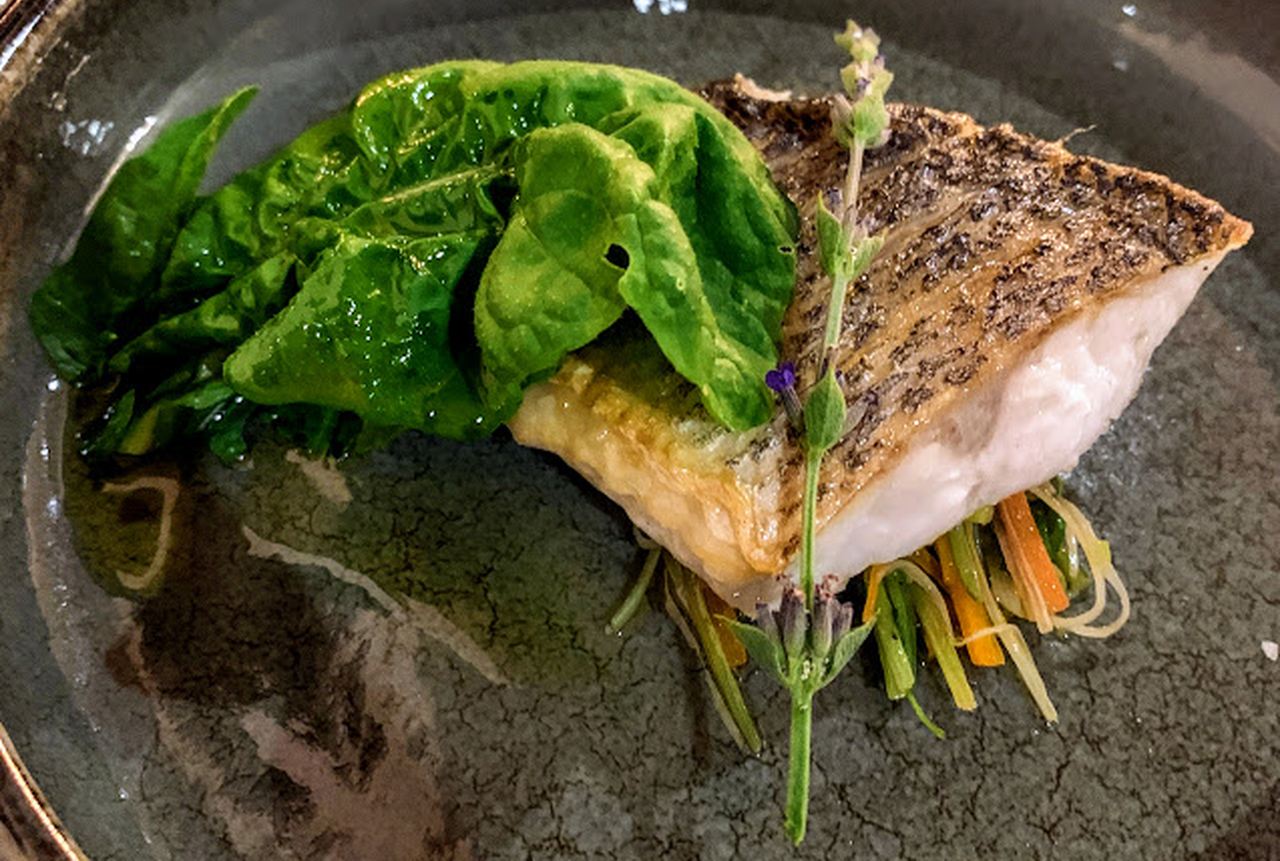 The airy dining room A Razão is as elegantly designed as the Madeiran food served in it. We enjoyed a Pumpkin Cream with ginger and glacé chestnut, a vegetable gremolata with ocean fresh sea bass, followed by Iberian Porc "Secretos"* with sweet potato and lime cream and Madeira wine sauce, before ending with a glorious dessert of Homemade Pitanga (Surinam cherry) ice cream with dark chocolate brownie.
At breakfast, we had the difficult choice between super fresh and healthy granolas and fruit, or the more naughty cooked choices such as eggs and mushrooms. So, obviously, we had both.
Facilities
All the 'houses' and rooms have air conditioning, fast internet and USB charging ports, as well as tvs with all the apps. We liked the added feature of a two-ring hob and kettle in a small kitchenette for anyone that fancies making their own supper or breakfast.
Sunbeds are scattered around the grounds and a petite pool offers the chance to cool down with a great view. An 'Honesty Bar' is always open and you pay for the drinks and snacks when you check out. Outdoor wellness massages are also available.
How much?
Rooms from 87 euros per night. CHECK AVAILABILITY
What's nearby?
Calheta Bay is directly below and anyone who loves the outdoors will love being based at the hotel. Several hiking trails that follow the ancient Levadas (aqueducts) will take you out into cool forests and toward remarkable head-spinning views. The young team at the hotel gave us plenty of suggestions of all kinds from deep sea diving and whale watching to geocaching excursions, bird watching, jeep safaris and even local paragliding. On the hill above you'll find the ultra-modern Museum of Contemporary Art.
---
Verdict:
This unique designer hotel is not for anyone with mobility problems, but for outdoorsy types who want a holiday that doesn't revolve around a swimming pool, it's perfect. There's a charming sense of community about the hotel, with every guest able to mingle or quietly stay apart according to their daily desires. With so many choices of things to do each day, you'll never get bored and you'll always return to your room totally refreshed and reconnected.
You might also like: