Never have I ever cried when checking out of a hotel. *Drinks tequila*. Ethereal by name and nature, Etéreo, from Auberge Resorts Collection, is a blissful oasis suspended above a protected mangrove forest. You'll never want to leave this Riviera Maya gem, says Eva Ramirez.
It's 3pm and I'm a little dazed from a 10-hour flight, slowly acclimatising to the 75 percent humidity here in Riviera Maya. While my body seems to be cooperating, my hair isn't. My partner and I are being ceremoniously welcomed to Etéreo by a local shaman. He's performing a traditional copal cleanse, wafting scented smoke around us with a feather, which also blows frizzy strays from my face. We're instructed to let go of whatever metaphorical baggage we've hauled along with us and set an intention for our stay. A conch shell trumpets and we're introduced to our guía (personal host). Eddie, reading the fatigue on my face, whisks us to our suite and does a swift but thorough run-down of the amenities before asking if we'd like to join a tequila tasting that's taking place in two hours. Of course we would. We swap numbers (Whatsapp is how you communicate with your host, it's 24/7 and very convenient) and he gives us a wooden beaded bracelet each which serve as room keys. It's been less than 30 minutes and I'm already blown away by the level of thought that has gone into every aspect of the check-in process. I wonder what other intricacies I'll notice throughout my stay…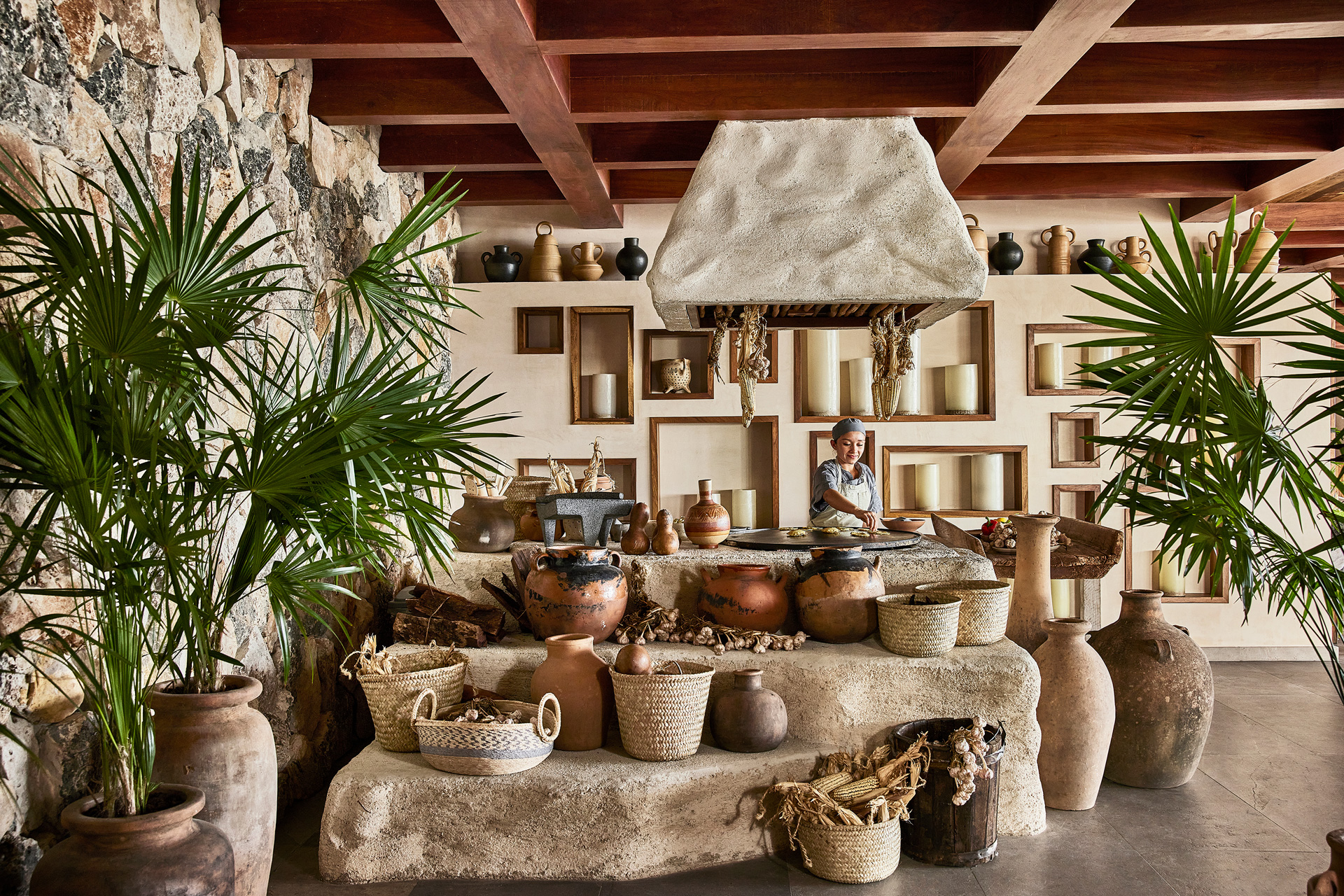 STAY
Five-star Etéreo is located in the new Kanai development along a pristine stretch of the Caribbean Sea. It's only a 40-minute drive from Cancun airport, but feels as though you've been transported to another world. Set on a 1,235-acre patch of jungle and lush mangrove forest, developers intentionally only built on nine percent of the land. The rest is pure, unbridled nature. 
There are 75 ocean-front rooms that range from Studios to three-bedroom Penthouse Suites, all with outdoor space. The studio suite we called home (or casa) radiated with sunshine that flooded in from both sides. It was grounding and homely, furnished with natural materials: intricately carved indigenous tzalam wood, woven cushions made from textiles by local artisans, creamy-coloured stone tiles, and speckled linens. By the freestanding bathtub I spotted linen bags filled with soaking salts, homegrown herbs and palo santo; a sweet, subtle nod to the local culture and a reminder to take a little time out for some self-care. Sliding back the floor-to-ceiling doors revealed our balcony terrace which peered over the mangrove and had a hot tub, loungers, and informal seating area – all perfect for taking in the heavenly views.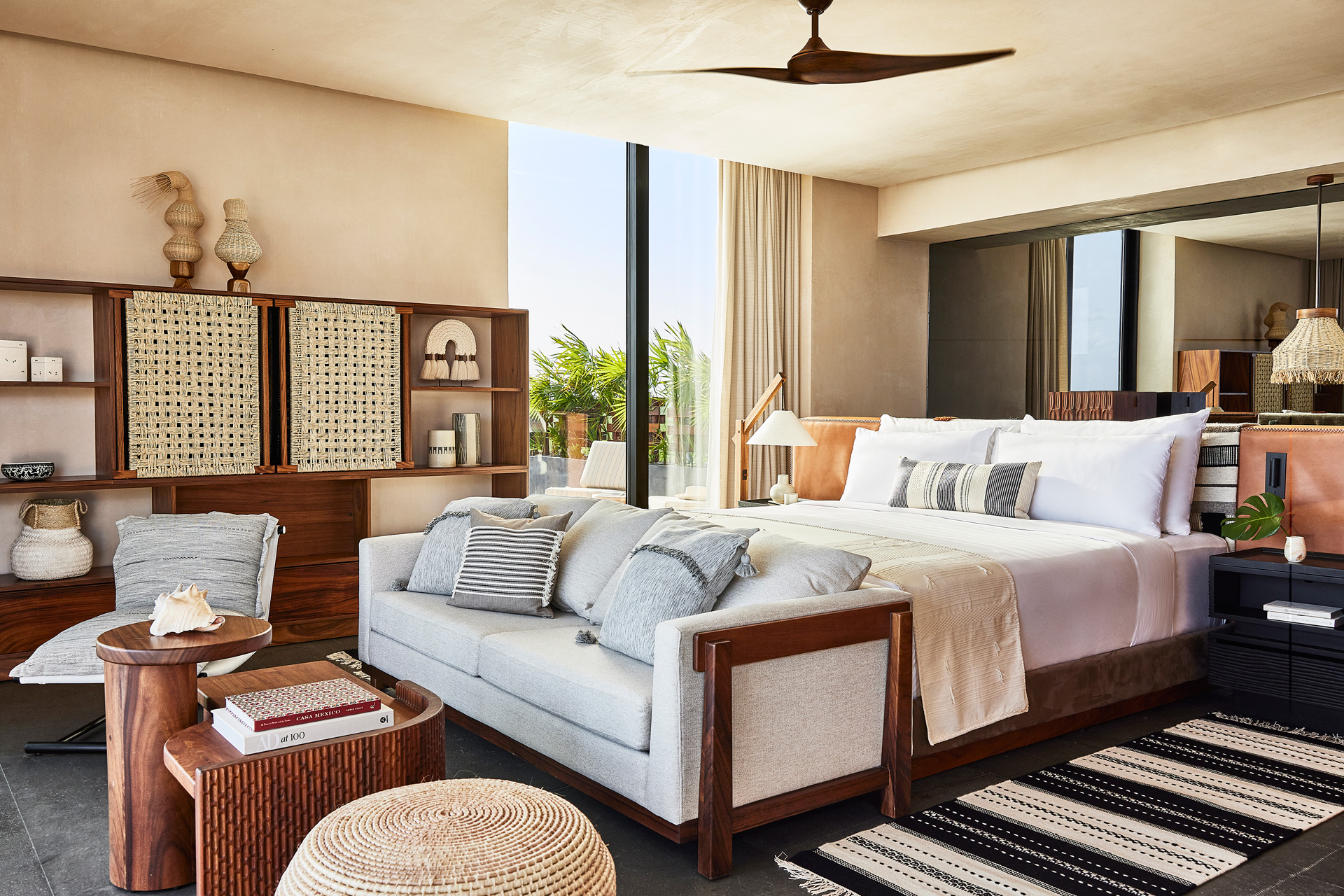 DO
It's easier to be present and less stressed while you're on holiday, but the experience here – from the surroundings to the activities – seem intentionally crafted to detach you from the constraints or worries of everyday life. Hammocks dotted about the grounds called for pause and shady afternoon chats, and nets that suspended above the mangrove encouraged you to lie down and gaze at the stars. We felt softly guided towards a change in pace and a peaceful sense of balance. Etéreo had a retreat feel without the constrictions of a scripted regime. We delved into the wellbeing experiences – of which there are many. Sound healing and ashtanga yoga were our favourites, but there were also guided meditations, chromatic breathing and reiki circles on offer. Hotel gyms can often feel superfluous, but this one actually got used, and not just by us. 
On-site experiences were plentiful. Fireside blessings, archeological talks, and equinox ceremonies gave insight into Mayan culture and nature walks and photography classes allowed us to explore every corner of the grounds. Down at the private beach, morning paddleboarding sessions headed out to spot rays, and scuba and snorkel expeditions could take you out to the region's largest reef which is just 250ft away. It was quick and easy to book in for activities by Whatsapping Eddie, who was always efficient and happy to suggest other things he thought we might enjoy. 
The tequila tasting he'd signed us up for on the first evening turned out to be a full-blown pairing dinner. We started with crispy pork belly oysters and semi-sweet tequila blanco, and ended with a delicious Yucatecan coconut and lime creme brulee grounded by the woody, aged taste of tequila añejo. The dinner gave us the chance to chat to other guests, who told us about other culinary experiences they'd tried, including cooking classes, cocktail making, and Mexican wine tastings.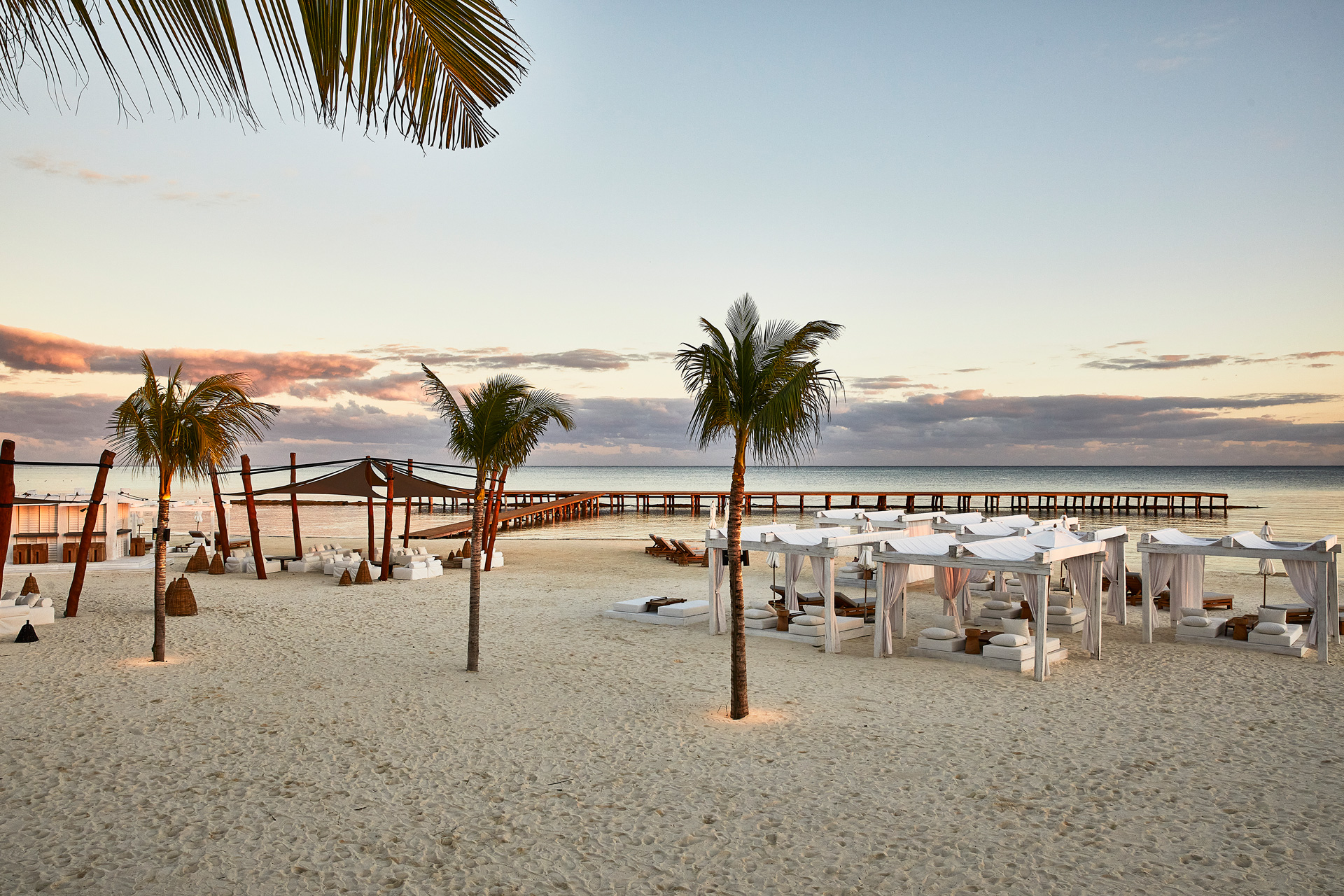 SPA
I could write a novella about the spa experience at Etéreo; which I urge any guest at the hotel to dedicate an entire day to. Eddie had booked us in for a couples massage, preceded by the full 'cleanse' ritual. Walking into SANA was like peeling back a whole new layer to the already ethereal experience we were having. It's a world within a world; walls carved from soothing natural stone and pebble flooring that massages your feet with every step. 'The cleanse' was a sensory rollercoaster designed to balance energy. After a joint blessing at the entrance, my partner and I went our separate ways. I was guided by a therapist, Frida, who talked me through the process but then left me to enjoy it at my own pace. Moving through the different stages, I began with a cacao soap shower, followed by a full-body Mayan honey clay mask, and finished with a eucalyptus-infused steam. A good 40-minutes later I met my partner in the treatment room, who looked just as blissed out and dreamy-eyed as I did. As if we'd not been indulged enough, post-massage we were led to an outdoor spa area with hot and cold plunge pools and a jacuzzi. The cleanse rounded-off with a relaxing soak beneath the open sky, with herbal tea and a tray of healthy bites – nuts, dried fruit and bolitas de coco (coconut truffles). 
EAT
Food is a cornerstone of Mexican culture and at Etéreo, from breakfast through dinner, five different restaurants provide edible odes to ancient Maya, Yucatán, and Mexico beyond. Japanese-Peruvian restaurant Che Che has an impressive drinks menu and a fun vibe, with live DJs after dark. Laidback Alberca features a casual poolside menu of Mexican snacks, raw bowls and ceviches. Our favourite though, was the beach restaurant El Changarro, which  serves ice-cold local beers, cocktails and feet-in-the-sand food that's best eaten with your hands – the shrimp tacos are a must. 
At the signature restaurant Itzam, native produce and traditional cooking techniques are creatively given a refined, contemporary twist by the resort's talented Head Chef Miguel Baltazar. Xcatic chile, chaya leaf pesto and masa tortillas tell stories of land, culture and history.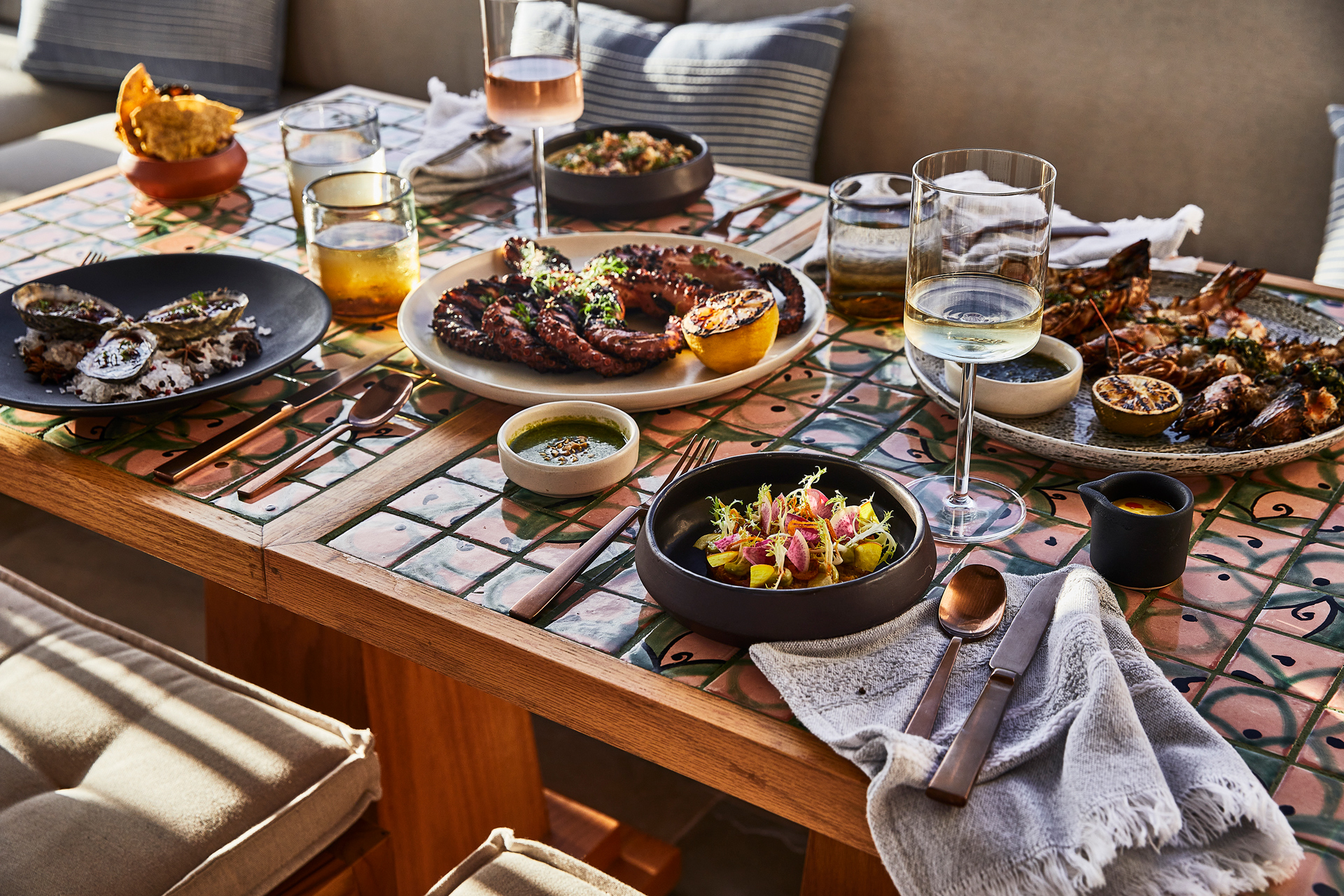 The vibe switched up from day to evening effortlessly. In the mornings the space felt fresh, energeting and homely, almost as if we were eating in a friend's kitchen. We started each day with traditional dishes such as huevos motuleños followed by breakfast dessert, like grilled mango French toast with coconut leche, which we had to share as the portion was so generous. In the evenings we dined under candy-floss coloured skies and rounded off each meal with a drink or two in the sunken fire pits, where we sipped cocktails as the colours above us faded to black and stars punctuated the sky. 
Every mealtime felt truly special at Eteréo, but my favourite food memory is probably the simplest. Stationed at the heart of the resort was El Carrito, a little food truck serving complimentary coffee and freshly baked pastries from 7am-12pm daily. Padding out in the early morning for a coffee and cloud-soft concha (a traditional Mexican sweet bread bun) to crawl back into bed with felt like the purest of luxuries. This seemingly small ritual, to me, epitomised what being on holiday is all about…allowing time to trickle by a little slower than usual, and enjoying every moment of it.
THE FINAL WORD
Etéreo invites you to lean in to the things that enrich our lives the most, from the company we keep to the way in which we connect with nature. The experience is impeccably considered yet feels entirely free-flowing; it truly is a place to move at your own pace, bring yourself back into balance, and leave feeling a little lighter. 
BOOK
Doubles from £692 for a Mangrove Suite with Plunge Pool. aubergeresorts.com/etereo
Find more of Eva Ramirez's writing here.