The latest conviction of the popular Burmese figurehead and head of the National Unity Government (NUG) which is fighting a civil war engulfing 61% of the state of Myanmar in fighting which broke out in February 2021, will do little to quell the raging conflict. It has led, however, to concerns being expressed for the health of Ms Aung San Suu Kyi who is being held in the capital within Nay Pyi Taw Prison in solitary confinement.
Aung San Suu Kyi was left facing a 33-year prison term in Myanmar on Friday after military authorities brought her from the notorious high-security prison in its artificial capital Nay Pyi Taw under high security to hear a verdict that could have been foretold at the beginning of what democracy campaigners have described as one of several sham trials since the army seized power in a coup d'état in February 2021. It comes as her supporters have repeatedly warned that her continued incarceration may detrimentally impact her health.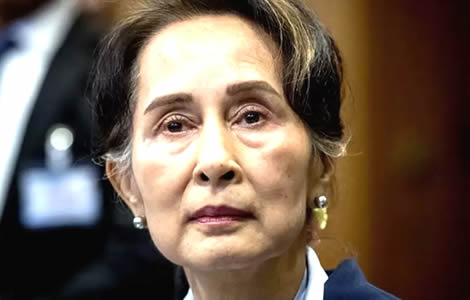 The former de facto ruler of Myanmar and Nobel Laureate Aung San Suu Kyi was found guilty of further corruption charges at the conclusion of a trial before a court controlled by the military junta on Friday.
The ruling in the case centred on the provision of helicopters paid for by the state when Aung San Suu Kyi held the position of state counsellor and other ministerial positions in the democratic regime in power from April 2016 to the morning of the 1st February 2021 when the military staged a coup and took her, along with other political leaders, into custody.
Former national government leader now convicted on all charges brought by the military junta against her
The former government leader and figurehead of the country's largest political party, the National League for Democracy, has now been convicted on all criminal charges brought against her by the military regime sitting in Myanmar's isolated capital Nay Pyi Taw ranging from charges of illegally acquiring and operating walkie talkies to British colonial era offences in relation to state secrets and failure to observe COVID-19 pandemic provisions.
The charges entailed in Friday's case were based on corruption as well as misuse of state funds and carried a potential 7-year prison sentence. 
Legal experts in Myanmar now confirm that the conviction against Aung San Suu Kyi who is 73 years old, if it stands together with a series of prior sentences, could leave to her facing a prison term of 33 years.
Up to October 2022, Aung San Suu Kyi was facing a cumulative jail sentence of 26 years and after Friday's conviction, this has risen to 33 years.
Held incommunicado and denied access to her chosen legal representation by the regime in 'sham' trials
The political leader and national figurehead is reportedly being held incommunicado and has been denied access to the legal representation of her choice during the ongoing trial processes against her. 
Sources within Myanmar describe the charges and the judicial proceedings that have unfolded against the former leader of the ousted democratic government as a 'sham' and point to the civil war in the country which now sees over half its land area under the control of the National Unity Government (NUG), a coalition of democratic forces and ethnic groups which has formed its own armed forces and is fighting a bloody and merciless civil war with the junta.
The leadership of the National Unity Government (NUG) is closely aligned with the MPs who were elected in the last election which took place in November 2020 in Myanmar but which were the reason for the military coup, just two months later, with the junta claiming the polls were corrupted by the National League for Democracy Party led by Aung San Suu Kyi which unexpectedly strengthened its grip on power.
Military claimed 2020 General Election marred by voter fraud orchestrated by Aung San Suu Kyi's party
This put it in a position to call for reform of the constitution by which the military shared power with democratic forces in Myanmar after its return to democracy in 2016 following a peace process that began in 2011 after Aung San Suu Kyi's release from house detention in November 2010.
The military had claimed in the days leading up to the coup that the election was marred by fraud perpetrated by the National League for Democracy Party despite international overseers giving it a clean bill of health.  
Aung San Suu Kyi remains the figurehead of the National Unity Government (NUG) which is gaining acceptance and legitimacy both within Myanmar where a bitter civil war is raging and without, with foreign governments, even those within Southeast Asia, shunning the Burmese junta.
Thai authorities have been criticised by observers for facilitating the military junta in Nay Pyi Taw
Not quite so in Thailand however where Thai authorities were criticised in recent days for welcoming Myanmar junta ministers to Bangkok where official discussions were held on a possible way forward for the war-torn country.
These meetings were strongly criticised by other Southeast Asian nations but were supported by Thailand, Laos, Vietnam and Cambodia, countries which have persistently attempted to normalise or lend superficial recognition to the isolated Myanmar regime.
At the outset of the coup in 2021 Prime Minister Prayut Chan ocha described the situation as an internal matter and officials in Bangkok have expressed concern for Thai investments in the war-ravaged country while working with the ASEAN community to bring Myanmar in from the cold.
This diplomatic approach, despite the appointment by the Ministry of Foreign Affairs under Deputy Prime Minister Don Pramudwinai of a special interlocutor on the matter, has seen regular street protests in Bangkok and other Thai population centres by a strong Burmese community in Thailand, mainly comprised of migrant labour, against the regime at home and Thailand's perceived indirect support.
Activist Myanmar model held up at Suvarnabhumi Airport after Myanmar police asked to speak with her
In September, a Myanmar model, 23-year-old Han Lay, who appealed to Thai and international TV audiences for help and castigated the military regime in her home country while appearing at the Miss Grand International beauty pageant in Bangkok in April 2021, was held by Immigration at Suvarnabhumi Airport in Bangkok. 
The model was told that police from Myanmar wanted to speak with her and ended up stuck in the transit area of the airport while her fate was decided by authorities.
A solution to the impasse was eventually found when Han Lay was granted asylum by Canada and flown to the North American country.
Junta is a participant in a geopolitical struggle between the western bloc and authoritarian regimes such as China and Russia as it fights a civil war
The beleaguered junta in Myanmar is receiving critical military and economic support from both China and Russia in its attempt to cling to power while there is increasing pressure in western countries for more punitive sanctions against the government or junta which is not even recognised by the United Nations in New York as the legitimate regime in the strife-ridden country.
The deepening geopolitical struggle has cemented the relationship between Myanmar's military rulers and other countries such as China, Russia and notably Pakistan which is supplying arms to Nay Pyi Taw manufactured by China.
Recent national independence day celebrations in Nay Pyi Taw have strongly featured Russian and Chinese delegations as the military is shunned by the democratic world order.
In January 2022, the Myanmar Institute for Peace and Security, a credible and recognised research body, revealed that 61% of the state was embroiled in armed conflict.
Before the coup broke out in February 2021, 65% of the country was peaceful amid an economic boom created by its experiment with democracy.
Observers raise the question of former State Counsellor's health even though she appeared to be looking well on Friday when she appeared at her trial
Observers, on Friday, were relieved to see that Ms Aung San Suu Kyi appeared to be in good health but the media was limited in reporting on the proceedings as her legal representatives, as they are, were also forbidden from communicating with media outlets.
There is concern among her supporters about the impact of the national leader's continued incarceration even after her lawyers indicated on Friday that this last verdict was the end of Ms Aung San Suu Kyi's immediate legal problems under the current regime.
The court hearing took place in the purpose-built capital in the centre of Myanmar in Nay Pyi Taw and saw roads closed by the military as the national leader was transported to court to hear her fate which was always in little doubt given the nature of the proceedings.
She was brought from an annexe at the notorious high-security Nay Pyi Taw Prison where she is being held in primitive conditions and solitary confinement in rooms with bars on the windows.
Conditions in the prison where she is being held are rudimentary and may pose a threat to her health
Security and personnel at the prison were strengthened before she was brought there in June 2022 ahead of another trial held in the prison compound which also saw her found guilty.
Conditions at the prison are not as severe as those reported at Yangon's feared 134-year-old Insein Prison which saw 4 democracy activists hanged in July 2022 and which now accommodates up to 10,000 prisoners, half of them linked with the civil war, in brutal and often torturous confinement with some of those held reported to be suffering from war wounds.
Nevertheless, her supporters are expressing concern about the harsh conditions of her confinement including excess heat and cold as well as the threat posed by pests and vermin on the premises.
In the meantime, the People's Defense Armed Forces (PDF), the military wing of the National Unity Government (NUG), has been inflicting serious losses on the Myanmar military known as the Tatmadaw who are both feared and hated in the country to such an extent that it is losing the ability to field a full force in the conflict with large numbers in both the army and police ranks taking flight from the country as the civil war rages on.
Aung San Suu Kyi is a figurehead of a struggle in a new war of independence against the illegal junta
The National Unity Government (NUG) has formed alliances with ethnic militias and breakaway groups who have long fought the central government of Myanmar, in struggles extending back for decades based on establishing a new, more equitable federal state after the junta government is overthrown.
This is now a second war of independence being fought against an illegal regime imposed by the military in a coup which has met with stiff and unflagging national resistance since it was carried out on the 1st of February 2021.
Last week, the United Nations passed a resolution calling on the Myanmar junta to release Ms Aung San Suu Kyi in a motion which was opposed by both China and Russia.
The vote took place a day before three ministers from the pariah regime were hosted in Bangkok for talks.
The criminal charges against Ms Aung San Suu Kyi were described on Friday as 'ridiculous' by a professor at Curtin University in Australia Mr Htwe Thein.
'Nothing in Aung San Suu Kyi's leadership, governance, or lifestyle indicates the smallest hint of corruption,' he told the news agency AFP.
Further reading:
Shock police probe into drug dealing and money laundering linked with Myanmar to strain ties
Luxury party hotel in Myanmar's Shan State is the epicentre of Thailand's current Covid 19 outbreak
Myanmar's junta crumbles along with Russia's war in Ukraine as US progresses in the Indo Pacific
Desperate Myanmar junta executes 4 including a former MP and pro-democracy activist by hanging
Intensive clashes in Myanmar near Tak ease leaving locals near the border rattled and on guard
A second war raging in Myanmar unlike anything seen since World War Two with over 12,000 dead
Thailand calls for Myanmar talks as besieged coup leader is barred from the ASEAN summit in Brunei
Thailand abstains as the UN calls for Myanmar's return to democracy and a junta arms embargo to quell conflict
FM Don to attend Myanmar ASEAN summit with high stakes for Thailand as civil war there looms large
Myanmar facing all out revolution as the bloody struggle between the army and the public spirals out of control
Crisis in Myanmar threatens to escalate as Thai authorities monitor the situation on a daily basis
Threat to Thailand from the encroaching dragon of the North as Chinese factories in Myanmar burn
Coup boss writes to Prayut for support as UK man with Chinese partner flees troubled Myanmar
Small bomb devices explode outside the Myanmar embassy in Bangkok as anti-coup protests grow in Yangon
Australian arrested in Myanmar as coup takes on significance for US Chinese rivalry in the region
Military coup in Myanmar. Aung San Suu Kyi held with scores of leading political figures arrested by troops
Myanmar closer to civil war as 'unity' government announces first step to a 'Federal Union Army' to fight junta