Minister of Justice Somsak Thepsutin is believed to have acted after the position of the Department of Special Investigation (DSI) chief Mr Traiyarit Temahiwong became untenable when he appeared not to act against the 5 DSI officers who led the raid on a previous home of a former Consul General for the tiny state of Nauru on December 22nd 2022. The raid is part of the ongoing crackdown on the activities of Chinese mafia gangs in Thailand with one of those briefly detained at the property having escaped from police on October 26th 2022 last when they first raided the ultra-exclusive drug nightclub, for Chinese patrons only, in Bangkok which exposed what is fast becoming the biggest corruption scandal in Thailand's history.
The Head of the Department of Special Investigation (DSI), the Thai equivalent of the Federal Bureau of Investigation (FBI), has been removed from his post to another position as the fallout over a police raid on a property in Bangkok, formerly a residence of a diplomatic official linked to the state of Nauru intensifies. It is alleged that up to ฿9.5 million in bribes may have been paid by 11 people detained in the raid on December 22nd last which is linked to the ongoing crackdown on Chinese triad or mafia gangs in Thailand. On Wednesday, as news of the latest development broke, Mr Chuwit Kamolvisit, the prolific whistleblower who has consistently provided accurate information to police, alleged that the property was still a centre of criminal activity.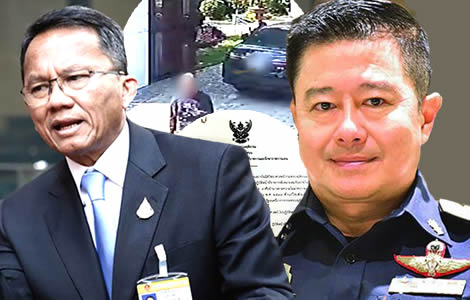 Department of Special Investigation chief, Traiyarit Temahiwong, was abruptly transferred on Wednesday on the direct orders of justice minister Somsak Thepsutin.
It is understood that the move is linked with the alleged extortion of a bribe by DSI officials and police officers involved in a controversial raid on a home that has been linked to the former consul of the tiny Pacific island state of Nauru, in Bangkok, on December 22nd last.
The property is located in the upmarket Sathorn neighbourhood of Bangkok. The raid saw 16 people enter the premises including 5 officers with the Department of Special Investigation (DSI), 9 police officers, one soldier and a Chinese language interpreter.
11 Chinese suspects discovered, briefly detained but then released allegedly after paying a bribe to officials, a scandal within a vast web of corruption
Subsequently, in the aftermath of the raid, 11 Chinese suspects who were discovered on the premises and who were detained by the raiding party, were released.
It is reported, based on subsequent police enquiries, that up to ฿9.5 million may have been paid to secure the release of the suspects. This was according to an urgent investigation carried out by Deputy National Police Commissioner General Surachate Hakparn after a fact-finding committee was also set up by the National Security Council.
The transfer order was signed on Wednesday by Mr Somsak, the minister of justice.
Mr Traiyarit has been transferred to the Central Institute of Forensic Science (CIFS), where he will serve as acting director, with immediate effect.
In his place as the acting director at the Department of Special Investigation (DSI) will be Police Major General Suriya Singhakamol, the director of CIFS.
All officers and personnel involved in the raid arrested or under investigation for accepting bribes
According to a source, the sudden removal of the DSI director is related to claims that Mr Traiyarit's right-hand man had asked a senior officer at the Patrol and Special Operations Division of the Royal Thai Police, also known as 191 Police, for assistance in order to work with a deputy commissioner at the Metropolitan Police Bureau and secure court authorisation for the search at the former Nauru consul-general's residence in Bangkok on December 22nd 2022.
The release of the 11 Chinese nationals, initially detained on the property, was allegedly due to a bribe paid to the officers involved, all of whom have now either been arrested or subjected to disciplinary probes.
It is not known if the former official of the Republic of Nauru who had previously rented the residence, is linked to this incident and the wider probe into grey or corrupt Chinese capital in Thailand.
Property in Sathorn is still a have of criminal activity according to whistleblower Chuwit Kamolvisit
In a post on his Facebook social media page, on Sunday, former politician and massage parlour boss Chuvit Kamolvisit, who has been widely praised for his leading role in exposing what is turning out to be the biggest corruption scandal in Thai history, alleged that the former residence of the consul-general was still being used for suspect purposes including the present housing of undocumented Chinese nationals.
He described it as a hub for passport and visa fraud.
This would not be the first time that Chinese gangs have used quasi-diplomatic fronts to gain trust and deflect police attention.
In November 2022, a Chinese man was arrested at a prestigious office building in Bangkok being chauffeured in what appeared to be a Chinese Embassy vehicle and escorted by a Royal Thai Police car, both of which turned out to be fake.
Chuvit suggests Chinese mafia gangs created a false diplomatic front linked with the state of Nauru
On Tuesday, Mr Chuvit published a document describing an inquiry by the Office of the Consulate General of the Republic of Nauru into the affair.
Nauru is a tiny English-speaking independent state in Oceania which gained independence in 1968 and which has a population of just over ten thousand people.
The stamp on a lease agreement dated September 2nd, 2022, was discovered to be similar to the one used by the Republic of Nauru's consul general in Thailand.
The use of the official stamp for the lease agreement was not mentioned in the document or any other details, however. In the document, posted by Mr Chuvit, the consulate office claimed that it had not signed the lease.
According to Mr Chuvit, Chinese nationals operating 'grey businesses' had rented the property on their own initiative. 
He claimed that to rent the expensive home, the Chinese used phoney diplomatic licence plates on their vans and forged the former consul-general's signature.
One of those present at the property on December 22nd was a suspect who had fled the initial raid on the Chinese-only drug bar on October 26th in Yannawa
During the raid on December 22nd, one of those detained was discovered to have been in possession of ฿8 million in cash.
According to reports, the Chinese suspect had managed to flee the scene on October 26th last when the Metropolitan Police Bureau, with a force of over one hundred officers, raided the Chinese-only Jinling drug bar in a complex on the Charoen Rat Road in the Yannawa area of Bangkok.
The police operation directly exposed the criminal network and extent of Chinese mafia corruption in Thailand.
The DSI chief, on Tuesday, had defended himself against accusations from the minister's office that he had failed to move against the five officers under his command who were the subject of arrest warrants in connection with the incident.
The DSI chief had also suggested that not all those found at the Sathorn property were wanted by police and had also denied the involvement of a key official within the Department of Special Investigation (DSI), who worked closely with him.
This official is reported to have liaised with the 191 police unit of the Metropolitan Police Bureau in organising the December 22nd raid.
Further reading:
Police officer, wife of Du Hao kingpin and niece of former police chief arrested and grilled by prosecutors
Chinese gangs approaching expectant Thai fathers in private hospitals seeking identity transfers
Chinese mafia case taken over by police chief with top officers assigned to different key roles on the probe
Top Immigration Bureau officers investigated by high-level panel over Chinese corruption claims
Chinese-controlled Thai language schools used by criminal network to obtain visas for associates
Police and drug control agency act to seize assets of Chinese drug kingpin 'Du Hao' and his police officer wife
Arrest and detention of alleged Chinese crime boss puts political pressure on Palang Pracharat Party
Chuvit claims Chinese gangster billionaire may be still at large in Thailand as is his executive jet
Net set to widen on Chinese money gangs, top police officer warns of powerful financial interests
Colourful Bangkok former sex industry tycoon Chuwit told to quit sniping by an aide to the PM
Chinese businessman in the heart of Bangkok with a fake Chinese Embassy car and police escort arrested
Police unearth huge new threat from Chinese drug cartels with ฿300 million seized in Bangkok
Chinese links to nightlife underworld and police collusion being investigated in drugs crackdown
Drugs showdown in the works bound to prompt memories of decisive 2003 crackdown by Thaksin government
Shock police probe into drug dealing and money laundering linked with Myanmar to strain ties
Drugs to be an election issue as Anutin digs in insisting that attitudes must change on cannabis
Marijuana revolution and overdoses raise concern with calls for action to outlaw recreational use
One of the biggest drug dealers in the South flees home as Thai police and army move against him
Evil drugs trade in Songkhla sees Thai woman burned alive by her family for 300 grams of ice missing in village
UK man arrested on drugs charges by CSD police in Pattaya claims ex Thai wife set him up
UK drug dealers living it up in Thailand to be deported back to the UK after arrests in Pattaya
Italian living with Thai wife on Koh Phangan arrested for dealing after drugs found in the post
UK drug dealers living it up in Thailand to be deported back to the UK after arrests in Pattaya
About the Author
James Morris is a pename for an international writer based in Bangkok who works on various international news media. He is a sub editor with the Thai Examiner news website since it began in 2015. Son Nguyen is an international writer and news commentator specialising in Thai news and current affairs. He commenced working with the Thai Examiner News Desk in May 2018.