Human rights groups and NGOs including the UNHCR are hoping the death of the 49-year-old man who was held for over nine years after he arrived in Thailand seeking to reach refuge in a Muslim country, will lead to an end to the nightmare of imprisonment for up to 50 Uyghur men who activists say arrived in Thailand seeking political asylum from oppression in China.
The death this week of a long-term Uyghur detainee at the Immigration Detention Centre (IDC) in central Bangkok has focused attention on the plight of up to 50 Uighur men being held by the Immigration Bureau in Thailand who are seeking political asylum in a Muslim country but are being held in legal limbo because of reported pressure from Chinese authorities in Beijing.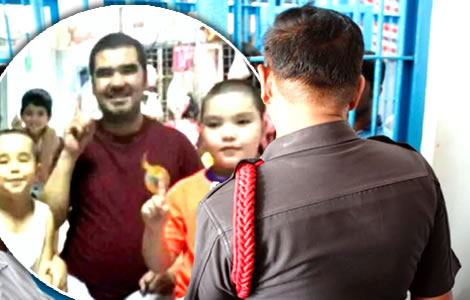 Human rights groups and campaigners including representatives of the UNHCR have raised the plight of up to 50 Uyghur Muslims who are being detained at Bangkok's notorious Immigration Detention Centre in the centre of the capital following the reported death this week of 49-year-old Aziz Abdullah from what medics who examined him later diagnosed as a lung infection.
The Uyghur man had been held in Thailand for nine years by the Immigration Bureau.
This has led to calls for Thai authorities to end the suffering of up to 50 men being held at the facility after Mr Aziz collapsed at the prison having earlier been examined by a doctor who described his condition as normal even though he was before that reported to have been coughing up blood.
Mr Aziz was separated from his wife and children in 2015 and his brother forcefully repatriated by Chinese police to China the same year wearing a hood
It is understood that Mr Aziz arrived in Thailand in late 2013 with his family among 350 ethnic Uyghurs from China's Xinjiang province where Communist Party authorities, according to UN observers and fact finders, have conducted a campaign of persecution over the last decade against an ethnic population with reports that over a million Muslim Uyghurs, a minority Turkic-speaking group, have been lodged in 're-education' camps reminiscent of Nazi-era concentration camps in the 1930s and 1940s which were also represented to the world in the same way by Berlin's authoritarian regime at that time.
Mr Aziz and his family had, it is understood, been trying to reach Malaysia when they were detained by immigration authorities in the kingdom.
Sought by Chinese security services and at the same time being offered asylum and residence in Turkey and other Muslim countries, it is reported that Thai authorities have been reluctant to release the Uyghur prisoners fearing repercussions from China which insists the Uyghurs are subject to Chinese law and control.
Australian-based NGO working with the Uyghur community highlights poor conditions at the detention facility where he was being held
Mr Aziz's wife and eight children were allowed to travel to Turkey in early 2015 but later that year, the Thai government acquiesced to the forcible return of 109 Uyghur men to China accompanied by Chinese police and wearing hoods over their heads in an operation which drew widespread condemnation.
The brother of Mr Aziz was one of those repatriated to China and since then there has been no information on the status of the men returned except for references from officials in Beijing that the Uyghurs deported back to China were involved in human trafficking.
This week, the BBC reported on the death of Mr Aziz and quoted Mr Polat Sayim, the Director of the Refugees Centre of the World Uyghur Congress which is based in Australia describing the circumstances leading up to the Uyghur man's death in Bangkok's notoriously overcrowded Immigration Detention Centre where conditions for detainees are described as particularly poor and even life-threatening for those without outside support and who have underlying health conditions.
No Halal food for Muslim detainees with inmates forced to drink unhygienic tap water in the overcrowded prison for immigration offenders
Mr Aziz was one of approximately 50 Uyghur men who have been held at the detention facility indefinitely, some for over 9 years as Thai authorities seem content to leave them in a legal limbo between countries despite the concerns and protestations of human rights groups.
Meanwhile, a spokesperson for an NGO, the People's Empowerment Foundation, Ms Chalida Tacharoensuk gave some insight into the conditions that the Uyghur men being held in Bangkok are living under.
'It is even worse than regular Thai prisons,' she said. 'It is very crowded. There is a lack of food, and the food provided is not healthy. There is no halal food for Muslim detainees. The drinks are not clean either, they have to drink tap water. There is barely any healthcare. If they get sick, they only get painkillers or similar medications.'
Speaking with the BBC, Mr Phil Robertson of Human Rights Watch condemned the situation which sees the Uyghur detainees held by Thai immigration authorities indefinitely in hazardous conditions.
Human Right Watch boss criticises policy towards the Uyghur detainees being held at the Bangkok prison
'This death is an entirely predictable outcome of a Thai policy decision to lock away these Uyghurs and, essentially, to throw away the key,' he said. 'Clearly, no thought was given to the health implications of indefinite detention in cramped, unsanitary immigration cells with wholly inadequate healthcare and nutrition.'
Over the past decade, there have been numerous fatalities involving foreigners being held pending deportation by the Immigration Bureau at facilities in Bangkok including the Immigration Detention Centre (IDC) in the centre of the capital.
In early 2019, Kai Isaacs, a then 35-year-old UK national was held at the centre and was later that year interviewed by the Federal Bureau of Investigation (FBI) following the death of US national Rickey Eric McDonald who died there on May 21st 2019.
35-year-old UK man claimed to have seen a US detainee die in May 2019 following an attack at the facility by a group of long-term 'terrorist' inmates 
Mr Isaacs claimed to have witnessed the 41-year-old university-educated man's death there after he was allegedly attacked and beaten by a group of men who were long-term detainees at the facility.
'There were suspected ­terrorists. Their own countries didn't want them back so they had been there for years. They ran the place,' Kai Isaacs disclosed. 
He said that the three months he was forced to spend at the facility after being found in breach of Thailand's strict immigration laws and awaiting deportation, were harrowing. 'It was the worst three months of my life.'
In March 2019, New Zealand synthetic drug developer Kemp Ashby, on the run from authorities at home seeking his extradition, died while in the custody of the Immigration Bureau in Bangkok.
He was arrested at his home in Pattaya in December 2018 under the Immigration Act 1979 in a crackdown that year targeting foreigners playing fast and loose with the law.
Mr Ashby, as he was known in Thailand or Lee Vincent, already had a weakened immune system and health frailties due to a previous illness, a dangerous situation for any middle-aged person facing the prospect of being taken into custody in Thailand.
New Zealand synthetic drugs millionaire Kim Ashby died while in Immigration Bureau custody in 2019 after being arrested for an immigration offence
Ashby suffered from an acute bacterial infection which landed him in hospital for six months before his arrest and was on medication due to an ingrown hair condition which led him to develop gangrene-like symptoms and saw him threatened with limb amputations.
The continued plight of the Uyghurs in Thai custody was placed in the spotlight in 2015 when a bomb exploded at the Erawan Shrine in Bangkok on August 17th that year which killed 28 people and injured over 150 others.
Thai authorities are currently holding two Uyghur men arrested at the time under the military junta's wide-ranging emergency powers.
The two, Adem Karadag and Yusufu Mieraili were charged with the bombing but their trial process, which began before military courts in 2016, has never been concluded, as far as we know, while they continue to be held in custody.
Thai authorities refuted any speculated link between the repatriation of Uyghurs to China in 2015 and the horrific Erawan bomb on August 17th that year
Authorities vehemently denied speculation by some commentators that the August 2015 bombing was linked to the forceful repatriation of Uyghurs to China that year and instead insisted that it was linked to a feud between rival human trafficking groups using Thailand as a conduit point to smuggle Uyghurs out of China to Muslim countries.
After the death of Mr Aziz in the last week and his swift burial by the Thai Muslim community at a cemetery near Bangkok's Chao Phraya River, the UNHCR confirmed that it has been denied access to Uyghur detainees being held at the Immigration Detention Centre (IDC).
The Thai National Human Rights Commission has, however, reportedly been granted access to visit the Uyghurs at the facility after being denied this for an extended period.
Campaigners hope the death of Mr Aziz may be a turning point and that Thai officials will respond more positively to concerns for the men being held
Recently, all Uyghurs being held in Thailand were moved to the Immigration Detention Centre (IDC) but authorities have reportedly separated them within the prison.
The United Nations has expressed its concern to Thai authorities about the conditions of those being held in the kingdom by the Immigration Bureau including asylum seekers and refugees taking flight from war zones and oppression.
Thai officials have promised to improve conditions for all those held and to speed up immigration processes and screening.
Campaigners and human rights activists hope that the tragic death of Mr Aziz may prompt authorities to finally resolve the plight of the Uyghur men being held and bring an end to their nightmare in Thailand. 
Further reading:
Visitors warned of the deadly danger of working in Thailand without a proper visa and valid work permit
Crackdown on illegal foreigners sees American teacher arrested in class and Russian at his restaurant lunch
Immigration boss warns that a new crackdown on foreigners flouting Thai laws has begun
UK man claims FBI investigating the death of 41-year-old American held at Thai immigration jail in May