A long history of unfortunate deaths on a small island with a tightly knit community and a comparatively huge number of annual visitors may not be as sinister as it sounds but the 2014 murder of two British tourists Hannah Witheridge and her compatriot David Miller continues to haunt Ko Tao. It certainly requires more sensitivity from authorities to protect Thailand's tourism reputation which is suffering.
International media reports in the last 48 hours circulating about the sudden death of a UK diving instructor on Ko Tao are giving rise to speculation regarding the southern island's sinister reputation in part created by the 2014 horrific murders of UK tourists Hannah Witheridge and David Miller but also related to an unfortunate string of suicides and deaths of foreigners linked with misadventure on the paradise island. On Tuesday, the Thai government earmarked nearly ฿4 billion to promote Thailand as a top-class tourist destination and brand it positively to potential international travellers abroad while international news outlets, at the same time, painted a negative portrait in respect of Ko Tao. Whether it be simply an unfortunate coincidence or an island myth, the ongoing unease about the tourist hotspot is a somewhat disturbing one.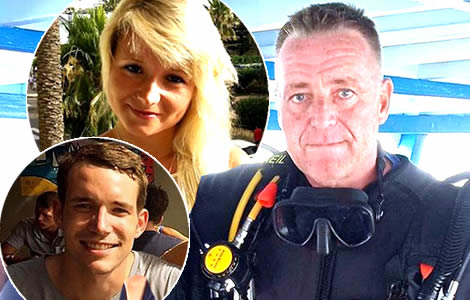 The death of a UK diving instructor on the idyllic island of Ko Tao has resurrected the island's sinister reputation outside of Thailand despite the efforts of police and officials in recent years to robustly assure the public that the island, which remains a popular destination for foreign tourists with tourism at the heart of its economy, is safe for visitors.
Last week, on Wednesday the 18th of January, the body of 48-year-old Neil Giblin was found at a rented property on the island after he failed to turn up for an appointment. 
Police officers on Ko Tao treat death of UK man last Wednesday so far as nothing out of the ordinary
Details of the local police response to the deaths are still sketchy although reports suggest that police were satisfied, last Wednesday, that there was no sign of a struggle or anything untoward within the bungalow where the body of Mr Giblin was found.
He was reportedly lying in his underwear covered by a blanket on a sofa.
The UK man hails from Birmingham in the British Midlands and was thought to be 'fit and healthy' by all those who knew him. He was 48 years of age.
A friend of Neil's speaking about his death to the media after his death indicated that medical experts responding to the incident were quick and adamant that the death of the British man was nothing out of the ordinary as he queried whether an autopsy on his friend's body would be performed.
It is thought that he is the fifth foreign diving instructor to have died suddenly on the island since it became an attraction for foreign visitors over two decades ago.
'The medical professionals who arrived said there was nothing suspicious. I was informed that the police declared there was nothing to investigate right away. It took place so quickly. I don't even believe an autopsy was performed. In our conversation, I brought up a few of the local fatalities,' his friend disclosed to the UK tabloid, The Sun.
Post mortems on Ko Tao for suspicious cases take two weeks to complete and are carried out in Bangkok
Post mortems into deaths on Ko Tao are ordered by police in circumstances which appear suspicious. They can take up to two weeks to perform with the body of the deceased having to be preserved and transported to the Police General Hospital in Bangkok.
However, Mr Giblin's friend on the island says he has been told that police are satisfied that there is no need to investigate his death any further.
He suggested that one of the emergency responders at the scene of his friend's death has told him that he should not raise any questions concerning the death of the diving instructor. 
He added that he had also received the same response from others on the island.
'He informed me that I shouldn't be bringing up that subject around here, as everyone else does when I do. This doesn't make sense to me at all. No one is willing to challenge the police's account,' the friend explained.
Negative publicity fears on Ko Tao stem from adverse coverage the island received in the aftermath of the murders of Hannah Witheridge and David Miller
The response of locals on the small island and fear of negative publicity stems from the high-profile murder of UK tourists, 23-year-old Hannah Witheridge and 24-year-old David Miller whose bodies were found on Sairee Beach in the early hours of the 15th September 2014.
This led to an intensive murder investigation after the revelation that Ms Hannah Witheridge had been sexually assaulted and beaten to death while her compatriot was beaten and drowned.
In an intensive investigation in which the Royal Thai Police worked closely with Scotland Yard in London focusing on a mobile phone and other evidence found at the same time as the murder suspects, two Burmese men, Zaw Lin and Wei Phyo, were arrested and charged.
In December 2015, both were convicted and sentenced to death. The sentences handed down were later commuted to life imprisonment.
In the aftermath of the murders, tourist concerns and local representatives on the island appealed for more balanced and responsible media coverage given the island's dependence on foreign tourism and the livelihoods of its residents.
Nevertheless, both the incidents and the rumour mill continued.
First suspicious death occurred in early 2014 with the demise of 25-year-old Nick Pearson found at sea
Even before the murder of Hannah Witheridge and David Miller, on the opening day of 2014, another British national, 25-year-old Nick Pearson was discovered floating in water close to the Hillside Resort on Ko Tao.
Police suggested he had fallen from a 50 ft height before ending up dead in the water.
His family in the UK were not satisfied with the conclusions of local police enquiries into Mr Pearson's demise.
In Derby, a city in the East Midlands of the United Kingdom, after an inquest into his death found it to be suspicious, the Derby Coroner, Ms Louise Pinder, recorded an open verdict.
A year later, on the same day, the 1st of January 2015, a 29-year-old French man Dimitri Povse was found hanging in another bungalow located on the island.
French man's suicide came with a suicide note in a country which sees countless suicides by foreigners
His hands were found to be tied behind his back but police officers nevertheless were satisfied that it was a case of suicide. He left a suicide note.
It should be noted that the rate of suicide among foreigners living in Thailand is extraordinarily high and many go to great lengths to carry out their deaths, often taking precautions to make sure they are not in a position to change their minds during the act itself.
In the same month, a 23-year-old UK woman Christina Annesley was found dead at a resort on the island. Police who responded to the death at the In Touch Resort initially noted no signs of a struggle or violence.
The death was pronounced as caused by drug and alcohol-induced heart failure.
Russian disappeared leaving her mobile and passport, she was never seen again and presumed drowned 
Two years later, on 6th January 2017, another 26-year-old British visitor to Ko Tao, Luke Miller, was found dead in a swimming pool in the Sunset Bar on the island while in February 2017, a 24-year-old, Russian diving enthusiast, Valentina Novozhyonova, went missing.
She had been staying at a hostel on the island and disappeared after checking in on February 11th 2017. She was due to check out on February 16th but never did. 
Police found her mobile phone, passport and other items and concluded that she had drowned while diving as her diving gear was not found.
Two months later, in April 2017, a 30-year-old Belgian woman was found hanging from a tree on Ko Tao. Her family in Belgium were sceptical when told the police on the island had concluded that Elise Dallemagne had committed suicide saying there were no signs of a struggle associated with her body when it was found.
Several deaths not included as the list is long but it includes a German and former longtime resident of Ko Tao, Bernd Grotsch found dead in June 2018
There are several more cases not mentioned involving western and European travellers to Thailand which have been catalogued by a growing number of sources outside Thailand including a British visitor who died on Sairee Beach in 2018 or a Swiss man, 44-year-old Hans Peter Suter whose body was found washed up in November 2014.
In June 2018, the body of a German man, Mr Bernd Grotsch was found.
He had lived on the island, also known as Turtle Island, for 20 years approximately up to 2016 but left for another island complaining about hostility towards foreign businessmen.
He returned in March 2018 to settle up his affairs.
The German had been in a relationship with a local from the island and had a two-year-old daughter who lived in Germany with his family.
He was found dead at his property located within the jungle of Ko Tao and some reports suggested he may have died as the result of a snake bite as the German was known to have kept snakes at one point.
Otherwise, police concluded, it was simply a case of heart failure.
Police investigation of sexual assault claims by a UK teenager found no basis for the complaints and led to the prosecution of various media outlets
In September 2018, Thai authorities sent then Deputy Tourist Police Chief Surachate Hakparn, now Deputy National Police Commissioner General Surachate or 'Big joke' to the island to investigate the case of claims by a UK teenager that she had been sexually assaulted and robbed on the island in June that year.
The result of the police investigation refuted the claims which had gained traction on social media and particularly in the UK tabloids.
This led to prosecution proceedings against local media outlets and Facebook pages and brought representations from local business owners on Ko Tao rejecting the 'distorted' nature of media reporting of the island.
Thai authorities have in recent years been more vigilant and sensitive to reports of death on the island to allay public concerns about its safety
Since then, the island and the sinister reputation it holds has been the subject of best-selling books and a plethora of websites often featuring the doubts and claims of families who have had loved ones who died there.
Ko Tao is a very small island of 21 square kilometres situated off the southern Thai province of Surat Thani with a population of just under fourteen hundred people with many business activities on the island controlled by key families.
A common theme is that there is on the island, as with many islands worldwide, a tightly knit community which coupled with Thailand's ongoing reputation for corruption, has amplified external concerns about fatal incidents there.
This has caused Thai authorities to be more vigilant and sensitive when cases arise.
Bangkok-based industrialist and property tycoon found dead with his wife in a hotel swimming pool in June 2021, elite police unit dispatched to Ko Tao
For authorities, however, the problem about Ko Tao came closer to home in June 2021 as the country began again to reopen to both foreign and domestic tourists when a Thai Indian industrialist and commercial property tycoon and his wife were found dead at an exclusive hotel on Ko Tao.
The bodies of 59-year-old Rakeshwar Sachathamakul and his 55-year-old wife Anshoo were found by their son after returning from a walk on the beach. 
Both appeared to have drowned.
The death of the pair led to an elite Crime Suppression Division (CSD) team being flown to the island with CCTV equipment and key evidence taken from the scene for forensic examination including beer bottles used by the deceased just before they died.
Police conducted reenactments of what may have happened at the scene but the case remains open with one theory being that one of the spouses had encountered difficulty in a deep area of the pool and that the other had also drowned when rendering assistance.
Tributes pour in for Mr Giblin after his death
In the meantime, the British press and foreign media have been reporting this latest death on Ko Tao of a foreigner on the island with acquaintances and colleagues eulogising Mr Giblin as a supportive friend and good man.
One associate, Mr Darren Schlotter said this: 'My heart is broken. Words cannot describe the pain I feel. The most positive person in my life, always there for me no matter what.'
Paul Shane Latham who described Mr Giblin as a mentor said: 'My heart is totally broken right now by the news that one of my past diving instructors and mentors has passed away in Ko Tao.'
His friend on the island, who was at the scene on Wednesday and has raised the need for an enquiry into his death, recalled that he had originally spoken of the rumours concerning Ko Tao with Mr Giblin before he died last week.
'I talked to Neil about some of the deaths that happened here. He told me what everyone tells me when I mention it, that you shouldn't be talking about that stuff around here.'
Thailand's tourism recovery is both lagging and fragile as it earmarks nearly ฿4 billion to promote the country and its brand to would-be visitors
Thailand, on Tuesday, revealed that 11.15 million visitors had arrived in the kingdom in 2022 which is only 29% of what it saw in 2019. At the same time, many of the arrivals in 2022 were from Asia with an absence of more high spending long haul foreign tourists as seen before.
The kingdom lags far behind other significant national tourist economies in rebounding after its sudden total closure in April 2020 with even Prime Minister Prayut Chan ocha's, as he put a positive spin on matters last week, suggesting that based on the latter months of 2022, the kingdom's tourism industry is now only 50% recovered with Thailand welcoming 2.24 million visitors in December last, at the peak of its current high season.
On Tuesday, the Thai government, at cabinet, earmarked ฿3.95 billion for marketing and branding Thailand's tourism industry worldwide in 2023 as it accounts directly for 12% of GDP, is indirectly responsible for 20% of the economy and contributes 25% of employment.
It is targeting 25 million visitors in 2023 with plans in June to finally introduce a tourist tax at $9 approximately or ฿300 which will provide free basic medical insurance or emergency cover for holidaymakers while in the kingdom.
Further reading:
Top brass in Bangkok order a deeper probe into deaths of a business tycoon and his wife on Ko Tao
Tragic deaths of Thai Indian tycoon and his wife after checking into luxurious Ko Tao island resort
Remains of Ukrainian ambassador to Thailand who died on Ko Lipe on Sunday sent to Bangkok
Dutch national identified from CCTV using police biometric system after Ko Tao theft and arrested
Koh Tao claims by UK teenager questioned by Thai police – arrest warrants indicated for some media
Myanmar men who murdered two UK backpackers on Ko Tao have their death sentences commuted to life
Mobile phone of Ukrainian woman key to the puzzle as police decide between murder or suicide
Ko Samui police probe the death of a Ukrainian woman found in a forested area last Sunday by a local man