Harrowing circumstances of the murder of 45-year-old Nathanan Joomfong bring home the cruelty and violence against women seen in Thailand on an almost daily basis. The jealous perpetrator later told her family he did not know what he was doing.
A man with a criminal record and history of psychotic behaviour was arrested by Samut Prakan police on Tuesday in Chachoengsao province and later charged with the premeditated murder of his wife in horrific circumstances on Monday afternoon. 42-year-old Pisutsiri Chansoda set his fleeing wife, dressed only in a towel, alight in front of two overwhelmed onlookers in an open area within the Bang Pu industrial estate near Bangkok before later chasing her into a ravine and stabbing her to death with a 40 cm knife. The killing comes as Thailand continues to see an epidemic of women murdered by jilted men.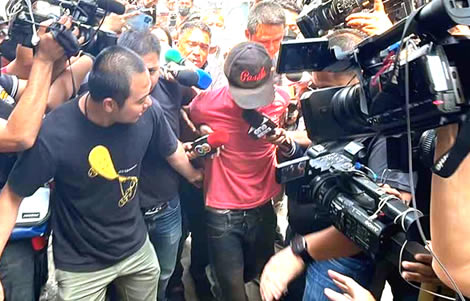 Two drivers of Songthaew passenger vehicles on Monday witnessed the shocking execution of a 45-year-old wife who fled towards them just moments after exiting her husband's Mitsubishi Triton pickup.
The two men were cleaning their vehicles when they heard the woman running towards them and shouting wearing only a towel which had been doused in petrol.
Woman set upon by her insanely jealous husband with a lighter and a can of petrol intent on burning her to death. Screaming woman, alight, sought help
Before they could react, the woman was set upon by her insanely jealous husband who murdered her in front of them in a particularly brutal and gruesome spectacle.
First, he splashed more petrol from a can he carried on the terrified woman who tried to hide behind one of the men, then he set her alight causing her to scream as her arms at first felt the burning flames as her towel was set ablaze.
In the melee, one of the men tried to assist the hysterical victim but he suffered burns on his neck and back. Following this, the woman, now naked, ran towards a water ditch at the perimeter of the field jumping into it to relieve herself from the burns.
Unfortunately, the woman, identified as Ms Nathanan Joomfong, was again set upon by her husband who had retrieved a large 40 cm knife from his vehicle. She was fatally stabbed six times and expired from her wounds.
Raging killer warned the two terrified onlookers, one with burns, not to interfere after he had murdered his wife and took off in his Mitsubishi pickup
Returning from his pickup after retrieving the blade, to finish off his wife, still in a rage, the assailant, 42-year-old Mr Pisutsiri Chansoda originally from the Ban Fang district of Khon Kaen accosted the two men.
One of them was injured. He warned them not to interfere leaving the men terrified until after he drove his vehicle away at speed.
The incident took place at 3 pm on Monday near Soi Nikhom in the Bang Pu Industrial Estate in the Bang Pu district of Samut Prakan and police at the local station were quickly summoned.
The Superintendent of Samut Prakan Police Station Police Colonel Pisut Chantrasuwan ordered his investigating team dispatched to the area where they were not long in tracking the White Mitsubishi Triton model registration number 2 tha 5783 to the Bang Pakong district of Chachoengsao province where the husband had driven through small roads aimlessly.
Arrested by pursuing police at midday on Tuesday near the Bang Pakong River in Chachoengsao after driving aimlessly and contemplating suicide
Police expeditiously obtained an arrest warrant for the suspect and confronted him at noon on Tuesday under a bridge near the Bang Pakong River.
He told arresting officers he had planned to throw himself in so that he would drown.
He was arrested and brought back to Bang Pu Police Station for questioning and legal proceedings after he was charged with the premeditated murder of his wife.
He explained to officers that he had recently found his wife involved in online chat sessions with other men. That was some 4 to 5 days before the horrific murder on Monday.
He walked out and went to stay with friends.
He had subsequently persuaded her to come and talk.
Before the incident, the couple attended the Wat Khlong Kao, a Buddhist temple in Pathum Thani where they both made merit.
Couple sat down after making merit at the Wat Khlong Kao temple but things turned sour when Mr Pisutsiri thought his wife was again online with a man
They later sat down near the entrance to a local golf course to resolve their differences. However, the situation turned into one of anguish when the man noticed his wife was again texting with another man.
He used the petrol he had in the truck for a motorbike to douse both himself and his wife, threatening that he would burn both of them due to his feelings of betrayal and rage.
It appears that Ms Nathanan succeeded in diffusing the tension until they arrived at the spot where she died when her husband stopped and rolled down the window to buy ice cream.
The two had changed clothes with Ms Nathanan wearing a towel which also had some petrol on it.
While he was doing this she ran from the vehicle covered only in the towel.
This act unhinged the already unstable husband who flew from his vehicle after her with a lighter and the gasoline canister intent on burning her to death.
This led to the traumatic scene witnessed by the onlookers on Monday.
Murderer refused to face his wife's family at Bang Pu Police Station on Tuesday. Sent his apologies and explained he did not know what he was doing
At Bang Pu Police Station, on Tuesday, relatives of the dead woman who was from the Nong Saeng district of Udon Thani, attended the station seeking to see justice done and to confront the cowardly man.
Mr Pisutsiri refused to come face to face with the devastated family members, sending a message that he was sorry for his actions and did not know what he was doing.
Police also revealed that the body of the deceased woman was released to be transported to her home in Udon Thani where funeral rites were to take place.
Police have revealed that the accused man was involved in another incident in 2014, nine years ago at his wife's relatives' home in the Wichian Buri District of Phetchabun province.
At the time, his wife had been able to calm him down when confronted with similar erratic and destructive behaviour. He had threatened to kill himself and warned her family to stay away from him.
History of psychotic behaviour as well as a criminal record revealed by police on Tuesday as they commenced legal proceedings against the man
Police also revealed that he had a criminal record for fraud and trespassing going back to 2011.
The murder and killing of women in Thailand by jealous husbands because of infidelity is now commonplace in the kingdom with reports on a weekly or even daily basis.
On March 3rd, a woman working at a florist business in the Tha Tako area of Nakhon Sawan province was murdered by her husband, again with a knife, after she initially foiled his attempt to shoot her dead after he requested her to come outside her place of work to talk.
38-year-old Sam-nang Paenchan was in a relationship with 61-year-old Jaras Onnuan for years, up to 4 or 5 months ago when she left him.
Murder in Nakhon Sawan on Friday last after a 61-year-old spurned husband also murdered his wife with a knife when she foiled an attempt to shoot her
She was reported to have met another man in the last month and this development became too much to bear for Mr Jaras.
On Friday last, he produced a gun when she emerged from the shop to talk with him, having earlier ordered him to go away and informing him that she had a new partner. The woman managed to grab the gun and take it off him, running into the flower shop.
Her ex-husband followed her carrying a ten-inch knife which he withdrew from his shoulder bag and surprised her inside before cutting her across the neck and stabbing her no less than 15 times.
The man then fled the scene to a forest area but later surrendered to police on Saturday as he had wounded himself in his frenzied butchering of his former relationship partner.
The suspect's daughter later came to the Tha Tako Police Station to speak up for her father and told investigating officers that her stepmother had run up debts in his name.
She made an offering of a pig's head and other items to the spirit world on behalf of her father.
Further reading:
Mother of murdered woman at the hands of a suspected serial killer calls for the death penalty to be meted out
Killer sentenced to death for the 2nd time for the murder of a woman 7 months after being paroled
Thai Justice Minister promises to push legal measure for the castration of rapists with public support
Sadistic rapist, drug dealer and serial murderer is sentenced to life in prison by Thon Buri court
Scotswoman to appeal dropping of death sentence on brother in law and two hired hitmen by court in Phrae
Death sentence for murderous trio who executed a loving Thai wife and her UK husband in Phrae
Death sentence imposed on school boss who murdered a 2-year-old boy in a gold shop robbery in January
School director pleads guilty in court to murder and other charges after Lopburi shopping centre massacre
Master of lies and death, the gold shop killer's life, actions and motives probed by police as wife flees
Lopburi child killer is a primary school director who murdered 3 people this month just for kicks
All quiet in Lopburi as fears grow that the gold shop killer may have slipped the police arrest net – media blamed
Mum's heartbreak after 2 year old's murder as police now know the identity of the cruel and evil killer
2-year-old shot dead by gold robber Thursday night as 3 die, 4 injured in mass shooting with silencer gun
Party over for 45 year old composed armed robber who took ฿4 million in Bangkok gold shop raid
Police near closing the ฿9 million gold robbery case in Khon Kaen as the last suspect returns
Convictions of Burmese Koh Tao murderers and death sentences upheld by Thai Supreme Court
Koh Tao victim's family endorse the conviction of Myanmar migrants
Koh Tao claims by UK teenager questioned by Thai police – arrest warrants indicated for some media
Australian man pleads for help for his son and Thai wife sentenced to death for failed drug trafficking plot at sea
Police to re-arrest Australian death row inmate after he is released under court order at Bangkwang prison
93% of Thai people want to see the death penalty put to use to curb shocking murders and drug gangs
About the Author
Carla Boonkong is a magazine writer who writes extensively about woman's issues in Thailand. One of her key subjects is the story of Thailand's growing influence in the world and the role played by Thai women in the process. She is now a staff writer with Thai Examiner.com in Bangkok. Son Nguyen is an international writer and news commentator specialising in Thai news and current affairs. He commenced working with the Thai Examiner News Desk in May 2018.