On the windswept, rocky coast of Islay – an isle in Scotland's Inner Hebrides, population 3000, pronounced 'eye-lah' – sits The Machrie. Olivia Emily checked in to the spacious hotel – at once both a remote retreat and a contemporary haven – which is situated just a few minutes' drive from the island's tiny airport, a stop off for little propeller planes that dart to Glasgow (within 25 minutes) and back twice everyday.
Read the C&TH Responsible Tourism Guide
The Machrie Hotel & Golf Links, Islay, Scotland – Hotel Review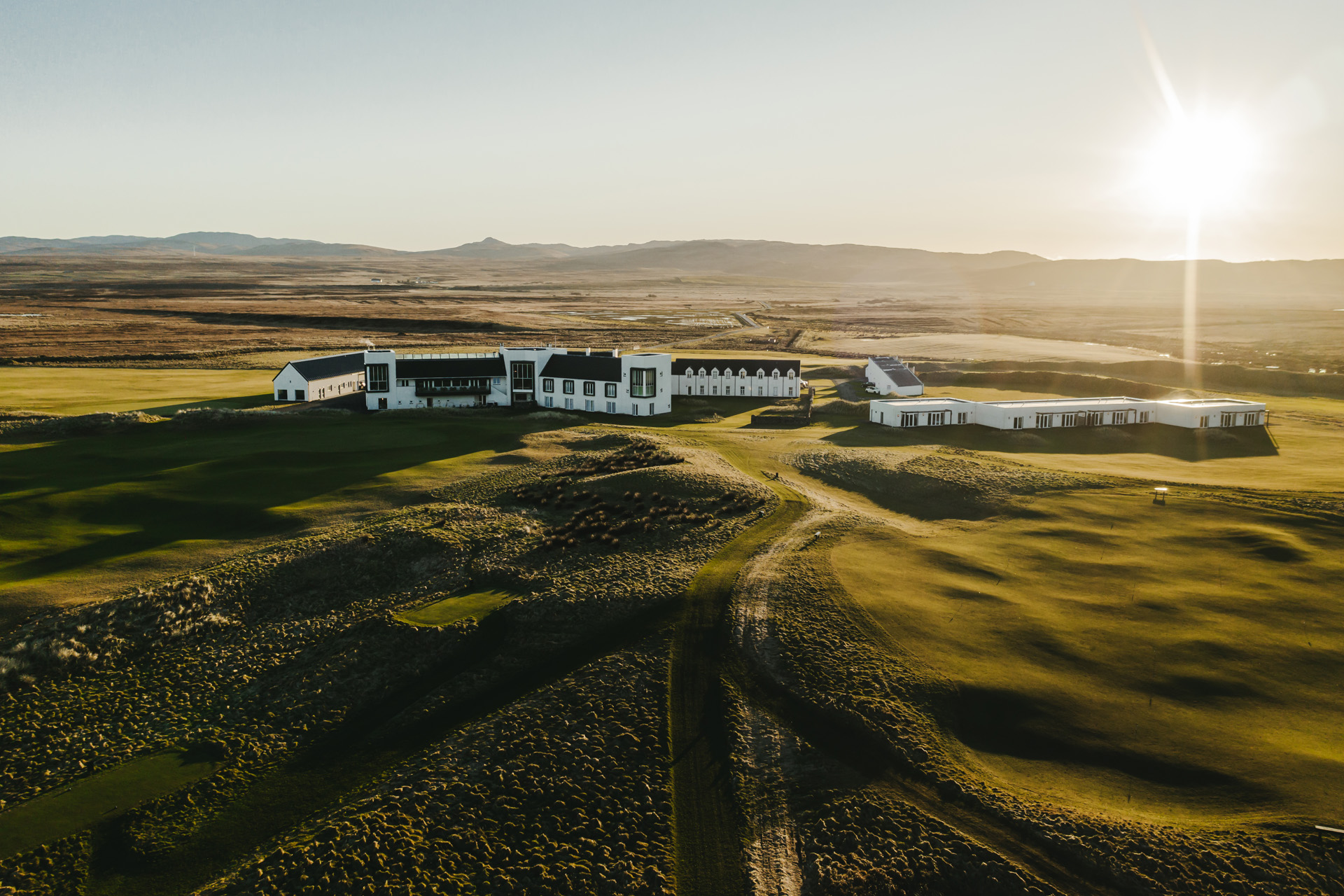 With a shimmering swoop of sand and tumultuous waves clambering onto the shore, the jarringly modern Machrie hotel hides behind its world-renowned golf links, naturally verdant due to the cool, rainy climate. Roaming across the undulating course from the seven-mile beach, cheery golfers pass by – eagerly braving the blustery weather for a chance to play on one of the world's top 100 courses – before The Machrie, only two stories tall, gradually comes into view, block-like and reminiscent of mid-century modern architecture.
Inside, the cold melts away immediately with crackling fires and homely furnishings across the open-plan Courtyard Lounge by the hotel's entrance and also in The Stag Lounge, situated just off the 18 Restaurant & Bar with its terrace peering over the golf course's final hole. Plus, there's one of 47 lovely rooms, suites and lodges to call home for a while.
STAY
Some rooms have ground floor terraces with outdoor seating, others floor-to-ceiling windows, but all – whether it's the Islay countryside or The Machrie Links course (perhaps with a glimpse of the Atlantic Ocean) – have lovely views, almost otherworldly when the mist descends and plays with the light. The two-bedroom lodges are ideal for families and friends looking to gather in their own space; the spacious living rooms are cosied up with thick carpets, heavy curtains, plump pillows and an abundance of lamps for warmer lighting.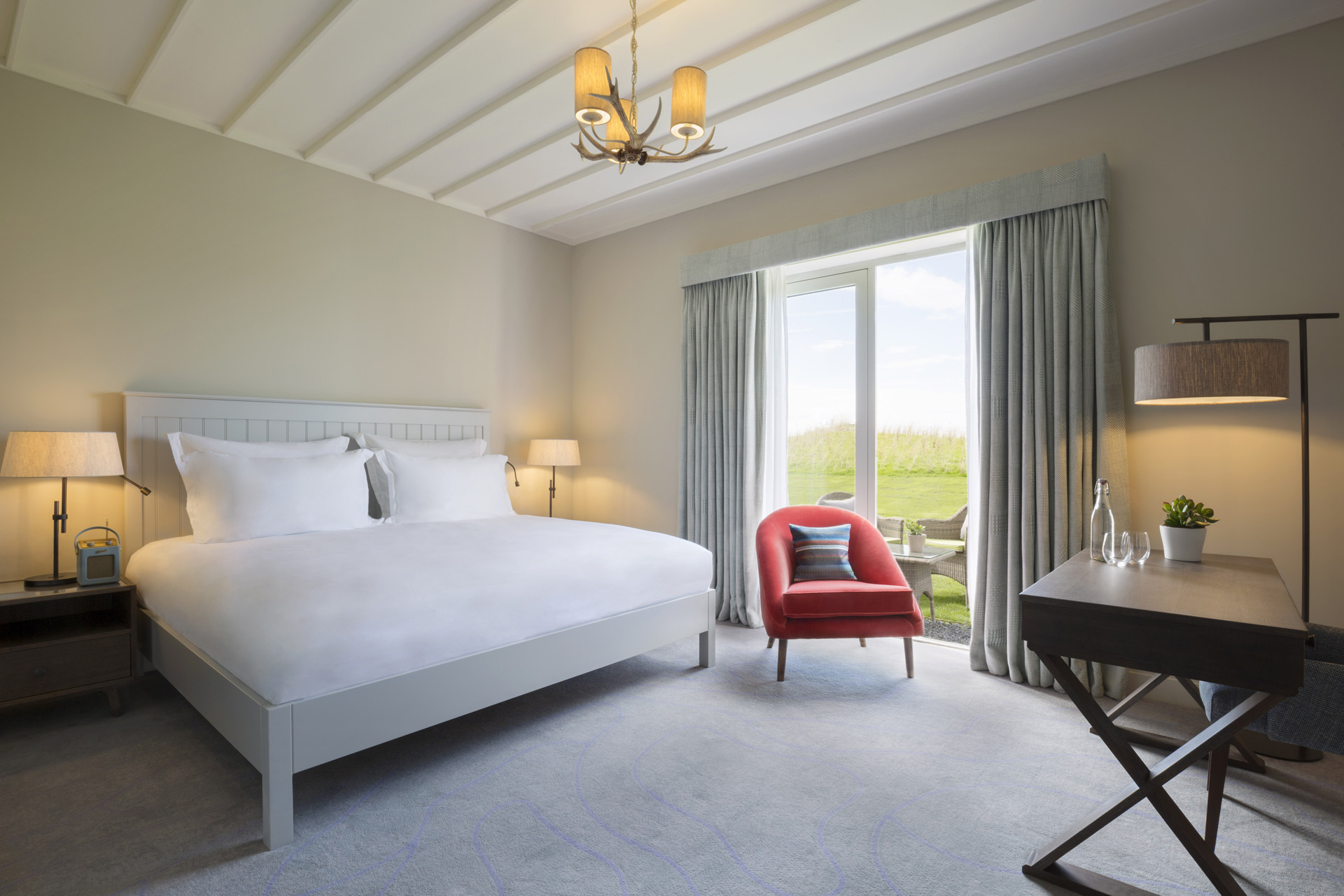 Bedrooms are simultaneously spacious and cosy with Twin, Queen, King or Super King size beds with giant, squishy pillows and a cocooning quilt, alongside soft cushions, chairs and blankets that warm up the space. Throughout the rooms, modern art adorns the walls and furnishings provide subtle pops of colour – think mustard yellows, muted raspberries and pastel greens – but bathrooms create a calming space with natural slate floors and neutral tones.
Feel the cold melt from your muscles with a hot bath in the spacious tubs – or spend a little longer than anticipated under the giant rain shower, accompanied by fragrant soap, shampoo and conditioner. Then, wrap yourself up in your thick bathrobe and fluffy slippers, collapsing onto your super-comfy bed.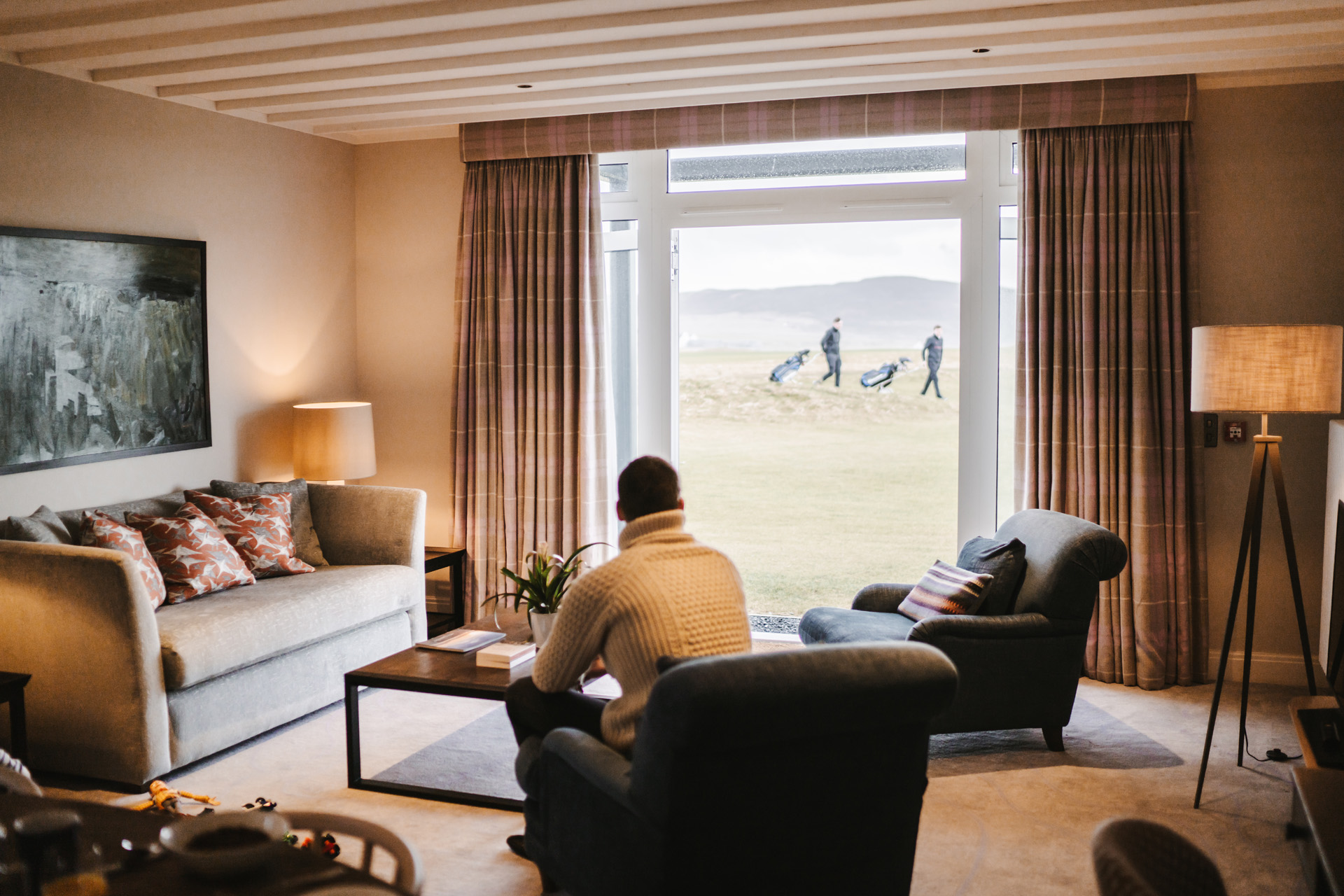 The Comfy Luxe rooms are especially pleasant, with a Super King bed, a separate bath and shower, and, in ground floor rooms, floor to ceiling French windows leading to a private outdoor seating area, from which you can amble directly onto the links course. Or try The Islay Room with its four-poster bed and stunning countryside views – or perhaps the modern, 'best room in the house' Ben Hogan Duplex Suite, set across two floors with sea views, ideal for those looking for some extra spacious privacy.
DO
The Machrie offers sporting breaks for fans of fishing, stalking and shooting, and there's also an on-site cinema, gym, sauna, and treatment rooms (book in to experience lovely ishga products and the friendly massage therapist's healing hands). Golf fans will be happily occupied on the world-famous, 18 hole links course, complete with sea views.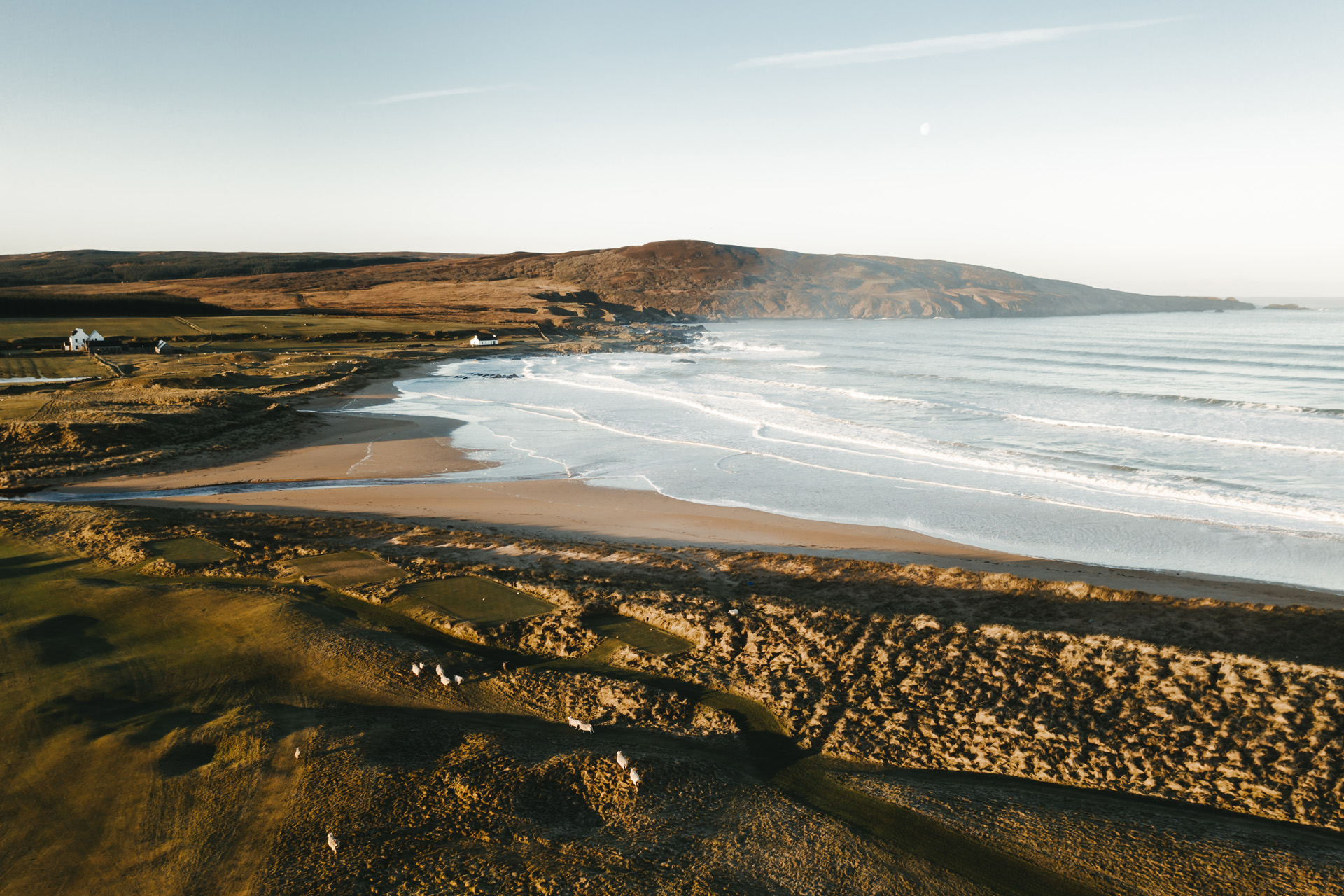 Venturing (reluctantly) from the hotel's restful confines, there's over 70 walks across the island, and secret walks accessible from the hotel, exploring beach coves and stretches of countryside. Islay is famous for its smoky, peaty whisky; nine distilleries (and counting) await your exploration, with tours and tastings at many. Try Bunnahabhain for a centuries-old distillery with a plush gift shop and lovely outdoor terrace overlooking crashing waves, with a side of Ileach wit from the friendly staff. Or venture to Caol Ila for a newly-refurbished, modern whisky experience with a new cocktail bar and sleek floor-to-ceiling windows.
Around the island, don't miss the ancient Celtic crosses (especially The Kildalton Cross & Chapel, dating back to circa 820 AD), the ruined Dunyvaig Castle, American Monument, lovely beaches and breathtaking wildlife (seals, deer, an abundance of sea birds) – a lot of the time, the latter will come to you. There's no better way to see the island than zipping around on an Islay Tuk Tuk – the friendly driver can even pull down see-through plastic sides when the weather gets a little wet and breezy.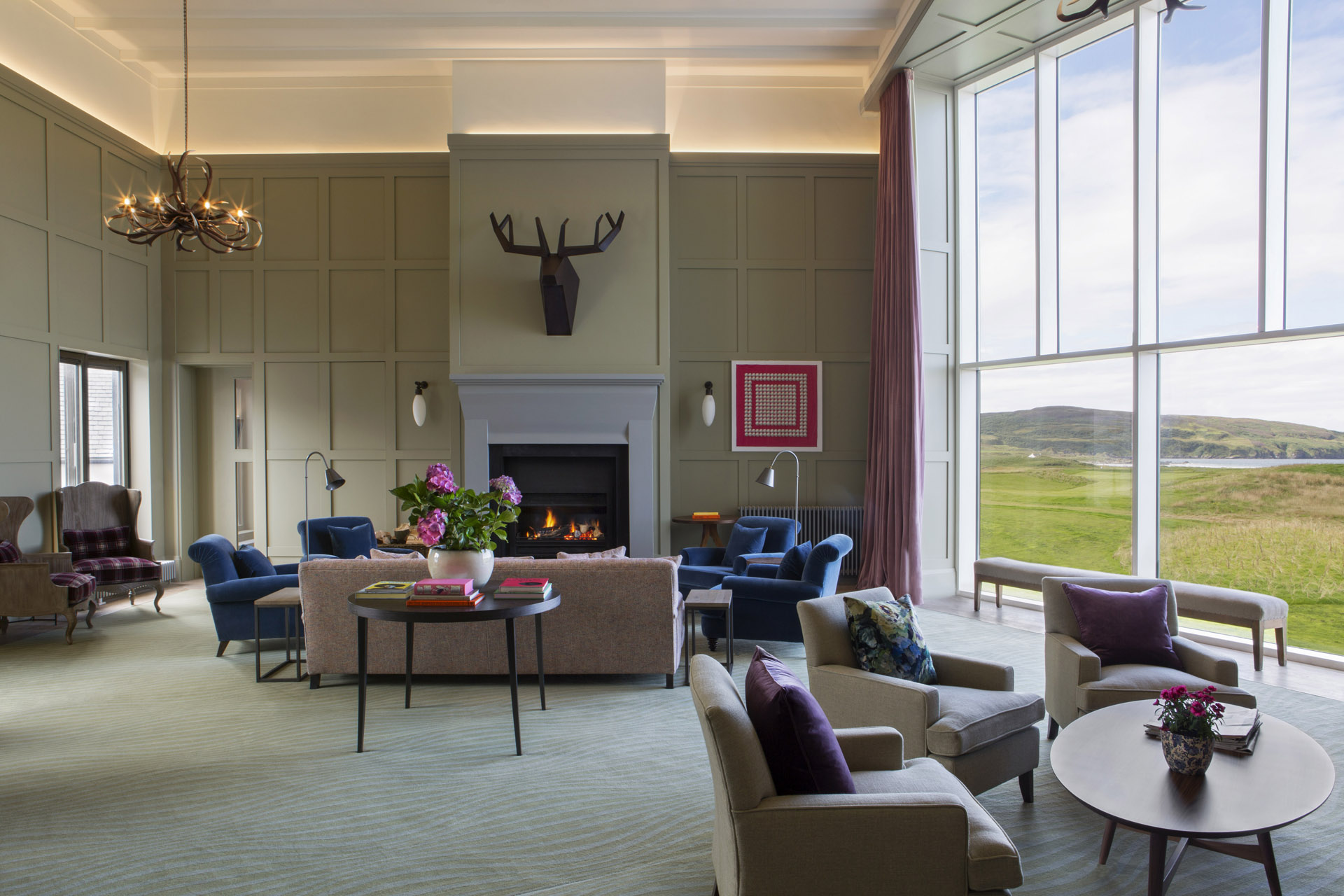 EAT & DRINK
With a competitive list of whisky – championing Islay distilleries, of course – The Machrie's drinks menu is a weighty novel to peruse with care. (Or ask any of the friendly waitstaff for guidance.) There's plenty of wine, too, but the real star of the show (sorry, whisky) is the playful collection of cocktails; it would take a (very enjoyable) weekend to work through them all. 
Enjoy a Deer Stormy (a play on the classic Dark and Stormy) or a Machrie Bramble (the berries were possibly foraged just steps from the hotel) in The Stag Lounge, snug with its crackling fire, modern art, antler chandeliers and heavy curtains – but awesomely spacious with its high ceilings, huge sofas you can sink right into, and panoramic floor-to-ceiling window taking centre stage.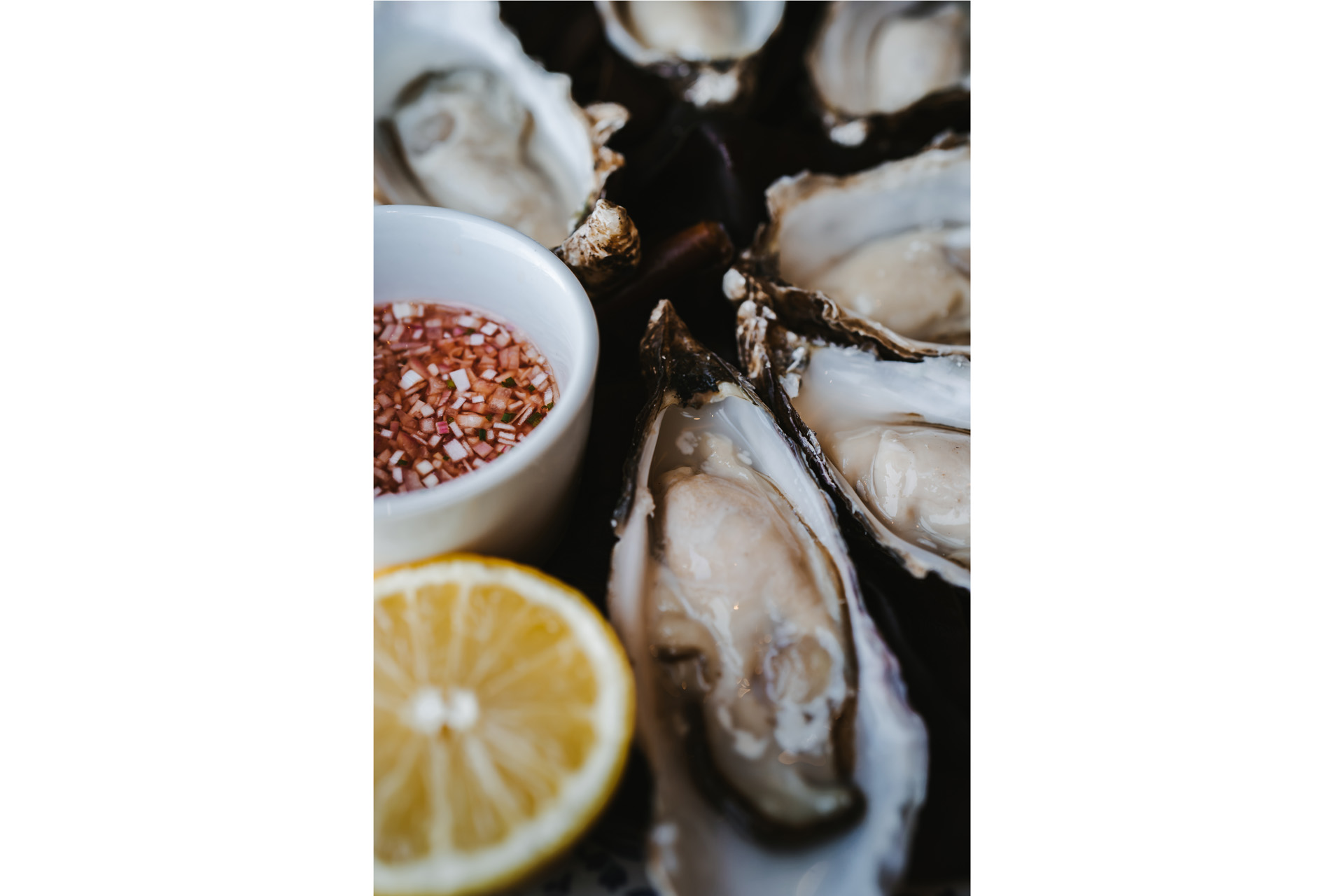 The 18 Restaurant & Bar serves three meals a day in its window-led, spacious dining room, from a hearty Scottish breakfast to a filling lunch, concluding with a lovely dinner. Locally sourced oysters are popular here – there are tales of past guests ordering them by the score, repeatedly – but vegetarian options are also plentiful. The menus change with the seasons, led by a dedicated, adept chef, championing local produce as much as possible. Don't miss the Seafood Chowder (or any of the fish dishes for that matter), and note that any vegetables prefaced with 'Nerabus' are from Nerabus Farm, a small, local Islay farm just a short drive away from The Machrie.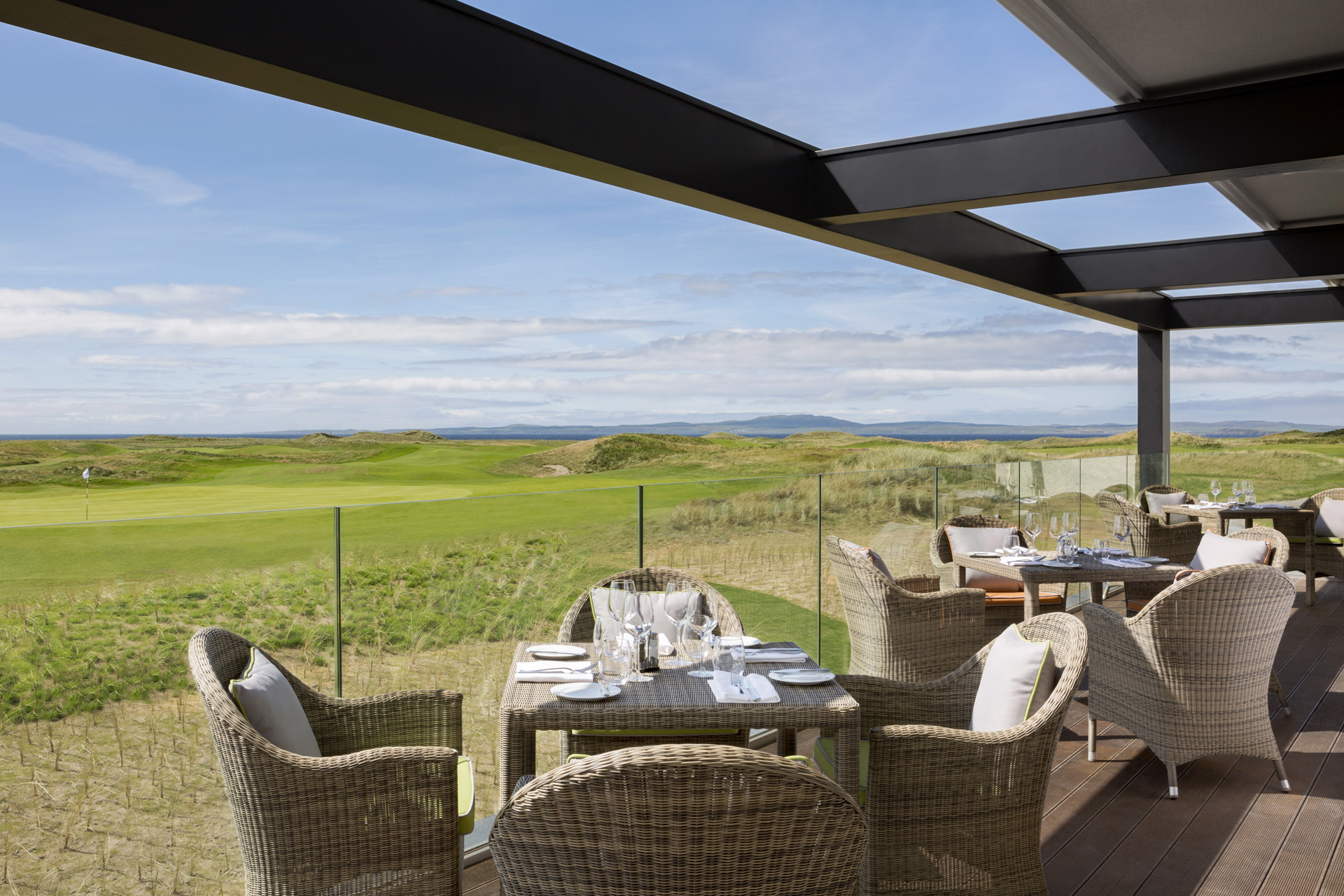 SUSTAINABILITY
Part of hotelier Gordon Campbell Gray's collection – and the hotel that inspired his latest venture, the Wee Hotel Company – The Machrie is early in its sustainability journey. Single-use plastic is being phased out, with all new, delicious-smelling soaps, hand creams, shampoos and conditioners gradually arriving in bathrooms across the 47 rooms (in lieu of disposable mini products). The 18 Restaurant & Bar – with its local, seasonal produce that reduces food miles wherever possible – is where this commitment to sustainability shines through. 
FINAL WORD
The Machrie is a Hebridean gem, fuelled by friendly staff and delicious local produce, with sumptuous rooms that strike the perfect balance of Scottish charm with contemporary edge.
BOOK
Winter rates from £150 per room per night, including a full Scottish breakfast. Summer rates from £340 per room per night, including a full Scottish breakfast. machrielinks.com
Loganair flies direct from Glasgow to Islay twice a day, seven days per week, with a morning and evening service. The 45-minute flight is the quickest and easiest way to access the island from the central belt. Fares commence from £63.52 one-way and are inclusive of 15 kg hold luggage and inflight refreshments. loganair.co.uk
Featured image © Phil Inglis.