A short trek through rocky terrain, past baboons and reptiles, fernbush and (enthusiastically viewed) poisonous shrubs, leads us to the Fallen Rock ancient rock art site. Londi Ndzima, our guide and a rock art curator at Bushmans Kloof, remains at the entrance of the sheltered rocks to allow the group to enter the site alone and take in the art before following us in and taking us through the stories and legends it depicts. The paintings adorning the striped sedimentary walls are between 1000 and 10,000 years old, possibly both, layered atop each other, generations of San, Khoi and Khoisan people adding their stories and visions to the walls. Even more than the weathered rocks and the resident wildlife that have evolved over the centuries to fit within these wild lands, nothing we have encountered has is quite as spectacular as these beautiful ancient artworks. 
Rebecca Cox visits Beyond Green member hotel Bushmans Kloof, to find out how the protection of this ancient art work fits into the wider conservation efforts taking place on the Western Cape.
Bushmans Kloof Review
The drive to Bushmans Kloof sets the tone for what's on offer at this luxury South African lodge. Roughly three and a half hours north of Cape Town, the entrance to the hotel grounds is some 30 minutes drive down craggy, bumpy roads to the lodges and rooms. Your vehicle will need to slow significantly to navigate the bumps and rocks, pause for animal crossings and keep your bearings, offering you the chance to slow down and adjust to life at a new (and improved) pace. Unlike the safari lodges further north and east of South Africa, or the East Africa route where big five viewings are the name of the game and days start in the early hours to catch maximum action in the bush, things are a little more easy going at Bushmans Kloof. 
Having said that, there are animals, of course. Baboons, so numerous that the rooms all come with a warning to lock the doors to avoid unwelcome visits, a variety of antelope, including the herd of red hartebeest that gallop through the resort as we're returning to our room after supper, startled, perhaps by the aforementioned baboons. There are an array of pretty and vocal birds, including an abundance of the flightless ostrich, who make for hours of entertainment with their bickering and feather flapping.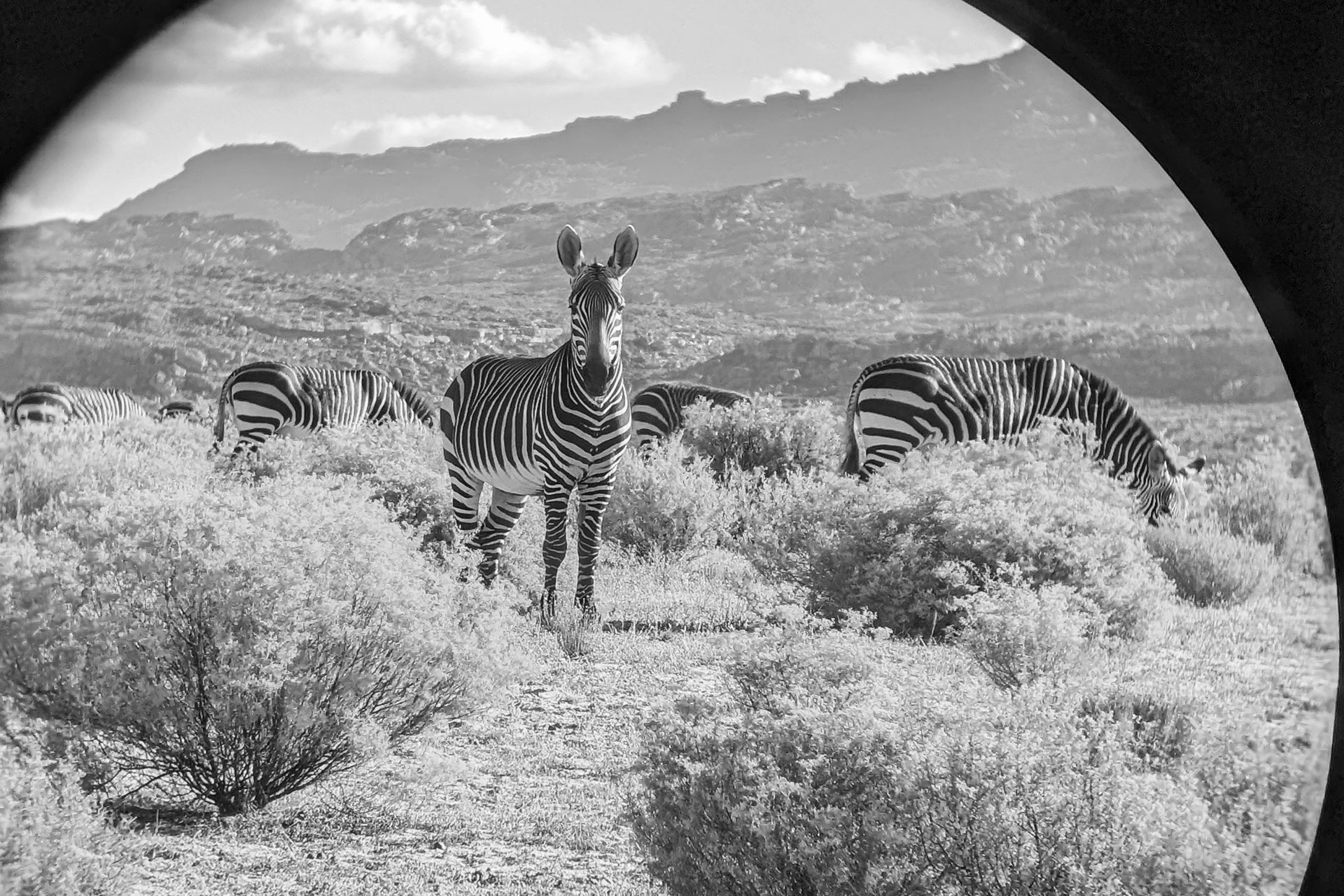 And then, of course, there is the cape leopard. One of the property's conservation commitments is to the Cape Leopard Protection Programme, within which they work with surrounding farmers to stop the culling of the area's main predator. The project involves providing farmers with Anatolian sheep dogs to guard their livestock to prevent poaching by the leopards, meaning they no longer have to hunt them to prevent the loss of their animals. It is thought that there are roughly seven or eight leopards on Bushmans Kloof's rocky hills at any given time, although sightings are incredibly rare. Londi, our guide, has seen only three in 11 years, the general manager none. Unlike other lodges that offer night drives and the like, the animals are very much left to their own devices here. Even the wildebeest and zebra are skittish, and nature drives are more about taking in the scenery and learning about the history of the lands than the arbitrary ticking off of animals. And while it would be undeniably incredible to meet a leopard in these wild and colourful hills, just knowing that you're sharing their land for a few nights is pretty wonderful.
STAY
The accommodation at Bushmans Kloof varies from grand double bathroom-ed master suites with luxurious finishes, rich and varied artworks and modern free-standing baths, to more modest (and ever so slightly dated) manor house rooms, several of which accommodate families. All rooms are generously sized, including the most petite waterside lodges, and all feature large and outrageously comfortable beds. The fully stocked cookie and snack jars will stave off hunger, although with the food on offer at Bushmans Kloof you'd do well to achieve a state of hunger at any point during your stay.
Stop Flying & Save The Planet?
EAT
Dining options range from leisurely luxury at Makana and the Homestead to spectacular location dining at Kadoro or Embers. The breakfast at Makana is an indulgent affair, with a buffet stocked with fresh fruits, vegetables, cheeses, pastries and a granola station, plus a menu that offers hearty daily specials and favourites like avocado toast. All of it pales in comparison to Mrs T's mac & cheese, layered with tomatoes and with a crumb topping; this is without question the most enjoyable way to start any day.
Special occasion dining at Bushmans Kloof is where this property really excels. Perfect picnics by the lake include mini mushroom balls, hake wraps, cheese boards you'll dream of for weeks later served alongside individual dessert platters, plus a South African Sauvignon Blanc or a Cederberg sparkling to wash it all down. The Kadoro is a secluded farm building at the top of the property, where food is cooked over a roaring fire and the grand dining room is lit only by candlelight from dozens, if not hundreds, of candles. If a more romantic dining room exists, we've not come across it, and for those looking for the perfect setting for an intimate wedding supper, there is no more special place. The drive back to the main lodge under the light of a thousand sparkling stars is pretty lovely, too.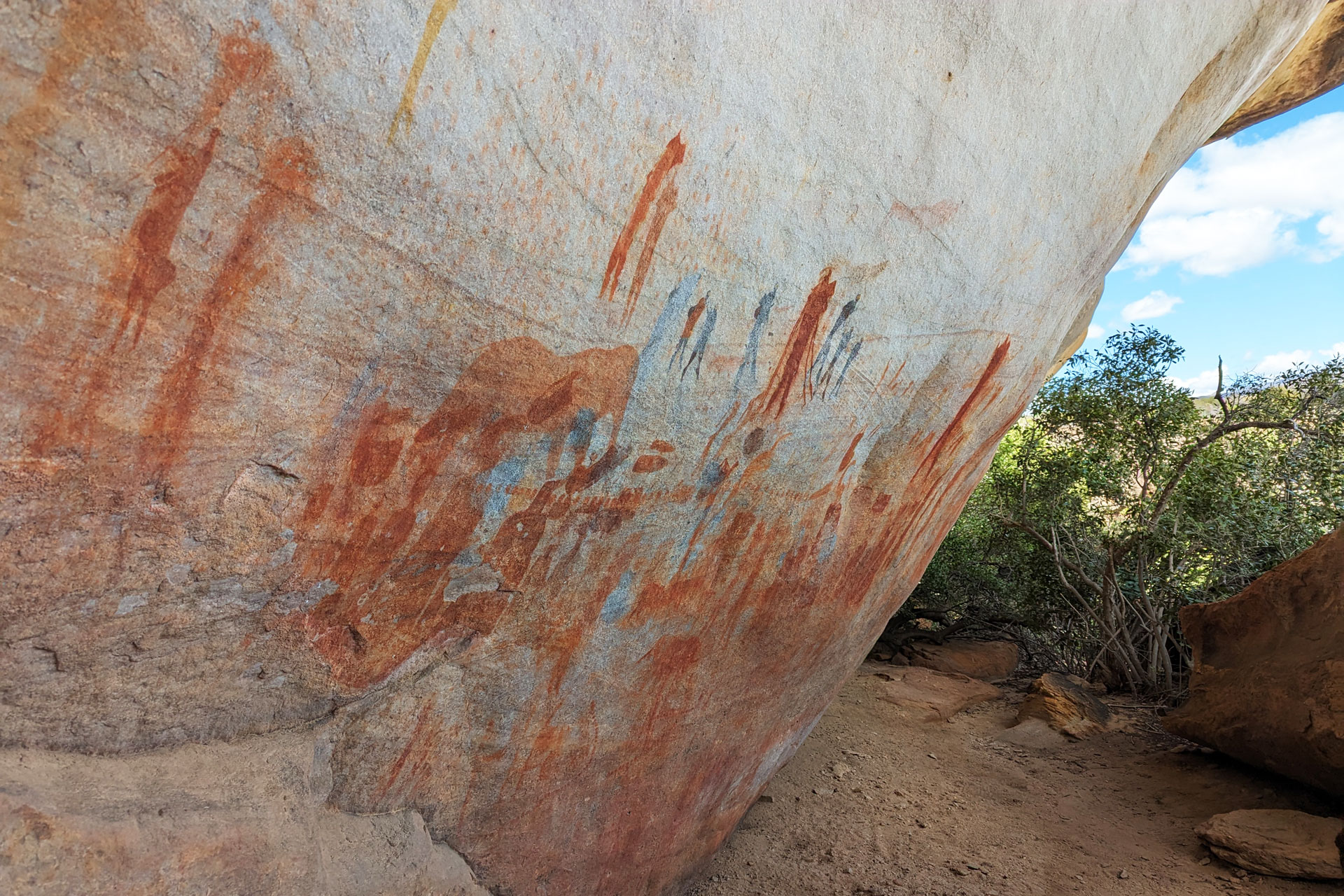 DO
The rock art sites on the property are a real draw, no pun intended, and witnessing the painted recordings of visions and stories from millenia ago is a truly moving experience. You're free to explore the property alone with walking and running routes marked to enjoy, and will stumble across rock art sites on these explorations, but the best way to experience them is with the guidance of one of the BK guides such as Londi, whose knowledge of the culture and history of the people to have created the artwork is incredible. Londi is a rock art site curator and has been at Bushmans Kloof for 11 years across two spells, first starting in 2005. He is originally from the Eastern Cape and grew up speaking Xhosa and seeing the culture and rituals depicted in the artwork first hand, which sparked his passion in conservation and education. The paintings are layered on top of each other, over centuries and millennia, depicting the visions of the shaman and medicine men, painted by the elder members of communities. Rock art sites are not all in protected landscapes like the one at Bushmans Kloof, although the art itself is protected and belongs to the African people. Sadly the art in unprotected landscapes is often defaced or graffitied, making spaces like this all the more important.
Beyond the rock art, the best way to explore this stunning landscape is to immerse yourself in it. Nature drives, walks, runs, wild swimming, mountain biking or canoeing are just some of the ways to cover the hills and trails of the Kloof, all offering different perspectives and different opportunities to spot new flora and fauna on the grounds. As night falls, look up, because the clear skies over the Kloof make for breath-taking stargazing and yet more opportunities to feel small, atop our diverse earth, circling the sun amongst our endless universe of stars.
SUSTAINABILITY & CONSERVATION
Bushman tribes have lived in the antediluvian mountains for 120,000 years, they are mankind's oldest nation, and the team at Bushmans Kloof takes protection of these lands very seriously. Bushmans Kloof is the custodian of over 130 unique rock art sites, some as old as 10,000 years. They have been awarded the status of a Grade 1 South African National Heritage Site, and take conservation seriously. Along with The Tread Right Foundation, Cheetah Outreach and The Cape Leopard Trust, they have purchased seven Anatolian Shepherd dogs to act as livestock guardian dogs (LGDs) and safeguard these Cape Leopards from poaching. They also partner with a number of local projects, including local farming communities, the Amy Biel Foundation and Elizabeth Fontein Primary School. By visiting Bushmans Kloof you are funding the continued protection of these lands via sustainable tourism. 
Costas Christ (co-founder of Beyond Green) says: 'By booking a holiday with Beyond Green, a traveller is supporting a global collective sustainable tourism impact that is uplifting local community livelihoods in the places they visit, restoring ecosystems on land and sea, saving endangered species and protecting cultural heritage for future generations.' 
THE FINAL WORD
Fluffy baby ostriches chasing their parents, a dazzle of zebra with their brown and fuzzy young, baby baboons pushing each other into the rock pools. Yes, where there is South African wildlife, there is joy to behold, but the appeal of Bushmans Kloof runs deeper than the thriving wildlife population and into the history of these precious lands, and the efforts to keep them alive.
BOOK
Rates at Bushmans Kloof, a member of Beyond Green, start from £500. For further information or to book, visit staybeyondgreen.com Rates start from £500 (10,405 RAN) per night per room based on two people sharing, inclusive of all F&B and activities.
See more photos from our trip: