The conflicting reports over the weekend were the product of two high-powered committee meetings within the Ministry of Public Health ahead of a meeting of three key ministries on Thursday next January 5th and an ultimate decision by the prime minister and cabinet on the approach to be taken. It comes with voices from both the medical community and government agencies urging caution as the kingdom and the wider world have learned to live with the COVID threat.
Ahead of a key meeting this week between three key ministries involved in dealing with China's planned border reopening to foreign travel, there are conflicting reports on whether additional entry requirements will be imposed at Thai airports, something that would have a severely negative impact on the country's ongoing foreign tourism recovery. Last week, Deputy Prime Minister and Minister of Public Health Anutin Charnvirakul indicated that the economic impact of such moves must be carefully considered at this time while in recent days the Director of the Civil Aviation Authority of Thailand (CAAT) Sutthipong Kongpool urged Thai authorities to examine carefully the measures introduced by Beijing concerning outbound passengers before deciding how to react.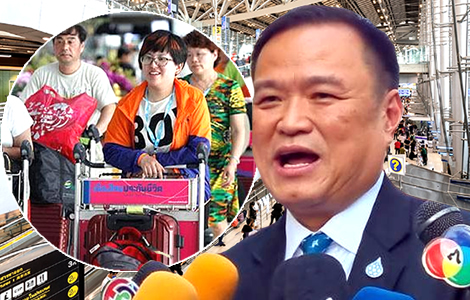 A key meeting between the ministries of Transport, Public Health and Tourism on Thursday, January 5th will determine the kingdom's new international arrivals policy in light of the reopening of China's borders and the expected resumption of mass tourism from China into Thailand.
The development has resulted in conflicting reports over the weekend with a meeting last Thursday at the Ministry of Public Health appearing to signal a return to a screening of passengers across the board as they enter Thailand and new preflight requirements, in particular a requirement that passengers show proof of adequate vaccination against the COVID-19 virus.
Signals at the weekend were that a reversal of the free flow of passengers into the kingdom which benefits foreign tourism numbers was on the cards
This has since been played down although all the signs are that there will be a reversal of the travel free for all that we have seen since COVID was declared endemic in Thailand in October 2022 and which has been the basis for a marked uptick in foreign tourist arrivals and expectations for the coming year with rising confidence among both passengers and airlines which had been severely challenged by the arbitrary nature of entry requirements and conditions imposed in 2020, 2021 and 2022 by the Thai government.
The key lesson learned in 2020 and particularly in 2021 and 2022 was that foreign tourists expect to be able to travel freely and without red tape when planning and taking holidays abroad.
Any imposition of entry criteria aside from a passport and normal visa provisions will see a sharp decline in numbers opting to travel or visit.
Some of those who attended the meeting on Saturday at the ministry are understood to have taken a more pragmatic tone when officials are reported to have agreed that screening at airports may not be necessary at this stage in reaction to the news of China's opening to international travel.
Conflicting reports from two Ministry of Public Health meetings which first of all targeted Chinese visitors and then applied the rule to all travellers
This was judged particularly so as travellers from China will already have been vaccinated against the disease although other reports from the meeting suggested that a COVID-19 vaccine certificate will be required from Chinese travellers as well as proof of short-term health insurance for COVID.
Sources also suggested that travellers from China will be informed of these requirements through the travel industry network and the Ministry of Foreign Affairs in a scenario which appears to harken back to the kingdom's policy in 2020 and 2021 of orchestrating tourist trips before arrival via the Ministry of Foreign Affairs which had a devastating impact on Thailand's foreign tourism sector from which it has not yet recovered with this year's projected visitor numbers at only 29% of those seen in 2019, well behind other countries with large tourist industries.
There are also reports from the Ministry of Public Health that 'sentinel' random testing will be carried out at Thailand's main airports with RT-PCR tests on both passengers leaving and entering the country.
Health Minister Anutin has emphasised the need to protect key economic interests responding to the news from China, expected arrivals to be 'gradual'
It is understood that outline proposals from both meetings on Thursday and Saturday will be discussed at this week's summit between the three ministries concerned with any final decision being made by the prime minister and the cabinet given the potentially significant impact of such measures on the country's tourism recovery and the wider economy.
Minister of Public Health Anutin Charnvirakul was involved in Thursday's deliberations and afterwards attempted to play down the impact caused by the return of Chinese tourists saying he believed that this would be a gradual process.
He also emphasised the proposal tabled for next week's meeting by Minister of Tourism and Sports Phiphat Ratchakitprakarn to offer free vaccines to incoming foreign tourists on arrival but purely on a voluntary basis.
Vaccination levels and health risks are the same in China as in Thailand declared the minister as he played down the challenge and warned of speculation
He told reporters that the virus circulating both in Thailand and China was essentially the same with a similar level of vaccination and risk.
'I would not like any speculation of a Chinese influx because that would worry people. I believe they will arrive gradually,' he insisted.
Deputy Prime Minister Anutin also made it clear that any decision on the issue would also bear in mind the economic impact.
The proposals being developed include the allocation of increased resources for treating foreign tourists in Thailand who become ill or sick with COVID-19 while it is also being proposed that all incoming travellers will be advised to wear face masks, adhere to health protocols and regularly use hand gels.
The ministry is also advancing plans to deliver booster vaccines to front-line foreign tourism and health staff who are involved with the foreign tourism industry.
Proposals to be adopted as universal measures due to fears of acting in a 'discriminatory' fashion to Chinese travellers such as seen in the US and Italy
Initially, it was reported that the proposals put forward on Thursday by a top committee within the Ministry of Public Health were meant for Chinese arrivals only on the basis that the Chinese government has failed to provide even basic data on infection and mortality rates linked to the country's huge COVID wave after authorities abruptly withdrew their zero Covid measures due to unprecedented and dangerous protests across the communist country in recent weeks.
This approach was swiftly condemned by leading Thai physicians and public health figures such as Dr Prasit Watanapa of the Faculty of Medicine of Mahidol University at Siriraj Hospital who classified them as unacceptable and 'discriminatory' against the Chinese population in a similar vein to the stance taken by the European Union last week but differing from the reaction of individual states such as Italy and the United States which have brought in strict requirements for Chinese travellers.
Following Thursday's meeting at the Ministry of Public Health, Dr Chakrarat Pittayawonganon, chief of the Division of Epidemiology, however, appeared to make it clear that the proposals devised by the meeting were aimed at all international travellers.
'All international arrivals must have a record of receiving at least two shots of the Covid-19 vaccine, while all international travellers arriving in Thailand from China have to have a health insurance package that fully covers Covid-19 treatment,' he outlined.
Ministry of Foreign Affairs expects 360,000 Chinese travellers before the end of March with larger numbers to come as Thailand is the No. 1 destination
He went on to outline plans for  'sentinel' random testing at international Thai airports and indicated broader advisory measures for the Thai public.
'As for the Thais, they will be advised to keep wearing face masks in crowded areas, to get properly vaccinated and to undergo a self-antigen test if or when they develop symptoms suspected to be those of Covid-19,' he declared.
In the short term, the Ministry of Foreign Affairs in Thailand is predicting that the reopening of China's borders on January 8th will mean 300,000 Chinese visitors to Thailand in the opening three months of 2023, 60,000 in January and 150,000 each in February and March.
However, this will increase dramatically according to the Minister of Transport Saksayam Chidchob last week inspecting Thai airports to address key problems with the availability of services such as taxis and processing times at facilities such as Suvarnabhumi Airport and Don Mueang in Bangkok as well as Phuket International Airport and Chiang Mai International Airport which will be in the vanguard of welcoming Chinese foreign tourists in 2023.
The minister suggested that Thailand could see up to 10 million arrivals from China in 2023 as the kingdom is the favourite holiday destination for middle-class Chinese according to recent travel surveys.
5 to 10 million visitors due from China. Civil Aviation Authority of Thailand (CAAT) chief advises a study of Chinese outgoing passenger requirements
At a minimum, the country should welcome 5 million visitors from China in 2023 with Tourism Authority of Thailand (TAT) Governor Yuthasak Supasorn saying this week that his agency was revising upwards its target for this year to 25 million visitors, 5 million of them being Chinese if the reopening of China's borders goes according to plan.
Mr Sutthipong Kongpool, the Director of the Civil Aviation Authority of Thailand (CAAT) believes that Thai business chiefs and officials must wait and see before they can determine the response if the full reopening of China goes ahead or to determine if it turns out to have a positive impact for the country.
He thought this would become apparent during the Chinese New Year or at the end of January.
He also thought that Thai authorities and business leaders should look closely at what conditions of outward travel would be required of Chinese tourists at home before putting measures in place.
Currently, 15 flights a week from China, a full return of Chinese tourists would see this rise to 400
Nevertheless, he said he expects the number of flights from China to pick up dramatically from 15 flights a week at this time to somewhere near the 400 flights per week, as seen before the pandemic, in 2023.
'I believe that entrepreneurs should wait to see the measures and requirements of the Chinese authorities to be announced because even if you don't have to detain them, we have to wait and see further measures before we can believe that opening this country will have a direct positive effect on the tourism sector and Thai aviation industry to come back to life during the Chinese New Year 2023.'
The flight agency chief noted that China is the kingdom's largest foreign tourism market and expressed confidence that airlines and official agencies will be able to accommodate the resumption of demand when it comes.
It all depends, he said, on measures implemented in China for outgoing and incoming passengers.
He said he also expected the resumption of some charter flights to Thailand from China by the end of January 2023.
He predicted that China will send 7 to 10 million visitors this year, an outcome which would cement its position as the key driver of Thailand's foreign tourism industry.
Top Thai doctor urges the kingdom to learn to live with COVID and advises less alarm about the disease
In the meantime, Dr Thiravat Hemachudha, the chief of the Red Cross's Emerging Infectious Diseases Health Science Centre, on Sunday, called for a more relaxed attitude towards COVID and the Omicron strain of the disease.
He said it would be normal for cases to rise at the end of the year as Thailand experienced colder weather and people socialised more.
He expected, however, that with the level of vaccination among the population and built-up immunity that the need for alarm was now reduced.
'The Omicron sub-variants are not causing as severe symptoms as before,' he said. 'I think we can finally celebrate the New Year with peace of mind.' 
He called for less alarmism about the disease at all levels and drew attention to the atmosphere at the recent FIFA World Cup in Qatar.
This view was echoed by Chamnan Srisawasdi, the Chairman of the Tourism Council of Thailand who said that most people in the country had now learned to live with COVID which has been a key factor in the recovery of Thailand's critical foreign tourism industry with the final tally in 2022 expected to reach 11.5 million visitors having passed the 10 million mark in early December.
Further reading:
Foreign tourism is Thailand's only hope in 2023 as exports dim with hard times seen in key markets
Thailand to scrap all emergency provisions as it seeks to boost a very fragile economic recovery
Central bank boss worried about General Election political promises and rising geopolitical threats
Soaring baht as the Thai economic spirit rises with one of the world's lowest levels of inflation
Finance Ministry unveils green bonds as it seeks ฿900 billion for investment over four years
Thailand feels the pinch of lower tourism earnings as second ex-minister queries economic data
Former minister questions export growth data as Bank of Thailand plans to rein in consumer loans
Warning to central bank to preserve Thai foreign exchange reserves for a brewing 2023 economic storm
Baht slide continues as Bank of Thailand sticks to its dovish and soft approach to interest rates
Choppy waters for the economy as central bank tries to cling to its benign interest rate policy
Prawit stuns the cabinet demanding a ฿35 to the dollar rate and action from the Finance Minister to stop the slide
Low spending tourists and slowing export growth but 'intact' economic recovery stays on track say officials
Central bank reassurances as ex-minister raises loan quality with China's economy in trouble
Thailand with a falling baht caught in stagflation spiral with high inflation and low GDP growth this year
World inflation crisis may lead Bank of Thailand to act before August and raise interest rates more sharply
Good economic news, test now is how to emerge from stagflation with large price shock looming as inflation rises
Prolonged Ukraine war to see Thai inflation at 6.3%, a stalled economy and a possible downgrade
Oil still boss as Thailand's economy faces a return to 1970s stagflation over the ongoing Ukraine war
Inflationary fears for Thailand more muted than in the United States but planners should prepare
A cautious recovery in 2022 says Bank of Thailand boss but PM strikes a mildy more optimistic note
Shaky economic recovery as planners target only a 1% gain in 2021 with rising headwinds in Quarter 4
Economy climbing out 'of a hole', foreign firm's confidence levels rose sharply during October
Foreigners in Thailand have nearly ฿600 billion in the bank as inequality and poverty rise alarmingly
A dead mother beside her children and a taxi driver who slept, show us a nation riven by an extended crisis
Economic fears rising as Thailand faces a bigger crisis than 1997 with rising job losses and debt
Thailand to reopen to 'big fish' tourists as a cryptocurrency friendly haven says promotion agency boss