Chuwit arrived at Government House on Wednesday and waved the Thai flag before being invited inside to meet Prime Minister Prayut Chan ocha. His latest revelation comes as his campaign has begun to pivot more and more towards examining officials in government after his campaign led to the smashing of a Chinese triad network in Thailand which has raised corruption to the top of the political agenda just before the economy.
Minister of Public Health Anutin Charnvirakul, on Saturday, campaigning in Phatthalung, played down claims by Mr Chuwit Kamolvisit that the Bhumjaithai Party will not win seats in Bangkok in the forthcoming General Election after earlier in the week suggesting that allegations of graft linked with the Bangkok mass transit Orange Line were an indirect attack on his party as it oversees the Ministry of Transport.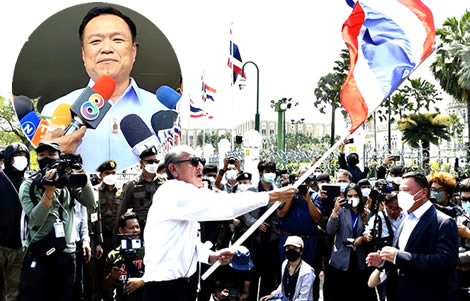 Deputy Prime Minister Anutin, on Thursday last, put it up to whistleblower extraordinaire Chuwit Kamolvisit to back up claims made by the activist suggesting impropriety in the bidding process for a ฿140 billion mass transit project connecting Bangkok's Thailand Cultural Centre with the Bang Khun Non sub-district of Bangkok Noi on the west of the city as part of the Orange line in the city's mass transit plan.
The bidding process for the western section of the Orange line has been overshadowed by a lawsuit filed by the Bangkok Mass Transit System (BMTS) against the terms of reference and bid invitation issued last year by the Mass Rapid Transit Authority of Thailand (MRTA) which is overseeing the project which will result in the public-private partnership to build and operate the service for 30 years being signed between the authority and the successful bidder.
Legal proceedings issued in the Administrative Court by rival bidder for the Orange line which dropped out complaining about the basis for the tender
Legal proceedings have been issued before the Administrative Court which initially declined to issue an injunction concerning the ongoing project requested by the Bangkok Mass Transit System (BMTS).
Two bids were received in August last year and a month later the bids were opened.
A consortium led by Bangkok Expressway and Metro (BEM) offered the lowest price and best package with a tender of ฿78.2 billion while another group led by Italian Thai Development Plc had quoted ฿102.6 billion.
The Orange line is divided into an eastern and western section with the eastern section comprising 22.5 km and linking the Thailand Cultural Centre to Minburi in Bangkok being nearly fully complete at this stage.
The western segment to Bang Khun Non involves 13.4 km of tracks and 11 underground stations.
Chuwit's unprecedented anti-corruption campaign is prompting wild speculation as to who is behind it all. Warm welcome at the Prime Minister's Office
On Thursday, Mr Chuwit Kamolvisit whose campaign against corruption is moving into the corridors of power and officials in government departments having decimated public confidence in the Royal Thai Police, campaigned in front of Government House where he waved a Thai flag to signal his continued enthusiasm for his lone crusade or fight against graft.
His campaign has grown in stature after a series of allegations have come to be later backed up by facts prompting mounting speculation as to who is the source of his research and confidential tip-offs with some suggestions that it is coming from within the Royal Thai Police or even someone in a position of power at the highest level of government.
Not surprisingly, given it is election season, with corruption second only to the economy in the minds of Thai voters, he was given a positive welcome with Ruam Thai Sang Chart Party (RTSC) coordinator Himalai Phewpan on hand to welcome him.
Chuwit later met Pirapan Salirathavibhaga, the Ruam Thai Sang Chart Party (RTSC) Secretary-general and who has recently been appointed as a key adviser to General Prayut at the Prime Minister's Office. 
Allegation made that ฿30 billion may have been diverted from the budget originally allocated to the Orange line by the government as legal battle looms
The Ruam Thai Sang Chart Party (RTSC) is the ultra-conservative political party backing General Prayut to retain power in the May 7th General Election.
Mr Chuwit Kamolvisit was forthright in suggesting that he believed that ฿30 billion had been diverted from the funds allocated to complete the government infrastructure project.
His claim comes amid the backdrop of the ongoing legal battle.
Deputy Prime Minister Anutin categorised Chuwit's statement as an attack on the Bhumjaithai Party on Thursday while speaking with reporters about it
Responding to reporter's questions on Thursday, Deputy Prime Minister Anutin agreed that the representations made by Mr Chuwit Kamolvisit could be construed as an attack on the Bhumjaithai Party where Minister of Transport Saksayam Chidchob is a leading member of the party as well as being its Secretary-general.
The deputy PM agreed with reporters that the revelation by Mr Chuwit appeared to be aimed at portraying his party in a negative light and demurred when asked to comment on an invitation extended to Mr Chuwit Kamolvisit following his protest to meet Prime Minister Prayut Chan ocha.
He said that such antics were normal in the run-up to a General Election.
Anutin said that the Minister of Transport Saksayam Chidchob had already clarified all matters concerning the bidding process for the key infrastructural project and that any allegations of wrongdoing by Mr Chuwit must be backed up by evidence which can be tested before the courts.
Minister for Public Health said he was confident that the public fully understood the situation and that the allegations would not damage his party
He did not believe that the allegations would impact the Bhumjaithai Party's performance in the election as he believed the public was fully informed and that the justice system in Thailand worked effectively at protecting those who have clean hands and not committed any wrongdoing.
He emphasised the need for the public to have faith in the judicial process and characterised these latest reports as mudslinging in part linked to the forthcoming General Election and an attempt to discredit his party.
He was confident that the Bhumjaithai Party and his colleagues had not done anything wrong except set out to serve the public good.
The move comes with opinion polls being less than convincing when it comes to the Bhumjaithai Party achieving the high voting tallies required in key regions throughout the kingdom to be a political force after the next General Election including recent National Institute of Development Administration (NIDA) polls in Eastern Thailand and the Southern provinces where its vote share was below 4%.
However, one poll in Bangkok, conducted by Super Poll in mid-January showed it at 24.6% but Chuwit Kamolvisit, a veteran politician in the capital believes the party will not do well there in the forthcoming election.
Upbeat Anutin on Saturday said prediction by Chuwit that Bhumjaithai will not get an MP elected in Bangkok remains to be tested at the May 7th election
Anutin, electioneering in southern ​​Phatthalung Province, on Saturday, appeared more upbeat and sanguine as he acknowledged the prediction made by Mr Chuwit that Bhumjaithai Party will fail to elect an MP in Bangkok saying that we would have to wait and see.
He emphasised that the Bhumjaithai Party would not engage in negative campaigning and said he would dismiss much of what is said as part of the election season with it now confirmed parliament will be dissolved on March 15th next and the General Election will take place on May 7th.
Earlier this week, on Wednesday, an effort to pass the Cannabis law being pushed by the Bhumjaithai Party in parliament failed on its second reading leaving the signature achievement of the Public Health Minister and his Bhumjaithai Party in legalising cannabis in Thailand in mid-air as other parties have promised to roll back the decriminalisation of cannabis ushered in in June 2022 by an order signed by Mr Anutin.
Cannabis bill is defeated and the decriminalised status is under threat after the next General Election if the Bhumjaithai Party is not returned to power
The bill being promoted was initially proposed as providing safeguards and outlawing recreational cannabis use but emerged after a parliamentary committee process falling well short of that ambition with some lawmakers arguing that it confirmed a cannabis free for all and recreational use of the substance, a situation which has now materialised throughout Thailand.
The proposed law was rejected by other parties including the Pheu Thai Party, Palang Pracharat Party and most vociferously by the Democrat Party.
Cannabis has emerged as an election issue with conservative voters in rural Thailand and particularly in the Southern provinces coming out in opposition to the new dispensation.
The distinct possibility that Bhumjaithai may not be returned to power leaves open the question as to the continued decriminalisation of cannabis which most parties have promised to roll back but which many observers suggest will be practically quite difficult to do on the ground.
Further reading:
PM's party lashes out at MP Rangsiman Rome's 'irresponsible' revelations in parliament last week
Corruption and the role of the unelected Senate in electing the next PM to be General Election issues
Prayut to make his move for a third term but is the battle for power already lost to Pheu Thai?
PM and Ung Ing to do battle in 2023 for the top job with public debt and the economy as key issues
Pheu Thai, Palang Pracharat coalition now a distinct possibility after the next General Election in 2023
PM upholds status quo as he seeks a path back to power with the help of the Bhumjaithai Party
3 out 4 believe that Pheu Thai will take power in 2023 with a third Shinawatra taking the reins
Court decision on electoral law is a big boost for Pheu Thai Party as Prayut remains tight-lipped
Constitutional Court voting decision a watershed moment for Thai politics says top Pheu Thai MP and whip
Uncertain politics ahead as PM reported to be planning to dissolve the House of Representatives
Prayut hails economic progress by his government but his path to reelection next summer is still unclear
Pheu Thai looking at property developer tycoon Srettha for PM role after next General Election
Possible Pheu Thai PM Paetongtarn Shinawatra promises a new society where everyone is secure
Drugs to be an election issue as Anutin digs in insisting that attitudes must change on cannabis
Prime Minister Prayut Chan ocha reinstated by the Thai Constitutional Court in a majority verdict
Prime Minister suspended from duty by the Constitutional Court as it takes up term limit case for hearing
Kingdom engulfed in crisis with over 93% of the public saying Prayut must relinquish power now over term limit
Senator warns that Paetongtarn Shinawatra or Ung Ing, Thaksin's daughter, is wrong for the job
Legal pot does not appear to be working for Anutin's Bhumjaithai Party in latest opinion poll
New Shinawatra may lead the next quest for power as Pheu Thai Party aims for 14 million members
Cannabis remains illegal as ministers push through a law controlling its use by the public after decriminilisation
About the Author
Joseph Anthony is an expat from Ireland who has lived in Thailand for the last decade. He has worked extensively in the media including editorial positions in Ireland and Thailand. He is focused on economic and business stories in Thailand as well as the expat lifestyle.