Turkey has recently changed its  name to Türkiye (pronounced as "tur-key-yay) after 400 years. It seems drastic but  according to President Recep Tayyip Erdoğan "the (new) word represents and expresses the culture, civilisation, and values of the Turkish nation in the best way." 
Perhaps so, but what hasn't changed is Türkiye's long history spanning thousands of years, most of it older than Islam – the nation's religion. Fortunately, archaeologists have been on hand to excavate the land in Anatolia in the east and have uncovered several societies that have been built on top of each other in strategic locations.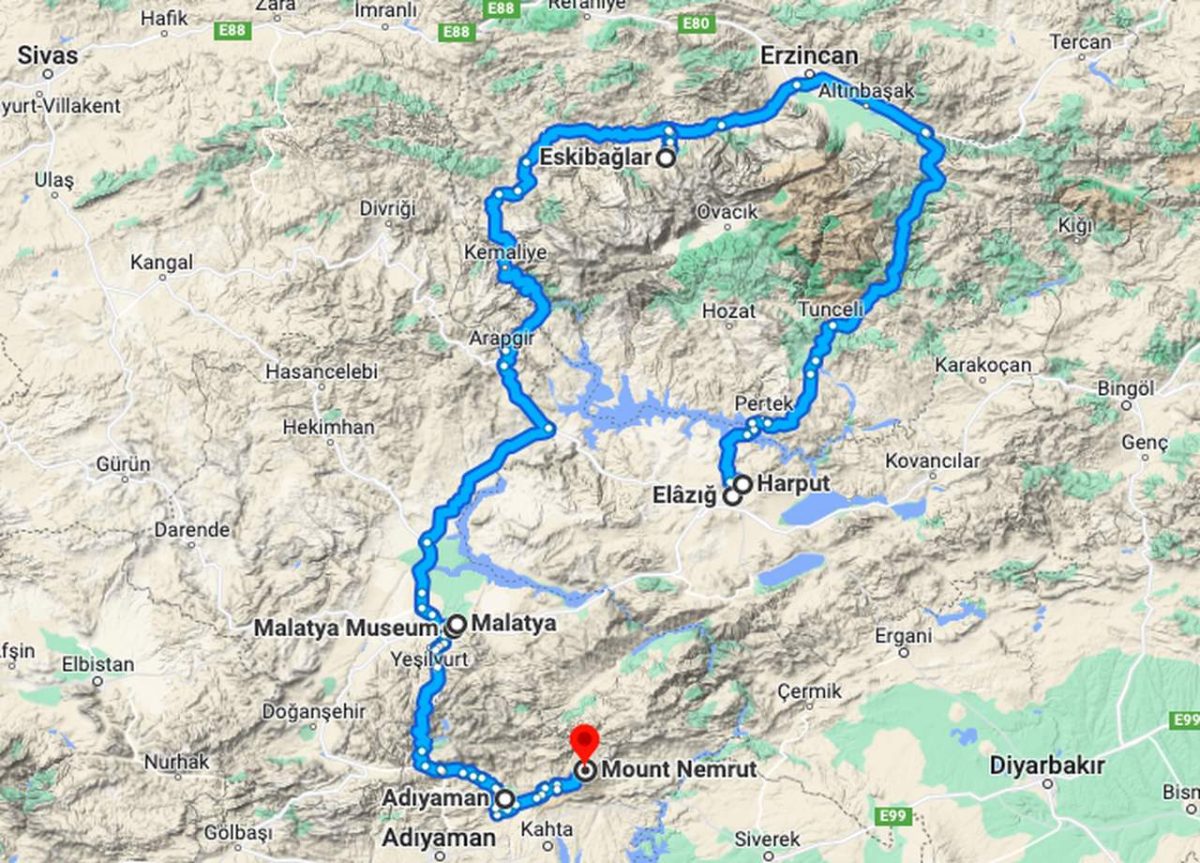 Much of it has been acknowledged by UNESCO as heritage sites, is  a must-visit for any traveller interested in truly getting to know the country's history.
So I took that UNESCO heritage route, first taking a flight from Heathrow to Istanbul for one night just to catch a glimpse of this fine city and a night view over the Bosphorus. The next day caught a connecting flight to Elazig to visit the first ancient city of Harput and a cheeky visit to a vineyard in Eskibaglar, and then onwards to Malatya to see the open-air museum of Arslantepe Mound.
The last site, Nemrut Mountain Mountain Park is in Adiyaman and so the return journey was from Adiyaman airport back to Heathrow.
In Istanbul, stay at the modern 5* Movenpick.  Rooms are bright and spacious with modern decor. All are air-conditioned and include free WiFi and LCD TVs with a seating area and mini bar. Hotel services include an indoor pool, sauna and massage.
The highlight must be its most glorious rooftop restaurant offering the most expansive views of Istanbul and the Bosphorus Bridge.
Harput Citadel and Castle  
Harput which means stone castle, is a hill-top open-air museum depicting the ancient city of Harput east of Elazig. Its position was strategically chosen to take full advantage of the trade routes on the silk road. Today if you look into the distance you can see the ski resort on the Hazar mountains.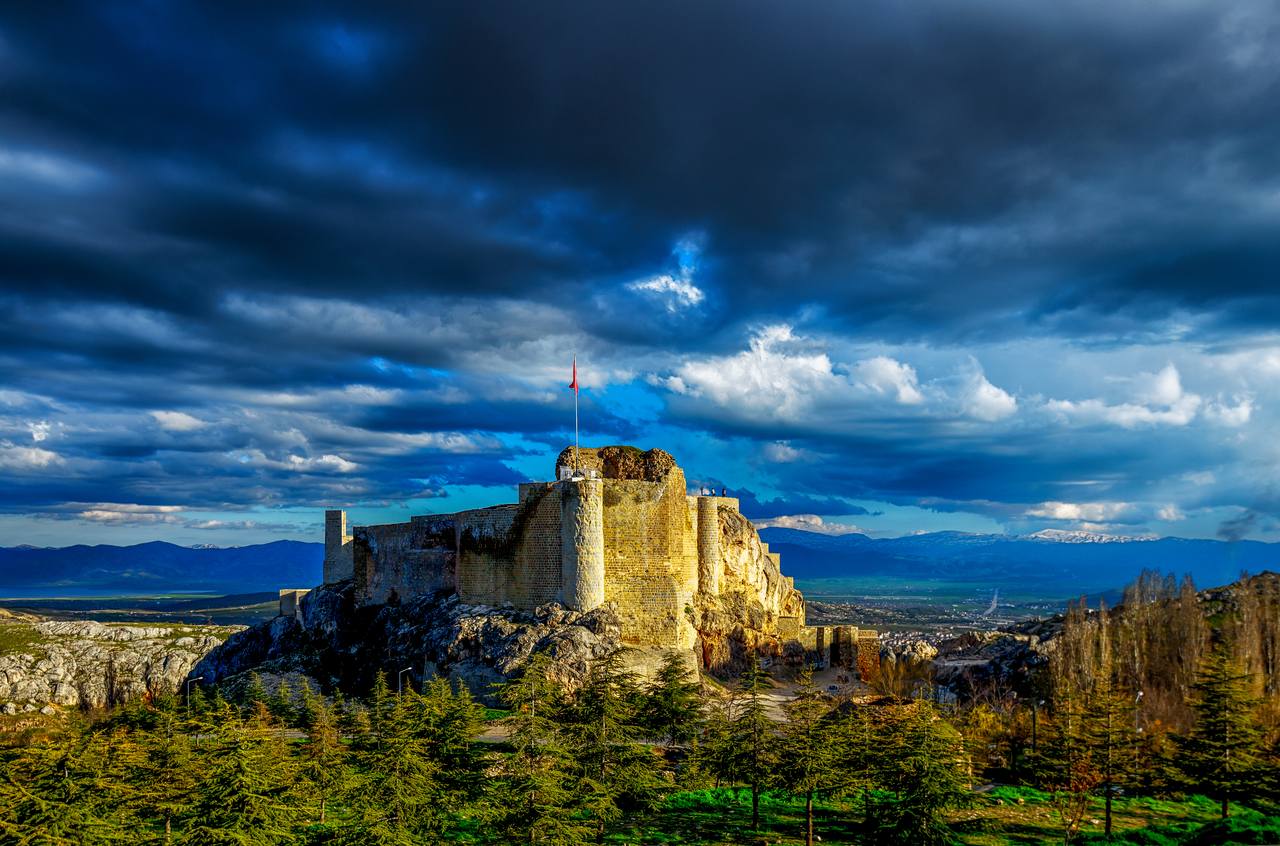 The oldest structure is a castle built by the Urartians in the 8th century BC. If it could, it would tell stories of struggles among the nations over the millennia. The Romans of course followed by the Byzantines, until the Turcoman leader Çubuk Bey, captured the castle in 1087. Then came In the Artukid chief in 1112, Bebek Gazi.
King Baudouin of Jerusalem was imprisoned here for a month in 1193, but when freed he returned and took the castle for himself. In 1234 the Selçuk leader Alaeddin Keykubad popped by, followed by the Mongols in 1244. Finally, in 1516 the army of Sultan Selim I rode into town and secured it for the Ottomans. There was still a population living here in 1909 but earthquakes meant they had to relocate south to the new town of Elazig.
The castle's nickname is Sut (milk) Castle. A story circulates around its construction that people could not find water to make mortar and so they used milk from mammals mixed with egg whites to build it. It's still standing so many thousands of years later.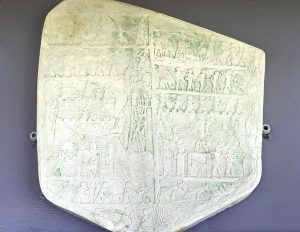 There's plenty to see including insights into how life was managed, ceramics and iron goods and even coins. I was particularly staggered to be viewing a limestone stone relief inscription found in 2016, that is more than 4,000 years old. It was found in the Nervuz Forest and though it is just 2.77 x 2.43 m in height 20 cm thick it weighs a mighty four tons. Using low-reliefs techniques it depicts the siege of a fortress on the riverbank and the invasion. Siege towers, soldiers climbing walls and a winged goddess and an eagle holding a naked baby are clear to see.
We then visited the 11th century Harput Ulu mosque a Greek mosque in Elazig to catch a glimpse of its medieval Italian minaret famous for whose tilt of 6.8 degrees rivals that of the tower of Pisa whose tilt is a mere 5.5 degrees.
Where to stay in Elazig:
Doubletree: In Elazig stay at the 4* Doubletree Hilton Hotel. Located in the city centre, rooms offer city views. rooms at the hotel come with air conditioning, a seating area, a flat-screen TV with satellite channels, a safety deposit box and a private bathroom with a shower, slippers and a hairdryer. All rooms have a kettle, while selected rooms come with a balcony and others also offer mountain views
Where to eat (and drink) in Elazig: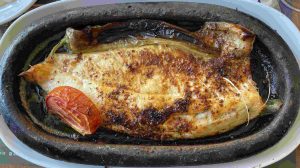 Circir: Before setting off to Harput, we stopped for a bite at a Circir salmon trout farm in Keban close to the dam. Its name acknowledges the sounds in the air made by the local insects.
The salmon trout is farmed on-site, and freshly baked in a clay plate on an open fire then moved to an oven once marinated in chilli pepper, thyme and olive oil.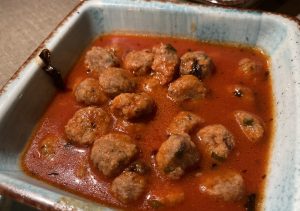 Eskibagler: That evening we visited the Eskibaglar winery in the province of Erzincan whose wines are made from the Okugozu grapes.
The wines, reasonably tannic, were a fabulous way to wash down dishs of meatballs in spicy tomato sauce, meat wrapped in vine leaves and sirin bread in yoghurt with garlic sauce. The latter is a speciality of Elazig.
Arslantepe Mound Archaeological Site – Open Air Museums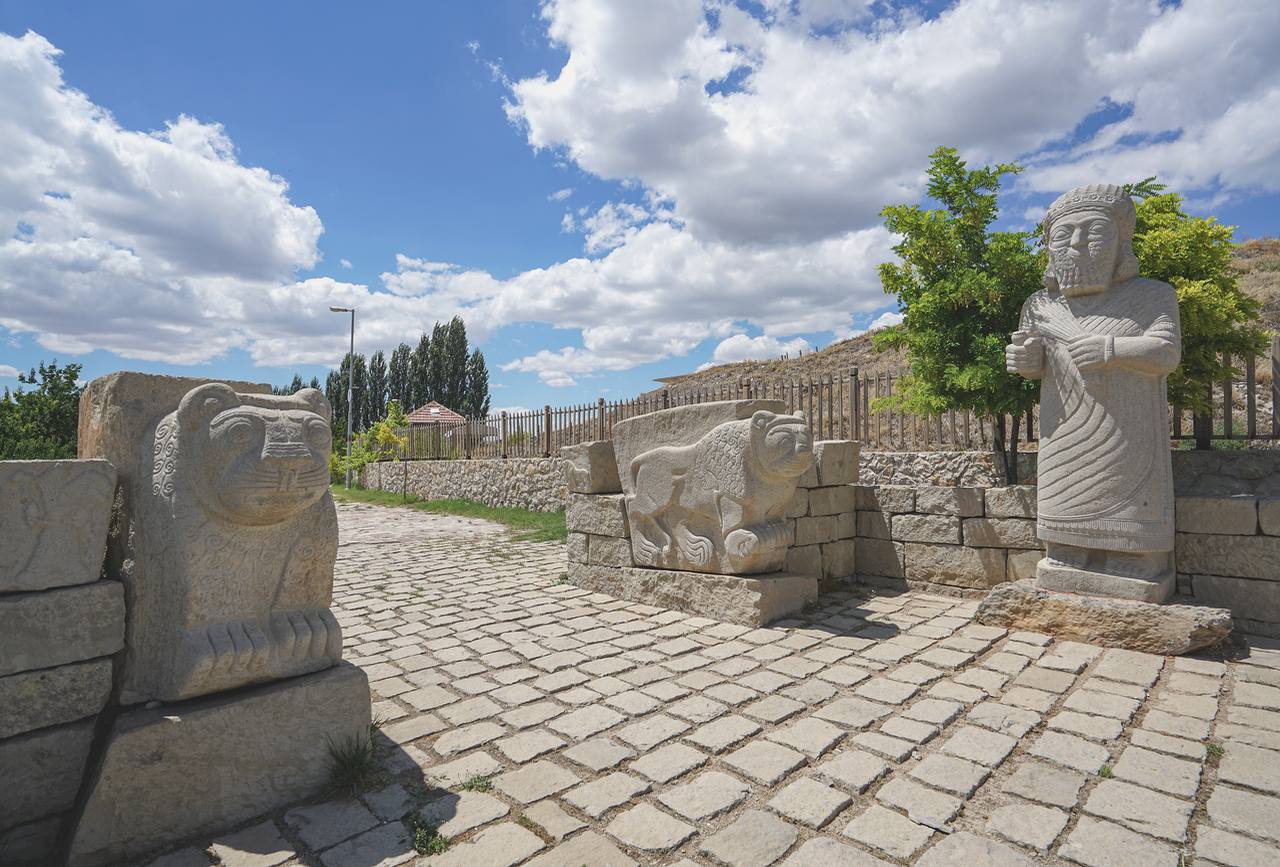 The mound of Arslantepe (Arslan mean lion and Tepe means hill) is located 7km from Malatay in the Orduzu district famous for its apricots. It is an artificial 30-metre-high mound that sits above the gardens of orchards of the village of Orduzu. and the entrance is lined with reliefs, the statue of King Tarhunza and two lions. The originals are in the Ankara Museum of Anatolian  Civilizations.
It was once a fertile land that was home to people 4,000 years ago and access was via the Euphrates river. This was clever planning as unsavoury strangers can be spotted crossing the river in good time.
It came about as a result of settlements where earth and mud were used to build houses, villages and cities. These were destroyed by earthquakes the natural materials became part of the soil creating huge deposits. Archaeologists love them as they are so easy to sift through and excavate. 
Though topped with remains of Byzantine-Roman ages,  excavations revealed a mediaeval cemetery under a Roman village, that's under Hittite palaces found under Middle and early Bronz Age settlements. In short six layers were unearthed from the Late Chalcolithic Age to the Islamic ages.
I could see town walls constructed in semicircular bastions from the 3rd millennium, a sure sign of persisting conflicts. Temple ruins have been unearthed from the Lat Chalcolithid period as well as mud-brick walls, potteries, beads and seals.
A fun fact is that Arslantepe is the birthplace of the world's most ancient state system based on centralised power. Ordinary houses expanded outwards while imposing public and private buildings rose in the central and highest part of the town with decorative columns and walls showing a distinct hierarchy within society. You can effectively blame Aslantepe for the bureaucracy we have to put up with today.
For more information pop into the Malatya museum. There's a range of brilliant artefacts to look at including a pot – a burial place that contained the bones of a baby.
Where to stay in Malatya:
Movenpick: In Malatya stay at the 5* Movenpick Malatya Hotel. The hotel features an indoor pool, sauna, hammam, steam bath and a sun terrace. Free WiFi and a 24-hour front desk are available. All rooms include a flat-screen satellite TV, air conditioner, radio, telephone, safe box and a coffee and tea. Ensuites have a shower, and a hairdryer. Some rooms also offer views of the city or the lake.
Where to eat in Malatya: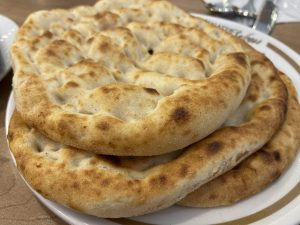 Haci Baba Restaurant, a city centre location, is pretty much a typical working man's restaurant and the food is delicious. On the menu are mezes, salads, and meats cooked in a wood-burning oven called a "tava".
One dessert, in particular, to point out is the sweet potato topped with tahini. Surprisingly delicious.
Service is excellent.
Nemrut Dagi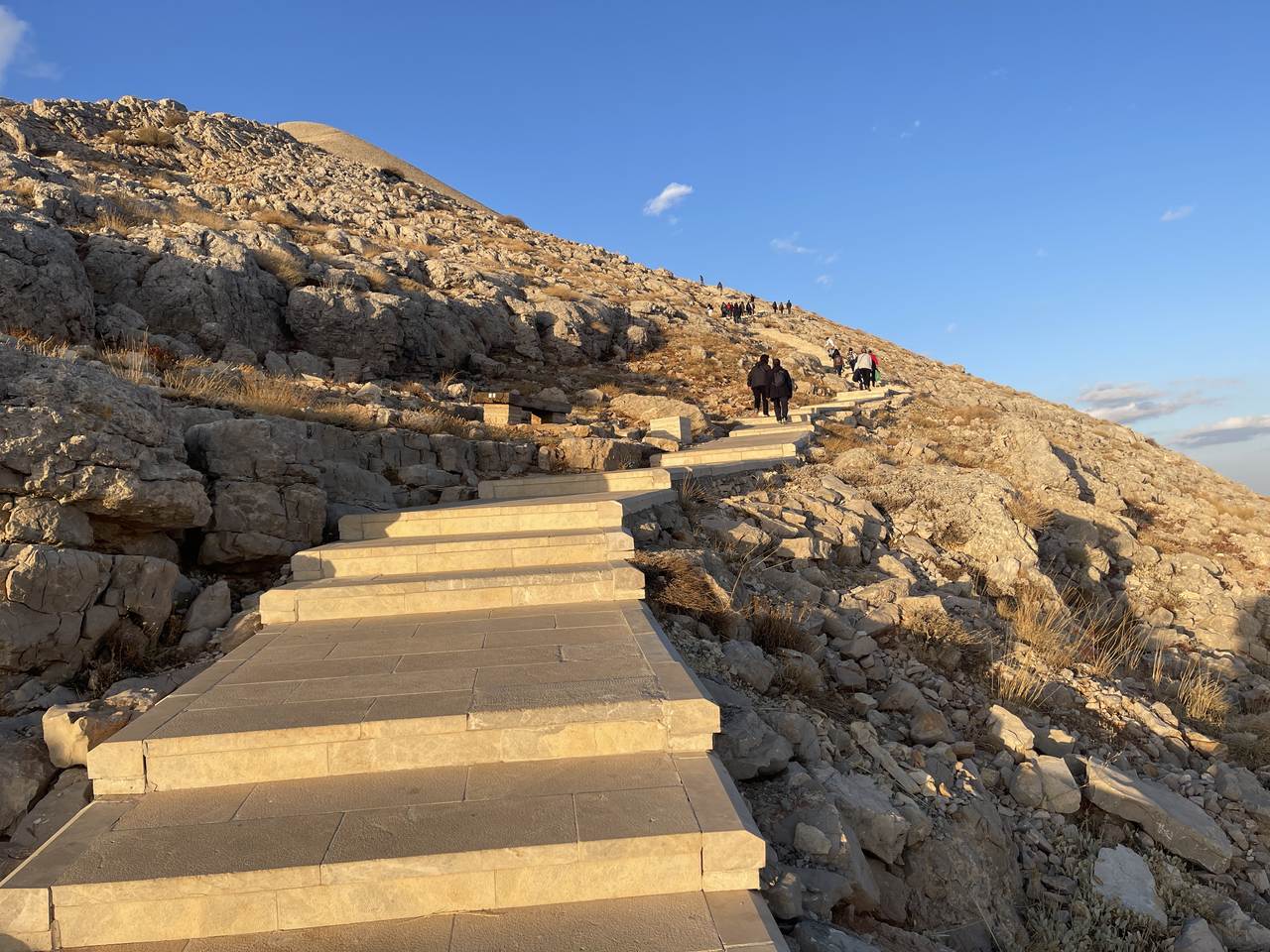 If you only have time to visit one heritage sight, make it Nemrut Dagi – Mount Nemrut and its ruins. It sits atop a pyramid and takes around 40 minutes to reach via a well-constructed staircase. On the way up I spotted a bizarre golden egg that was a piece of random post-modernism artwork; and an incredible mountainous scenery.
At the top you will be 2,134-metre-high (7,001 ft) but the views on the way up are spectacular. There are benches every so often from where you can gaze on the undulating landscape.
This is where the monumental tomb of the Commagene King Antiochos I is located. The Commagene kingdom was established by Mithadates Kallinikos I at the beginning of the 1st Century BC after a civil war meant th end of the Seleucid line. It was later integrated into the nearby Roman province of Syria by Emperor Vepasian in 72 AD.
Scattered around are Greco-Persian statues that have witnessed the sunset for over 2000 years. On this night I was watching it with them. 
Where to stay in Adiyaman: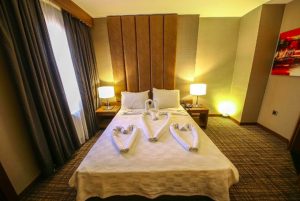 In Adiyaman stay at the 4* Isias Hotel. Located 2.4 miles from Türmüz, there is a 24-hour reception and a currency exchange service.
Rooms have air conditioning, a seating area, a flat-screen TV with satellite channels, a safety deposit box and a private bathroom with a shower, slippers and a hairdryer. All rooms come with a kettle.