The Swiss mountain village of Verbier has established itself as one of Europe's most glamorous winter ski resorts, attracting famous faces and world-renowned brands to its exclusive slopes. Once the apres-ski is truly over, it's worth discovering the quieter side the summer months bring, where sustainable slow-food and alternative outdoor pursuits step into the spotlight, writes Georgie Bentley-Buckle
48 Hours in Verbier, Switzerland
Verbier is a sun-soaked sanctuary in the warmer months, sandwiched 1,500 metres up in the Swiss Alps. Perched on a sunny, south-facing plateau with dramatic views of Massif des Combins (one of the highest peaks in the Alps), the green mountains flourish in the sunshine and allow for an entirely new way to experience the destination. Maintaining its excellent reputation for adrenaline fuelled outdoors sports year-round, swap skis and snow boots for e-bikes, golf clubs, climbing ropes and paragliding parachutes whilst enjoying world-class hospitality.
STAY
The Lodge
The Lodge is part of Sir Richard Branson's Virgin Limited Edition portfolio of unique retreats. One of region's most élite private chalets, discreetly situated just two minutes from the centre of town, it is mostly only available to book on an exclusive use basis. This makes The Lodge perfectly private whilst conveniently close by to all Verbier has to offer on its doorstep.
Richard's family mountain hideaway, The Lodge offers captivating views over the stunning Swiss Alps and is ideally set up for the winter months with a ski and snow boot room, outdoor hot tub, warming spa and steam room. However, it's The Lodge's resident team who believe it truly comes to life in the summer. With a choice of nine suites and bedrooms, the traditional alpine chalet style property has a luxurious interior which features family photos of Richard and his loved ones. With a friendly team on hand, including Michelin trained chefs and a spa therapist, you can focus on what you enjoy the most whilst being catered to 24/7. virginlimitededition.com
W Hotel Verbier
Marriot's W Hotel brings the brand's edgy, cosmopolitan vibe to the Swiss alpine retreat. 1,531 meters up in the mountains, stay in one of the 123 rooms each which feature a fireplace, private balcony and signature W bed. Along with its spa, the urban hotel is moments from the buzzy bars and designer stores with instant access to over 400 km of hiking terrain throughout the summer months.
The hotel's collection of six restaurants make it a magnet for modern day hospitality in Verbier throughout the year. Notably, this includes the popular fine-dining W Kitchen. With a menu of 'modern local cuisine', W Kitchen honours its destination by using local foods with contemporary twists to reflect the future-forward hotel brand. Executive Chef Emiliano Vignoni has created a menu of dishes which include local Swiss fish and meats, alongside a selection of cheeses from the Verbier creamery. On light summer evenings, start your evening outside on the deck for a pre-dinner aperitif overlooking the mountains beyond before moving into the sleek dining space. marriott.com
DO
E-Bike Cycling Tour
If the concept of cycling the mountains sounds stressful, then e-bikes are your answer. An inclusive way for everyone to peddle their way around the valleys of Val de Bagnes, e-bikes allow for as much (or little) effort required. With over 800 kilometres of scenic cycling trails (both on and off road), an e-bike tour allows you to peddle effortlessly from one picturesque village to another. Follow the Dranse de Bagnes river, and you'll come across the villages of Lourtier, Fionnay, Sarreyer and Bonatchiesse for moments of calm. Here, Swiss time stands still, with locally produced slow food dishes and relaxed locals enjoying the warmer conditions.
Hiking
Hiking is a great way to explore the slopes in the summer months whilst abundant with colourful flowers and lush grasses. Lac des Vaux is one of the most popular routes for summer hikes. With two gleaming mountain lakes, it offers a perfect spot for a picnic, fishing trip or wild swim above Verbier and La Tzoumaz to an altitude of 2,543 metres. At around four hours in total, The Grand Tour of Lac des Vaux, takes you back to La Tzoumaz through the great wilderness of the Vallon d'Arbi. With its crystal-clear waters, the lake is home to rainbow trout and snapper which attract fly and grasshopper fishing enthusiasts.
Paragliding
Instead of launching yourself down a snow-covered mountain, instead take to the skies on a paragliding flight. An activity for those in search of an adrenaline rush, it's an unforgettable way to take in the sprawling valley from above. Many of the take-off spots (Les Ruinettes, Savoleyres and La Croix-de- Coeur) offer more than 1,400 metres of vertical descent, landing at the bottom of the Val de Bagnes, in Le Châble.
EAT
La Marmotte
Looking over Verbier on the Planards is restaurant la Marmotte. Surrounded by the ringing bells of the cattle that graze the higher parts of the mountain in the summer months, this charming chalet hideaway offers beautiful views of Verbier from above. A traditional wooden alpine building, during the summer months it perfectly situated along a popular hiking route. This makes it a great refreshment stop off to enjoy local dishes such as open fire raclette, fondues and röstis within a typical Valaisan atmosphere of wood and stone, for an authentic experience. lamarmotte-verbier.com
Le Carrefour
The destination to try the local's signature potato röstis is Le Carrefour, which is said to be the oldest restaurant in Verbier. Set on the Carrefour ski slope, one of Verbier's most popular, in the summer, the location adapts perfectly to hungry golfers at the top of the Golf de Verbier course.
With an outdoor terrace that offers some of the best views of Verbier, the fun restaurant is known for its plates of delicious rich röstis, alongside fondues and steaks. Crunchy on the outside, soft in the middle, Carrefour's potato röstis are finely shredded and browned in the pan and come with a variety of meat or vegetable options. The popular signature rösti is paired with a cut of local venison and a rich café de Paris sauce. lecarrefour.ch
Vollèges Brewery
Lower down the valley from Verbier is the village of Vollèges. Built around its 500-year-old bell tower, this ancient Swiss village is considered the capital of the only wine-producing region. Additionally, the villagers have also set up their very own brewery, making it the perfect place to sample local beers.
With tours of the humble micro-brewery, enjoy a beer tasting paired with local cheese and cured meats. A passion project of the local community, the brewery was set up by a group of eight colleagues who have a love for malt and hops; they meet on the first and third Friday of the month to produce their beer. bieresvolleges.ch
Raclett' House
Situated a little lower down on the other side of the valley in Bruson is the Raclett' House. Founded by Eddy Baillifard – a local ambassador of this typical Valais cheese – his restaurant pretty much does what it says on the tin. Throughout the summer months, this popular spot is where the locals settle themselves for lazy lunches sipping on refreshing lagers while indulging their love of cheese.
Also ideal for visitors, the cheese championing restaurant specialises in regional dishes, with a variety of melted cheese raclettes on offer – from a goat's cheese to a truffle infused option. There is also the opportunity to buy and take home your own cheese to enjoy back home. eddy-baillifard.com
Horse and Cart Fondue: Ferme des Moulins
Starting and finishing at the village of Ferme des Moulins, at the base of the valley, is this novel horse and cart fondue tour. A new way to experience the destination while enjoying the traditional Swiss cheese fondue, the two-hour moving culinary experience crosses local villages and meadows in a chariot drawn by three horses, all while guests enjoy a rich fondue paired with local wines.
A fun social experience that is great for memorable celebrations, as the three horses (guided by their local farmer owners) lead the way and prepare your fondue whilst on the move. A unique way to enjoy the scenic summer setting of the Swiss alps, spot iced-capped glaciers whilst moving alongside floral carpeted meadows and charming villages. team-lafermedesmoulins.ch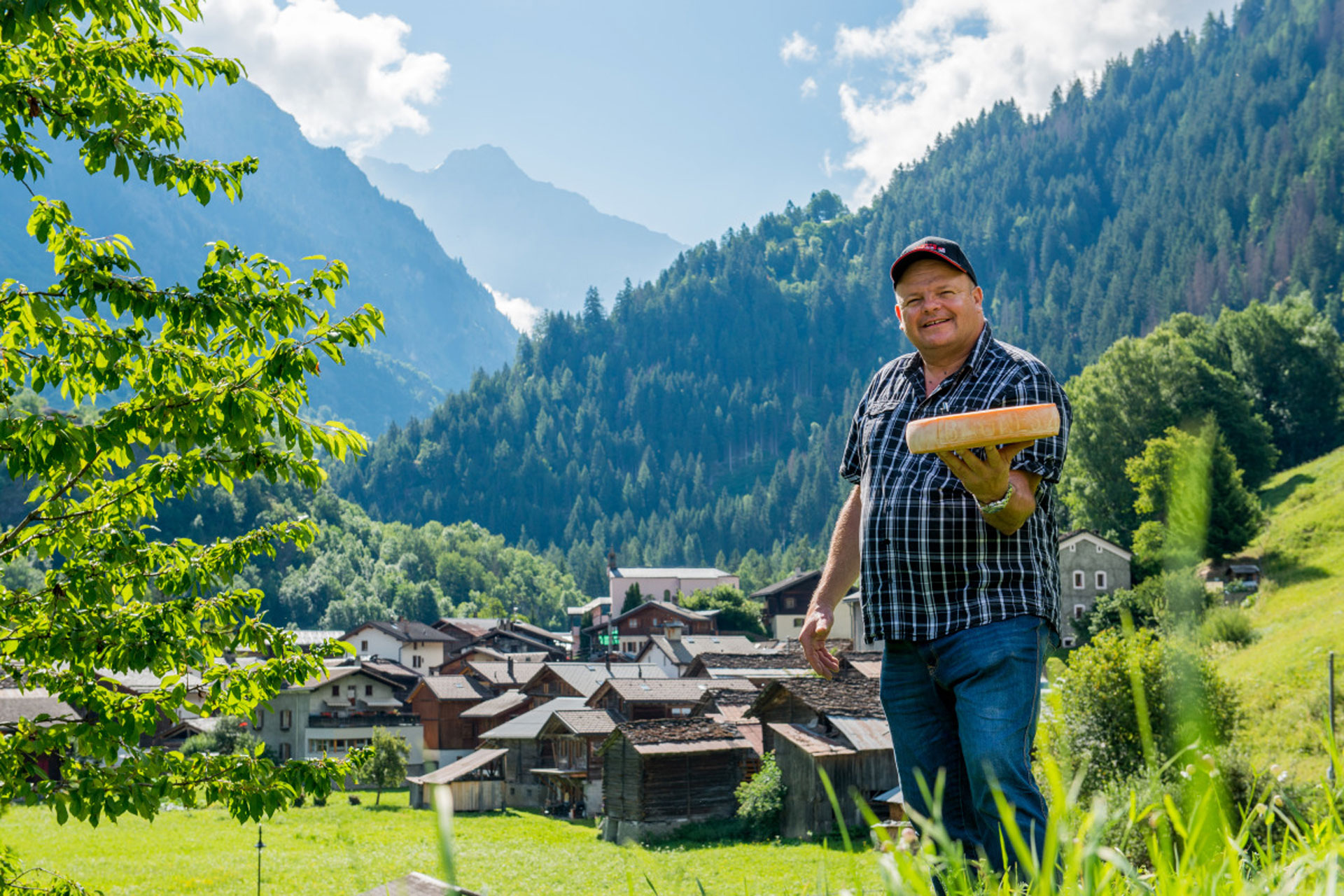 BUY
The Swiss are so proud of their cheesy heritage that, at one particular fromagerie (The Laiterie de Verbier), you can find a cheese vending machine outside. Embodying the region's values in a very modern manner – even when the fromagerie is closed – customers have access to a variety of cheeses 24/7. Winners of the Swiss Cheese Awards on several occasions, and also producers of yoghurt and cheese making experiences, it's well worth a visit. laiterie-verbier.ch
BOOK IT
The Lodge is predominantly offered on an exclusive use basis for up to 18 people across nine rooms and suites. Prices start from £8,000 per night, including exclusive use of luxury accommodation, breakfast, light lunch or picnic and dinner, all drinks (including top quality wine), daily driver service, and a dedicated host team. Two-night minimum stay required. thelodge.virgin.com
Rates at W Verbier in the summer months start from £433. marriott.com
Return direct flights from London Heathrow to Geneva start from £80 with SWISS AIR.
For more information about Verbier, visit verbier.ch. 
Feature Image: Lake in Verbier (Switzerland), verbier.ch. 
MORE WEEKENDERS
Lake Como / Malaga / Tel Aviv / Saint Tropez / Mallorca
The post The Weekender: 48 Hours In Summertime Verbier appeared first on Country and Town House.