Fancy an artistic stay in the capital? London is filled to the brim with beautiful design hotels, from quirky boutiques to grand institutions. Here we highlight some of the city's finest.
London's Best Design Hotels
The Franklin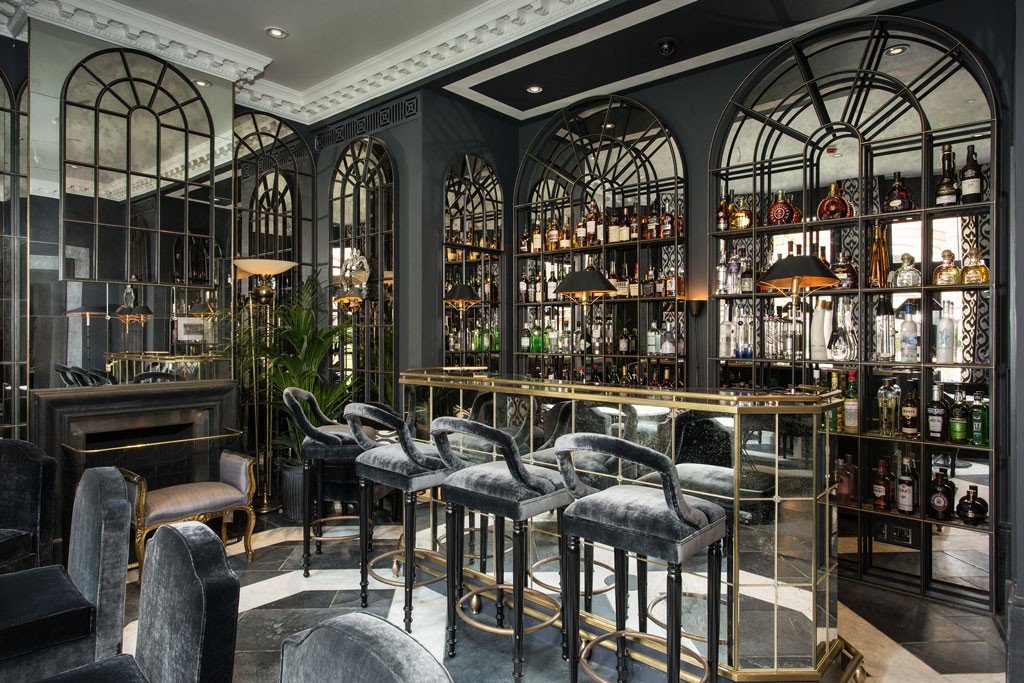 The Franklin first opened in the early '90s within four Victorian townhouses in Knightsbridge, going on to close for a few years before being acquired by Italian hotel group Starhotels. It underwent a complete redesign under the trusty hands of Anouska Hempel, the mastermind behind the city's first boutique hotel, Blakes. Dark, sexy and sophisticated, The Franklin lends itself to the signature Hempel look established at Blakes – though this time with a glossy Venetian edge. All 35 bedrooms are unique, but certain features pop up throughout: a monochrome colour scheme, Italian velvet upholstery, mirrored walls, four poster beds and Canaletto prints on the walls. A sense of exclusivity is palpable: the entrance is discreet, and rooms feel private and intimate. You could easily settle into your room here and forget about the outside world for a night, though be sure to have a glance out the window as the best rooms back onto the beautiful Egerton Gardens. Don't miss the glittering mirror-lined bar, either – opulence at its best. starhotelscollezione.com
Rosewood London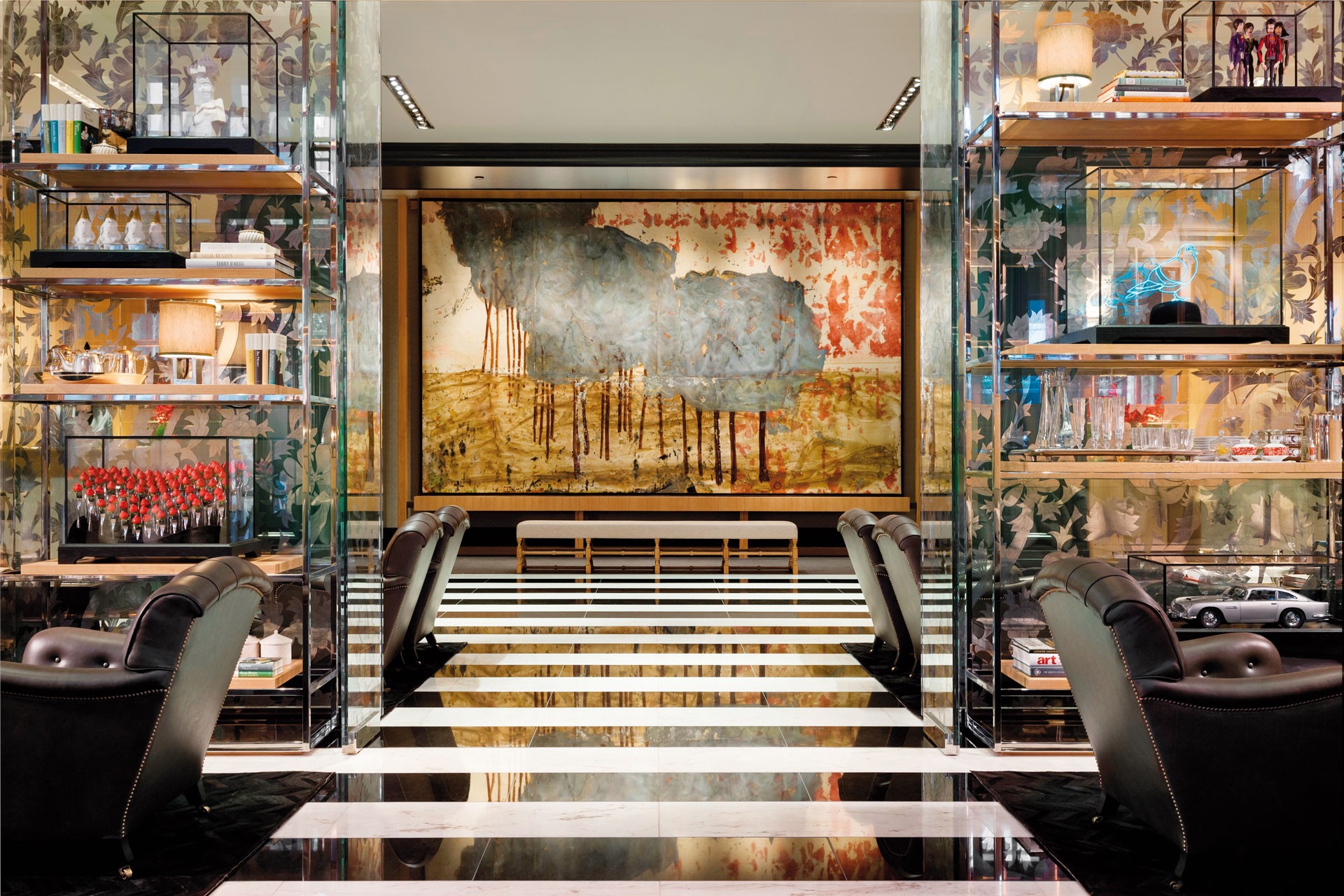 Unlike many of the city's boutique hotels there's nothing hidden about Rosewood London, which stands proudly on High Holborn. The Grade-II listed Belle Époque building used to be the HQ for the Pearl Assurance Company, but in 2013 it re-opened as one of London's most luxurious five-star hotels. Two big names are behind its design, which masters the homely yet lavish feel: think stylish London residence meets country manor house. Tony Chi created the Rose Bronze gallery entrance – think marble mosaic flooring and leather sofas – as well as the 'jewel box' Mirror Room restaurant. He's also behind the elegant bedrooms, including The Manor House Wing, which is the only suite in the word that's big enough to have its own postcode (five bedrooms, six bathrooms and its own private lift, in case you were wondering). We have Martin Brudnizki to thank, meanwhile, for the Art Deco Holborn Dining Room and the famed Scarfes Bar, which features walls decorated with caricatures by satirist Gerald Scarfe. Despite these modern embellishments, some Edwardian elements remain, including the hotel's centrepiece: the Grand Pavonazzo marble staircase, which soars to a 166' high cupola. In a word: dazzling. rosewood hotels.com
The Best Art Exhibitions in London
The Mandrake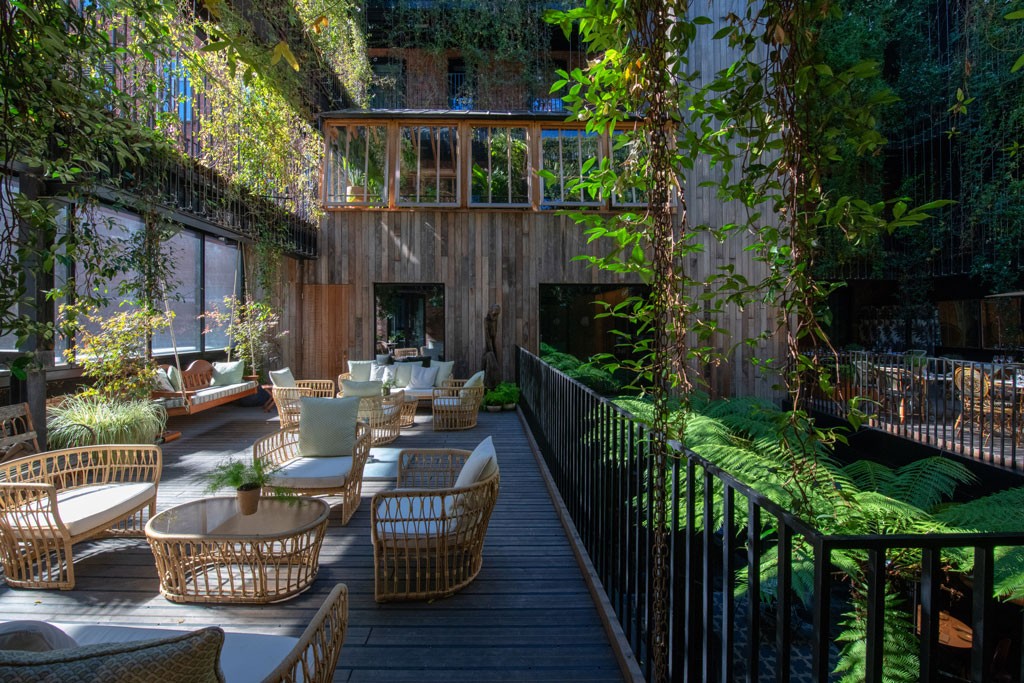 Upon entering The Mandrake from its discreet Newman Street entrance, prepare to step inside another world. The first hotel from Beirut-born Rami Fustok, The Mandrake is named after a mystical medicinal plant, a theme which stretches throughout: Waeska Bar, Yopo restaurant, Jurema terrace. Surrealist, mythical touches are peppered across this jungle-style retreat, the most striking of all being the fantastical creature which leaps above the bar: a half-kangaroo, half-gazelle with scales made from harvested beetle wings, designed by renowned artist Enrique Gomez de Molina. Bedrooms are equally impressive, particularly the Penthouse Suite, a palatial rooftop abode encased in white Veronese marble, complete with a giant Jacuzzi and gold-trunked tree. On the other side of the courtyard is the polar opposite Mandrake Suite, this one reminiscent of the Victorian-Gothic era, painted in dark sultry tones with a Bedouin-style tented bed. Many of the rooms open out onto terraces overlooking the leafy, jasmine-bedecked courtyard. You could be fooled for thinking you were in Bali or Thailand – or indeed, an island of make-believe. One thing's for sure, The Mandrake feels million miles away from the bustling streets of Fitzrovia. themandrake.com
Blakes Hotel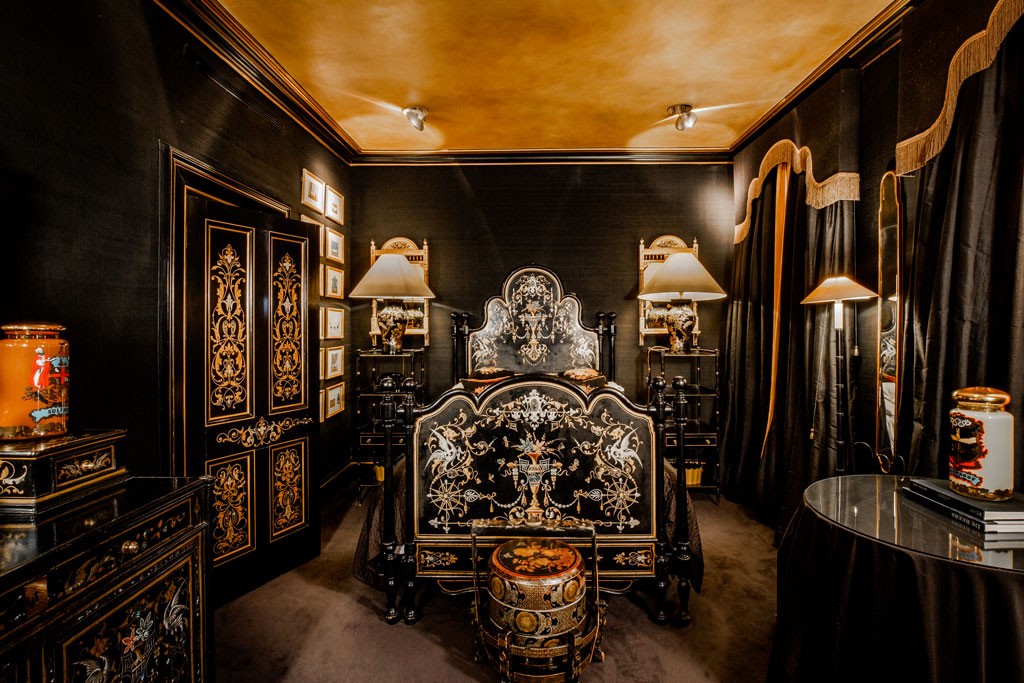 When Blakes Hotel opened back in 1978 it was like nothing anyone had ever seen before. Small and exclusive, this was London's first boutique hotel – and who better to design it than actress turned hotelier Anouska Hempel? Blakes attracted glamorous crowds when it opened, and it remains a hotspot for A-listers today: Gwyneth Paltrow, Leonardo DiCaprio and Kate Moss have stayed there over the years, among a whole host of others. The hotel is totally unique, even from the outside – the façade is black, stretching across a row of townhouses in Kensington. This darkness continues inside: it's all low lighting and hidden corners, creating the sultry, exotic vibe Blakes is famous for. Downstairs in the basement sits subterranean drinking den Blakes Below, an ode to Hempel's travels in Asia with low-slung dark sofas, rich orange accents and oriental artworks. Outside there's a Matthew Williamson-designed urban grotto, decked out with Moroccan tiles, tropical prints and flowerbeds. All bedrooms are different: some macabre, others bright and airy, though all have an exotic, sensual feel. Blakes isn't everyone's cup of tea, but it's certainly a work of art – and over 30 years since its launch, the allure remains. blakeshotels.com
Ham Yard Hotel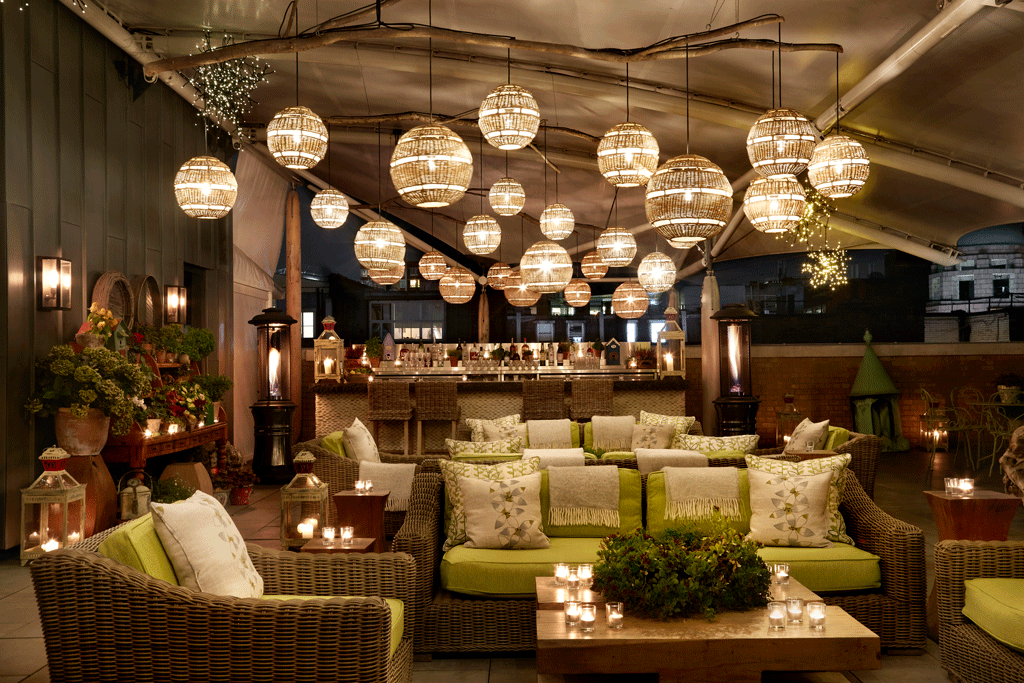 Vibrant colour, mismatched patterns, quirky décor – this could only be the work of one designer: Kit Kemp, who owns the Firmdale hotel group alongside her husband Tim. Ham Yard is the collection's newest London offering – opened in 2014 – and hotel is an understatement. This is an urban village (their words), complete with 91 bedrooms, 24 apartments, 13 independent speciality stores, a restaurant, a rooftop bar, a spa, a bowling alley and a cinema. It's also an unofficial art gallery of sorts: everything revolves around a tree-filled garden, which features a dramatic bronze sculpture centrepiece by Tony Cragg. Kemp has even managed to make bowling chic by importing a 1950s alley over from Texas. 'People are jaded by travel – they've seen everything,' she says. 'It's about an element of surprise to draw you from room to room.' firmdalehotels.com
Artist Residence Pimlico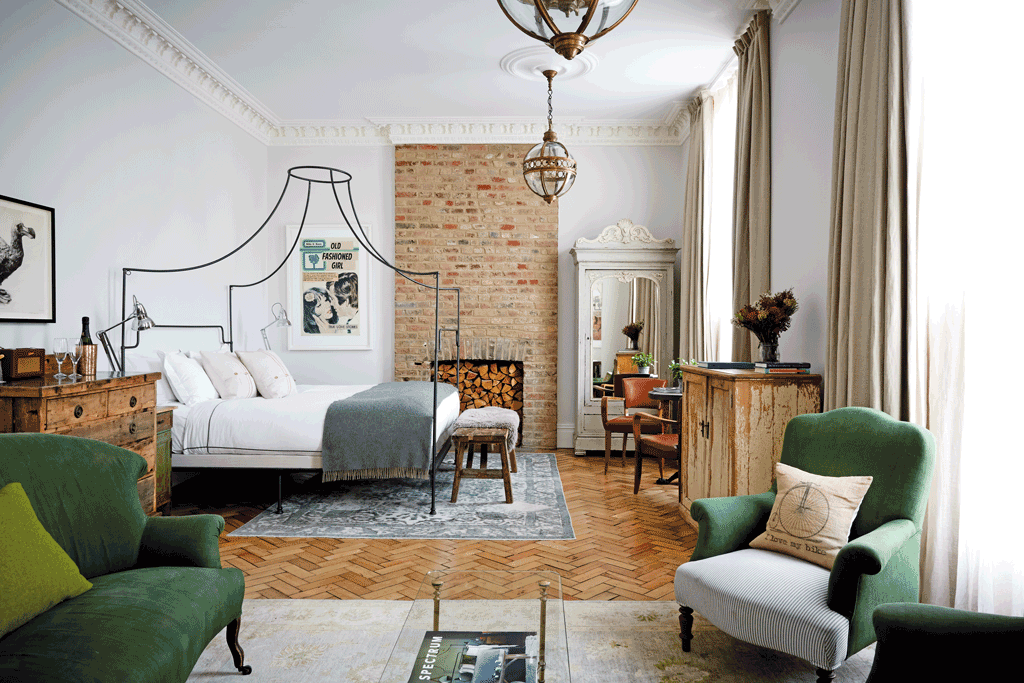 Shabby-chic reaches its peak at Artist Residence Pimlico, the hotel group's third venture. The building was originally designed by Thomas Cubitt, and for many years the ground floor stood as a pub, The Clarendon, but in 2014 it re-opened as a hotel under the hands of husband and wife duo Justin and Charlotte Salisbury. As the name suggests, all properties in the Artist Residence collection are galleries for a diverse range of artists – and the Pimlico branch is no exception, with quirky contemporary artworks dotted throughout from the likes of Pure Evil and Ben Eine. The vibe is pared-down, but with a luxury edge: distressed leather, vintage furniture and exposed brickwork sit alongside roll-top baths, super king beds and rainforest showers. Old and new come together in a creative, unique style. With just eight bedrooms and two suites, this feels like an ultra-stylish B&B, but with all the trappings of a high-end hotel. artistresidence.co.uk
For more hotel inspiration, check out our Hotels Guide / 50 Best Interior Designers
The post London's Best Design Hotels appeared first on Country and Town House.