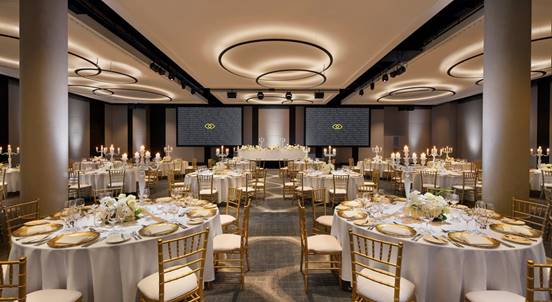 Accor Pacific, Australia and New Zealand's largest hotel operator, has announced it will deliver a range of limitless experiences and the best in hospitality to the hosted buyers attending the Asia Pacific Incentives and Meetings Event (AIME) 2023 in the Accor sponsored Hosted Buyer Lounge.
In a partnership that has seen AIME take on a naming rights partner for its hosted buyer lounge for the first time since AIME began in 1993, the Accor Hosted Buyer Lounge has been carefully designed to enhance the trade show experience by demonstrating Accor's exceptional offerings for meeting and events.
Held at the Melbourne Convention & Exhibition Centre from 13–15 February, AIME is the flagship trade event for the meetings and events industry in the Asia Pacific region, connecting international and local buyers with exhibitors from around the world. AIME 2023 will be attended by more than 400 hosted buyers, 2,000 visitor buyers and over 300 exhibitors including our Asia Pacific neighbours and representatives from the Middle East, USA and Europe.
Accor Pacific chief executive officer, Sarah Derry, said: "With 400 hotels in the Pacific region such as Sofitel, Pullman, Novotel and MGallery, and more than 5,300 hotels worldwide, partnering with AIME 2023 is a great opportunity for Accor. This partnership will enable us to show buyers how Accor is changing the world of work through seamless and speedy booking experiences, with a convenient website for event organisers that has innovative booking tools such as the net Zero Carbon Tool and the ALL – Accor Live Limitless Meeting Planner loyalty programme, which rewards event organisers with points on every event. We will also demonstrate the quality of our hotels and how highly we value our guests."
AIME event director, Silke Calder, said: "We're thrilled to announce Accor as our naming rights partner for the Hosted Buyer Lounge. Our event planners already receive the full VIP treatment with inclusive travel, invitations to exclusive events and now with this new partnership, they will also receive the first-class hospitality at AIME for which Accor is renowned."
Accor's ALL – Accor Live Limitless Meeting Planner loyalty programme allows members to earn Reward points for each meeting booked. Members can then use them to part pay their next meeting or benefit from unforgettable experiences: catering, sport, overnight stays, wellness, entertainment and more.
Accor offers contemporary and flexible event and meeting spaces, providing guests with the best technology, connectivity and experiences that boosts inspiration and collaboration in every attendee. Accor provide dedicated meetings and events teams to manage onsite logistics, exceptional culinary offerings are prepared by talented in-house chefs, and many of Accor's properties have private gyms and pools to support the health and wellness of guests.
Accor was the first hotel operator in the Pacific to reward their customer's loyalty with partner benefits, which include the opportunity to attend world-class sporting and entertainment experiences at Accor Stadium and Qudos Bank Arena.
From luxury to economy, Accor has 18 international brands across Australia, New Zealand, Fiji and French Polynesia, including SO/, Sofitel, MGallery, Art Series, Pullman, Swissôtel, Mövenpick, Grand Mercure, Peppers, The Sebel, Mantra, Novotel, Mercure, Tribe, BreakFree, ibis, ibis Styles and ibis budget.
Accor is committed to sustainable hospitality and works hard to optimise the use of natural resources to limit its impact on the environment wherever possible.