Escalating war in Ukraine could trigger a Chinese grab for Taiwan as the United States turns the economic screws on Beijing and tries to engineer a two-speed world economy by isolating authoritarian countries under its new Indo-Pacific framework. This week's warning from Qin Gang came just after taking up office. He dismissed American suggestions that it wanted to simply compete robustly with China while installing 'guardrails' to prevent a conflict as unacceptable to Beijing which seeks freedom to pursue its goals, including those related to Taiwan which Mr Qin stressed was a 'red line' for communist China.
China's new Minister of Foreign Affairs Qin Gang has stated bluntly that unless the United States changes its policy towards China, then war between the two countries is inevitable. He called for Washington to revert to its policy towards the middle kingdom pursued up until the Trump presidency in 2017. It comes as a new hardline leadership took over in Beijing as the National People's Congress met to rubber stamp a third presidential term for President Xi Jinping who has promised the party that he will bring Taiwan back under Beijing's rule by military means if necessary, a prospect now openly speculated upon by US intelligence agencies as China's military might grows and a corresponding alliance forms against it led by the United States.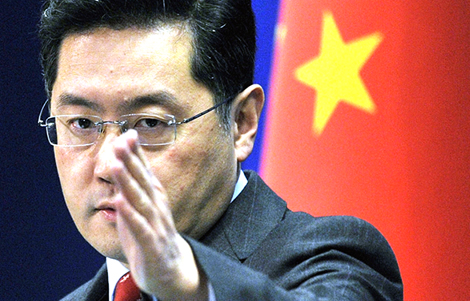 As China's President Xi Jinping, on Friday, accepted a third term as president with the country's National People's Congress, a rubber stamp parliament or legislature, meeting in Beijing, his newly installed Minister of Foreign Affairs pulled no punches in his opening remarks after assuming the role this week, warning of war between the United States and China.
Qin Gang told reporters that if Washington does not change its policy and posture towards his country that 'war and confrontation' were inevitable no matter how both country's officials manoeuvre to avoid the prospect.
Singapore's trade minister warns growing US-China rift has 'serious consequences' for the entire world
The stark and explicit message is being heard around the world.
On Thursday, Singapore's Minister of Trade, Gan Kim Yong spoke of an outbreak of hostilities between the two key powers as having 'serious consequences for the rest of the world' as the relationship between the US and China moves increasingly towards one of outright hostility.
He proposed that Singapore play a role as a mediator between the two powers.
It comes as the Netherlands became one of the latest countries to embargo advanced semiconductor sales to China while United States officials and intelligence agencies are warning of the prospect of China preparing to invade Taiwan.
Asean 10-nation bloc coming into focus as tussle intensifies in terms of economics and military ties
Like Thailand, China is Singapore's largest trading partner although Thailand exports more to the United States and is a military ally of Washington although it is increasingly seen as under the influence of Beijing which has established strong military links with its neighbour Cambodia.
This includes access to and the development of maritime facilities at Ream Naval Base, in the Gulf of Thailand, something which Cambodia's prime minister and strongman Hun Sen continues to deny.
Last year, Thailand along with other ASEAN countries, signed onto the US Indo-Pacific framework which, critically and disappointingly for many partner countries, does not offer increased access to US markets but does set minimum standards for economies that want to see further development with the United States moving forward.
The four-pillared agreement aims to create deeper and more secure supply chain connections, better environmental standards and a fairer economy, all values which are aimed at creating a two-track global economy between democratic and progressive countries on one hand and authoritarian ones on the other.
ASEAN targeted by the US as it attracts investment from firms leaving China due to rising tensions
The Biden White House launched the initiative last year and it is particularly aimed at the 10-nation Asean community including Thailand which is increasingly using Asean as a vehicle for its diplomatic fence-sitting between the two competing powers.
Asean and Southeast Asia have emerged as key beneficiaries from US and allied investment which is being pulled out of China at an accelerating pace.
At the same time, the tensions and ongoing effects caused by the Russia-Ukraine war have been deeply felt in the region with leading officials in the Biden administration briefing the media that the robust defence of Ukraine by western allies coupled with an economic war against Russia, is a signal to Beijing as to what will happen if it decides to invade Taiwan.
Ongoing military activity surrounding Taiwan
The prospect of such an invasion has been strengthened with ongoing aircraft and now naval incursions into what was once considered off-limits territory surrounding Taiwan.
This followed Chinese outrage towards the self-governing island state after former US House of Representatives Speaker Nancy Pelosi at the end of July last year, made an official visit.
That situation has now grown so intense that Taiwan's defence minister Chiu Kuo-cheng said this week that although Taiwan wished to avoid conflict with China, it would not back down if such encroachment came near the country's coastal seas.
'It is the nation's armed forces' duty to mount an appropriate response,' he told parliament in Taipei.
The visit by Pelosi was followed by the Chinese Communist Party Congress in Beijing in October where President Xi Jinping promised the party that Taiwan would be returned to China's control 'without a doubt' even if that requires armed intervention and war.
China has now installed a hardline 'wolf warrior' government with President Xi Jinping emerging as virtual dictator who has promised Taiwan's return
That gathering and the new administration unveiled by the Chinese leader embarking on his third term and thought to be ready, at some point, to have himself declared leader for life, came with a programme to place China on a war footing even at the expense of economic development.
This week's fiery statement by the newly installed Chinese Minister of Foreign Affairs Qin Gang, well known already as an acerbic western critic working as a spokesman in the ministry, has certainly left no one in doubt about where things are moving as 'wolf warrior' diplomacy suddenly promises to morph into open warfare. 
The minister brushed aside recent assurances from the US State Department and diplomatic personnel that the United States simply wanted to create a new competitive world order but protected by 'guard rails' by stating bluntly that what America is proposing means war with China.
'If the United States does not hit the brake, but continues to speed down the wrong path, no amount of guardrails can prevent derailing and there surely will be conflict and confrontation,' Qin said in his first news conference since taking up his post this week. 'Such competition is a reckless gamble, with the stakes being the fundamental interests of the two peoples and even the future of humanity.'
The message is clear, the world including Asia is sliding towards war and a wider scale conflict between democratic forces and authoritarianism
The message could not be clearer and is coming as tensions between China and the United States and other western allies are mounting at a time when the war in Ukraine threatens to become a wider conflagration as both the North Atlantic Treaty Alliance (NATO) and the European Union dig deeper to provide the Ukrainian armed forces with the arms and equipment to defeat the Russian invasion.
In recent weeks, the United States shot down what China claimed to have been an elaborate weather balloon which strayed off course after it reached its eastern coast having traversed the continent with US intelligence now examining communications equipment and other retrieved evidence from the object salvaged off the coast of North Carolina.
China reacted angrily to this as well as a recent assessment and a claim from the US Department of Energy concluding that it was 'likely' that the COVID-19 virus originated at the Chinese-run and partly western funded research laboratory in Wuhan.
Chinese foreign ministry accused the United States of 'politicising' the COVID-19 pandemic after US Department of Energy claims on its 'likely' origin
China's Ministry of Foreign Affairs was quick to spurn the claims accusing the United States of 'politicising' the pandemic while it sought to subdue China's emerging role as a world power.
This was the refrain of President Xi Jinping when he spoke this week.
'Western countries led by the United States have implemented all-round containment, encirclement and suppression of China, which has brought unprecedented grave challenges to our nation's development,' President Xi told the Congress this week according to the Xinhua News Agency.
He proposed that in return, China would 'remain calm, maintain concentration, strive for progress while maintaining stability, take active actions, unite as one and dare to fight,' in a statement that will be poured over by western analysts but does not augur well for stability in the Asia Pacific or for countries like Singapore and Thailand whose economies are built on the support of both China and the United States.
Becoming increasingly difficult for countries such as Thailand and other ASEAN partners to stay clear of taking sides and focus exclusively on trade
Thailand has been told repeatedly over the last five years, as tensions with China have grown, by the United States that it does not have to choose between Beijing and Washington but that appears to be increasingly difficult.
Thailand has recently, through the Ministry of Commerce, signed regional trade pacts with Chinese provinces and population centres while it is keen to exploit the potential benefits of the world's largest free trade pact, the Regional Comprehensive Economic Partnership (RCEP) which gives it greater access to Chinese markets.
Beijing has long underlined its proximity as a partner and its emphasis on trade without strings attached in contrast, for instance, to US, European and other allied trade pacts
At the same time, the United States this week again insisted that it was not seeking a war with China.
State Department refutes Chinese Foreign Minister's claims, insists the United States does not seek conflict with China, seeks to 'coexist responsibly'
At the State Department overseen by US Secretary of State Anthony Blinken, spokesman Ned Price told reporters that the United States wished to 'coexist responsibly' with China.
'This is not about containing China. This is not about suppressing China. This is not about holding China back,' Price explained at a press briefing. 'We want to have that constructive competition that is fair' and 'doesn't veer into that conflict.'
Nevertheless, the United States has, since last year, been looking warily at the 'no limits' friendship treaty signed between Russia and China just weeks before the invasion of Ukraine amid growing reports that China is getting ready to supply arms to Russia.
China has also been a key player in propping up the Russian economy which was cut off from western commercial infrastructure in the opening weeks of the war.
Key observers, including leading business leaders in Thailand, are warning that the country needs to prepare for the worst-case scenario as things begin to look increasingly ominous.
China wants US to revert to policies pursued before 2017 when President Trump changed course with a trade war and a stronger defence posture on Taiwan
The new Chinese Foreign Minister summarised the situation this week and suggested that the only way out was for the United States to revert to its former policies up until 2017 when President Trump took power.
'In this case, the United States' perception and views of China are seriously distorted. It regards China as its primary rival and the most consequential geopolitical challenge,' Mr Qin Gang said. 'This is like the first button in a shirt being put wrong and the result is that the US-China policy has entirely deviated from the rational and sound.' 
In the meantime, the outgoing Chinese premier, Li Keqiang, unveiled a budget, in one of his last acts in office before the assembly this week, to raise Chinese military spending to $225 billion or 7.2% of GDP.
It comes as other countries in Asia and the Pacific are also building up their armed forces with some such as the Philippines renewing alliances and cooperation with the United States.
Japan as well as South Korea are also busy ramping up defence spending with Japan set to play a more prominent military role as part of the Quad, an anti-Chinese alliance in the regions between Australia, Japan, the United States and India.
Ramped-up defence spending and new military alliances in the Asia Pacific regions spell one thing
In 2021, the United States, Australia and the United Kingdom also formed a new defence pact in the region with Britain again deploying naval forces to the Pacific under the AUKUS security pact.
The creation of new alliances and ramped-up military spending on both sides spell only one thing, danger, the danger of war.
The Chinese budget compares to an $800 billion spend by the United States for the current year.
The figure is thought to be, in reality, far higher than this as China is thought to be concealing much of its massive military buildup, particularly concerning naval forces much the same as Japan did in advance of World War Two when it too, as a growing world power, found itself encircled and facing economic pressure from the United States due to its stated territorial ambitions.
On the same day that Japan attacked Pearl Harbour, the 7th of December 1941, it also invaded Thailand from several directions and overran the country in a matter of days.
Further reading:
War with China is a rising spectre that must be confronted as US General predicts conflict by 2025
Bad news from Beijing with Xi's rise, the prospect of war and a divided world have greatly grown
Chinese President Xi Jinping may be the star attraction at Thailand's APEC summit next month with Putin
Pelosi defies Communist China's concerted campaign of intimidation and visits Taiwan sparking a crisis
Abe's legacy will be his efforts to awaken Japan and build a defensive alliance against China
Former Pheu Thai finance minister expresses unease about US regional moves to counter China's rise
Prayut unveils 3 'R' strategy for a deeper and broader partnership with the US on the economy
US to unveil new economic relations framework for Asia at ASEAN Summit as China warns of new cold war
Thailand and Japan announce defence pact on visit by Japanese PM to Bangkok ahead of US summit
US ASEAN summit as 'dangerous directions' now emerging in Asia as China's regional power rises
US sanctions on Russia part of a 'profound' geopolitical shift to Asia as many US firms leave China
Channel 5 TV rumpus shows Thailand feels the heat in an altered world after the Ukrainian war raised divisions
Thai tourism emphasises its neutrality in the Ukraine war, calls for a review of payment systems
Russia warns Thais planning fight for Ukraine they will not be treated as enemy combatants under UN treaties
Thailand votes on the right side of history in UN deploring Russian military action in Ukraine
World lives in fear – UK Minister says Putin may not be in his 'right mind' as Thursday's invasion goes awry
China could be an economic time bomb sitting on Thailand's doorstep as Evergrande collapse nears
UK Foreign Secretary visits Bangkok after AUKUS security pact further raises tensions with China
Trade pact with Hong Kong as Thailand negotiates both Chinese and new western trade relationships
US Ambassador resigns as Biden Presidency starts with growing tensions with China over Taiwan
US move against Thailand on trade is a warning as Thai exports to America boomed in September by over 19%
Thailand's trade agenda may be complicated and thwarted by raised tensions in the Indo Pacific region
RCEP deal agreed as India opts out – busy Bangkok ASEAN summit concludes on a low key
Industry boss urges Thailand to join alternative Pacific trade pact and plan for a long recovery from virus debacle
Chinese FM to visit Thailand in a Covid battered world of raised tensions and potential conflict
Lowering of US flag in Chengdu is a wake-up call for foreigners living in Thailand and with close ties here
US is a better friend for Thailand than China says US ambassador as tensions grow between the 2 powers