I have a friend who lived in a large converted barn that looked over sprawling fields. It's quiet and pretty. I visited often as I felt calm, happy and at home there. But then she moved.
Happily, I've recently experienced the same calm at the newly built Farmstead Lodges, a work of passion by husband-and-wife team Ali and Sian Kerr who started this project during lockdown on their 850-acre farmland.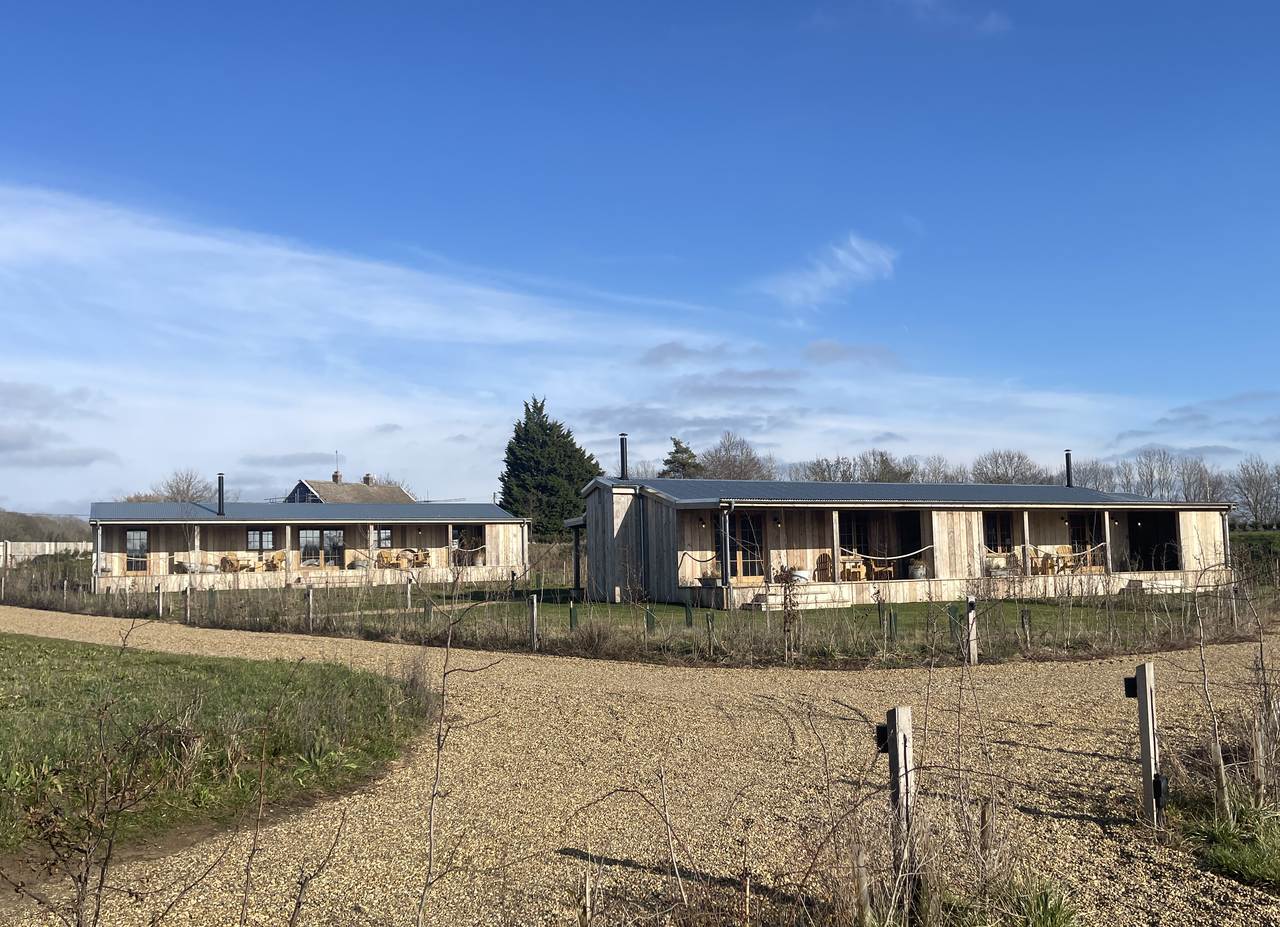 Finally launched in 2022, these are a clutch of eight lodges looking snug amid a wildflower meadow on the edge of the village of Easton in the Deben valley and hemmed in securely by a wall of wooden boards.
They are made with reclaimed scaffold timber boards (7,000 in total) that have been left nude effectively offering a myriad of natural hues. Inside there are clean lines that contrast with vintage ornaments, antique furniture and sumptuously upholstered green velvet sofas and luxurious throws, hessian curtains and the concrete worktop and linens that all meld into one appealingly homey picture.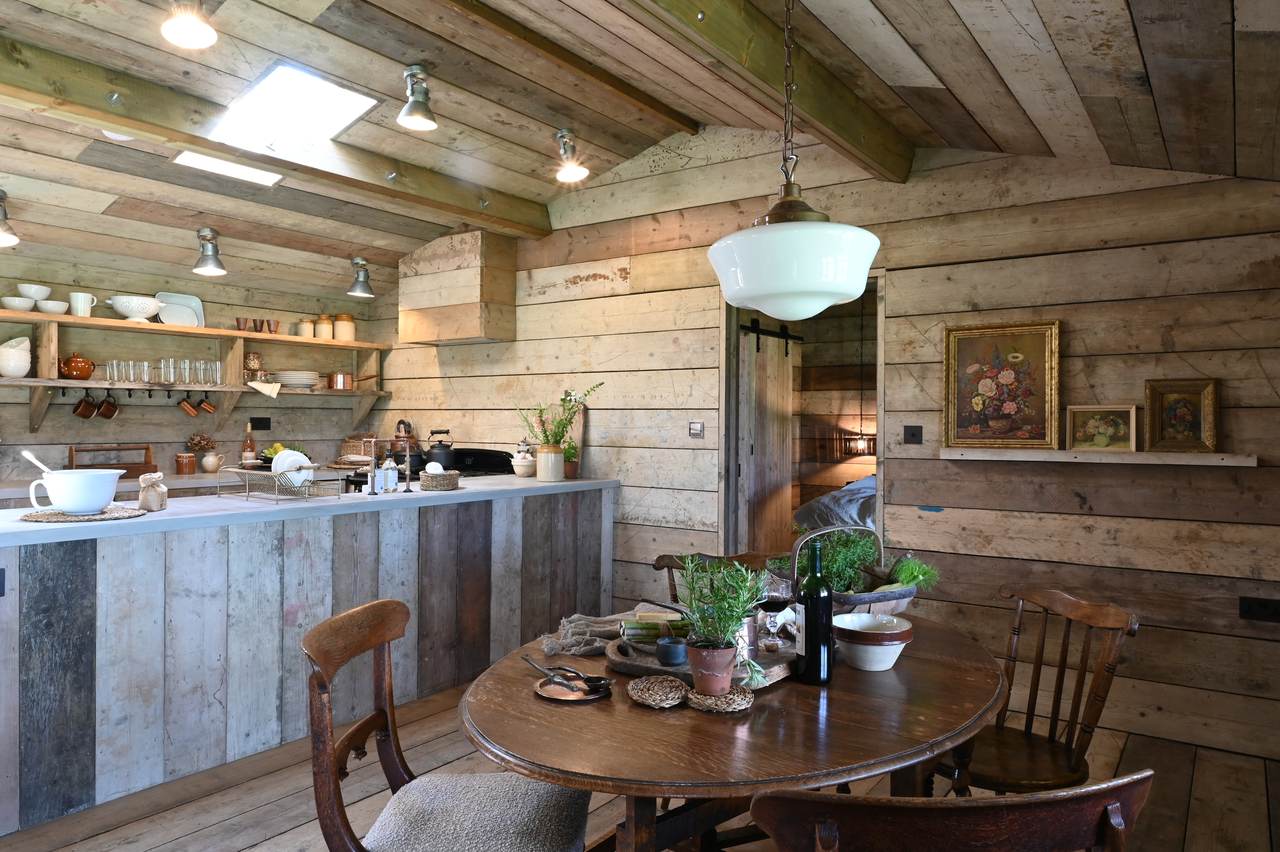 Amenities are luxurious: A Rangemaster oven, a Grind coffee machine and pods, a Dualit toaster, a lovely log burner, locally made sheepskin covers, incredibly comfortable beds and bedding by 'Piglet in Bed' that are so lush it's easy to stay a little longer luxuriating between the sheets.
The lodges and the environment are beyond romantic, the type of place you might want to pop the question. If so check out their wedding venue Easton Grange next door.
Who for:
Bring the pooch, the kids, your lover, and anyone who appreciates the countryside.
Accommodation
Farmstead comprises four, two-bedroom lodges and four one-bedroom lodges and both children and dogs are welcome so no one is left out. And in case staying connected is important, their lodges come with high-speed wifi.
Mine was Lodge 1 which had two spacious bedrooms. The master bedroom has a gloriously deep free-standing copper bath especially lovely when filled with bubbles.  The ensuite bathroom offers a quirky shower made of corrugated iron with brass shower fittings that contrast beautifully.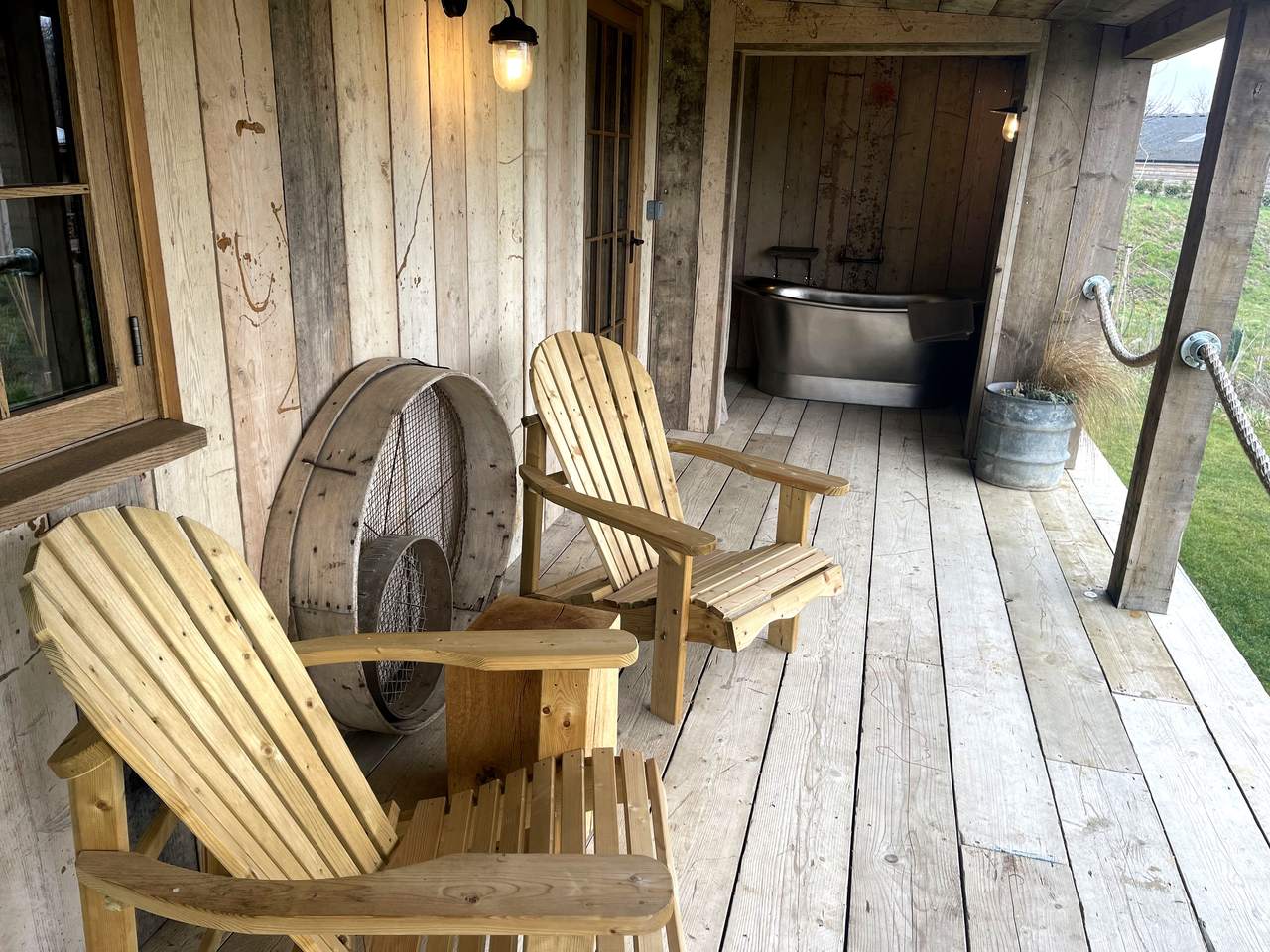 Outside is a veranda that stretches the length of the lodge. It was easy to chill out on the Adirondak balcony chairs with a glass of vino and take in the views. But the outdoor bath at the end of the veranda winked at me one night when I bathed under the stars. The sumptuous bathroom robes provided were perfect for this.
Food & Drink
The Farmstead Lodges are self-catering. However, there's a generous welcome pack of local produce waiting in the kitchen. Among the goodies were freshly squeezed orange juice from the Grange Farm shop, eggs, Farmhouse pork sausages, smoked Brundish back bacon, freshly baked sourdough bread from Wakelyns bakery in nearby Fressingfield, along with locally-churned Bungay butter. And a bottle of wine.
Not much of a cook, I followed the wildflower walkway into the village for an evening at the charming 16th-century Easton White Horse pub about a mile away. Owned by the Kerr's I knew the food would be good and chef Vernon Blackmore does not disappoint. 
The meal started with a scrumptious amuse bouche of Gressingham duck breast and Vietnamese pesto served on a crispy rice cake, followed by Pinneys Seafood selection – sea trout gravadlax, lemon and dill fish cake, fish tempura, along with Slow roast Dingley dell pork belly, chorizo mash, greens, jus, apple sauce and desserts like Rhubarb and custard brown sugar pavlova – grand gastronomic affair.
What's Nearby?
In this secluded wildlife haven of the Deben valley, you may come across wildlife such as otters and foxes as you head off on the walking trails.
Nearby is Sutton Hoo, a site of archaeological finds. Framlingham castle, once a stronghold of the powerful earls and dukes of Norfolk is nearby and the seaside town of Aldebrugh is a worthwhile 20-minute drive away. While there take lunch at the Old Suffolk for a refined lunch of locally sourced ingredients such as oysters and dressed Suffolk crab.
---
Verdict: Farmstead offers a wonderful few days away from it all in sustainably built lodgings. If rustic chic and a five-star boutique hotel had a baby, Farmstead Lodges would be it.
Fact File
One-bedroom lodges are available from £1,005 for a weekend in low season (Oct – April) and from £2,100 for a week in peak season (May to Sept).  www.farmsteadlodges.co.uk